Moravian chicken pie originated in the North Carolina town of Salem. It's a savory chicken pie with a top and bottom crust.
The meat is poached to make it soft and coated in a creamy sauce made with chicken broth. It's a hearty and wholesome dish that is a family favorite in many households.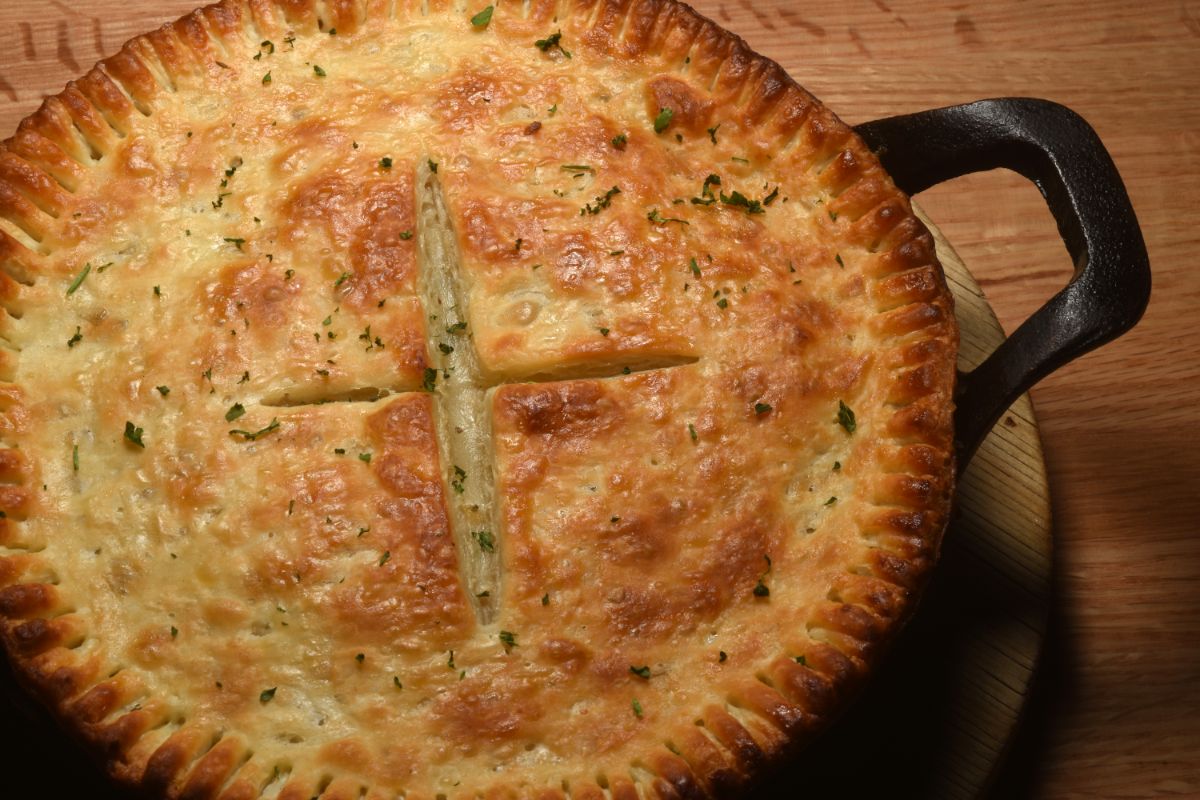 If you want to have a go at making Morovian chicken pie, there are lots of different recipes online that you can use. We have put together this list of 15 amazing recipes for Morovian chicken pie that you can easily recreate in your kitchen at home.
Keep reading to find out more. 
This recipe for Moravian chicken pie is easy and delicious. It is best to use a combination of light and dark meat as this adds more flavor and moisture. You can multitask and boil a whole chicken to get your succulent meat and your chicken broth.
The pastry recipe for the bottom crust is simple, and you make a crumb topping to go on top of the filling out of flour and butter. 
This pie has a very savory flavor which is satisfying and nourishing. As well as chicken, the filling contains onion and celery which are cooked until soft. It also has plenty of garlic salt, bay leaves and chicken stock.
Use chicken breast portions on the bone to get soft meat and a flavorsome stock. This pie makes enough to serve 6 people, so it is ideal for feeding a family. You could make two and freeze one to bake on another day. 
This recipe comes straight from Bethania, the last remaining Moravian village in the United States. It was founded  back in 1759 and has a rich history.
This traditional recipe takes a bit of time and effort but is well worth it as the flavor is second to none. To make the pie crust you mix sour cream, egg, flour, salt and butter.
This forms a dough which you knead and refrigerate before rolling out. The chicken is cooked and all the juices and fat are saved up to go into the sauce. 
This double crusted pie is packed full of soft, juicy chicken in a rich sauce. It is filling and hearty and will be something that the whole family will enjoy.
The chicken is poached in broth, and the broth is then used to make the gravy. The shredded chicken is added back into the gravy to continue cooking, releasing even more tasty juices into the pie. 
This is a simplified version of a North Carolina Morovian Chicken pie that is quick and easy to make but still packed with flavor. You don't need to assemble this pie in a dish.
Use a pie plate to make the pie, then place it on a baking sheet lined with parchment. This will help the pastry to turn a nice golden brown color.
Make sure you cut a few slits into the pastry so that the steam can escape as the pie cooks, otherwise it will be too soggy. 
Morovian Chicken pie was a recipe that was brought over to North Caroline by Czech immigrants of the Protestant faith. Moravia is a Csech province, and there were many Moravian settlements in North Carolina.
Their recipes were passed on to other families and have become part of North Carolina cuisine, adding rich culture to the area. This recipe is very traditional, and will give you a taste of what authentic Moravian chicken pie tasted like.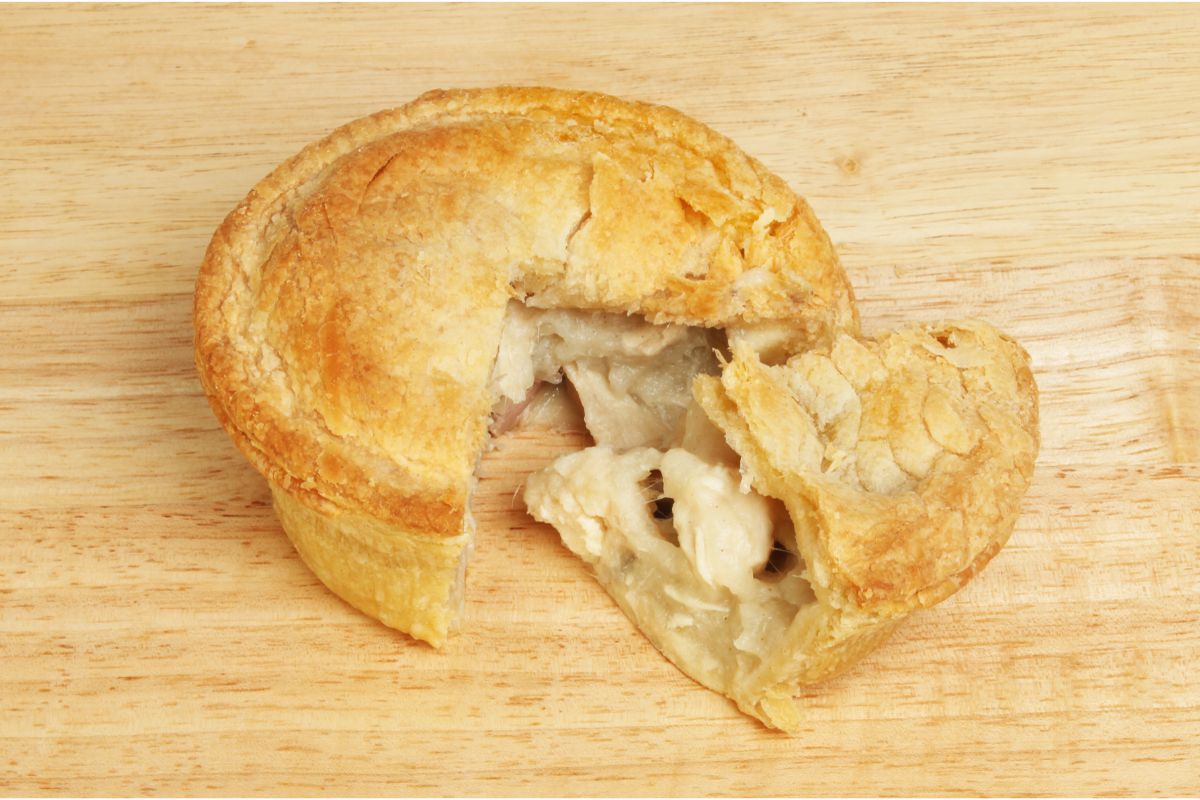 This recipe has a unique way of making pastry that is very European. It results in a light yet hearty pastry that is perfect for making savory pies like this one. The chicken is poached in chicken broth for a strong flavor and a soft texture.
Bay leaves are also used to add a herby, aromatic element to help bring out the flavor of the meat. You should use a mixture of chicken breast and chicken thigh for the best flavor.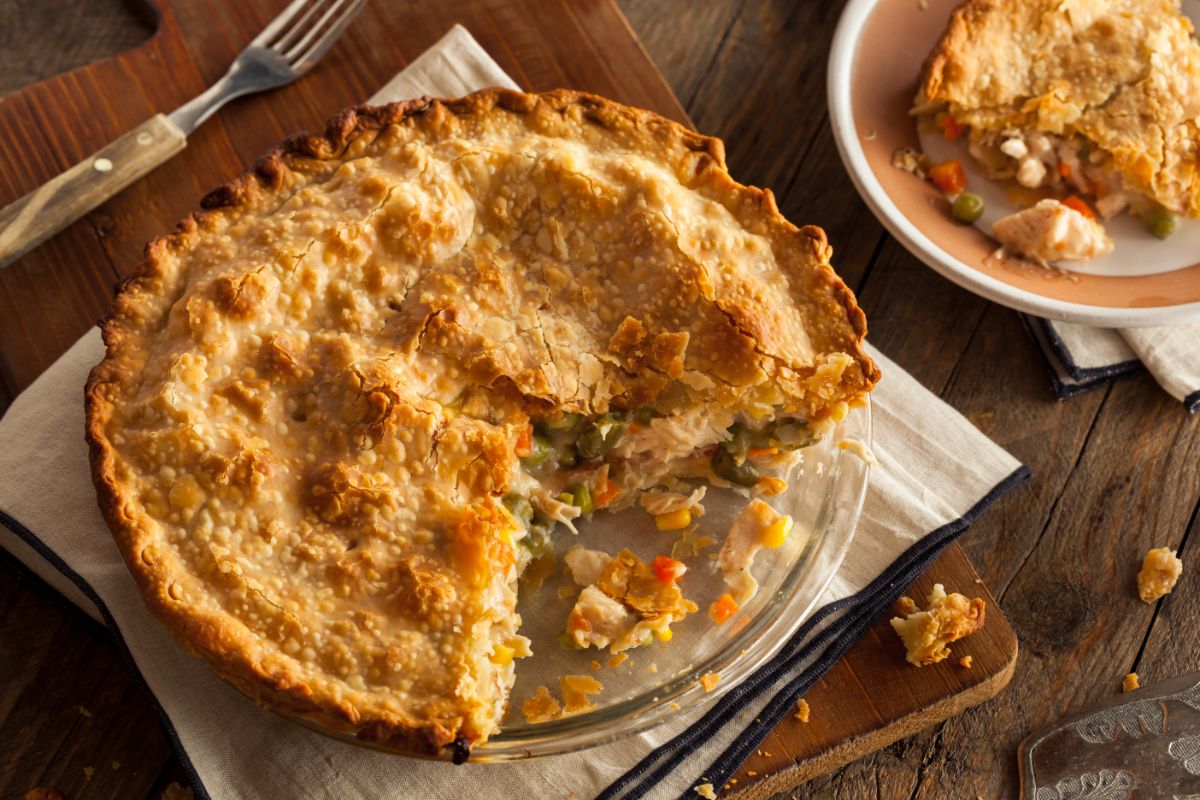 If you want to have a go at making Moravian chicken pie but you don't have a lot of time to spend in the kitchen then this is the recipe for you. It is quick and easy to make but still has all the flavors of a traditional Morovian pie.
It uses store bought pie crusts and cooked chicken to save you time and energy. The butter is optional, but doting butter over the chicken filling before you add the pastry lid will make the pie more rich and flavorsome. 
This recipe is ideal for using up leftover thanksgiving turkey meat. If you don't have any leftover turkey meat you can cook up some turkey or use chicken.
The gravy can be made very quickly with minimal effort, and then you toss the shredded turkey in the gravy. Place the filling inside your rolled out pie crusts, and bake the pie in the oven.
Keep some gravy aside to serve on top of the pie. This pie is very tightly packed with meat – it's very filling and the ratio of filling to pastry is ideal. 
This hearty recipe uses soft, tender pieces of chicken to create the rich and meaty filling. It is made in a traditional way using only 5 ingredients – as it would have been back when the Morovian immigrants were living with very little money.
All you need is chicken, broth, flour, butter, and salt. There are no vegetables in the pie, but you can serve it with vegetables on the side. This traditional recipe is still used today to cater for gatherings of Moravian Protestants in North Carolina.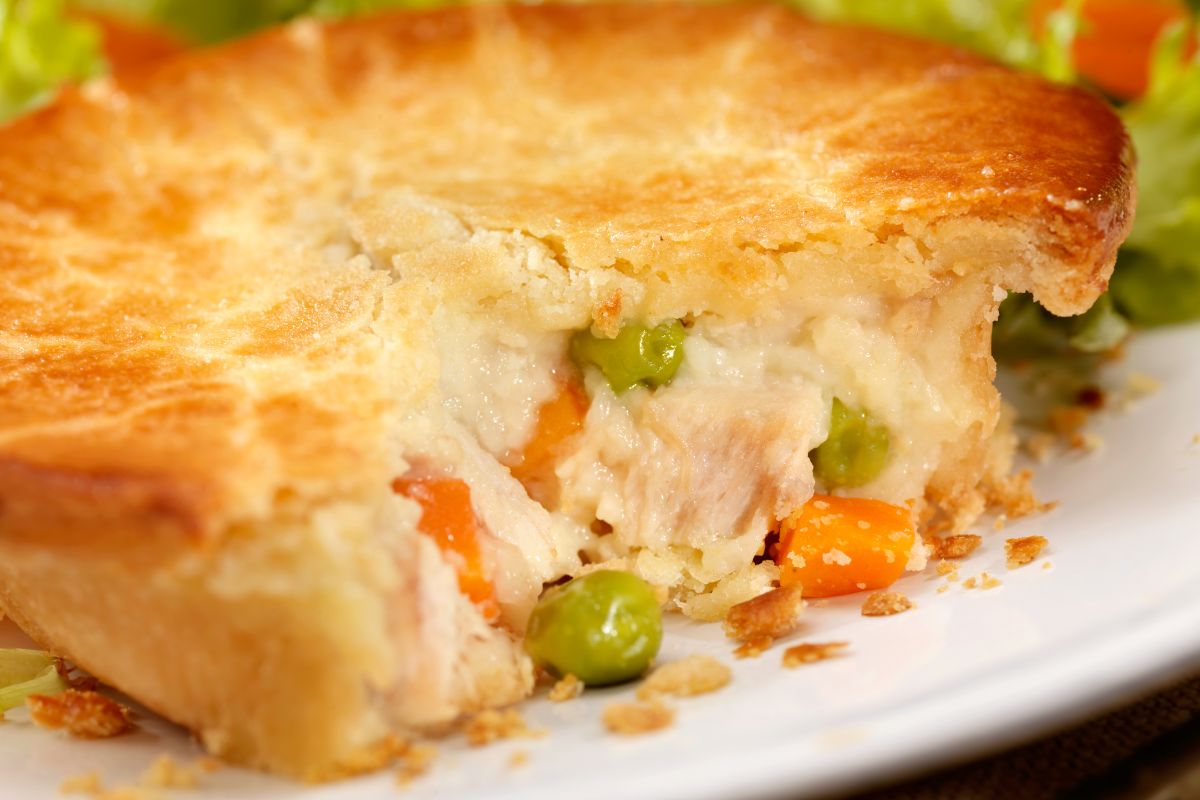 This is a simple recipe that is easy to recreate at home. You can follow the recipe and make a 9 inch pie, or adjust the ingredients as noted at the bottom of the recipe to make a 10 inch pie depending on the size of your pie dish.
You can freeze the pie before you bake it and then bake it from frozen on another day.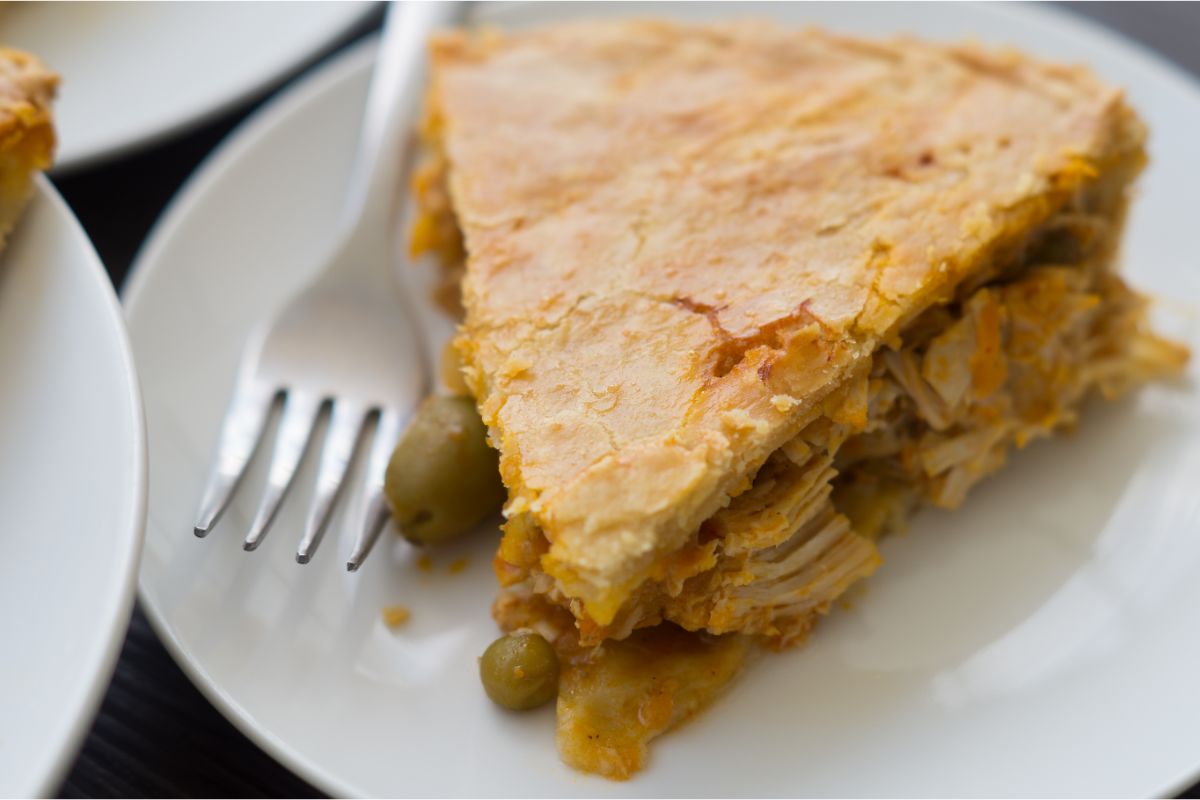 This recipe gives you the option to make your own Morovian pie crusts, or to use general store bought pie crusts. All you need for the filling is cooked chicken, flour, chicken broth, and some salt and pepper for seasoning.
Assembling the pie is very simple – Prepare the bottom pie crust, then mix up the filling.
Add the filling to the crust then add the top pie crust and bake the pie – simple. The smell in your kitchen as the pie bakes will be utterly mouthwatering. 
Moravian chicken pie is usually made as one big pie that is dished out between a family. This recipe makes it into individual hand pies instead. These pies can be taken instead of sandwiches in a lunchbox, or enjoyed as part of a picnic.
The rectangular shape is easy to make and to hold, so you can eat these pies on the go. The filling has a savory, salty flavor which is so delicious you will definitely want to eat more than one. 
This recipe is a little more long winded than some of the others, but it will result in the most amazing tasting pie at the end.
If you have friends or family coming round for dinner and you have the time to put the effort into making this pie, then your guests will certainly not be disappointed with their meal!
You can serve this delicious pie with your choice of vegetables and maybe even some warm buttered bread. You can keep back some of the creamy broth to pour over the pie or make up some country gravy.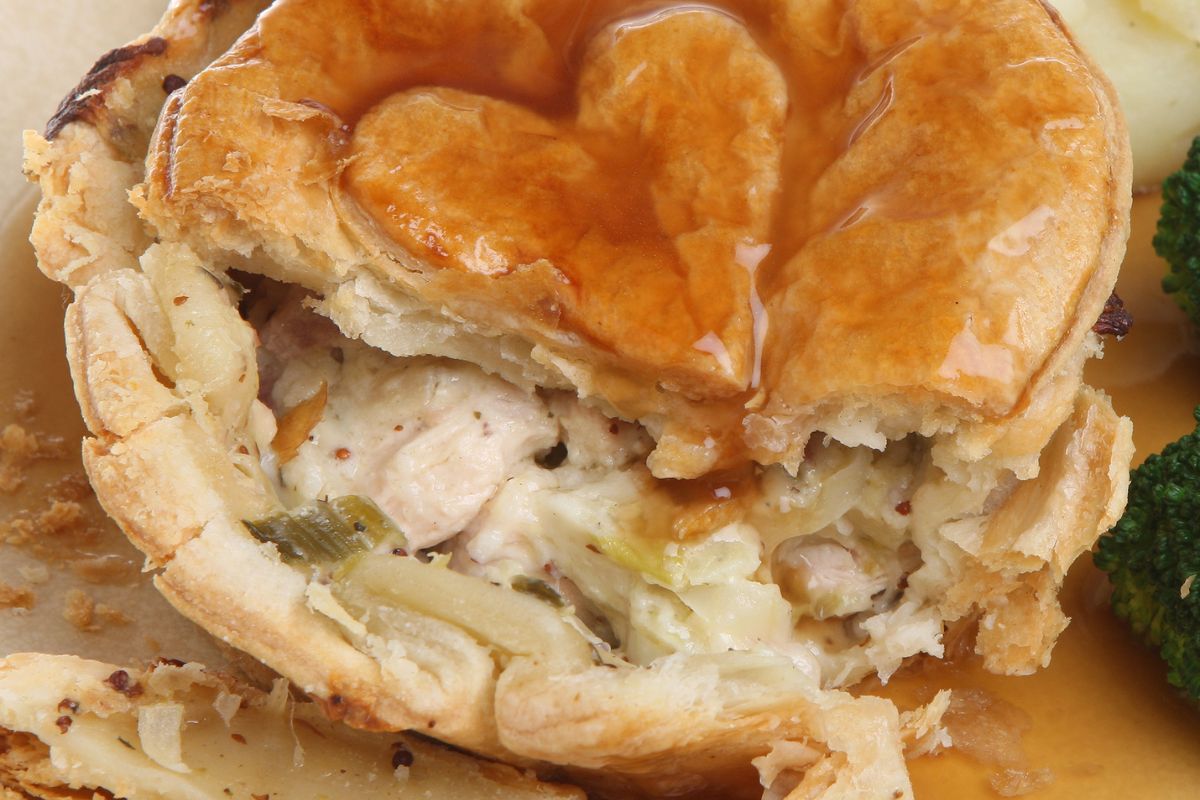 This Moravian chicken pie has a pie crust on the bottom. Instead of another pie crust on the top it has a crumb topping made from flour and butter.
The filling is made with soft and tender chicken tossed in a rich and creamy sauce made from chicken broth. It is a simple yet satisfying pie that makes a wonderful meal for the whole family to enjoy. 
Summary
Whichever recipe you choose to use, you and your family will love the flavor of Morovian chicken pie. It has a deliciously buttery pie crust, a creamy savory sauce, and soft juicy chicken.
You can serve it with mashed potatoes, green beans, creamed corn, corn bread, or whatever kind of side dishes you fancy.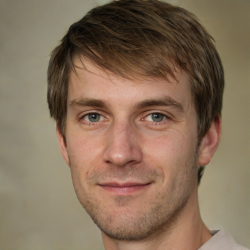 Latest posts by Mark Williams
(see all)