Tomato pies are an American classic that can please the whole family, and best of all it is quick and easy to make. However, eating pie too often can make you begin to think about the fact that it is a carbohydrate-heavy meal.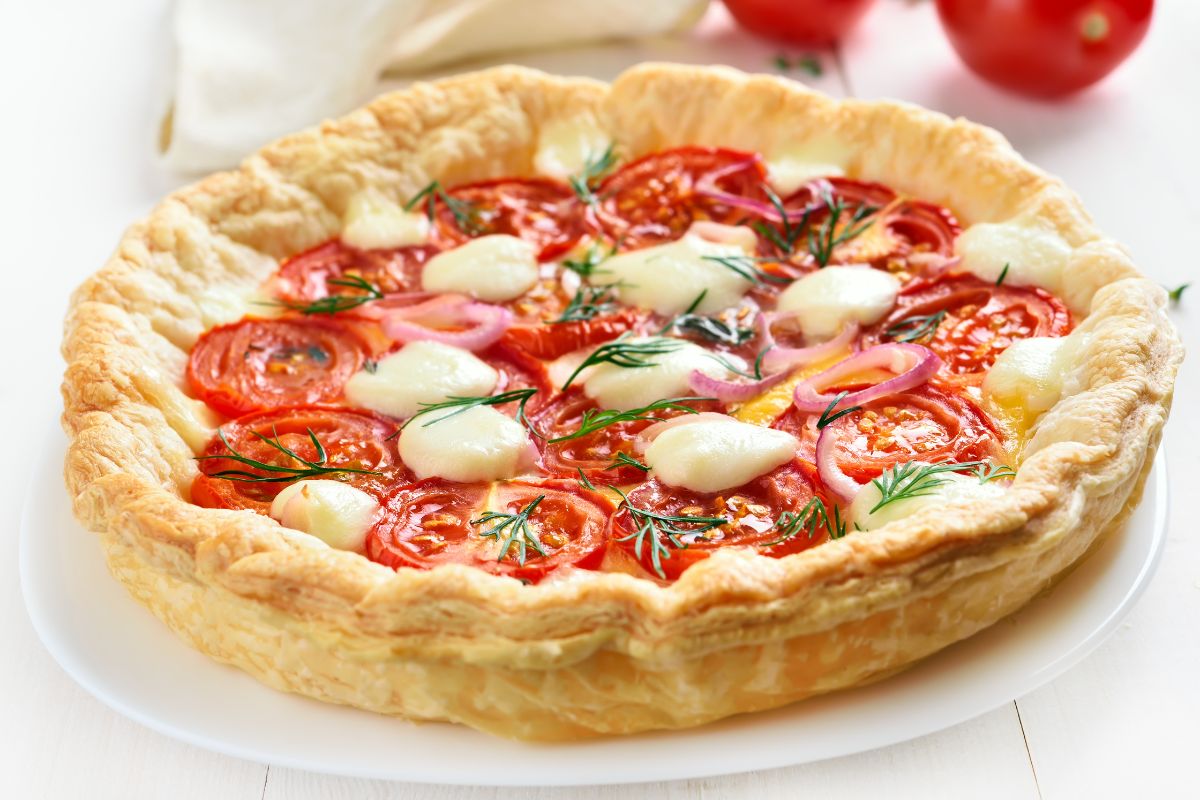 Thankfully, there is no reason to avoid eating this ideal midweek meal as there is a simple way to instantly make the dish lighter: remove the crust. 
Making a crustless pie, sometimes known as a frittata, is a lot easier than you might think and can help provide a healthy, balanced, and nutritious meal for the whole family in no time. 
In this article, we have compiled a list of 15 of the best crustless tomato pie recipes that you can try today for dinner.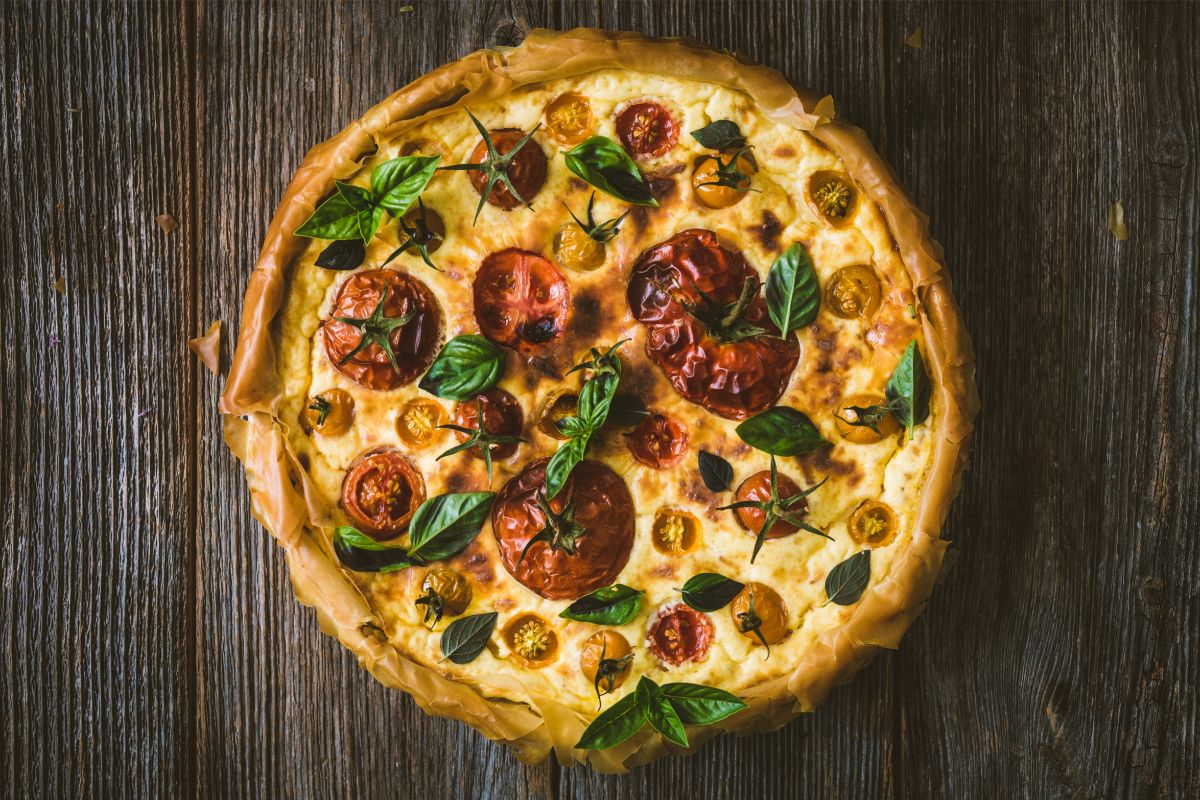 There's truly nothing better than a recipe that has the word easy in it.  The best thing about this particular easy crustless tomato pie recipe is that the flavors that it produces are so light and fresh. 
This means that you can make this pie for brunch, lunch, or dinner. The mozzarella cheese in this pie gives it a really indulgent feel that can make it feel like a treat while still being healthy.
There is something so inviting and comforting about southern cooking.  That extends to this easy southern tomato pie recipe. 
In fact, one of the listed reasons this recipe is considered to be easy is that it doesn't require a crust at all. Skipping the crust when making a pie cuts out a significant amount of time and effort, especially if you are making the pastry from scratch.
The cheesy topping of this pie makes it feel like real soul food.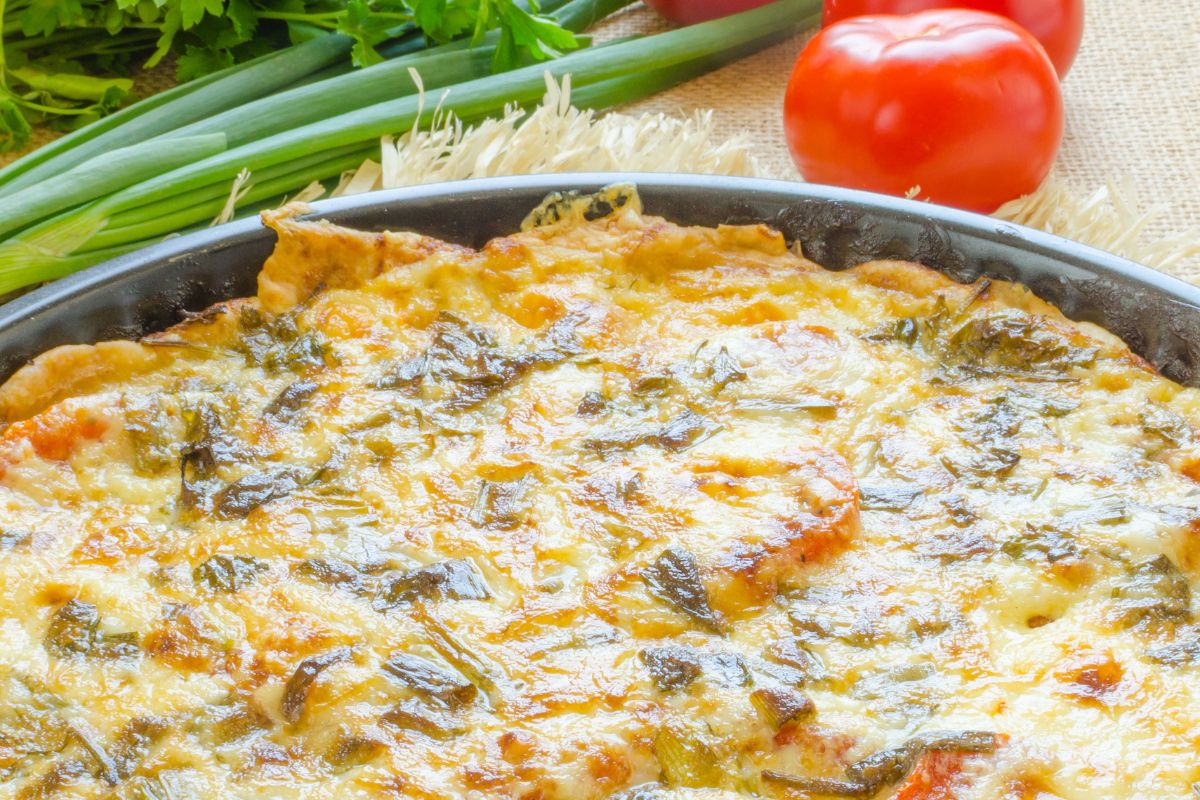 Although tomato pie is already one of the most refreshing and light pies that you can make, the addition of zucchini in this recipe takes it to the next level.
There is nothing that zucchini doesn't improve and using it as the base layer of this crustless tomato pie adds a delicious extra layer of flavor and texture. Using in-season, freshly picked zucchini is best for this recipe.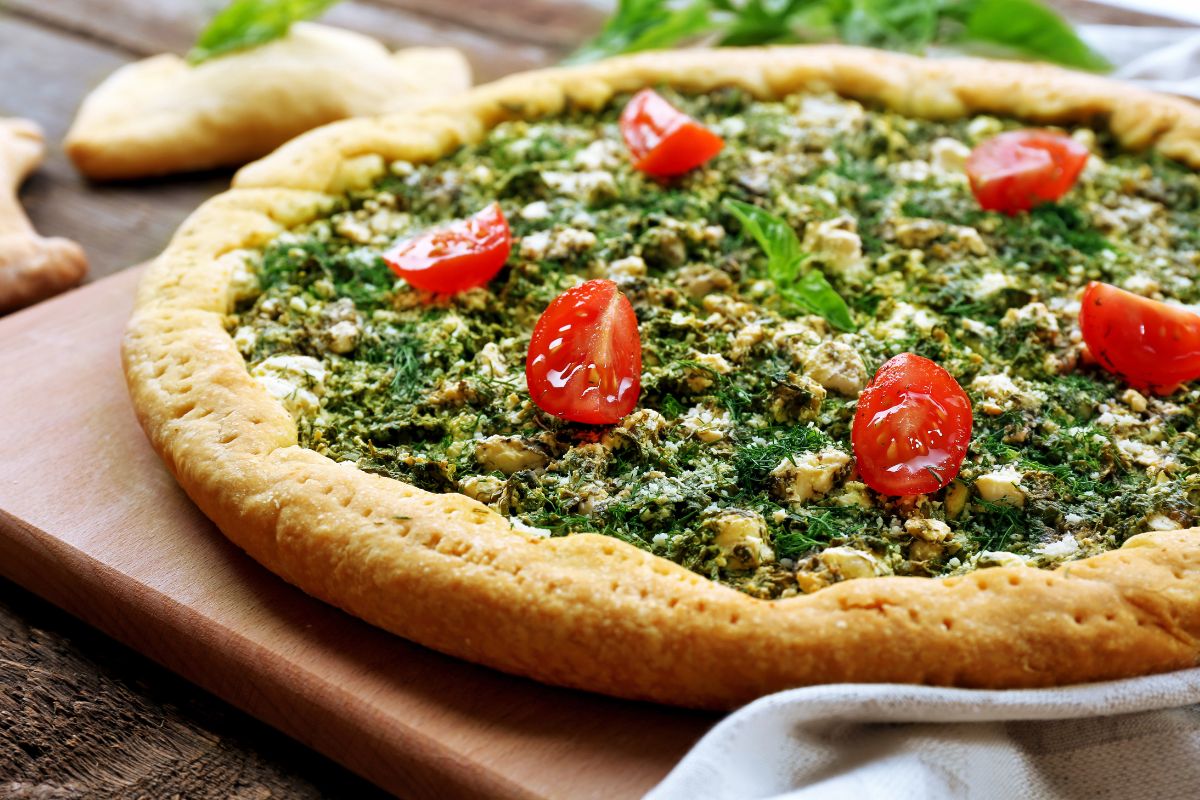 Although this crustless pie is called a crustless quiche in this recipe, it is essentially the same thing.  The combination of spinach, tomato, and feta is always a winner that provides an incredible depth of flavor for such a simple meal. 
The saltiness of the feta cheese helps to bring out the flavors of the other ingredients beautifully. It also adds a delicious creamy texture to the pie that makes it feel even more special for a midweek meal.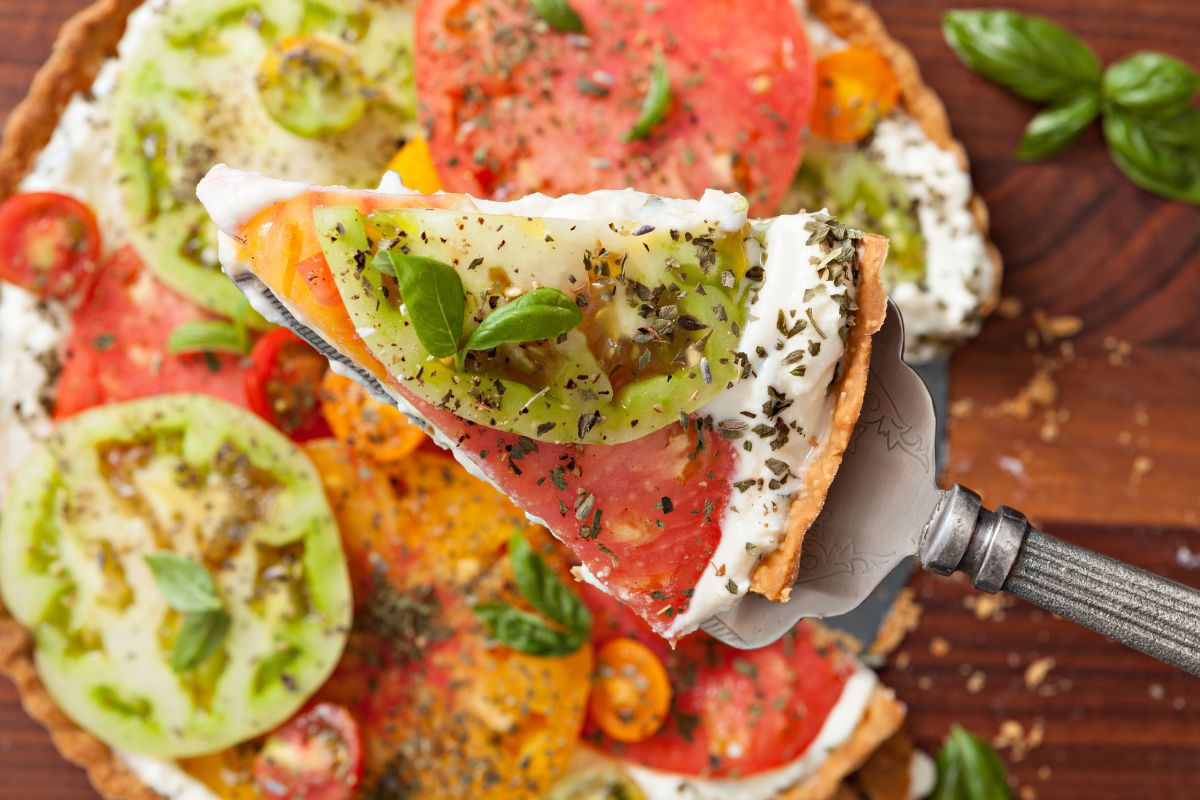 Although this is a crustless pie, the use of breadcrumbs on the base of the pie helps add a little bit of extra structure to the dish that helps each slice to hold its shape better when it is cut.
The combination of the ricotta, parmesan, and basil with the tomatoes gives this pie an Italian and Mediterranean feel. The basil in particular is a great addition to any tomato pie, providing a fresh and earthy flavor to the dish.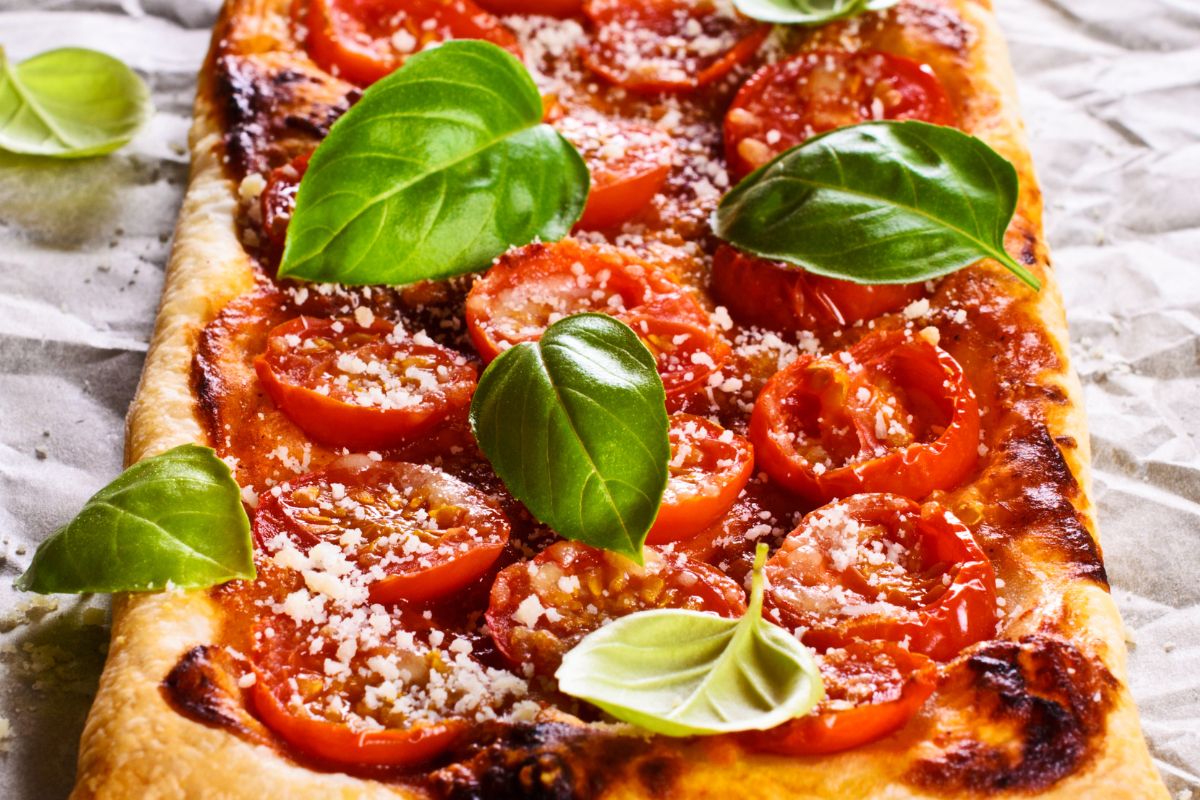 If you love a tomato and basil pie but also can't get enough of cheese, this could be the crustless pie you have been looking for. This recipe is perfect for breakfast, brunch, lunch, and afternoon treat, or even as a dinner with some side dishes.
This particular recipe calls for cottage cheese, parmesan, and swiss cheese. This will give the pie a very creamy consistency. However, it is also possible to use a combination of any three kinds of cheese.
Whichever you or your family prefer can be used in this recipe to create different flavors and results.
If you are a fan of the Real Housewives of Atlanta reality show, or simply live in Atlanta, you will have heard of Mary Mac's Tea Room which serves Mary Mac's Famous Tomato Pie. It is the presence of crumbled Ritz crackers that really sets this tomato pie apart from the others on this list.
Another thing that makes a huge difference when compared to the others we have mentioned is the use of tinned, diced tomatoes rather than fresh ones. 
The use of tinned tomatoes rather than fresh ones not only means that this recipe can be enjoyed all year round, but it also makes it a much more comforting dish. 
The texture of the pie changes with the use of the tinned tomatoes to make it a slightly more substantial consistency.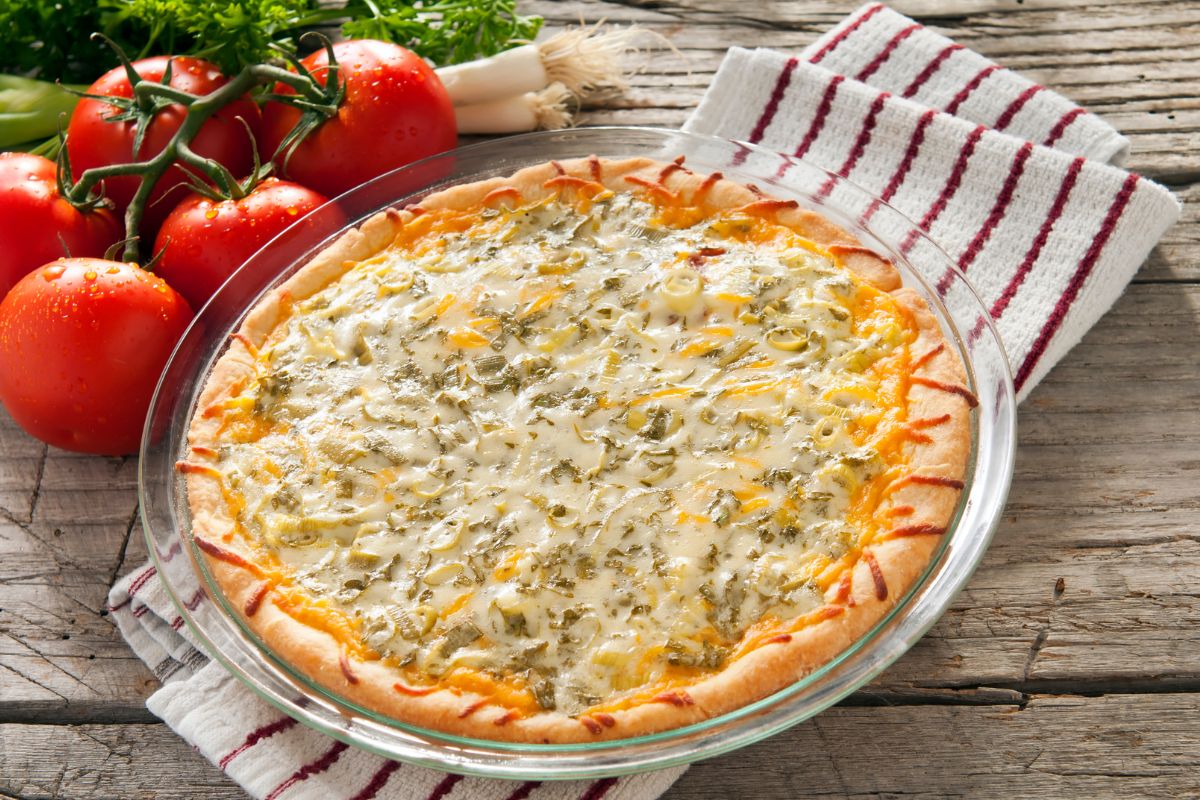 This crustless breakfast pie is a low-carb option that will keep you energized and full throughout the whole morning no matter how busy you are.  Because this recipe is so delicious, you won't want to keep it just for breakfast. 
This pie translates really well to a lunch or dinner dish that is 100% keto-friendly. 
This means that you can enjoy this low-carb meal at any time of the day. In fact, because the lack of crust makes it significantly lower in carbohydrates, this makes a great light dinner for those evenings when you don't get to eat until later.
As we mentioned above, zucchini is the ingredient that makes everything better. This roasted zucchini and tomato ricotta pie is another dish that helps to prove that.
Both the zucchini and the tomato are roasted before they are used in the pie, this helps to ensure that all of the natural flavors are thoroughly released and infused into the pie.
The use of ricotta, egg, and parmesan help to provide this pie with the structure that it needs to hold its shape once it has been cut.
This crustless Caprese pie gives you a taste of the Mediterranean in a delicious, low-carb pie. If you are a fan of the popular Caprese salad, you are sure to love this pie.
Thanks to the lack of crust, this pie isn't much less healthy than an actual Caprese salad but is more substantial. One of the best things about this pie is the decoration that is made by placing some slices of tomato on top before baking.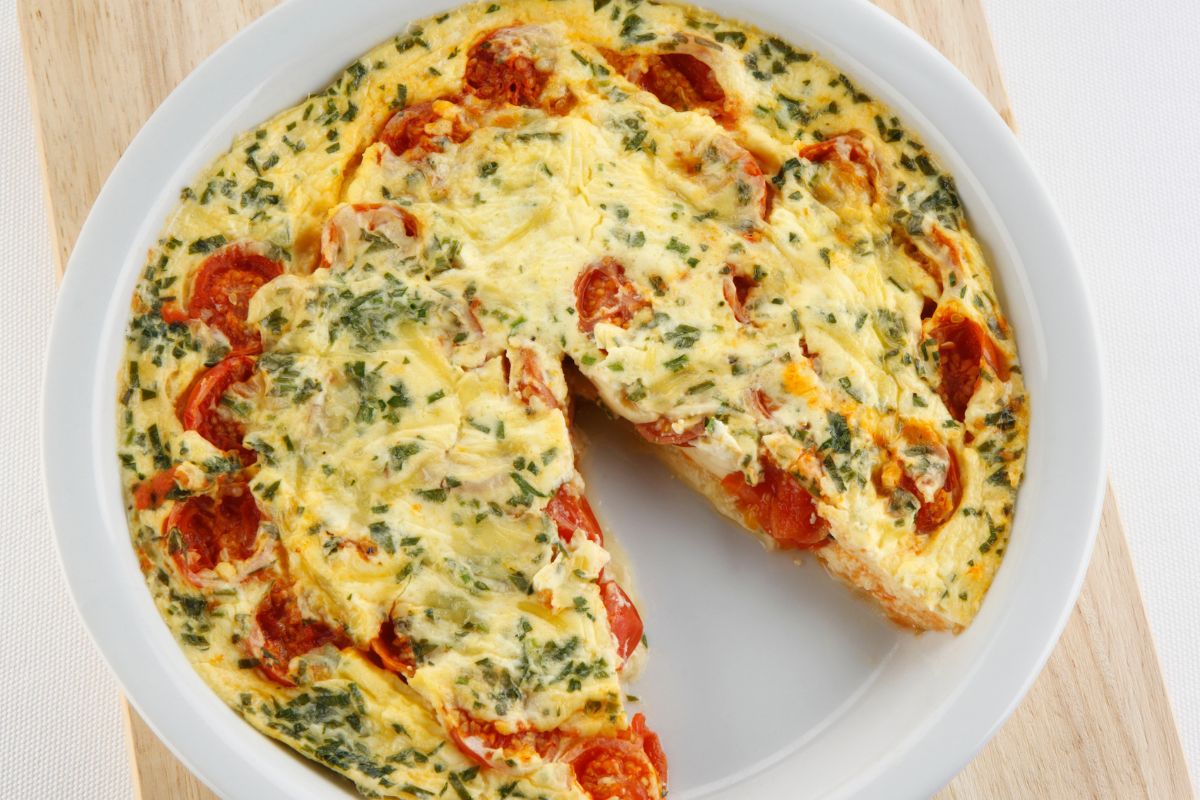 Serving this frittata pie in the same skillet that you prepared it in is the perfect way to showcase the beauty of the dish. If you've ever wanted to produce summer in a skillet, this would be it.
One of the best things about this dish is that it can be prepared in only a few minutes, perfect for a busy weeknight meal.  It can also be served hot or cold and maintain its beautiful flavor and appearance. 
This makes it a great option to make at the weekend and serve for lunch during the week.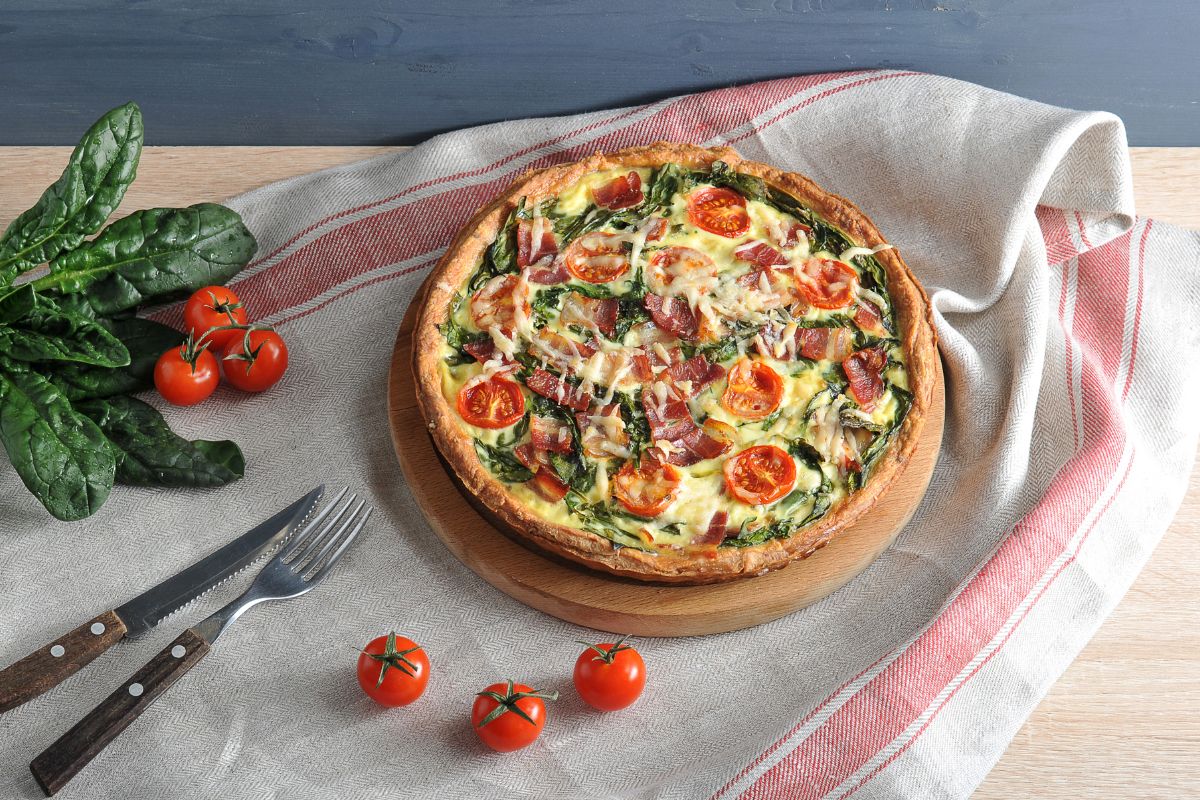 The flavors of this crustless pie are beautiful and perfectly balanced. However, the true beauty of this dish comes from the array of colors that are displayed on the surface and throughout.
The combination of the bright red of the tomatoes, the rich green of the spinach, and the soft yellow of the cheese and egg filling are a delicious treat for the eyes before you even taste the pie.
Another way to add some vibrant greenery to your crustless tomato pie is by including arugula in the recipe.  The addition of arugula to this pie not only adds color to make the dish look more exciting, but it also adds an incredible and unique flavor. 
The pepperiness of the leaves provides a refreshing kick to the pie that is missing from a lot of other tomato pie recipes.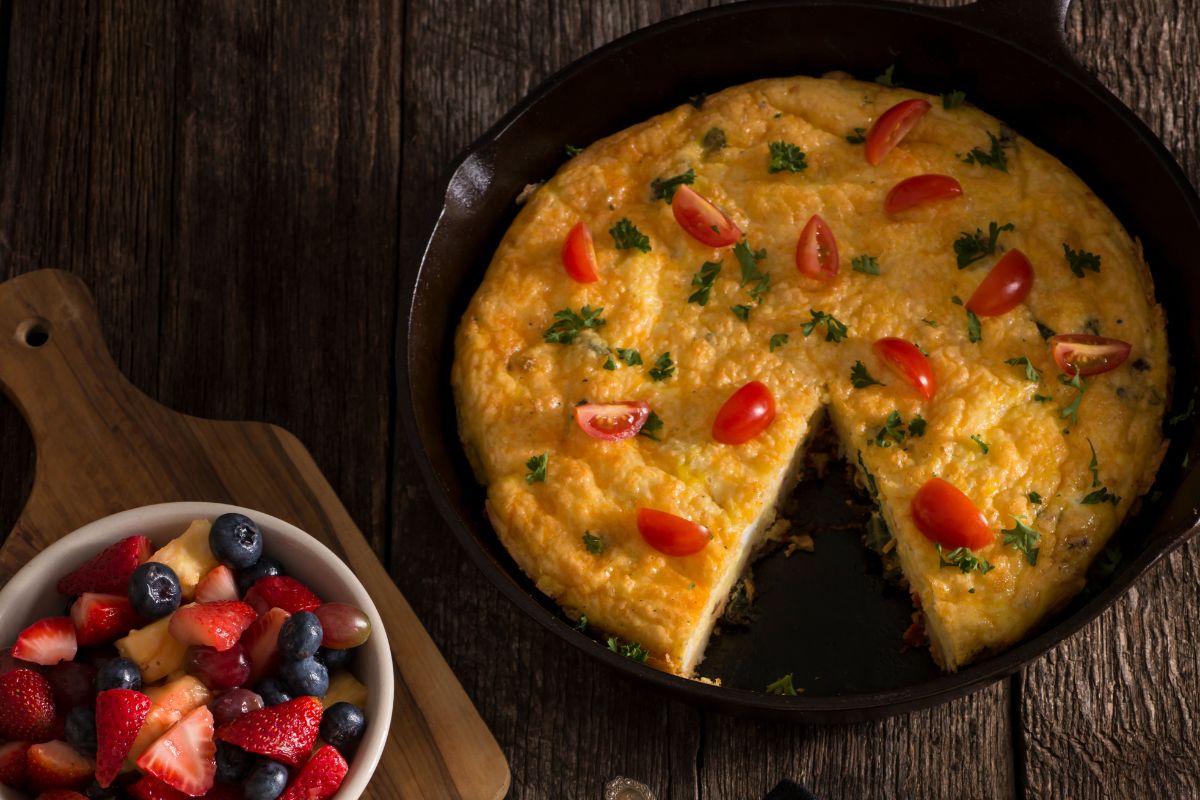 Another great way to add a little kick to your crustless tomato pie is through the use of scallions. These little onions provide a powerful kick that can elevate the whole dish.
While most of the crustless pies on this list use cheeses such as ricotta, mozzarella, or swiss, this pie only requires cheddar. This allows the tomatoes and the scallions to be the true stars of the show.
If you want to add some extra flavor to your crustless tomato pie but don't want the kick of scallions or arugula, goat's cheese can be a great option.  The strong flavor of the goat's cheese adds a unique richness to the pie. 
The onion, garlic, salt, and tomatoes help to ensure that the goat's cheese isn't too overpowering in the pie, creating a balanced and layered flavor. 
Final Thoughts
Although a crustless tomato pie might seem like a limited recipe, there are many different ways in which you can change things up.  Keep this easy and delicious weeknight dinner option fresh and interesting with these different variations.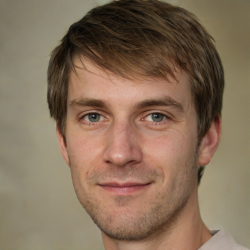 Latest posts by Mark Williams
(see all)