If you're looking for an easy dessert to whip up in a matter of minutes, then you can't go wrong with making a peach cobbler with cake mix – it is the ultimate fuss-free and stress-free dessert.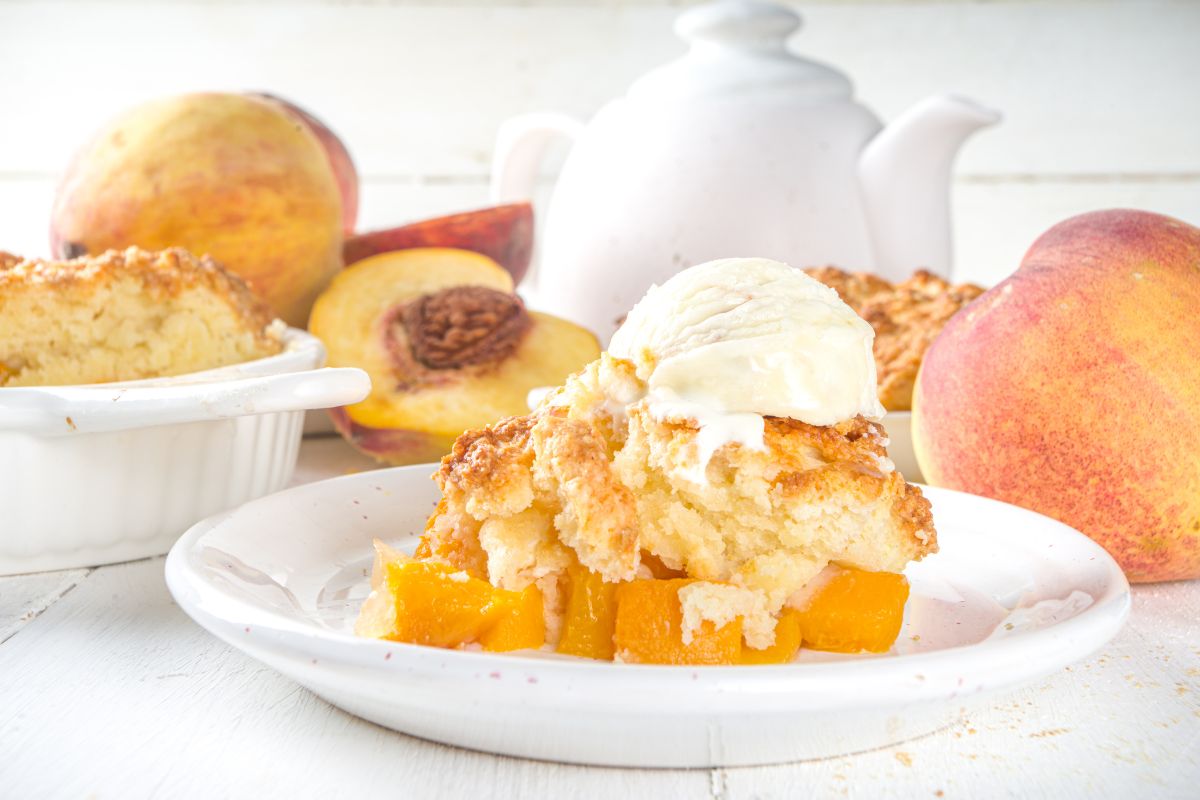 Whether you need to put together a last-minute dessert for some unexpected guests, desire a sweet treat without any effort, or simply crave all things peach cobbler, well, you're in the right place!
Peaches are the perfect summertime fruit. Their smell, color, and flavor are all synonymous with summertime weather and months. And on top of that, they taste delicious.
The combination of sweet, juicy, and sticky, makes them the perfect ingredient to include in all your peach cobbler recipes.
With this in mind, in this article, we will be exploring everything peach cobbler related. From peach dumb cakes to 7-UP cobbler, there is sure to be something that everyone loves.
Let's get straight into it!
Whenever you find yourself craving a quick, sweet treat, turn to this peach cobbler with cake mix recipe.
While the classic cobbler recipe can be made with an assortment of fresh fruit filling, there's something extra special about the inclusion of peaches that makes it hard to resist!
There's a high probability that you already have all the necessary ingredients to make this recipe.
With only 4 ingredients and approximately 10 minutes of your time, you'll have it whipped up in no time.
The best thing? Nobody needs to know how utterly easy this recipe is to make, if you won't tell; we won't either!
Serve with a generous amount of whipped cream or ice cream to impress all your guests.
This three-ingredient peach dump cake is not only quick and simple to make, but it tastes utterly delicious. It's gooey, warm, and exceptionally peachy!
You can't go wrong with a peach dumb cake, and this recipe bears no exemptions.
Essentially, this recipe is the sister of a cobbler, but, surprisingly, even easier – making it one of our go-to types of desserts.
Typically, dump cakes consist of a simple cake mix base, layered with various types of fruit filling.
Then, as its name suggests, you'll want to dump all the ingredients into a pan, stir, and bake. It's that simple!
Not only is this cake mix peach cobbler recipe incredibly easy to make but it is also the perfect summer comfort food to enjoy with all your friends and family.
In fact, this recipe is so easy to make; that even children of all ages will be able to help make the cobbler without trouble. You may be thinking: this sounds too good to be true! Well, start believing!
With very few ingredients and only a few simple steps, you'll be able to whip up this dessert in no time.
You can't get any easier than this recipe: butter, canned peaches, and cake mix – with three simple ingredients you can make a delicious peach cobbler with cake mix and canned peaches for the ultimate comfort food.
Keep these three ingredients around in your pantry to whip up a tasty dessert for any unexpected guests!
For this recipe, all you need to do is sprinkle the dry cake mix over the peaches, add the butter, and place it in the oven!
The peach cobbler is a quintessential summer dessert and making it couldn't be any simpler.
Made with a few common pantry staples, you will be able to make the best dessert in under 10 minutes – it's sure to become a featured dessert in your family.
You simply can't go wrong since it's so simple to make! In fact, for a fun summertime activity, why not let the kiddos get in on the fun?
Looking for a new favorite dessert, well you're in the right place! This easy peach cobbler with cake mix recipe is about to blow your mind – especially once you discover how easy it is to make!
With only a few simple ingredients you'll be rewarded with a juicy, sweet, and summery treat that's perfect for every occasion.
A cobbler is simply a deep-dish fruit dessert composed of a pie-like filling, topped with a biscuit layer. It's juicy, jammy, fluffy, and fruits – perfect for late-summer social gatherings.
Making a peach cobbler has never been easier with this recipe – get ready to dust off your crockpot!
This crock pot peach cobbler with cake mix features a delicious combination of both sweet and tart flavors from your favorite vanilla cake mix, brown sugar, a can of sliced peaches, nutmeg, and cinnamon for a scrumptious dessert that tastes as if it took hours to prepare.
Peach cobblers are one of those recipes that taste amazing from scratch; however, once you try this recipe, you'll never want to spend hours in the kitchen ever again!
You have a Crock-Pot and cake mix in the same recipe; it doesn't get better than that!
This small peach cobbler with cake mix recipe is quick, easy, and can even be made in the oven or on your camping trips!
Simply dump all the ingredients – peaches, cake mix, and butter – into a dutch oven or cast iron skillet for a fuss-free, yet delicious, super simple summer dessert all within an hour.
Whether you're cooking for one, or a whole group, then this peach cobbler with cake mix is the way to go.
Peach cobblers are essentially foolproof when you throw a cake mix into the blend!
The peach-pecan cobbler features a slight twist on the classic recipe but the addition of pecans which makes for a nice nutty and crunchy texture that it otherwise misses.
However, that's where the differences end. The same easy method remains but instead, you'll receive a more flavorful dessert.
If you're bored of the classic peach cobbler, then try for taste!
Looking for some summertime gluten-free recipes? Then, this gluten-free cake mix peach cobbler couldn't be easier – or more delicious!
Cobblers are a classic American dessert featuring baked fruits embedded in a pastry or biscuit crust.
This recipe ensures that even gluten intolerant people can enjoy the classic without missing out.
Typically, gluten-free desserts tend to possess a tedious process. However, you don't have to worry about this with the above-mentioned recipe.
Here, you'll want to make the most out of gluten-free cake mixes for the base. Then simply toss all the other ingredients together and bake until golden perfection.
Did you know that you can make the perfect summer dessert with only three ingredients? Crazy, we know!
Not only is this peach cobbler with white cake mix insanely delicious but it is also incredibly easy to make – what more could you ask for?!
All you need to do is grab a box of white cake mix, a stick of butter, and, of course, a can of sweet peaches, then in the oven it goes!
Looking for the ultimate fuss-free recipe you can whip up in minutes? Then you've come to the right place.
This peach cobbler crumb cake is incredibly easy to make with only 3 necessary ingredients including a can of peaches in light syrup, a stick of butter, and a yellow cake mix.
If 7-UP in a cake sounds crazy, don't knock it until you try it!
With only three ingredients: 2 cans of peach pie filling, yellow cake mix, and, of course, a can of 7-UP.
Serve with a dollop of ice cream, and you're good to go!
This is a quick and easy dessert that the whole family can enjoy all year round!
With only simple ingredients and a few minutes of your time, this recipe is sure to become a regular on the dessert menu.
This recipe requires a little more effort than the previously mentioned peach cobblers; however, that doesn't make it any less worthwhile to make. In fact, it tastes exceptionally delicious.
Layers of cinnamon-scented yellow cake are topped with cheesecake mousse, crunchy brown sugar cake crumbles, and caramelized peaches – yum!
Final Thoughts
Peach cobbler with cake mix and the ultimate low-effort, stress-free dessert which the whole family will enjoy.
With straightforward ingredients and uncomplicated steps, you can whip this dessert up in a matter of minutes.
Hopefully, this guide has provided you with some inspiration for your next peach cobbler creations.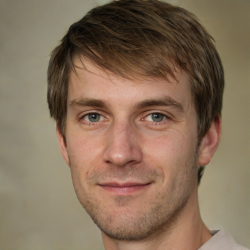 Latest posts by Mark Williams
(see all)