Mini strawberry cheesecakes are a delicious spring or summer dessert choice.
There are many different ways of making a homemade strawberry cheesecake and we will look at lots of different recipes in this article.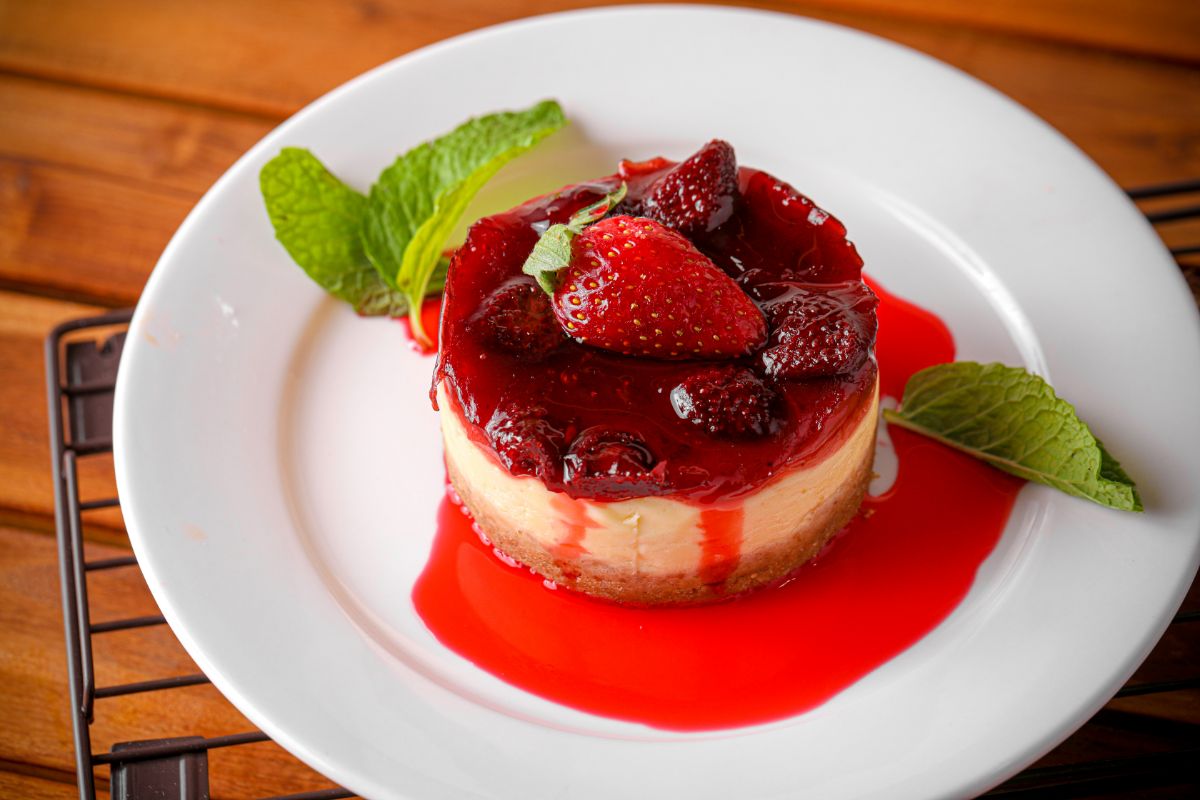 Mini strawberry cheesecakes are perfect for an afternoon snack or a dessert at a garden party. Let's dive into some of the best recipes for you to try today!
This cheesecake recipe immediately stood out to be because of the fresh cream, and fresh strawberries placed on top of each mini cheesecake.
The presentation shown in this recipe is fantastic, and your guests will be blown away with this one!
These cute desserts will be gone in no time, and every member of the family will love them.
The texture of these mini cheesecakes are delicious, being both creamy and smooth with the freshness of the strawberry on top giving a burst of sweetness with each bite.
These mini cheesecakes are perfect for when you are entertaining as they can be made the day before and kept refrigerated until they are ready to be served.
You won't need to do any preparation on the day.
This cheesecake recipe replaces the fresh cream and strawberries with a strawberry sauce.
The sauce is homemade and absolutely delicious, while still being fairly easy to make. It is sweet and gives the cheesecake some interesting flavors.
This recipe gives you some creative control, allowing you to swap out the strawberry sauce for some fresh berries or a salted caramel sauce if you would prefer.
Again, these cheesecakes can be made the day before and refrigerated until they are ready to be used.
These mini strawberry swift cheesecakes look absolutely fabulous during the spring and summer.
Serve them on a plate with a couple of fresh strawberries and some whipped cream, and you will have all of your guests taking snaps of your desserts for their instas.
These cheesecakes are surprisingly easy to make, and with just a few simple ingredients you will be well on your way to completing them.
They are made with a fluffy cheesecake filling and an easy cookie crust.
These mini strawberry cheesecakes are absolutely delicious and not too difficult to make. They are presented in a tower, and can be taken apart to be eaten individually.
You can use a few different options for the topping of these cheesecakes. Whipped cream looks great, tastes great and is super quick and easy to put on the top of the cheesecake.
Strawberry sauce is another option for the topping of your cheesecake.
Simply throw the strawberries into your food processor to pulse them, and then place them in a saucepan with some sugar and bring the sauce to a boil.
Simmer this sauce until it is thickened and spread it over the cheesecake. Fresh strawberries are another way to finish off the mini cheesecakes.
You don't have to stick to just one of these topping options, you could always go for all three!
These mini cheesecake bites are absolutely delicious. The strawberries are stuffed with cream cheese and they make a cute strawberry bite that looks fantastic on a plate.
They can be prepared the night before so you don't have to worry about preparing them on the day.
As this recipe uses fresh strawberries, though, you will have to make sure that you don't prepare them much further in advance than this as the berries can become very soggy if they are left for too long.
These cheesecakes are great because they don't need to be baked. They are served over mini graham cracker crusts and are topped with whipped cream and strawberry sauce.
These desserts are the perfect size dessert as they come in individual servings.
These are fairly easy to make, and they will wow your guests.
These mini strawberry cheesecakes are full of flavor. You can taste the champagne in them and they have a sweet berry flavor.
These strawberry champagne cheesecakes are made on a vanilla wafer crust and the filling is made of creamy champagne.
The strawberries are placed in the cheesecake in chunks of fresh strawberries. They then come with a whipped cream topping, too.
This recipe gives a twist to the original mini strawberry cheesecake recipes, as it has an extra layer of flavor.
This is another no bake cheesecake that is absolutely delicious and very easy to make. It will only take you minutes to make, but the end result is great.
These cheesecakes are served in a glass and they look very striking as the dessert for a dinner party. Your guests won't believe that they only took a few minutes to make.
This recipe is super easy and a great new way to present your cheesecake. The kids will love this one, as they look so bright and colorful and taste just as good!
You will need quite a few different ingredients for this one, so you will need to be well prepared to make this recipe. You can prepare this dessert the night before and leave it refrigerated so that you are well prepared.
These no-bake cheesecakes are delicious. The vanilla cheesecake is creamy and smooth and in the center there is a delicious surprise!
The chocolate covered strawberry in the center of each one of these mini cheesecakes make them even more delicious.
The cheesecake sits on top of a graham cracker. Make sure you keep the surprise in the middle of the cheesecake quiet for your guests. That way, they'll be delighted with the delicious surprise.
These mini strawberry cheesecakes are slightly healthier than some of the alternatives on this recipe list!
They are also a lot lighter because they are made with greek yogurt and less sugar than the other recipes. 
You can make this option gluten-free if you choose to use graham crackers as the base. These healthier mini cheesecakes are great for a more everyday dessert, rather than a dinner party surprise.
These cheesecakes are in the shape of a heart. This is a perfect dessert for an anniversary or valentines day dinner if you're trying to wow your partner.
They are also great for a bit of fun at a dinner with friends. They are delicious mini strawberry cheesecakes and they are fairly easy to make.
These mini cheesecakes are a big hit with the kids because they love the chocolate covered strawberries. These cheesecakes are a huge hit as they taste and look great.
You should make these cheesecakes with a strawberry sauce to give them some extra flavors.
These mini strawberry cheesecakes also look great at a bake sale because people will be drawn in by the great aesthetics of the desert.
This cheesecake is great because you can change the strawberries for almost any other berry out there. It is a great dessert that is tangy and creamy.
It is both sweet and fresh. If your family prefers blueberry, there's nothing stopping you from making this dessert using blueberry topping.
These cheesecake minis are great on lots of different occasions. They are a hit during the week when you fancy a dessert, and they work fantastically at a dinner party, too.
Because they are so easy to make, you will be able to whip them up in no time. You can also opt to make them the night before they are needed and keep them refrigerated until you need them.
These are a great summer dessert served in great mini jars. They look great and they work really well as individual desserts to serve your guests, rather than having the mess of cutting up a cheesecake.
You are also able to make just as many as you need with this recipe.
This strawberry cheesecake salad is a great twist on some of the other cheesecake recipes on our list.
It is sweet and creamy and you will find lots of strawberries hidden through the desert! It is a very exciting dessert as you don't know what you're getting with each spoonful.
These cheesecakes are a take on the chocolate covered strawberry cheesecake we saw earlier.
However, instead of just one chocolate covered strawberry, the whole cheesecake is topped with chocolate. These cheesecakes are delicious and very exciting and easy to make.
Final Thoughts
Give some of these delicious mini strawberry cheesecake recipes a try. There are some great recipes on this list and there is a lot of great variation.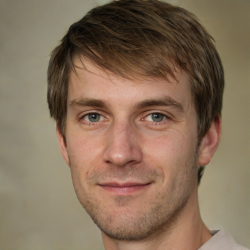 Latest posts by Mark Williams
(see all)