Oatmeal crumble toppings work surprisingly well for both breakfast and desserts. So why don't you try some of our favorite oatmeal crumble topping recipes?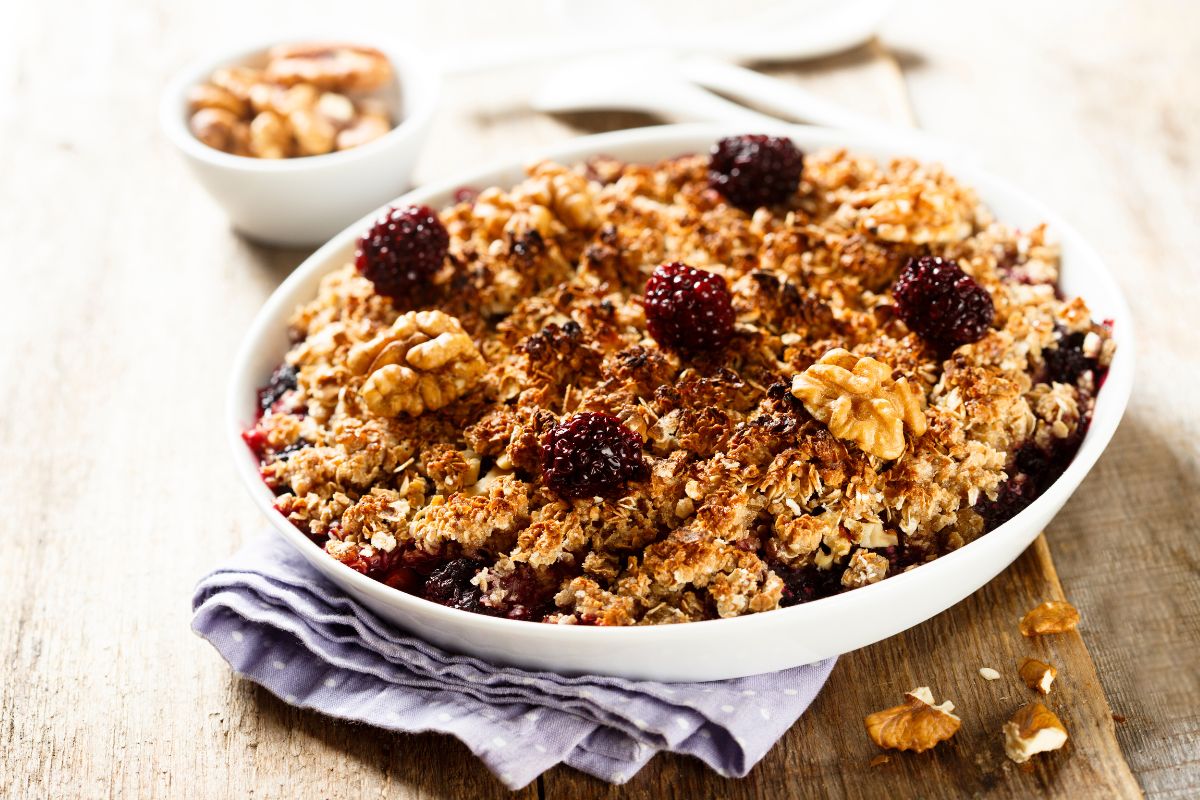 We've compiled a list of 15 of our favorite oatmeal crumble topping recipes for you to take a look at today.
My Parisian Kitchen is a huge fan of using oatmeal topping to create a crisp and clumpy texture to any fruit bake.
It works for any kind of crumble, and it even reduces the amount of sugar you use in a recipe and thus becomes healthier altogether.
My Parisian Kitchen uses a variety of oatmeal toppings for their dishes, with the only thing they require being butter, sugar, flour, and oatmeal itself.
Of course, how long you need to bake also depends on just what kind of fruit you're making a crumble for.
This oatmeal crumb topping works wonders for pies and is a great replacement for your average crust.
You just need a cup of oatmeal, flour, brown sugar, butter, cinnamon, and a touch of salt. All you need to do is ensure the oats don't become too dark when they're being baked, but overall, this works well on any pie recipe you're using, but works especially well for peach pies!
If you're looking for a new topping for your fruit pie, don't hesitate to give this one a go!
This easy oat crumble topping is the best part of any dessert; you only need six ingredients to make it.
You can serve it with any dessert you want and even include some ice cream if you feel delightfully decadent. All you need is some all-purpose flour, rolled oats, light brown sugar, cinnamon, unsalted butter, and a bit of sea salt.
By combining these elements, you'll be in for a brilliant treat you'll enjoy with your next dessert!
This simple gluten-free oatmeal crumble recipe can work on cakes, muffins, or any crumble. Made with only five ingredients and 15 minutes of baking time, you'll enjoy this crumble easily.
You can even make the topping in advance or freeze it before you bake it. All you need are some rolled oats, oat flour, unsalted butter, brown sugar, and a hint of apple pie spice.
Combining these will make for a delightfully sweet taste. You'll find that it works brilliantly for any other apple-themed cakes or crumbles, and you could even add some walnuts or salt to taste.
Have you ever found the perfect crumb topping? Well, Sher Bakes believes she's found an ideal recipe.
Made with rolled oats, melted butter, all-purpose flour, brown sugar, and cinnamon, you only have to bake this crumble between eight and ten minutes.
You'll find that the crumble is smooth thanks to the melted butter and will have plenty of a sweet taste to work with any kind of cake or crumble that you're making.
Now, I could have just focused on only finding oatmeal toppings, but we need to see how they work in practice too.
So, let's look at this apple crisp that utilizes oatmeal and pecan crumble topping. The most exciting part of the crumble is that it uses quick-cook oats instead of rolled oats, which makes it distinct from the other recipes on this list.
It includes cinnamon, nutmeg, and cardamom and has several pecan halves interspersed in the crumb, so you can still have a distinct crunch.
I just love a good crumble topping that emphasizes its cinnamon taste.
Unlike some of our earlier recipes, it uses brown and granulated sugar, mixing two very different sweet flavors. It's easy to mix all the ingredients with your hands and ensure the butter is fully immersed in the recipe.
You need to ensure that there aren't any dry patches in the mixture, and while other recipes include melted butter, this one works better with cold butter that hasn't been softened.
If you don't want cinnamon, you can substitute it with nutmeg or other preferred spice.
Look, the Amish know how to make apple pies and how to best use a crumb topping. Instead of using a traditional pie crust, you can quickly spread the oatmeal crumb over it.
To make the topping, you just need to mix some brown sugar, flour, quick oats, and a stick of butter.
You just need to sprinkle it over the pie and pat it gently, but you don't need to add too many spices to your crumble with this recipe because so many spices are already available in the apple pie itself!
It works as a simple crumble topping that you can enjoy with a bit of variety now and then.
The oat streusel topping is a perfect mixture of oats, flour, sugar, and butter, and it works for so many different breads and pastries. It has an excellent crumbly and buttery taste that will leave you wanting more.
You can make this streusel the day before you make anything else and vary it with some walnuts to give it plenty of flavor and texture.
You just need to combine all the ingredients and mix them, and you'll know it's perfect when you see the large chunks you can put on any of your dishes.
The oatmeal cookie crumble topping is one that Crazy For Crust has put on their delicious berry crisp recipe.
To make this recipe, they noticed that the oats they used made it taste just like oatmeal cookies, and how could it not? Made with cold butter, you'll find that the recipe is crumbly and smooth and fits right in with the sweet and juicy berries that they used for this recipe.
A warm crumble makes it work well with a massive scoop of ice cream that will melt into it!
You're probably wondering how you can make oatmeal crumble topping vegan, and the answer is easy. You just need to substitute your butter for some margarine.
If you want to make it gluten-free, you just need to check what type of oats you need to use, as not all of them are gluten-free.
Everything else is as you'd expect, flour of your choice, sugar of your choice, some oats, some margarine, and a bit of salt and cinnamon to taste! Aside from that, it tastes exactly as you'd expect.
How can you make oatmeal crumble topping stand out? The answer is by making it kosher. In this recipe, you even include baking powder and mix it with some room temperature butter and the rest of the recipe.
The best thing about this crumble is that it doesn't overpower the other ingredients in your other dishes, and you can serve it with anything.
It has a perfect golden texture that has plenty of crunch to it, and you can easily adjust it. If you want to add pecans or walnuts, you can.
While you might think that oatmeal crumble is plenty healthy as it is, that might not always be the case. The best way to make it healthier is by making it both gluten-free and dairy-free.
They recommend rolled oats, plain flour, vegan butter or coconut oil, maple sugar or coconut sugar, and plenty of walnuts and other spices.
You'll be surprised at how well coconut oil serves as a substitute for butter, and so long as it's frozen, you'll be in for a treat!
Kelsey Nixon has worked on her oatmeal crumble topping recipe from the cooking channel.
To add to the recipe, along with the expected ingredients, she includes some ground ginger and nutmeg into the recipe so that it works beautifully with your selected fruit.
Then, you can just put it into a bag and freeze it until you're ready to use it. After all, you can always make these in advance and make them for everyone else later!
We'll finish this up with a super easy-to-make, yet surprisingly addicting, streusel topping.
You can easily substitute the flour to make it gluten-free; they even say that you can use instant oats, too, if you have them handy! But what makes it different from the rest is its use of pumpkin spice to replace cinnamon.
How can you say no to that in the fall?
Final Thoughts
These are 15 of our absolute favorite oatmeal crumble toppings and some examples of great recipes to use with them! Oatmeal crumble is a healthier alternative to pie crusts, but that doesn't have to make them boring.
You can check out some of our other lists on the rest of the site, too, if you want more ideas for recipes!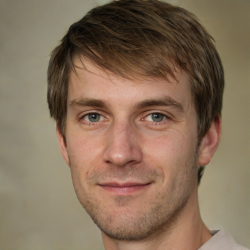 Latest posts by Mark Williams
(see all)