Some of the best produce is in season in summer, from bright yellow corn on the cob, to ripe red tomatoes, and juicy peaches.
Fresh peach cobblers are the quintessential summer dessert, especially when topped with a dollop of vanilla ice cream. No wonder then that for many people peach cobbler is their favorite dessert.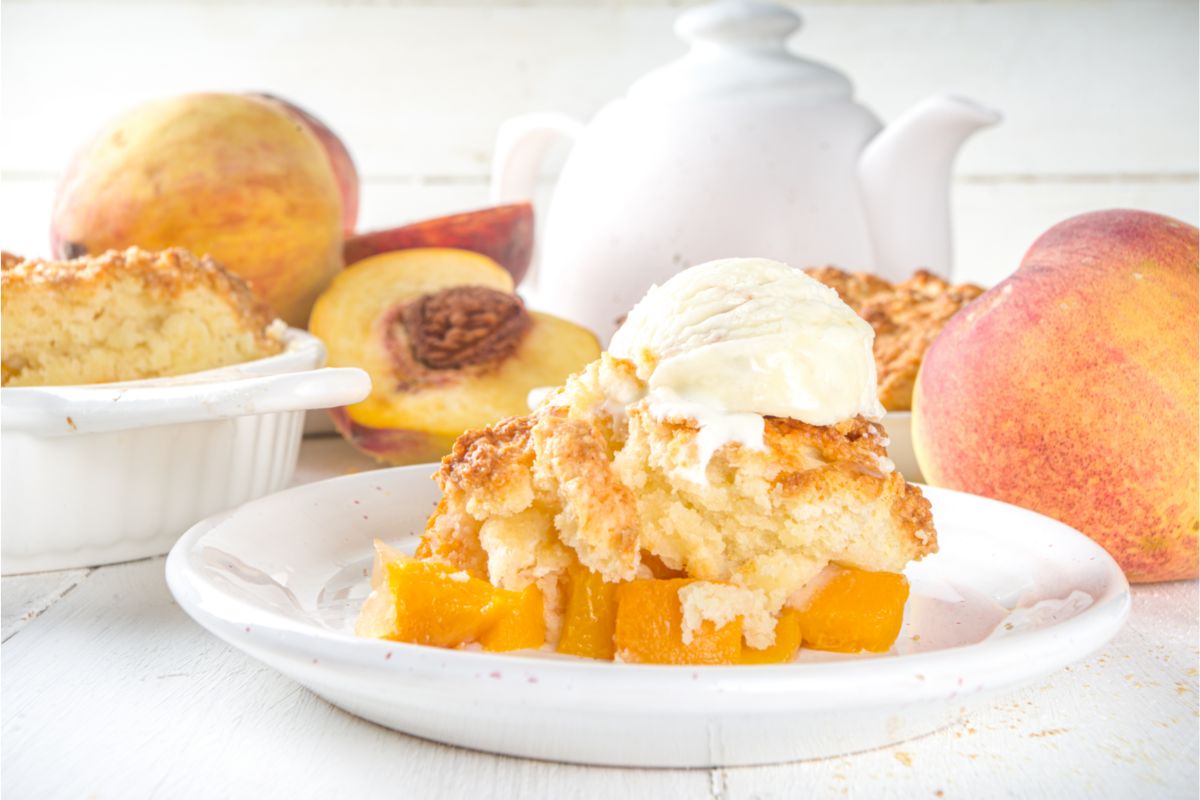 Below, you'll find 15 of the best peach cobbler cake recipes to try today, as well as some mouth-watering and simple peach cobbler recipes to make no matter what time of year it is.
This recipe is quick to make, and will fool people into thinking you've bought it at the store. It's such a crowd-pleaser and incredibly easy to make.
If peaches are not in season, you can substitute fresh peaches for canned ones. When using canned peaches, use peach syrup rather than water and cut out the white sugar. 
You read that right, to make this peach cobbler cake you just need three ingredients! One bite and you're sure to be transported to a warm, sunny day even if it's the depths of winter.
This recipe isn't just delicious, but easy to make and also budget friendly. 
This upside down peach cobbler pound cake has a cream cheese and tasty crumb topping, and buttery streusel.
It's a perfect dessert to make during peach season, but can also be enjoyed by peach lovers all year round.
This easy peach cobbler cake is an amazing family dessert, and really is simple to make! The star of this dish is canned peaches.
Who said fresh peaches were the be all and end all for the perfect peach cobbler cake?
Simple and quick peach dump cake combines cake mix and butter with sweet canned peaches for a mouth-watering dessert we guarantee you'll love.
Prepping the cobbler is super easy and we're guaranteed you'll get it perfect on the first try.
Plus, you don't have to wait for peach season to make this delicious dessert! This dump cake uses canned peaches so you can keep making it all year round.
The peaches are also topped with buttery, crispy – and not to mention – delicious cake topping that makes it hard to resist. 
This cake mix peach cobbler is best enjoyed with a scoop of vanilla ice cream that slowly melts as you savor every last bite. It also holds up well in the fridge so you can enjoy it the next day…
You can even have it for breakfast if you want. We're not judging! So get your peaches and get started on this delicious cake mix peach cobbler ASAP!
This peach cobbler pound cake is sure to wow the crowds at any potluck or barbecue! It's dense, moist, and has a buttery streusel topping that takes it to the next level!
If you love peaches and showstopping desserts then this is the cake for you!
This recipe combines the soft chunkiness of a pound cake with the beautiful fruity flavor of a peach cobbler for a truly indulgent dessert.
We guarantee you'll be savoring every last bite. Made with real peaches it's hard to stop at one slice with this cake! It's top to toe perfection from the hefty base to the sweet, delicious drizzle.
This old-fashioned peach cobbler forbids any shortcuts. Made with fresh peach slices and flavored with cinnamon, lemon juice, orange juice and nutmeg, this recipe is finished with flaky, homemade pastry.
This peach cobbler is both decadent, but also super simple to make – especially because the recipe calls for store-bought cinnamon rolls.
Because this dish is so simple to make, it can also be ready in no time. Like any good peach cobbler, we recommend serving it with a scoop of vanilla ice cream.
The nutmeg in this recipe is sure to create a beautiful, nostalgic aroma, and peach cobbler is nothing but a beloved, classic dessert!
Plus, it's so simple to make, thanks to the fact that you pour the batter on the bottom of the dish and spread the peaches out on top.
This creates a gorgeous base that soaks into the peaches, resulting in a beautifully gooey dessert that resembles a bread-like peachy pudding with a golden crust.
Did you know that to call a chef a shoemaker was once considered a huge insult?
If you compared a chef's cooking skills to that of a 'cobbler' (i.e. a shoemaker) it meant that they were such a bad chef that a cobbler could come in and do a better job.
But now, when we think of cobblers in the kitchen, we think of beautiful desserts like this peach cobbler recipe!
Nonetheless, it's so simple to make that anybody can make it, and calls for freestone peaches and self-rising flour.
This gluten-free cobbler is so simple to make. You just need to spread fresh peaches over a light, tasty gluten-free batter. You can also top with grated nutmeg and whipped cream.
Made with fresh ingredients, this peach cobbler is totally delicious. We guarantee that it'll be your dessert of the summer!
If you can't get fresh peaches or they're out of season, there's no need to panic, as you can use canned peach slices instead and it's still beautiful. 
This peach cobbler is the ultimate summer dessert. It's made with fresh peaches, sugar, and a topping that has a similar consistency to under baked cookie dough, with broiled, crunchy sugar on top.
This peach cobbler is juicy and dripping with a peach flavor that couldn't be sweeter! It also has a jammy base under a biscuity topping.
The Difference Between Cobblers And Crisps
Truthfully, cobbler and crisp are pretty similar, but the difference comes down to the ingredients and the texture.
Crisps have more of a crumbly texture and are normally made with brown sugar and oats, while cobbler has a cakey or biscuity topping. Both crisps and cobblers are buttery and sweet, but have wildly different textures.
Cobblers were originally not created with prettiness in mind, but they're still incredibly mouth-watering.
How To Prepare Peaches For Cobbler
To peel or not to peel? That is the question! But honestly, there is no right answer. It's all down to personal preference.
Some can't abide the peel and would rather remove it, while others are not bothered by the peel, and some people would rather not take the time needed to remove them. 
However, if you do want to peel your peaches, let's take a look at how you can do this effectively. First, boil the peaches for a few minutes, then add them to an ice bath, and all that's left to do is peel them!
But now you might be wondering, how do you slice peaches? Slicing peaches into thin wedges allows you to easily lay them on top of each other for a more even cobbler and a jammy, thick consistency.
Cubing peaches is also an option, but peach wedges usually have a better look and texture.
Frequently Asked Questions
Can You Use Frozen Peaches To Make A Peach Cobbler?
Yes, you can make peach cobbler with frozen peaches.
It won't be as jammy because frozen peaches tend to be harder and keep their shape better, but frozen peaches tend to be a great alternative to fresh peaches when they're not readily available.
You just need to put the frozen peaches in a baking dish and put them in the oven while you focus on your topping.
Once the topping is mixed, the peaches should be thawed out. Then you just need to drain them, put them in the pan and mix them with sugar. 
How Can You Tell If Peaches Are Ripe Enough For A Cobbler?
When your peaches are firm yet gentle when you squeeze them they've reached a ripeness perfect for cobbler!
Can You Make Peach Cobbler With White Peaches?
White peaches tend to be slightly sweeter then yellow peaches, but yellow peaches tend to be better for cobbler.
What Is The Best Way To Store Leftover Cobbler?
The best way to store cobbler is to cover it, and leave it in the fridge for no longer than 5 days.
Can You Eat Peach Cobbler Cold?
Yes, you can enjoy peach cobbler cold, at room temperature, or hot. Either way, it's delicious!
We recommend enjoying peach cobbler warm or at room temperature, especially topped with ice cream or whipped cream.
Final Thoughts
When life gives you fresh, ripe peaches make peach cobbler cake!
We're sure any of these recipes would go down a treat at your next barbecue or potluck, and if peaches are not in season but you still want a taste of summer, then just reach for the canned peaches!
They're still guaranteed to make a beautiful peach cobbler cake.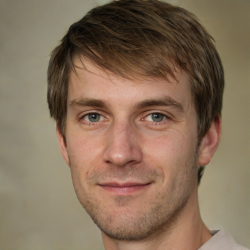 Latest posts by Mark Williams
(see all)