When it comes to choosing a dessert option, perhaps none are quite as good as the strawberry cobbler. Not only are these sweet and delicious, but they're pretty easy to make.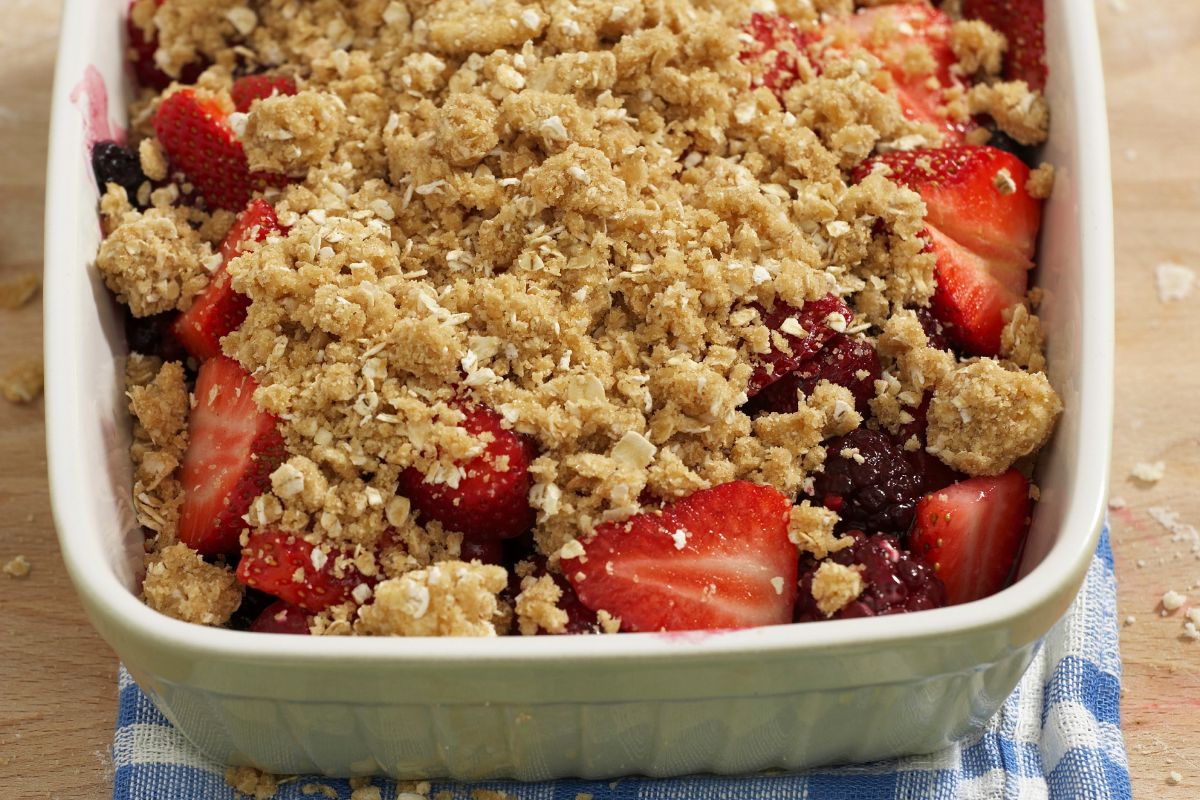 Luckily, strawberry cobbler can be modified and tweaked with each recipe, so we've decided to create a list of the 15 best strawberry cobbler recipes that you can try today!
Read on and find out much more!
What Is A Strawberry Cobbler?
Strawberry cobbler is a pastry dessert dish that is massively popular in the country, and indeed around the world. It's quite easy to make and generally speaking, almost anybody can make it.
In other countries, a cobbler is often referred to as a crumble due to how the finished product looks. When it comes to strawberry cobbler, the dessert is essentially a pastry with an easily flaked crust and a strawberry filling.
Why Is Strawberry Cobbler Popular?
Strawberry cobbler is so popular for the following reasons!
The Taste
Strawberry cobbler has a unique, sweet and highly fruity taste which most people absolutely adore! When it is served piping hot and covered with cream, custard or ice cream, it really is difficult to beat!
It's Simple
It's really quick and easy to make a strawberry cobbler. Most people can follow recipe instructions online and are able to make this dessert in a really short amount of time.
It's Easy To Modify
If you have dietary restrictions or particularly food needs, it's easy to change a few of the ingredients, which we shall see, and you can still make a fantastic strawberry cobbler.
1. The Classic Strawberry Cobbler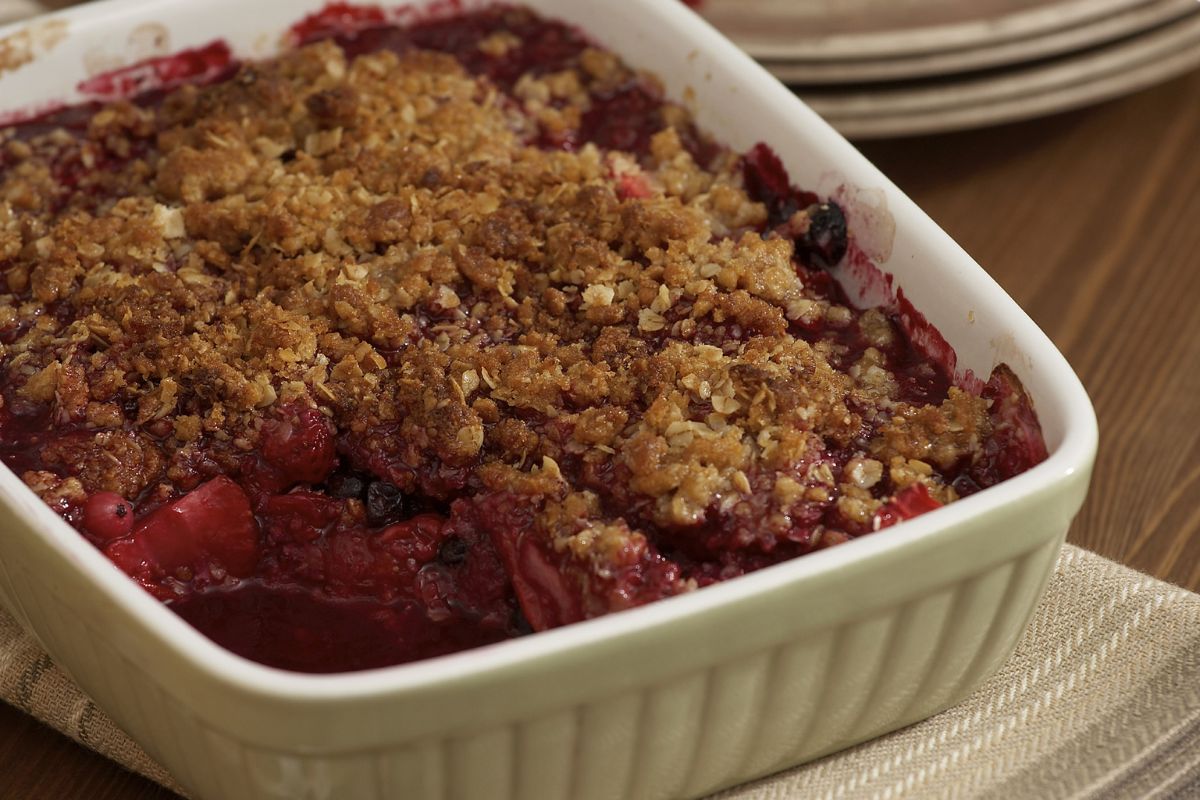 So, we can't go any further without first showing you the classic way to make a strawberry cobbler. Before you start though, you will need to source yourself the following ingredients:
Granulated, refined sugar
Unsalted butter
All purpose flour
Baking powder
Whole milk
Fresh strawberries
Vanilla extract
To make this cobbler, you will need to chop up your strawberries to the size you'd like them, and mix them with sugar.
Get your butter and melt it on a pan until it's completely liquid and then pour that into your sugar and strawberry mix. Next, you will need to set this aside to macreate for a while.
In another bowl, mix together flour, baking powder, sugar and salt, along with milk and vanilla extract. This is now your batter, which will need to be all mixed together with your strawberries.
You will then place this into a baking dish and cook for around an hour or so. After this, take it out of the oven and it should be golden brown. From here, let the cobbler cool down for about ten minutes and then serve with cool ice cream or whipped cream.
2. Use Brown Sugar
As we mentioned earlier, it's possible to modify your strawberry cobbler without harming the overall finished product. If you wish to reduce the amount of calories that your strawberry cobbler will have, you may decide to use brown sugar.
Be aware though that brown sugar tends to cook at a higher temperature than white, refined sugar. As a result, you may need to cook the cobbler for a little longer than you would have.
The taste may be a little different, but it is much better for you than white sugar is, so it's certainly worth thinking about.
3. Frozen Strawberries
If you don't have access to fresh strawberries, then there's no reason why you can't use frozen strawberries. If you have the option to use fresh strawberries though, you should always use those first.
However, by using frozen strawberries, you will still get a good finished cobbler – but the taste might be slightly different and may also cook a little differently.
Frozen strawberries tend to be much sharper in a cobbler, so you may wish to add extra cream at the end to take away some of the kick.
4. Strawberry Jelly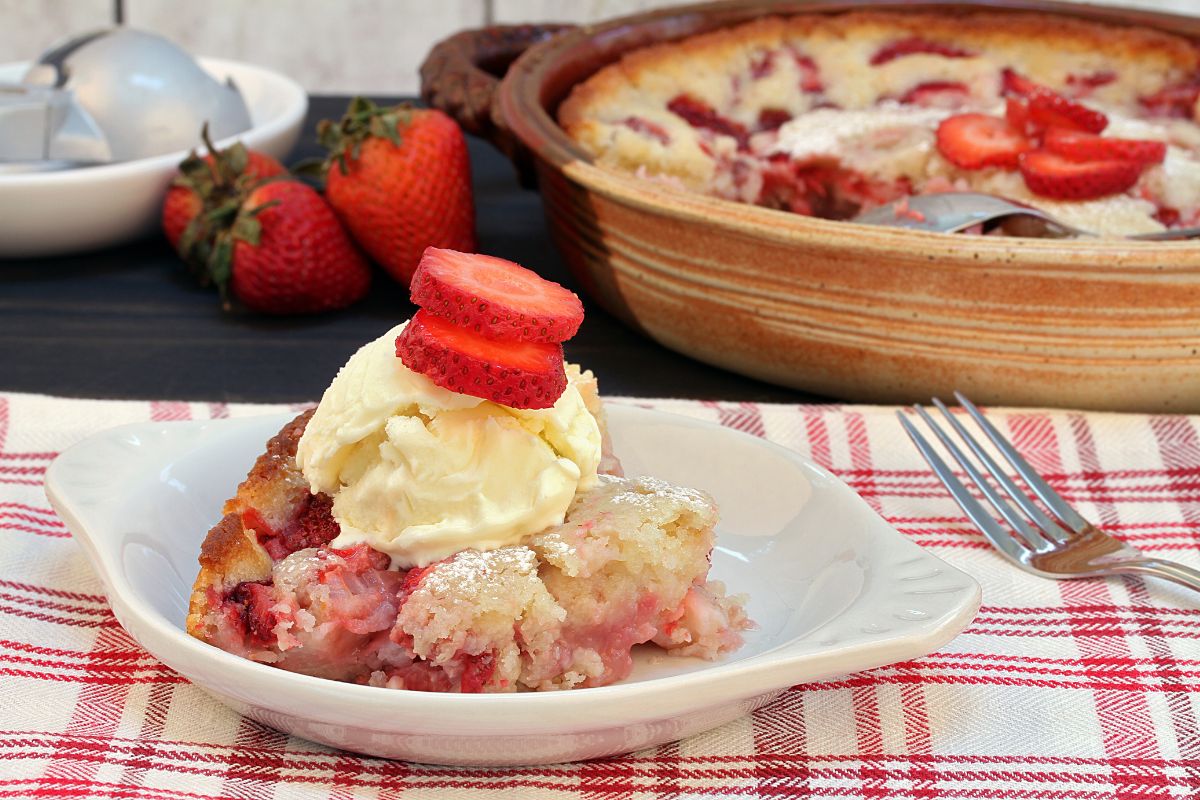 If you don't want to use strawberries but you still want to get the amazing strawberry flavor, then there's a great option in strawberry jelly.
Essentially, the way you'd include strawberry jelly to a cobbler is in the batter mix. So, while you're mixing together the butter and the sugar, you will want to let strawberry jelly get up to room temperature and then scoop it into the mix.
After it is cooked, you'll get an amazing strawberry flavor to your cobbler, but without the hassle of having to purchase fresh strawberries.
Be careful when this is hot though, jelly has a tendency to stay warm for a very long time!
5. Salted Butter
If you only have salted butter in your home, then you can actually still make strawberry cobbler using it – however, you will have to forget about adding extra salt. This is important so you are not making a very strong and salty cobbler!
6. Skimmed Milk
You may want to reduce the number of calories in your cobbler, and one of the easiest ways to do that is by using skimmed milk rather than whole milk.
You will still get the same appearance for your cobbler, but the consistency may be a little more fragile than it would be with whole milk.
7. Honey Drizzle
One of the best additions to a strawberry cobbler is to add an amazing drizzle of honey to the top of the cooked cobbler.
Beforehand, you may decide to add a little more honey into the batter mix, or even lather it onto the top before you begin baking!
8. Gluten Free
If you have a food restriction to gluten, you will want to use gluten free flour, baking powder and other ingredients during the process.
It's important that you check the labels for gluten free products!
9. Sugar Free
You can also decide to make your cobbler sugar free! It might sound crazy, but the natural sugars in strawberries can actually be enough sugar for your cobbler. If you want to, simply add a little more strawberry sauce to the top.
10. Ice Cream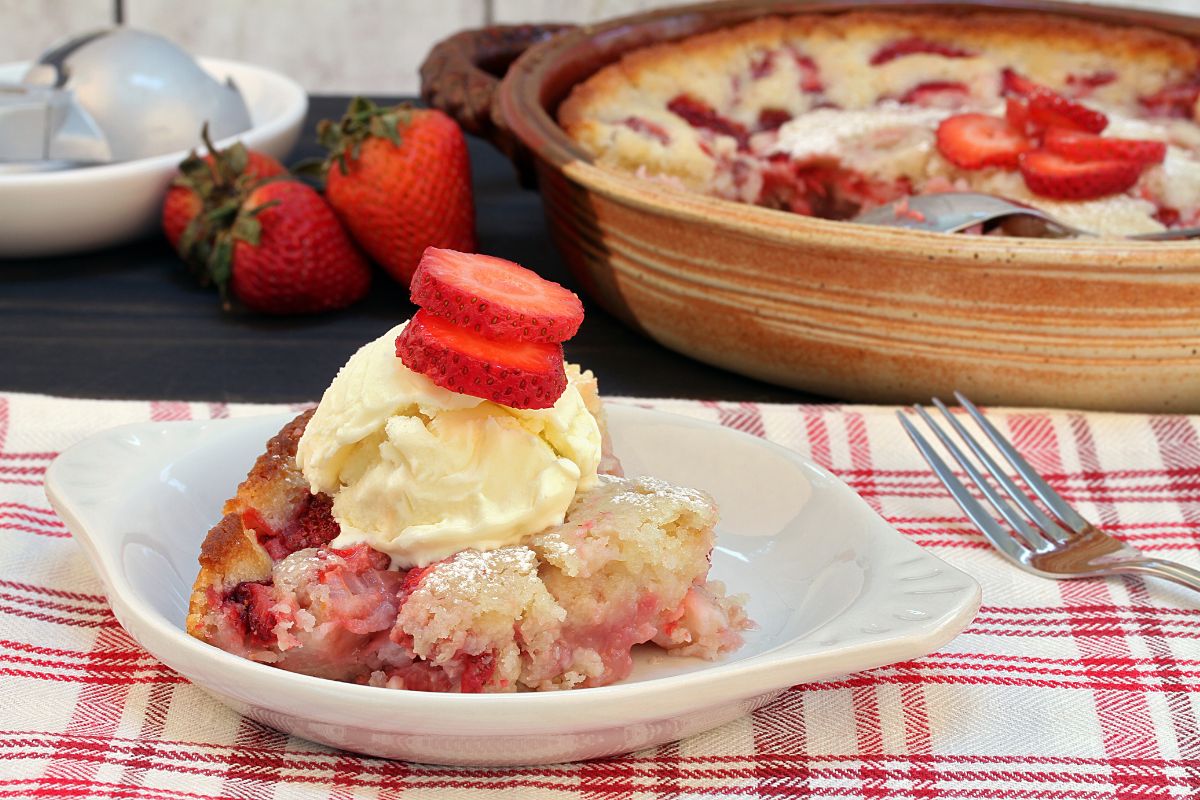 One of the best ways to change up your strawberry cobbler recipe is by covering the finished product with beautiful vanilla ice cream.
Strawberry and vanilla is a brilliant pairing and can work wonders for your dessert!
11. Maple Syrup Instead Of Vanilla Extract
Vanilla extract is used for both the texture and the aroma of the strawberry cobbler. However, you can get a similar dessert finish by using maple syrup. It truly is a beauty!
12. Double Cream
Double cream can be a way to top off the strawberry cobbler. It's probably the best one to use out of all cream choices – but you'd want to opt for this or whipped cream if given the options.
13. Chocolate Filling
One good way to kick your cobbler up a notch is by adding chocolate pudding mix to the cobbler. Within the batter mix, add melted chocolate or pudding mix and let it stir up before cooking it.
Once finished, you should have a thick center and a gooey texture!
14. Minty Cobbler
If you want to make your cobbler a little more interesting, then why not add some fresh mint? You can either do this within your batter mix, or, a better option, put fresh mint on to the finished cobbler.
Not only will this make the taste very fresh, but the aroma is absolutely gorgeous to walk into a room to!
15. Caramel Cobbler
Finally, an awesome way to tweak your strawberry cobbler is by adding caramel to your batter. It brings an amazing sweetness which is difficult to match, and makes the sticky texture that you're familiar with.
To add more to this, you may wish to pour some extra caramel on top of the cobbler when it is fully cooked and then sprinkle a little extra sugar to stick in with the caramel.
You better be a sweet tooth for this one though!
How Long Does A Strawberry Cobbler Take To Make?
As we mentioned previously, a strawberry cobbler is really easy and quick to make. In normal circumstances, from the moment of preparation to the moment you chow down, you're looking at approximately one and a half hours.
Is Strawberry Cobbler Bad For You?
As with many other desserts, strawberry cobbler is quite high in calories due to the sugar and dairy content. However, there's nothing wrong with enjoying a strawberry cobbler slice from time to time!
Our Final Thoughts
Strawberry cobbler can be a beautiful choice when it comes to your dessert. However, we understand that sometimes you want to make a dish your own.
To do this, simply follow some of our ideas and always read the labels for any dietary requirements – you'll be fine!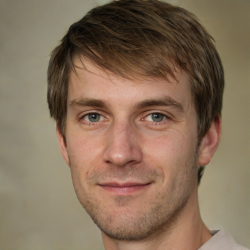 Latest posts by Mark Williams
(see all)