Is there a better side dish to serve with a meal than garlic bread? We seriously don't think there is! This hearty, comforting, and versatile side dish is a real crowd-pleaser that always goes down a treat.
Whether it be served with a fresh bowl of pasta, a spicy bowl of chili con carne, a risotto, or simply on a buffet table, there's nothing to not like about freshly baked garlic bread.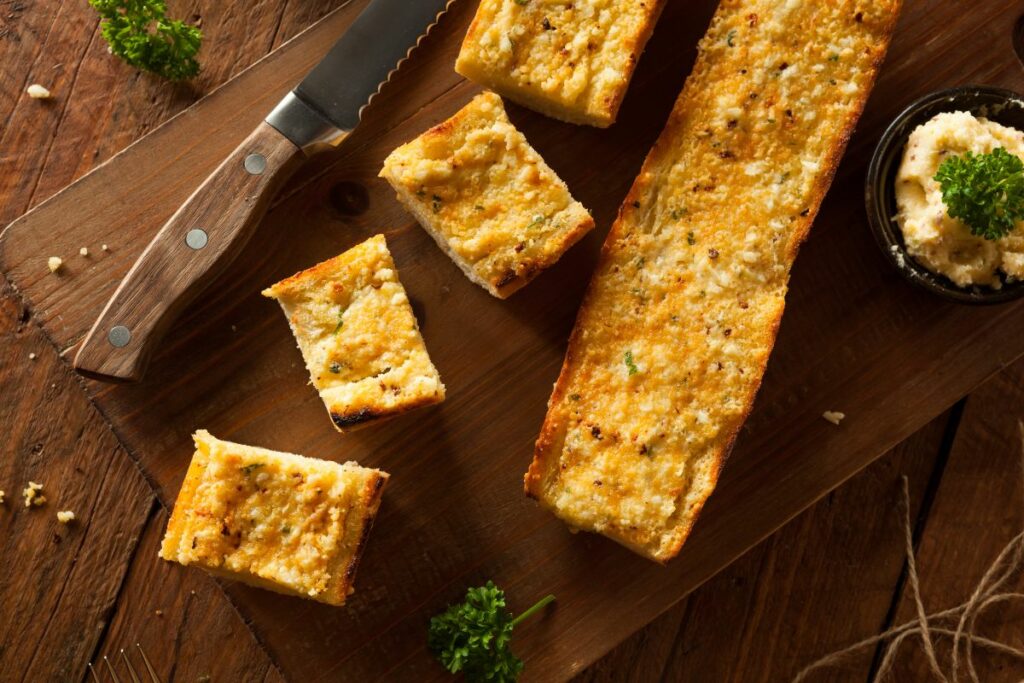 Despite what some people think, garlic bread also happens to be one of the easiest side dishes we can make from scratch.
So much so, we're going to show you how. In this post, you'll find the best cheesy garlic bread recipe you can make right now. We'll show you what you need, how to make it, and what to serve it alongside.
If you want a cheesy garlic bread to serve to your guests, keep reading!
Why You'll Love The Cheesy Garlic Bread Recipe
Before we show you the recipe, let's take a look at why you'll love it. In truth, this question should actually be why wouldn't you love this cheesy garlic bread recipe? There's absolutely nothing to dislike about it and everything to like.
For starters, this is a wonderfully simple recipe that calls for basic ingredients. It will take you less than 95 minutes to make.
Secondly, you only have to follow four basic steps to make a garlic bread that not only tastes great but also looks fantastic.
Thirdly, despite being a simple recipe, this garlic bread looks complex and impressive. Therefore, you'll have no problems when it comes to impressing your guests.
Finally, this cheesy garlic bread recipe is extremely versatile. You can serve this bread alongside a wide range of different dishes.
What Can You Serve This Cheesy Garlic Bread With?
One of the greatest things about garlic bread is its versatility. We can easily serve garlic bread with most dishes or at a buffet. The cheesy garlic bread this recipe helps you make is no different.
To give you a good idea of the dishes you can serve this cheesy garlic bread with, we've listed our favorites below.
Chili con carne
Lasagna
Spaghetti bolognese
Risotto
Gnocchi pasta bake
Pasta bake
Spicy Italian sausage pasta
Fakeaway Nandos takeaway
Hunter's chicken
Prawn Curry
Chicken Skewers
Pizza
Tomato Soup
Of course, this cheesy garlic bread can also be served at an event, whether it be a birthday party, wedding, or baby shower. Simply serve it with all your other buffet dishes and snacks.
What You Need To Make The Best Cheesy Garlic Bread?
There are two sets of ingredients you need to make this cheesy garlic bread. One set of ingredients is used to make the bread dough and the other is used to make the topping.
You'll be pleased to hear that all the ingredients this recipe calls for are basic pantry ingredients. You'll find all the ingredients you need below!
For The Dough
To make the dough for this cheesy garlic bread, you need the following ingredients:
160 ml milk
260 g flour
¾ tsp salt
1 tsp yeast
2 tbsp oil
19 g sugar
For The Topping
To make the topping for your cheesy garlic bread, you'll need:
175 g mozzarella cheese
2 tsp minced garlic
2 tsp finely chopped herbs
2 tbsp butter
A pinch of salt
Once you have all the ingredients you need, you can start making your cheesy garlic bread.
How To Make The Best Cheesy Garlic Bread From Scratch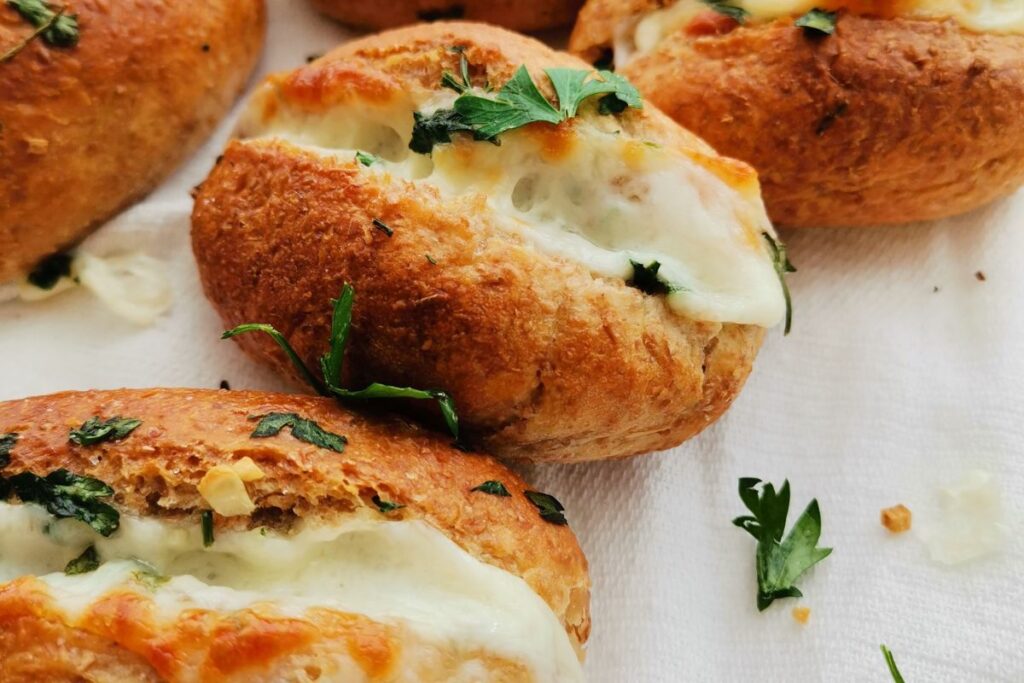 We're now going to show you how to make the best cheesy garlic bread from scratch. We have four fairly basic steps to get through so let's get started.
Step 1 – Prepare Your Bread Dough
The first thing you have to do is prepare your bread dough. To do this, add all the bread dough ingredients together in a mixing bowl and give them a good mix together. You'll quickly make a messy dough.
Once the dough has been well mixed, transfer it onto a clean and flat surface and begin to knead the dough until it becomes elastic and soft. This part is important as it takes a well-kneaded dough to make fluffy garlic bread.
You can use a stand mixer for this step if you have one. It should take approximately 8 minutes for the dough to reach the desired consistency. After that, let the dough sit for 10 minutes.
Step 2 – Shape Your Dough And Place Toppings
Once 10 minutes have passed, roll the dough and shape it so that it takes up a rectangular shape. Rolling the dough into a rectangular sheet will help it fit in your baking tray better.
Next, line your baking sheet with parchment and place the dough on top.
Using a sharp knife, you can then make a square pattern on the dough. We recommend leaving a ⅛-inch gap toward the edge of the sheet. Once that's done, you can start adding your toppings.
To do this, first mix the butter and garlic together to make garlic butter, This garlic butter can then be spread on top of the dough. In the creases you made with your knife, place sticks of mozzarella cheese.
Cover your baking tray with plastic film.
Step 3 – Leave The Dough To Proof
You must now leave the dough to proof for 30 minutes. For those that don't know, proofing is when you let yeast bread rise one last time before it's baked. This gives the dough more time to rest and rise.
After 30 minutes, the dough should have really puffed out.
Step 4 – Bake Your Cheesy Garlic Bread
The final step is to bake your cheesy garlic bread. For the best results, you should bake your bread at 350 F° or 180 C° for 30 to 35 minutes.
The time it takes for your bread to bake could vary depending on the type of baking tray you use.
A shallow tray will reduce the baking time, whilst a deep tray will increase the baking time. If the top of your bread starts to turn a golden brown color, cover it with aluminum foil.
After 30 to 35 minutes, your freshly baked cheesy garlic bread will be ready to eat. All that's left to do now is enjoy it.
We recommend serving your bread as soon as it comes out of the oven. That way, the cheese will be all gooey and melted. 
Another great thing about this cheesy garlic bread recipe is that you can serve it how it is. Simply place your bread in the center of the table and let your guests pull it apart. The cheese pull alone will be enough to impress them.
Final Thoughts
Making cheesy garlic bread is a lot easier than you might think. We've shown you this perfectly in this post by giving you a super simple cheesy garlic bread recipe that helps you make the most amazing bread in less than 95 minutes.
We would argue that this cheesy garlic bread recipe is the best you can make. It's quick, easy, and extremely delicious. Of course, this garlic bread is also super versatile. You can serve it with a wide range of different dishes or at a buffet.
All you have to do now is give the recipe a try and see what you think. We already know you'll love it!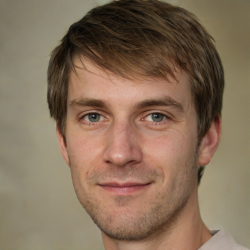 Latest posts by Mark Williams
(see all)