When the festive period comes around, a lot of people think about making a traditional Christmas pudding. This pudding is also referred to as a figgy pudding or plum pudding.
Usually a traditional Christmas pudding is made using suet, but in this easier recipe we are using butter.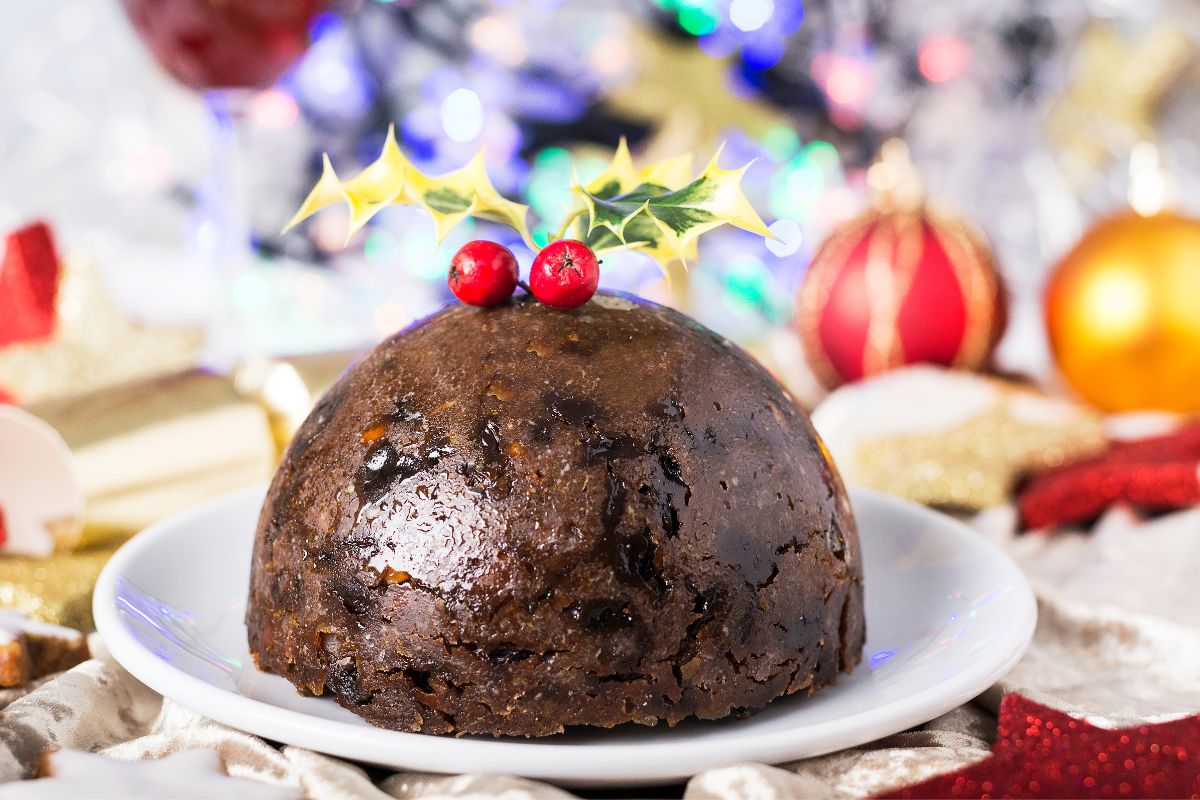 There are a lot of ways to customize a Christmas pudding so that it suits your tastes. What makes this recipe even better is the fact that you can make it ahead of time, and you can make the batter in a matter of minutes.
In this article, we will help you to make the best and easiest Christmas pudding ever. We will also discuss some tips that can help you to perfect your Christmas pudding.
Christmas Pudding Origins
The Christmas pudding first appeared in England during the 14th century.
Traditional puddings are often black and soaked in brandy or other alcoholic beverages.
The pudding's first form dates back to the 14th century. The British produced a dish called "frumenty" that included currants, raisins, wines, and meat or mutton.
During that time, pudding was typically consumed during the Christmas preparation period and tended to be more like soup.
Frumenty had undergone a number of name changes by the end of the 14th century, including plum pudding and Christmas pudding.
Dried fruit became more widely available after the 16th century, and the pudding gradually turned from savory to sweet. In 1650, plum pudding started to become a traditional Christmas dish.
There is now a tradition which dictates that as you are stirring your Christmas pudding batter that you make a wish. Then as you eat your pudding, your wish is supposed to come true.
Why Is Christmas Pudding Known As Plum Pudding?
The curious thing is that plum pudding doesn't actually include any plums! This dates back to the Victorian custom of using other dried fruits, including raisins, in place of dried plums.
The term "plum cakes" or "plum puddings" was used to describe any product containing dried plums or prunes, since they were so widely consumed.
Thus, this pudding may not contain any plums, but since it usually contains prunes, this is how it got its name. Nowadays, not everyone includes prunes in their Christmas pudding, but you may add them to your batter if you wish.
Why Should You Make This Recipe?
There are a lot of reasons as to why you should consider making this Christmas pudding recipe. The main reason is that it is incredibly easy to make, and the batter will be prepared in no less than 10 minutes.
All you have to do is mix all the ingredients in a large bowl to create this delicious batter. It is advised that you make this pudding ahead of time. As this allows the flavors to develop to create a much more flavorsome and mouth watering end result.
This recipe is alcohol-free, however, you can add a splash of rum to your batter if you wish.
Christmas Pudding Ingredients
Before you get started, it is important to collect the following ingredients. You can make some substitutions, to suit your taste. You will need the following to make this delicious Christmas pudding recipe.
½ cup of light brown or soft dark sugar.
½ cup of softened butter.
2 eggs.
1 tablespoon of molasses (If you don't have molasses, you may use brown sugar).
2 ¾ cups of mixed dried fruit (You may use any dried fruit including nuts, raisins, glazed cherries or candied peel).
2 cups of bread crumbs.
½ cup of plain flour.
1 teaspoon of mixed spices.
1 teaspoon of cinnamon.
½ teaspoon of vanilla extract (optional).
Zest of 1 large orange.
It is up to you what kind of dried fruit you use. You could use a mixture of many things, as long as the total of all these ingredients reaches 2 and 3⁄4 cups. In this recipe, we have used a mixture of cranberries, prunes, dried cherries, currants, and raisins.
In addition, this recipe also uses ground mix spice, which contains cloves, ginger, nutmeg, and cardamom. If you don't like the flavor of mixed spice, you could choose to add any of those spices yourself to the batter.
Christmas Pudding Equipment
You don't require a lot of equipment to make this Christmas pudding. You will need the following:
Large mixing bowl.
Wooden spoon or spatula.
Tablespoon.
Plate.
Large pot.
Christmas pudding mold.
When it comes to the Christmas pudding mold, there are a lot of sizes to consider. You could make one large pudding, or you may create smaller individual puddings.
In this recipe, we use a mold that has a 700 ml capacity. It is 10 cm high, with a 14 cm diameter on the bottom and 7 cm diameter on the top.
It is fine if your mold does not meet these exact measurements. However, you may find that your pudding isn't as high or wide.
Christmas Pudding Steps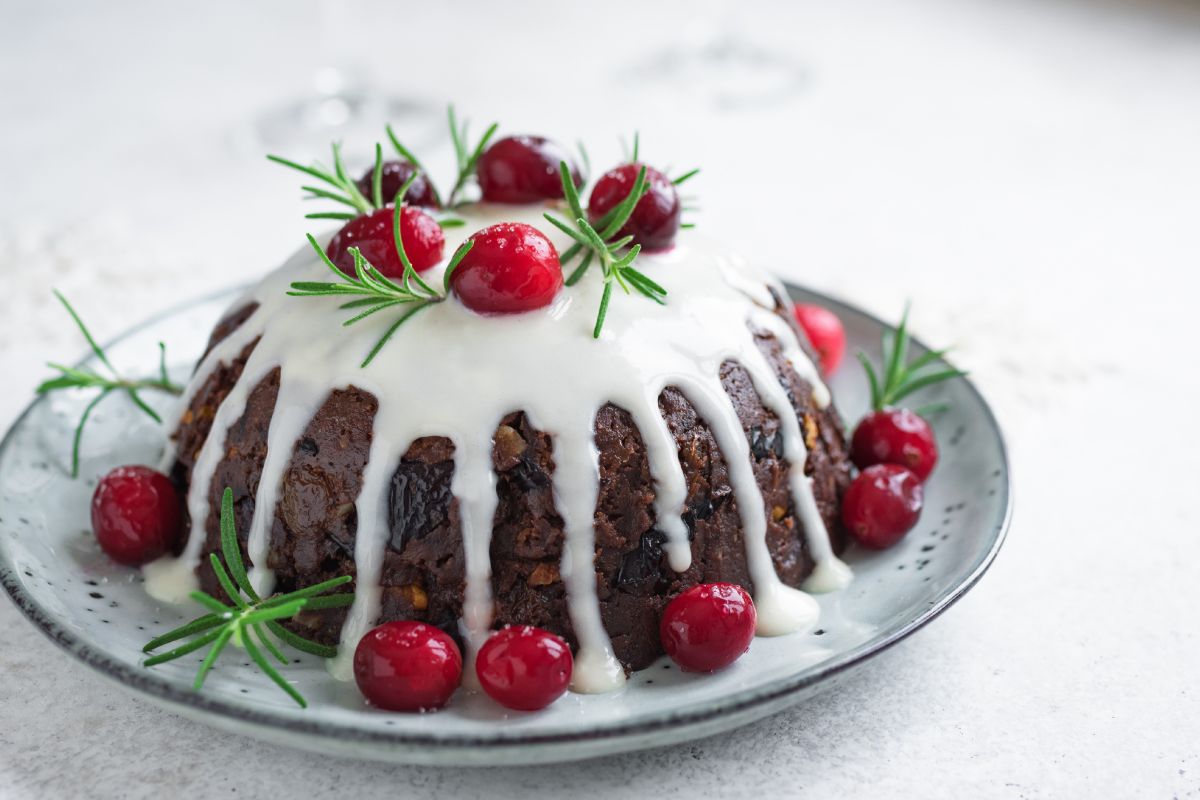 Once you have collected all of your ingredients, you can begin making this tasty Christmas pudding. Overall, this is a very easy recipe to follow and even beginners or children will be able to follow these steps.
Step 1: Cream Your Butter And Sugar
In a large bowl, add your brown sugar and softened butter. Cream these two ingredients together, with a spatula or wooden spoon, until they are light and fluffy.
Now you can add your eggs and molasses, and mix everything together. Don't worry if the batter slightly curdles, as this is normal due to the different portions of liquid and fats.
This will be a lot more noticeable if you use cold eggs or butter. Therefore, this is why we ask you to use room temperature eggs and softened butter.
Step 2: Add Your Christmas Flavorings
Now it is the time to make this batter taste like Christmas.
Into your better, add the zest of one orange, and your common and mixed spices. At this point, you can add our vanilla extract, if you are using it. Once this has been added, you can now also add your flour and breadcrumbs as well.
With everything in the bowl, you need to mix it all together with your spoon or spatula. The end result should be a very sticky and thick batter that smells incredible.
Step 3: Transfer To Your Mold
Your Christmas pudding batter is now complete, thus you can turn attention to the mold.
It is vital that you grease your mold well with butter, to prevent it from sticking. In addition to this, greasing your mold will help you to remove the pudding much easier once it is cooked and cooled down.
Once your mold is well greased, you can spoon your Christmas pudding batter into the mold. You will need to press down on the batter to ensure there are no air pockets. Then, once all the batter has been added, smooth the top of the batter.
Step 4: Add Foil To The Mold
The size of the mold will affect how long the pudding must steam for. The larger the pudding mold, the more time it requires steaming.
To enable it to expand as the pudding cooks, fold a pleat in the center of a piece of aluminum foil. Then place this foil around the exterior of the mold. Remove any extra foil once the mold is surrounded.
The foil should be held in place by securing it with a string.
Step 5: Steam Your Pudding
Put a small plate that functions as a cushion inside a large pot. This is to avoid the pudding mold from getting into direct contact with the pot, to prevent burning.
Now you can place your mold onto the plate inside the pot. Add hot water into the pot until it reaches about halfway up the pudding mold. Put a lid on the pot to seal it.
On a low heat, steam the pudding for around three to four hours. Regularly check to make sure the water level is still halfway up, and add more water as necessary.
Step 6: Removing Your Pudding
After the pudding has finished steaming, carefully remove the mold from the pot and let the pudding sit until it has almost entirely cooled. After that, flip the pudding onto a plate.
The pudding will effortlessly slide out onto the plate. Now you can serve and slice the pudding.
Storing Your Christmas Pudding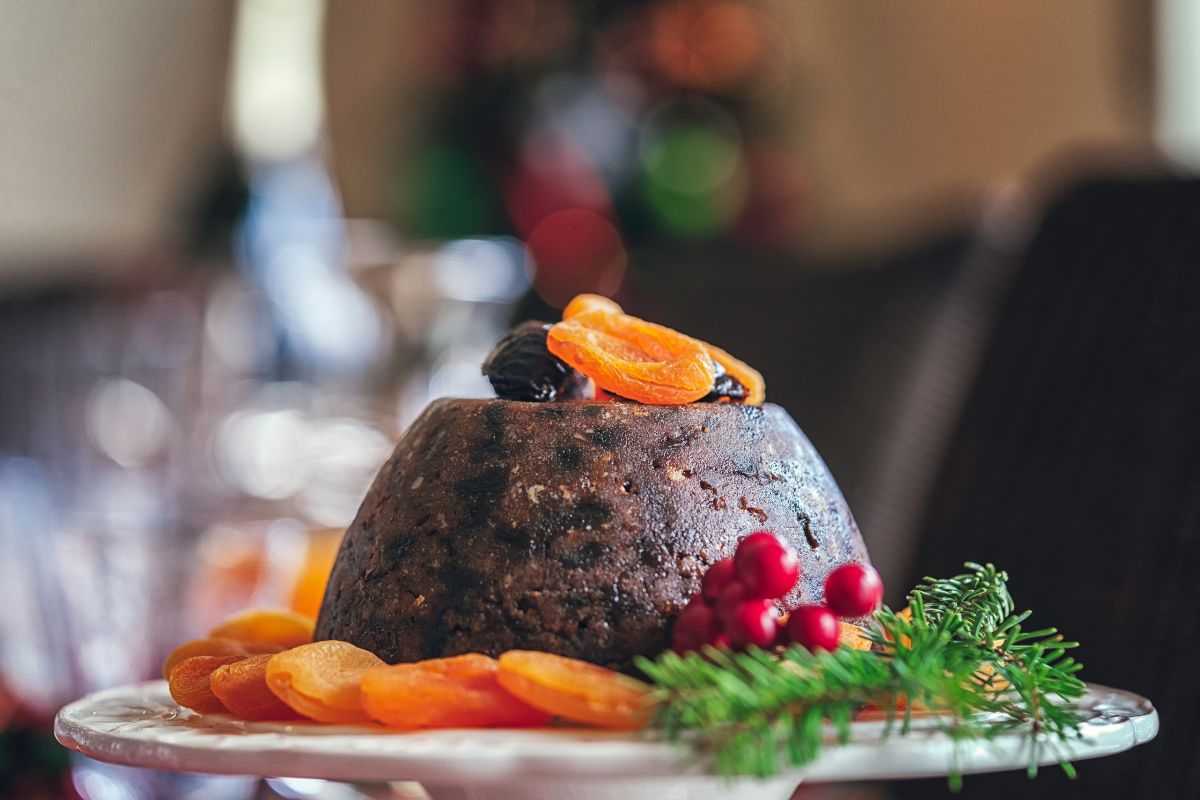 This Christmas pudding can be stored for up to a week in a cold, dry environment. To prevent drying out, tightly cover the pudding in two pieces of plastic wrap and some aluminum foil.
Although, you can store it in the refrigerator or freezer if you wish to keep it longer. For short-term storage, place it in the refrigerator, and for long-term storage, place the pudding in the freezer.
Remove the foil and surround the pudding with fresh parchment paper first, then aluminum foil, once it has totally cooled down. Then you can place the pudding in the refrigerator or freezer.
Serving Your Christmas Pudding
Since this recipe uses butter instead of suet, then you don't have to reheat the pudding before you serve it. With that being said, you can reheat this pudding if you wish to.
To reheat this Christmas pudding, you can either place it in a microwave or re-stream the pudding.
To reheat by steaming, you should place your pudding back into a pot and steam the pudding for 30 to 60 minutes, or until the pudding is hot all the way through.
Whether it is hot or cold, this pudding is usually served with either one or a collection of toppings. This can include whipped cream, confectioners sugar, ice cream, lemon sauce, brandy sauce or custard.
If you want to stay traditional, the Christmas pudding will be served hot. Then the pudding will be lit on fire and severed with brandy butter. However, the choice is yours on how you would like to serve this pudding.
Tips For Making The Best Christmas Pudding
There are a lot of recipes out there on how to create the best Christmas pudding. However, we have discovered these tips to help you to make a delicious Christmas pudding yourself.
By following these tips, all your friends and family will be impressed with the pudding that you put on the table.
Make In Advance – A lot of people advise you to make your Christmas pudding in advance. This gives the flavors inside the batter more time to develop and intensify. Thus, it is suggested that you make your pudding between 2 weeks and a month in advance. Then on Christmas Day, steam your pudding.
Soak Your Fruit – To make the dried fruit more interesting and enjoyable to eat, a lot of people soak their fruit. Now you could soak your fruit in alcohol such as rum, brandy, or cider. This will help to develop the natural flavor from the dried fruit when in the pudding. Although, if children will be eating this pudding, you should soak the fruit in apple or orange juice instead.
Include Nuts – As long as no one has a nut allergy, adding in chopped nuts is a great addition to the dried fruit. The nuts provide another texture to enjoy and add a subtle depth to the overall pudding.
Think About Your Spices – The spices that you add to your pudding are really important. It is all about getting the right balance of warmth and a bit of heat. While this recipe uses mixed spice, you could add the individual spices to control how much flavor you wish to receive from each one. In addition, if you don't like the flavor of certain spices in mixed spices, you can leave them out.
Ginger In Syrup – For those of you that want a sweet yet spicy Christmas pudding, consider adding ginger that has been steeped in syrup. Add this glorious spice to your batter, and it will elevate your Christmas pudding even more.
Texture – Your pudding is supposed to be dense, so don't worry if it doesn't rise a lot. Some recipes may use baking powder, but it isn't necessary in this recipe. You are aiming for a deeply rich and dense Christmas pudding.
Final Thoughts
Christmas pudding is the dessert everyone thinks of when Christmas comes around. It is a very rich and fruit filled pudding that is usually steamed.
There are a lot of Christmas pudding recipes out there, but you won't find one as quick and easy as this one. Especially as the batter comes together in under 10 minutes, and it tastes delicious.
The dried fruit and species you decide to use are up to and help to make your Christmas pudding unique to you and your family.
By following the recipe we have outlined above and all the tips we have provided, you will be able to make the best Christmas pudding ever.
We hope you have enjoyed this article and are tempted to try this Christmas pudding recipe yourself!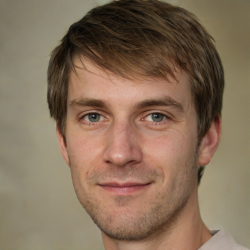 Latest posts by Mark Williams
(see all)