Whether you are a chess lover or not, you are going to absolutely adore this easy and delicious dessert. This recipe is a delightful twist on the traditional banana pudding, and uses Chessmen cookies to bring everything together and make it stand out.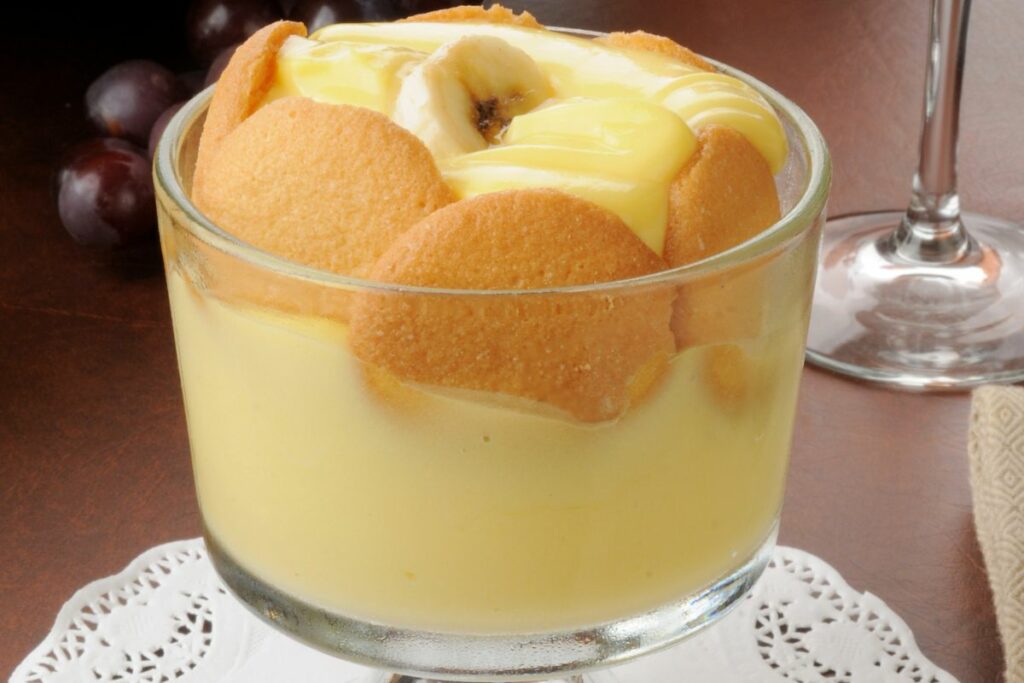 If you have been searching for something that everyone is going to love (provided they love bananas and pudding), then you have come to the right place.
This is one recipe that you are going to be making over and over again – because it's just that good.
In this article, we will go through everything you could possibly need to know about making this cream cheese banana pudding with Chessmen cookies.
By the end of this, your mouth will be watering. 
What Makes This Recipe Different 
You're probably thinking, 'what makes this banana pudding different from any other banana pudding?'. Well, there are a few things that set this recipe apart from others – including the appearance, texture, and the incredible flavor combinations.
While the classic banana pudding is always going to be a winner, you know we can do better. Gone are the days of the regular old puddings – this one has every flavor you could want and looks fit for a queen.
The Chessmen cookies used in this recipe will give you a unique experience, and you can even set the finished result to look like a chessboard. 
We know that the taste of something is always more important than its appearance. However, why can't we have both? The layers in this pudding mean it will be rich and creamy, but still look like a masterpiece, and we call that a win.
Why You Are Going To Love This Recipe
Where to start? There are so many things to love about this fun recipe, but we will make things simple and put them in a list.
Take a look at just a few of the reasons why you are going to fall in love with this recipe when you make it:
It has fantastic textures – this pudding combines the creaminess of the cheesecake pudding, the softness of ripe bananas, and the richness of the Chessmen cookies on the top and bottom of the pan (Did you know you can make banana dog treats? Read more here).
The layers are delectable – every layer works with the others in a way you can't even begin to imagine, and they all complement each other wonderfully. Rich, soft, and a little bit of crunch.
The recipe is affordable and easy – you don't need to break the bank with this delicious (and easy) pudding. You probably have some of the ingredients sitting in your house, so a quick trip to the store is all you need. There's nothing fancy to it.
Anyone has the skill to make it – you do not need to be skilled in the kitchen to be able to make this pudding. In fact, you should absolutely get your kids to help out, because they can enjoy the risk-free process!
It makes for the perfect summer treat – the combination of fresh fruit and creaminess makes this pudding a wonderful option for a summer treat. Because this pudding will be chilled, you can easily imagine having this on a hot summer evening after a day in the sun. It's a great alternative to the classic summer ice cream!
This pudding keeps its shape perfectly – because this dessert is thicker than your average pudding, you will notice that it keeps its shape very well. This means that you get to enjoy this delight relatively mess free, and you will get to appreciate its final form.
The "Chess piece" squares make it perfect for parties – all of the above reasons make this pudding the perfect options for parties. You can enjoy this sweet treat with nothing but your hands and make little to no mess. Not only that, but the attractive appearance makes this pudding an eye-catching option for events like parties. This will be a real winner and kid's birthday parties, too!
We could keep going, but there are the ones that come to mind. If you decide to make this pudding for yourself, you will find out the magic of it for yourself!
Cream Cheese Banana Pudding With Chessmen Cookies Recipe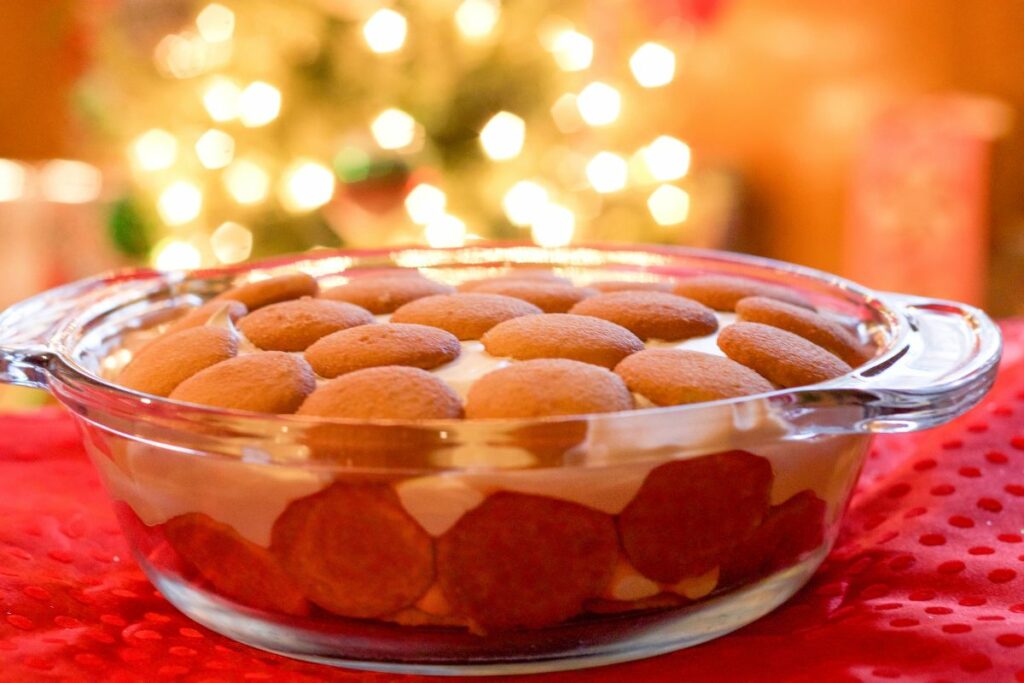 Now we can get into the good stuff! We will go through all the ingredients you are going to need to make this dessert, as well as the equipment.
Get everything together, and you can start making this mouthwatering treat!
The Ingredients You Need
A number of the ingredients needed for this recipe can be substituted, and some can even be added if you like.
Below is a list of what you are going to need, along with some substitute options you can consider if you would prefer:
Cool Whip (1 tub / 8 oz) – or you can make your own whipped cream by combining heavy cream and some sugar
Cream cheese (1 pack / 8 oz) – or substitute this for Neufchâtel cheese for a healthier option
Fresh (ripened) bananas (4006 medium bananas) – and other fruit if you like
Sweetened condensed milk (1 can / 14 oz) – need some sweetness!
Instant French vanilla pudding (1 pack / 3.4 oz) – you don't need to mix it up first
Pepperidge Farm Chessmen Cookies (2 packs) – or another cookie if you prefer, these just taste amazing and look awesome
The Equipment You Need
Here's the equipment you are going to need to make this delicious pudding.
There isn't a lot to it, so you will be glad to see that there are only a handful of things you will need:
Mixing bowls
Electric mixer (handheld)
Rectangular or square freezer safe dish
Parchment paper and a cake board (optional)
On top of that, you will need the regular tools needed for slicing bananas, scooping, and assembling the pudding.
This will include things like chopping boards, knives, spoons, spatulas, and the like. You know what you're going to need!
The Recipe: A Step-By-Step Guide
Below is an easy step-by-step guide you can follow to make this banana cream cheese pudding. Take a look at how easy it is:
Soften your cream cheese in a large mixing bowl
Add the instant pudding and sweetened condensed milk in the same bowl as the cream cheese, and mix together using an electric hand whisk (you can do it with a regular whisk if you really want)
Fold in your homemade whipped cream or cool whip/whipped topping. Do this CAREFULLY, as you do not want to get rid of the airiness of the mixture – you want it nice and fluffy
Carefully slice your ripened bananas and coat them in lemon juice (this will help to keep them from turning brown). You could also use Fruit-Fresh, a preserving powder made for fruit found in the can section of most grocery stores
Pick your freezer-safe dish that the pudding will go into. This must either be a rectangle or square – circles won't work! We would recommend using wax paper to place inside the dish so that you can easily get the whole thing out easily. Do this by cutting two large sheets, and placing them across the dish to make a "+", with paper sticking out for you to grab!
Get your Chessmen cookies and make a single layer of them on the bottom of the lined dish you are using. Make sure there is a small gap between each of them, so that you can easily cut them later on when serving
Next, place your sliced bananas on top of the Chessmen cookies. Add as little or as much as you like, but remember that this is the only banana layer! Place four banana slices on each cookie if you can. This will make the pudding easier to serve later on
Get your pudding mixture, and scoop it onto the bananas and cookies. Spread it all out carefully and make an even layer. This will be the main part of the pudding, so throw it all on!
Once the pudding mixture is evened out, finish everything off by placing the rest of the Chessmen cookies on top. Try to line them up with the bottom cookie layer so that everything is easier to cut and serve. Make sure the imprint is facing up, too! You can set everything up like a game of chess, with two rows facing up, and the other two down, just like a real chess board!
Use plastic wrap to cover the dish, and place it in the fridge for AT LEAST two hours (around 4 hours would be ideal). The filling needs time to properly firm up so that everything stays together and doesn't make a mess
Place the dish in the freezer about 30 minutes before you intend to serve the pudding so ensure the pudding is firm and easy to serve
When you're ready to serve, you should easily be able to remove the set pudding from the dish by lifting it out using the wax paper you lined the dish with! All you will now need to do is carefully cut between the cookies (do this after the pudding is out of the dish), and serve!
If you did not line your dish with wax paper (or parchment paper), you might have a more difficult time when serving the slices.
The first slice will be frustrating, so it might be worth removing the cookie, then getting the slice out.
Just place the cookie back on top when it's in a dish, and the rest of the slices should be easier. 
A Few Tips And Tricks To Help You Out
Like any recipes, there are a couple of issues you might run into. To help you out, we've put together some tips and tricks to help you navigate the experience.
It's important to bear in mind that you might run into different issues if you like in a different climate, since the heat might impact the process!
Make Sure You Chill It Long Enough
Since this pudding is not going to be as thick as normal cheesecake, you will need to make sure that you chill it for long enough.
This will ensure that the pudding sets properly, and doesn't run everywhere when you are dishing it up. 
You want every piece to hold its shape, or the magic is ruined! Make sure you keep the dessert chilled, and place it in the freezer for 30 to 60 minutes before you want to slice and serve it. This will ensure it retains shape, and everyone can enjoy it to its full potential.
Line Up the Top And Bottom Cookies
Since this will want to cut slices that are essentially banana cream cheese sandwiches, make sure there is a cookie on the top and bottom. Align everything carefully when you are laying everything out to make this easy.
When the time comes, all you need to do is slice between the cookies, and you will have the ultimate dessert! Without the support of the cookie at the bottom, you will quickly run into problems when trying to enjoy the fruits of your labor.
Add Some Extra Fruit
Who says you need to stop at bananas? Feel free to add in your favorite fruits in the same layer as the banana. You could even add some fruit to the cream cheese mix (or mash up/blend fruit and add it to the layer to give it some extra flavor).
Things like raspberries and strawberries would work wonderfully. When you think about it – this opens up all kinds of doors, and you have unlimited options!
If you really wanted to sweeten the pudding, you could add caramel or toffee to the cream cheese to compliment the banana. 
How Far In Advance Can You Make Cream Cheese Banana Pudding With Chessmen Cookies?
You can make this dessert 24 hours before the big event – maybe even 48 at a push. We wouldn't recommend going over 24 if you can help it, though. The longer the pudding is sitting around, the more the bananas may go off, and the cookies could get soft.
Don't place the top layer of cookies on until it's ready to serve if you make it beforehand. The bottom ones might go softer, but that comes with the territory.
Using Fruit-Fresh or lemon juice is particularly important if you choose to make your pudding in advance. Do everything you can to prevent the bananas from browning!
How To Store This Dessert Properly
Always keep this dessert chilled, and store it in an airtight container. If the pudding is already served in bowls or plates, the best thing to do is cover it in plastic wrap and aluminum foil.
If you can, get your slices in an airtight container for the best results.
How Long Will This Banana Cream Cheese Pudding Last? 
This delightful dessert should be good for up to four days in the ridge, as long as it is properly covered and kept.
However, if the pudding is just placed in the fridge without a cover, this time will be cut in half. 
Bear in mind that you are likely to see the bananas start browning after a day, and the cookies will start to soften. It's still perfectly edible and delicious, but maybe not as appetizing to look at.
How To Tell If This Dessert Has Gone Off
If the pudding looks, smells, or tastes (hopefully you don't get that far) funny, then throw it away.
If the bananas are looking particularly unappetizing and have gone beyond the normal browning, then it's time to call it a day, too. 
Can This Pudding Be Frozen?
Yes! Again, the browning of the bananas will be the only issue you need to worry about. It won't look as good as it did when you made it, but it will still be delicious.
Food will be safe indefinitely when kept frozen. However, the quality will deteriorate the longer it stays in the freezer.
For this reason, try not to keep this pudding frozen for more than three months. 
Ideally, you should eat it the same day you make it!
How To Make The Chessboard To Serve The Pudding
If you want to make your chessboard to serve your Chessmen cookie banana pudding, it's very easy! All you need to do is the following:
Get a cake board (12×12 or 16×16 inch will be good)
Cut out 3×3-inch parchment paper squares (natural color)
Simply line the parchment paper on the cake board and skip every other space. It should be a brown-white-brown pattern to mimic a real chessboard.
Serve up your chess piece puddings, and place them on the squares to make it look like a game!
Final Thoughts
This banana cream cheese pudding with Chessmen cookies is a winner, and will work for any event or situation.
Not only does this puddling look incredible with the neat squares and chess pieces, but it tastes phenomenal.
The flavors used in this recipe compliment one another like a dream – not to mention it's a great way to get some fruit in!
Kids and adults alike will love this creation, and you don't need to be a wizard in the kitchen to put it all together. We love no-bake recipes, and this has to take the cake as one of the best.
If you make this recipe, why not try adding some things of your own?
You can use a different kind of pudding to mix in with the cream cheese, or add some extra fruit! You won't be able to get enough of this in the summer – we guarantee it.
Frequently Asked Questions
What Can You Use Instead Of Chessman Cookies?
You could use shortbread cookies, or traditional vanilla wafers if you like! Any kind of cookie with a mild flavor and sturdy structure will work well.
Do You Need To Make The Chessboard For This Pudding?
No, the chessboard is just a nice touch for serving! It is not required at all, but a fun addition.
Does This Pudding Need To Be Refrigerated At All Times?
Yes, keep this pudding refrigerated and covered at all times to make it last longer.
What Kind Of Pan Should Be Used To Make This Pudding?
You can use a 12×12 square cake pan, but a 9×13 Pyrex dish will work, too. If you're making this for a bigger crowd, you might want to size up and double the ingredients!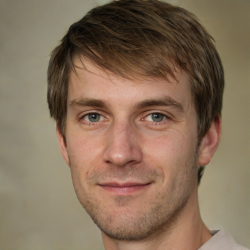 Latest posts by Mark Williams
(see all)