Are you searching for a delightful pastry to treat your guests or to indulge in yourself? Look no further than the cream cheese kolaches!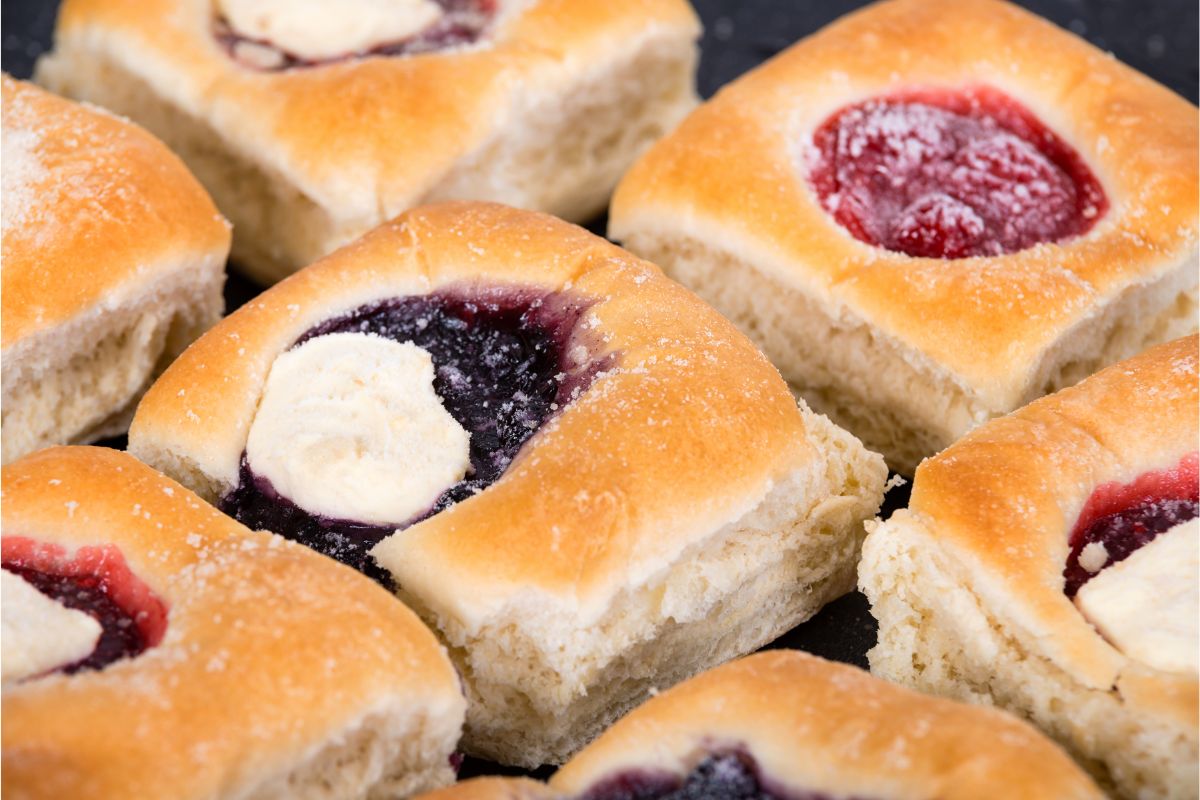 These sweet buns are perfect for breakfast, brunch, or a sweet snack any time of the day. The cream cheese filling adds a rich, tangy flavor that perfectly complements the sweet, soft dough.
In this article, we'll provide you with a step-by-step guide to making these scrumptious treats and share some tips and tricks to ensure that they turn out perfectly every time.
So, whether you're an experienced baker or a novice in the kitchen, you'll find this recipe easy to follow and sure to impress.
Keep reading below to learn all the secrets to making the best-ever kolaches!
What Are Kolaches?
Now, if you're not familiar with kolaches, let us fill you in.
These sweet buns originated in Central Europe, specifically in the Czech Republic. Traditionally, they're made with a yeast-based dough that's filled with sweet or savory ingredients, such as fruit, cheese, or poppy seed filling.
However, in the United States, kolaches have taken on a life of their own, with a variety of fillings to choose from.
What Are Some Popular Kolaches Fillings?
When it comes to sweet kolaches, classic fillings like fruit preserves, cream cheese, and Nutella are sure to please. For those looking for a richer flavor, fillings like chocolate ganache, lemon curd, or cinnamon sugar make for a delectable treat.
But savory kolaches are just as popular, especially in Texas where they've become a staple breakfast item. For a savory kolache, try fillings like breakfast sausage and eggs, ham, and cheese, or jalapeno and cheese.
However, this article is all about the cream cheese kolaches, and the ones we have here will make you forget about all the other options!
What Makes This Cream Cheese Kolache Recipe So Great?
These cream cheese kolaches are the best because they strike the perfect balance between tangy cream cheese and sweet pastry.
The dough is soft and pillowy, providing the perfect base for the rich cream cheese filling, and the pastry has a slight crisp on the outside and is moist and tender on the inside, making each bite a delightful experience!
But it's not just the texture that makes these kolaches stand out, it's also the flavor.
The cream cheese filling is tangy and slightly sweet, with just the right amount of richness to complement the pastry.
We've also added a touch of lemon zest to the filling, which brings a refreshing citrus note that elevates the overall flavor.
The combination of the soft, yeasty dough and creamy, tangy filling makes these kolaches irresistible. They're perfect for breakfast or as a sweet snack and are sure to impress your guests.
We can guarantee you that once you try these cream cheese kolaches, you won't want to go back to store-bought pastries again!
So, let's see how you can make these perfect, delicious cream cheese kolaches!
The Best-Ever Cream Cheese Kolaches Recipe
Preparation time: 30 minutes
Cooking time: 20 minutes
Total time: 50 minutes
Difficulty level: Intermediate
Calories per serving: 220 kcal
Ingredients
For the dough:
2 ¼ cups all-purpose flour
2 ¼ tsp active dry yeast
¼ cup granulated sugar
½ cup whole milk, warmed
4 tbsp unsalted butter, melted
1 large egg
1 tsp vanilla extract
½ tsp salt
For the cream cheese filling:
8 oz cream cheese, softened
½ cup granulated sugar
1 large egg yolk
1 tsp vanilla extract
1 tsp lemon zest
For the egg wash:
1 large egg
1 tbsp whole milk
Instructions
Step 1
In a large bowl, combine 2 cups of all-purpose flour, 2 tablespoons of granulated sugar, 1 tablespoon of active dry yeast, and 1/2 teaspoon of salt. Mix the ingredients well.
When combining the dry ingredients, it's important to make sure they're evenly distributed throughout the bowl. Use a whisk or fork to mix the flour, sugar, yeast, and salt together.
This will ensure that the dough rises properly and the kolaches turn out light and fluffy.
Step 2
Warm 1/2 cup of milk in a microwave-safe bowl for about 30 seconds to help bring it to a warm temperature without scalding it.
This step is crucial, as the temperature of the milk can affect the yeast's ability to activate and rise the dough, so make sure to check the temperature of the milk with a thermometer to make sure it's not too hot or cold.
Step 3
Add the warm milk, 1/4 cup of melted butter, and 1 egg to the dry ingredients. Mix everything together until a dough forms.
When adding the wet ingredients to the dry ones, make sure they're at the right temperature. If the milk is too hot, it can kill the yeast, and if it's too cold, it won't activate properly.
The melted butter and egg should also be at room temperature to ensure they mix evenly with the dough.
Once everything is combined, knead the dough with your hands until it's smooth and elastic. This should take about 5-7 minutes.
Step 4
While the dough is rising, prepare the cream cheese filling. In a medium mixing bowl, beat the cream cheese with a handheld electric mixer until it's smooth and creamy.
Then, add the sugar, egg yolk, and vanilla extract. Mix everything well until it's fully combined.
Step 5
Once the dough has doubled in size, punch it down and divide it into equal parts. Roll each part into a small ball and place it on a parchment-lined baking sheet, leaving a few inches of space between each ball. Use your fingers to make an indentation in the center of each ball.
Step 6
Now, it's time to add the cream cheese filling. Spoon about a tablespoon of the cream cheese mixture into the indentation in each ball of dough.
Be careful not to overfill them, as the filling will expand as it bakes. Once all the balls have been filled, cover the baking sheet with a clean kitchen towel and let it rest for another 10-15 minutes to allow the dough to rise again.
Step 7
Preheat the oven to 375°F (190°C). In a small bowl, beat the egg with a teaspoon of water to create an egg wash. Brush the egg wash onto the edges of each dough ball to create a glossy finish.
Step 8
Bake the kolaches for about 15-20 minutes, or until they're golden brown and the filling is set.
Be careful not to over-bake them, or the cream cheese filling will become dry and crumbly. Remove them from the oven and let them cool on a wire rack for a few minutes.
Step 9
While the kolaches are still warm, sprinkle some powdered sugar on top for an extra touch of sweetness.
Serve them warm or at room temperature and enjoy the delicious cream cheese filling oozing out of the soft and fluffy dough!
Can I Substitute Any Of The Kolaches Ingredients?
As with any recipe, substitutions can be made to accommodate dietary restrictions or preferences.
However, it's important to keep in mind that any changes made to the original recipe may affect the final result of the kolaches.
For example, substituting the all-purpose flour for a gluten-free flour blend may result in a different texture and taste.
Similarly, using a sugar substitute instead of granulated sugar may also affect the sweetness level and texture of the dough.
If you're looking to make a vegan version of these cream cheese kolaches, you can try substituting the cream cheese filling with a vegan cream cheese alternative and you can also use a plant-based milk of your choice – ideally not one with a distinct flavor like coconut milk – and a vegan butter substitute for the dough.
For those on a keto diet, using almond flour and coconut flour instead of all-purpose flour, and a keto-friendly sweetener such as stevia or erythritol instead of granulated sugar can be an option.
However, keep in mind that this will also alter the taste and texture of the final product, so even though substitutions can be made, it's important to keep in mind the potential effects on the final result and adjust accordingly.
Top Tips To Bake The Perfect Cream Cheese Kolaches Every Time
Here are our top tips for baking the perfect cream cheese kolaches:
Tip #1: For the best flavor and texture, use high-quality ingredients like unsalted butter, cream cheese, and pure vanilla extract. Also, make sure to use fresh yeast and all-purpose flour.
Tip #2: Let the dough rise properly! The dough needs to rise twice for the perfect texture. After the first rise, punch it down and let it rest for a few minutes before shaping it into balls. Allow the dough balls to rise again before baking them.
Tip #3: Use a kitchen scale to accurately measure the ingredients, especially the flour, as too much or too little flour can greatly affect the texture of the dough.
Tip #4: To prevent the dough from drying out and keep it moist, cover it with a damp cloth or plastic wrap during the rising process. This will keep the dough moist and prevent it from forming a crust.
Tip #5: When filling the dough balls with cream cheese, make sure not to over-fill them. Overfilling can cause the kolaches to burst open and spill out the filling.
Tip #6: Brush with egg wash before baking your cream cheese kolaches to give them a beautiful glossy finish.
Tip #7: Bake the kolaches for 15-20 minutes or until they're golden brown as over-baking can cause the cream cheese filling to dry out and become crumbly.
Tip #8: Serve the kolaches warm or at room temperature for the best flavor and texture. You can also sprinkle some powdered sugar on top for an extra touch of sweetness.
The Bottom Line
Baking perfect cream cheese kolaches may seem daunting at first, but if you follow the instructions, tips, and tricks of this article, you can easily achieve bakery-quality results every time. Happy (kolaches) baking!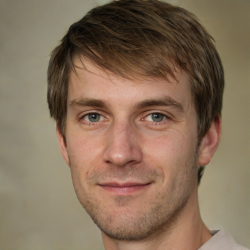 Latest posts by Mark Williams
(see all)