Meals that are quick and simple to prepare can come in handy for anyone who is raising a family or just really busy with work and other activities.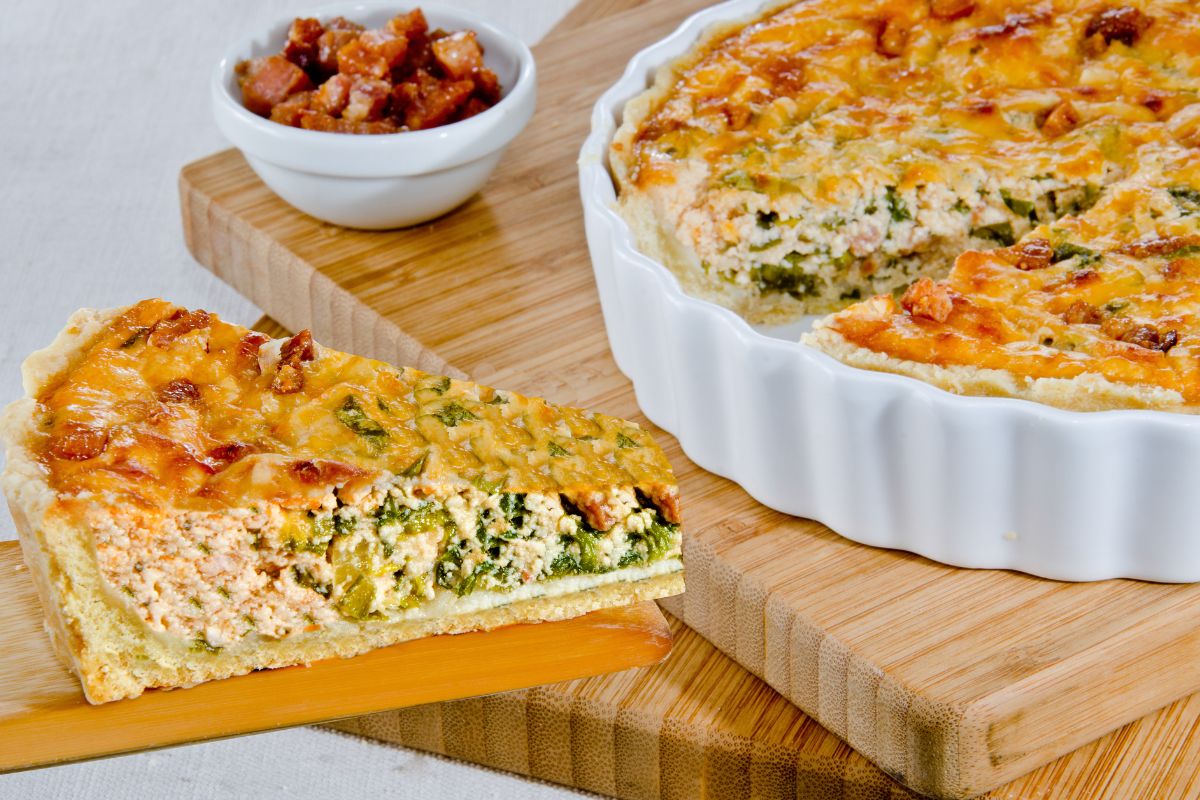 One practical choice is egg white quiche, which cooks quickly, adapts easily to the vegetables you have on hand, and keeps well in the refrigerator for leftovers.
In this article, we'll give you the best egg white quiche recipes out there to help you feed your family a delicious and nutritious meal that's bound to go down well at dinner time.
To kick off this list, we have an incredible recipe for a goat cheese and vegetable quiche by The Gourmet Gourmand.
Made with broccoli, roasted red peppers, and chives, this quiche is bound to satisfy your dairy cravings with dollops of creamy goat cheese mixed into this delicious dish.
This quiche makes it so easy to get your recommended five portions of fruit and vegetables a day. The tangy cheese complements them so well, even those who are adverse to vegetables will enjoy this dish.
This quiche recipe by Eat Burp Sleep is another winner in our books!
If you love fish, then this salmon and broccoli quiche really hits the spot. The fresh salmon and healthy broccoli pair brilliantly together, making for an incredibly flavorful dish.
This recipe is perfect for a summer lunch or a picnic in the park. It's a light dish that's still perfectly creamy, leaving you satisfied and set up for the rest of your day.
This low-carb, kale and feta crustless quiche by Eating Bird Food is a wonderful option for breakfast, brunch, lunch, or dinner.
You'll adore the flavorful medley of feta, kale, onions, and mushrooms. It's the perfect meal for those trying to cut down on their carb and calorie intake, and it's so good that it won't even feel like you're eating on a diet!
In short, this crust-free quiche is tasty, cheesy, and nutritious. What's not to love about that?
This loaded potato quiche by My Baking Addiction is absolutely packed with amazing flavors and features a delicious Bisquick crust.
The filling is full of hash browns, ham, green onions, eggs, crispy bacon, and strong cheddar cheese. This dish is basically a breakfast pie and would be a perfect way to start your day!
The Bisquick crust is perfectly buttery and delicious and makes a fantastic base for your quiche. Honestly, there's no ingredient in this recipe that isn't absolutely irresistible!
This is another amazing recipe to try for brunch! The meat lover's quiche by Savory Sweet Eats is full of delicious pieces of bacon, sausage, and ham, and it really is perfect for those who love their meat.
This quiche recipe is deliciously cheesy, featuring both Swiss and cheddar cheese for an extra punch that brings out all the incredible flavors of the meat.
What's great about this recipe is that you can add extra meat if you like. Fill it with chicken, beef, pork, or absolutely anything you want.
This sausage and mushroom quiche recipe by Moms & Munchkins is another hit and makes a brilliant breakfast meal, or any time of the day!
This recipe is perfect if you're looking for an easy quiche recipe that you can pack full of nutritious vegetables to make it that extra bit healthier.
As fancy as quiche sounds, you can still make it traditional with classic flavors that the whole family will love.
This classic Quiche Lorraine by Saving Dessert is a perfectly simple tart with flaky pastry and a savory custard filling that is deliciously rich.
The filling in this quiche includes tasty smoky bacon and creamy cheese. It's an absolute favorite in France that has since flown from the streets of Paris right to the American dining table!
You can make mini versions of this quiche that are amazing for parties or a warm summer picnic. Give this recipe a try; it's sure to become your next favorite!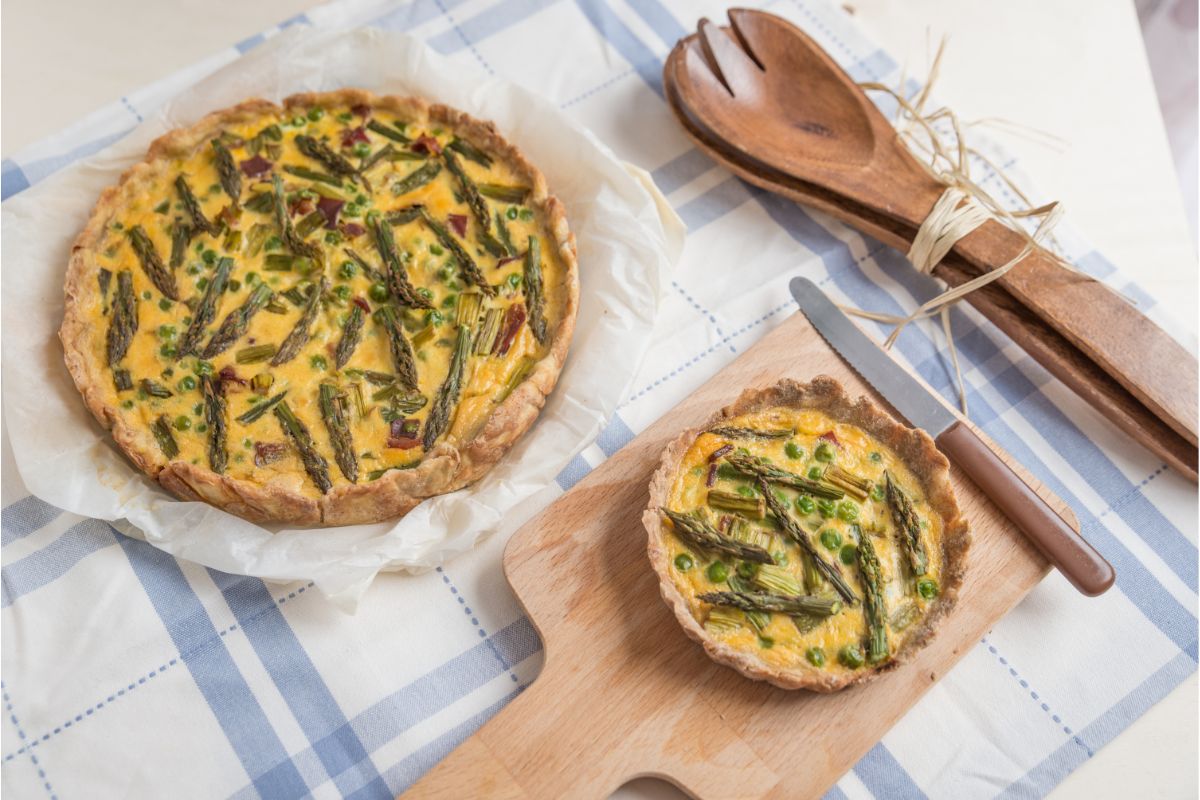 This prosciutto and asparagus egg white quiche by Earth Food and Fire is the ideal option if you're searching for a quick, flavorful, and light breakfast or lunch dish!
This healthy spring meal can be enjoyed guilt-free at any time of the day by removing the whole eggs, cream, and cheese that many vegetable quiches call for.
This egg white quiche, which is loaded with fresh asparagus, can also be baked without a crust to make it even healthier and gluten-free!
This Broccoli and cheddar Quiche by The Life Jolie will be your next go-to quiche recipe when preparing a delicious brunch.
Made with tender pieces of broccoli and creamy, punchy cheddar cheese, this quiche is an absolute taste sensation! It's super quick and easy to make, so you won't be spending hours slaving away in the kitchen over this brilliant dish.
Along with the addition of onions for even more flavor, the combination of broccoli and cheese really is perfect when creating a decadent meal for everyone to enjoy.
This flavorful egg white quiche with leeks, spinach, mushrooms, and feta by Food 52 is another amazing quiche recipe and also incredibly versatile.
By using egg whites, this quiche recipe has a lower calorie count than those using whole eggs. To make it even lower in fat, you can also make this quiche crustless if you like!
For any meat lovers out there, this recipe also allows for the addition of chopped ham, roasted chicken, sausage, and cooked bacon if you're feeling particularly carnivorous.
This healthy quiche by Well Plated is so easy to make, especially because you don't have to fuss with making the crust!
You can fill this quiche with all your favorite vegetables and serve up a delicious and healthy breakfast, lunch, or dinner. It's luscious and rich without being too overbearing, making it an absolute winner of a recipe.
If you're looking for a healthy recipe to eat at your next meal, then you have to try this quiche!
No one would believe that this low-carb quiche is healthy and keto-friendly since it is so delicious!
This crack chicken quiche by This Mom's Menu is filled with cheese, chicken, and bacon; it's everything you could want in one dish! It's also suitable for home freezing, so you can save it for a special occasion or just cook it in advance for an end of week treat.
The recipe also features a keto-friendly crust, so you can be sure your keto diet won't be compromised.
Make a quiche the star of lunchtime with this veggie egg white quiche recipe by Ripped Recipes!
This quiche is super simple and healthy, packed full of delicious red, yellow, and green peppers. We can guarantee that this quiche will pack a punch!
In just three simple steps, you'll be able to make an absolutely delicious meal with no fuss whatsoever.
With egg whites, spinach, sun dried tomatoes, and gruyere cheese, Chicago Jogger's Mediterranean egg white quiche dish is ideal for a tasty and lean protein lunch.
This quiche is perfect for vegetarians or those having a meat-free day of food! It combines a brilliant medley of fresh flavors, and when you make it once, you'll want to make it a thousand times again.
This dish is especially great for gym rats too, as it's packed full of protein that'll keep you energized and revitalized post-workout.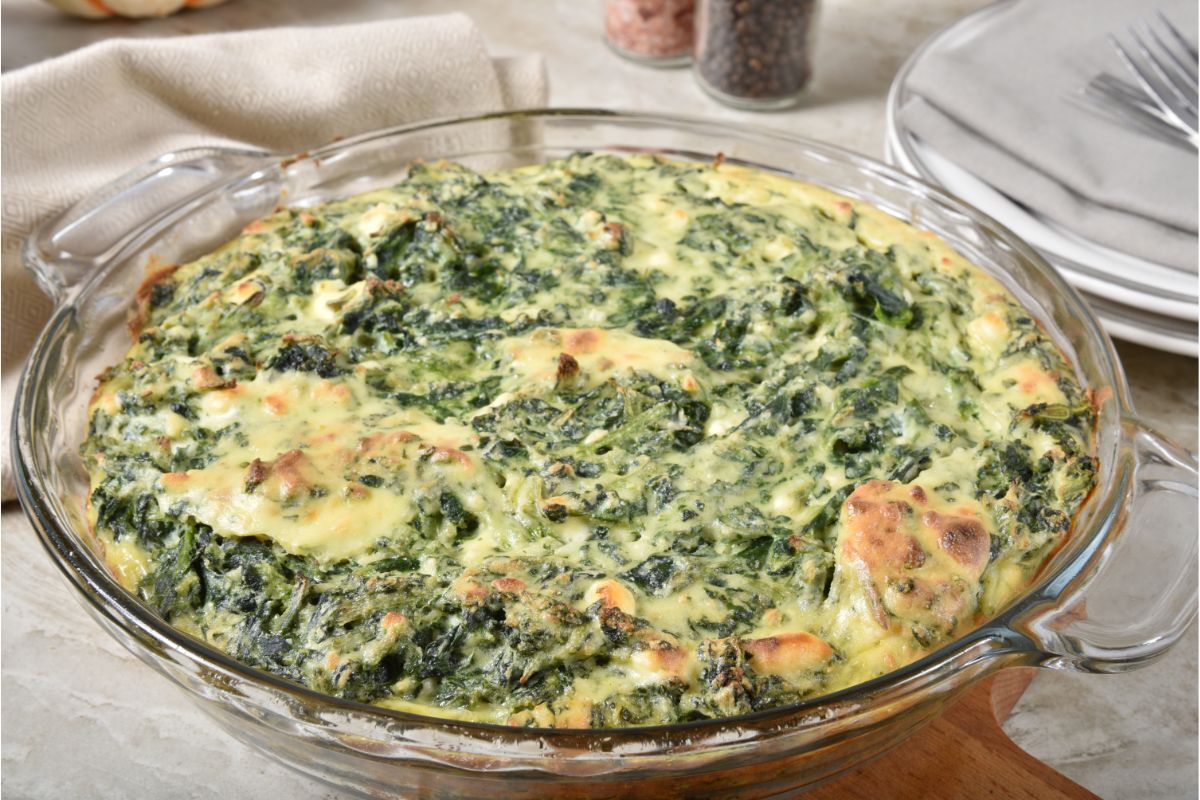 Last on our list is this stunning cottage cheese and spinach quiche by Daisy Brand.
Cottage cheese isn't the most appetizing food visually, but you can make it beautiful and delicious by incorporating it into a quiche! Along with a healthy dose of spinach, this quiche is a great lunchtime option.
This recipe is also brilliant for those watching what they eat, as it is low calorie and low-carb! It has all the flavor you want without jeopardizing your diet.
Final Word
Egg white quiche is a versatile dish and it is always delicious! You can incorporate so many ingredients into it, whether you're on a diet, vegetarian, gluten-free, keto, or a full blown meat eater!
Give one of these recipes a try today and make quiche one of your go-to dishes at breakfast, lunch, dinner, or supper!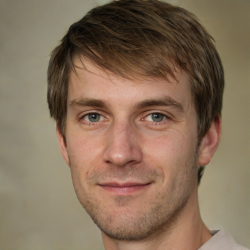 Latest posts by Mark Williams
(see all)