Nothing says home comforts more than a classic peach pie, especially if this is a dessert you remember your mom or grandma making for you as a kid!
There are many variations on the traditional peach pie, such as the peach crumb pie which is similar to an apple crumble in that it features a juicy peach filling with a crispy crumb topping.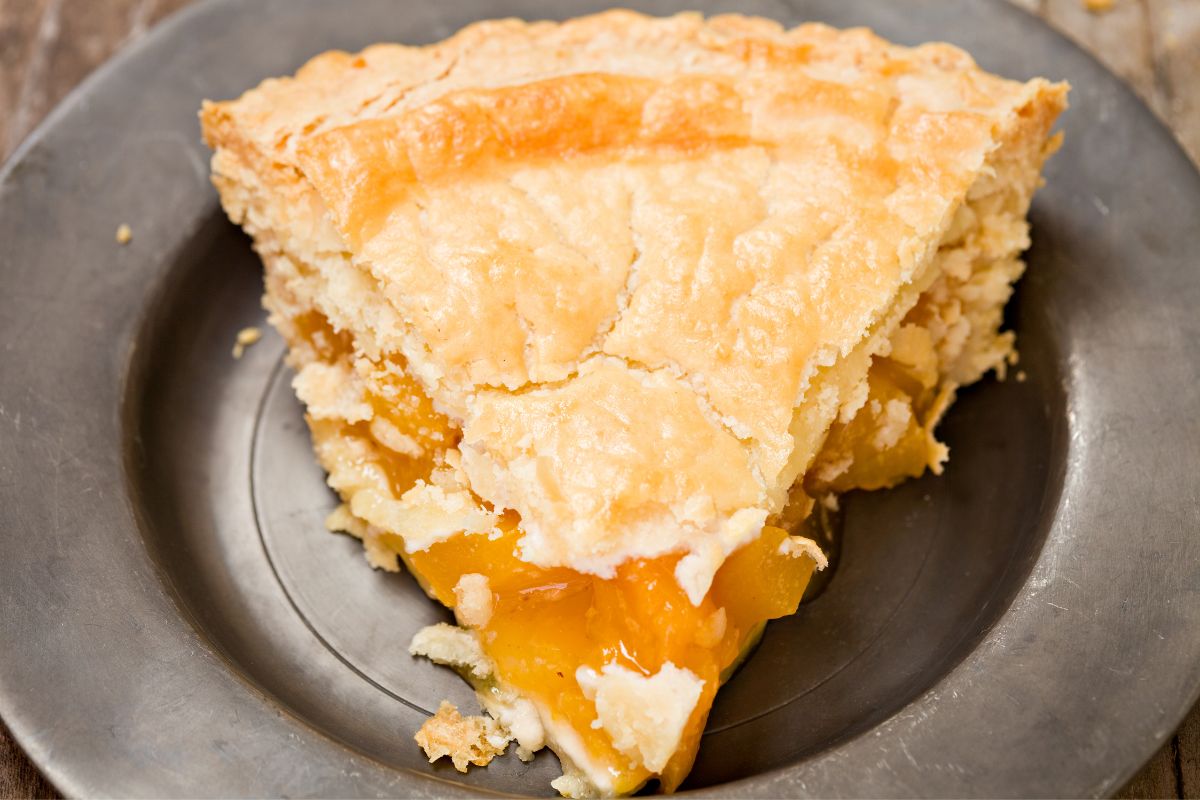 In this article, we will be looking at fifteen different peach crumb pie recipes you can make for yourself at home to share with your family and friends! Let's get started.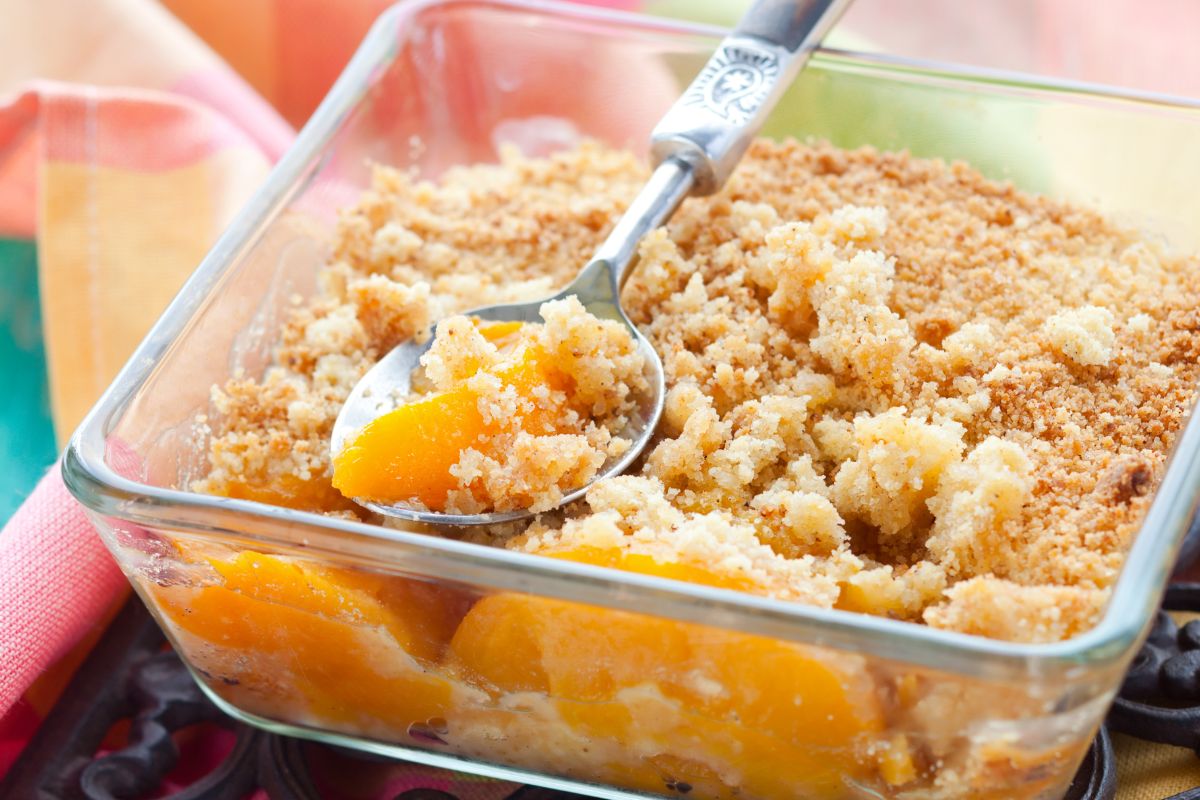 This recipe allows you to create a rich and tasty homemade peach crumble pie with a flaky buttery crust and a juicy and tender peach filling.
The pie is topped off with some brown sugar crumble that features a tasty cinnamon spice.
The crumble adds some delicious texture to the dessert, complementing the softness of the pie filling and the flaky nature of the crust perfectly.
For the crumble part of the pie, you will need some unsalted butter with ground cinnamon, brown sugar, and all-purpose flour. You can also add some chopped walnuts for a bit of crunch.
The peach filling will need around seven or eight peaches along with either all-purpose flour or instant tapioca as well as lemon juice, brown sugar, and ground cinnamon. Use a homemade pie crust to cut back on time!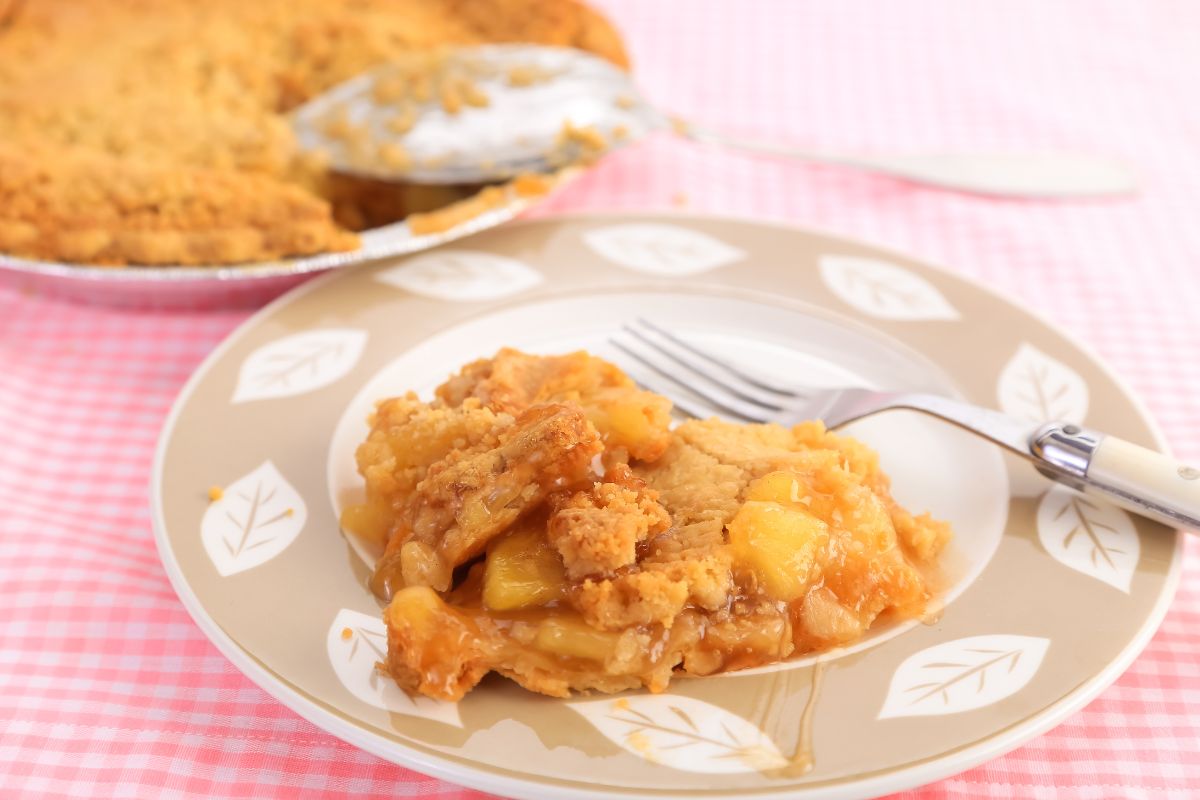 If you are looking for a more classical style of peach crumb pie, this is the recipe for you!
Made with fresh peaches and featuring a buttery and crispy oat crumb topping, this recipe is another that utilizes brown sugar and cinnamon as part of the peach filling to emphasize that sweet flavor.
Along with a pie crust, you will need some cornstarch, brown sugar, regular white sugar, sliced peaches, a juiced lemon, and ground cinnamon for the filling of the pie.
The crumb topping will need salt, brown sugar, flour, unsalted butter, and rolled oats.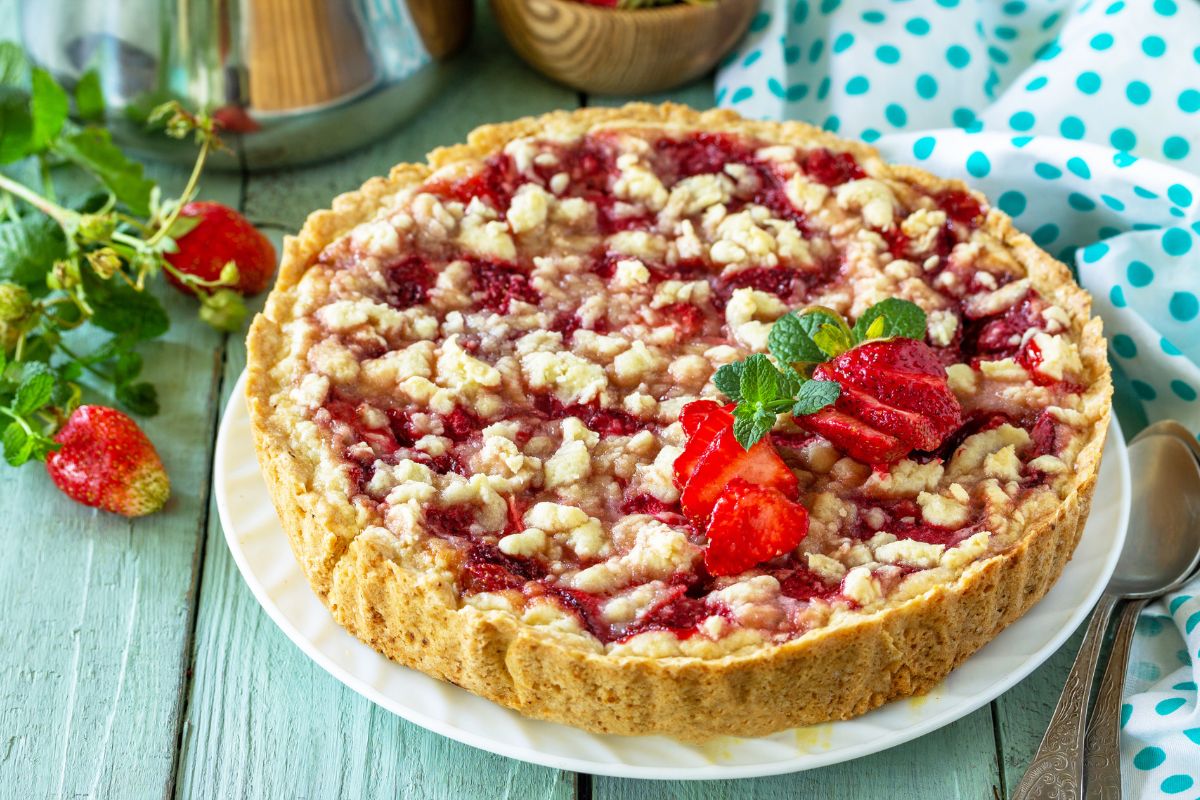 You might find that you want to change up the classic peach crumb pie recipe by including some different fruits though, and that is what we are going to be looking at in these next few recipes.
First off, let's take a look at this delicious peach and strawberry crumb pie!
Peach and strawberries are two fruits that work excellently together, thanks to both being refreshing and juicy summer fruits with flavors that complement one another.
Adding some crunchy crumbs to the top of the peach and strawberry offers a tasty contrasting texture to create a truly delicious pie.
To make this peach strawberry pie, you will need a pie crust along with fresh strawberries, peeled peaches, lemon juice, cornstarch, sugar, brown sugar, all-purpose flour, and butter.
If you are feeling brave, add in some minced, fresh basil for a burst of flavor!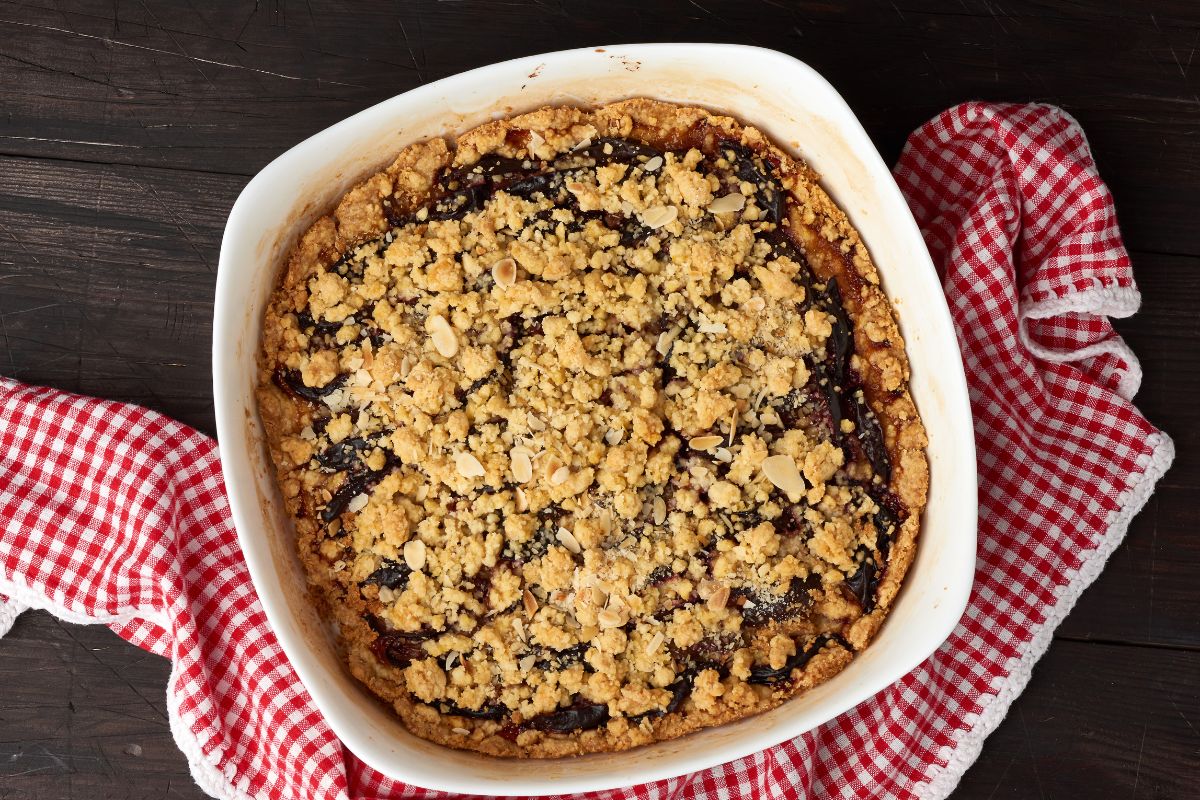 Next up is this peach blueberry crumble pie, which is another recipe that combines two complementary fruits to create a tasty dessert.
Another pie that is well suited for the summer, this recipe is the sweet combination of blueberries and peaches. This fruit blend pairs well with the crunchy crumb topping.
The filling will need peaches, blueberries, lemon juice, cornstarch, and sugar, while the crumb topping needs brown sugar, all-purpose flour, unsalted butter, and sugar.
Add in a dash of ground ginger for some extra sweet spice.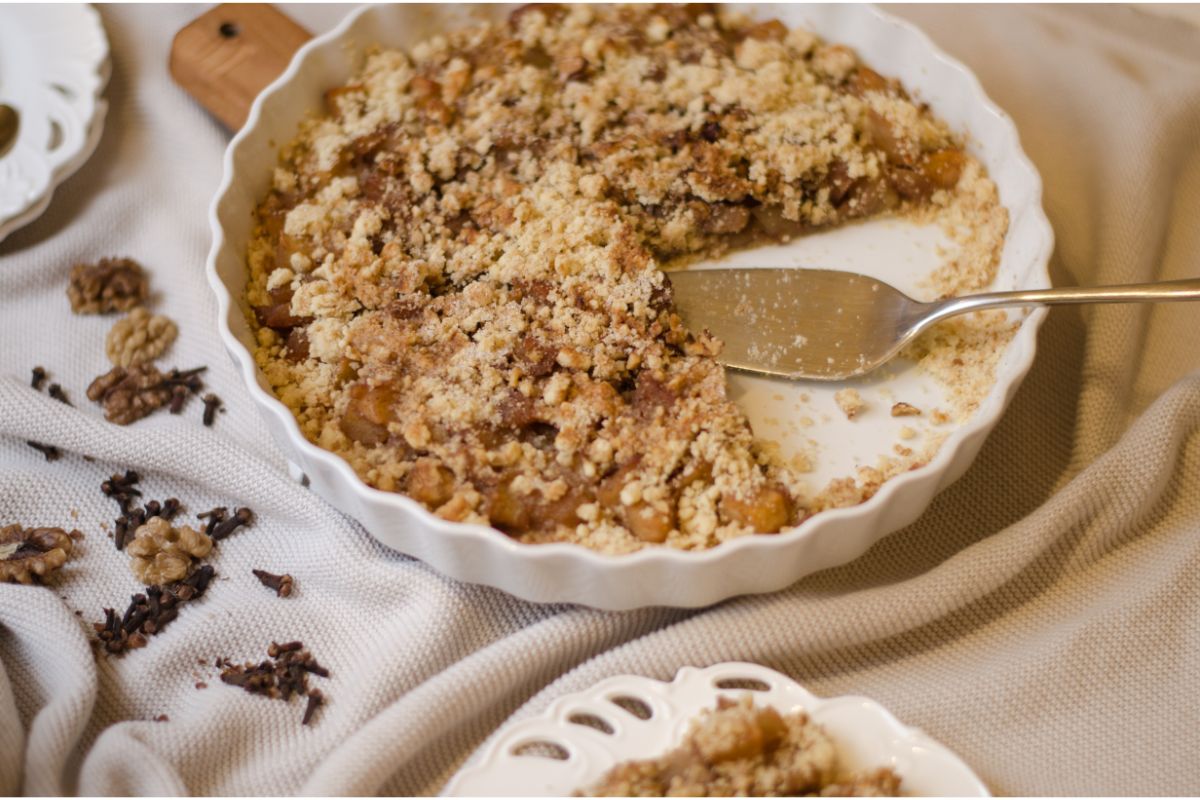 Apples and peaches are also two fruits that work well together, and they come together to create a delicious crumb pie with this particular recipe.
A peach and apple crumb pie blends the best of summer and autumn fruits to create a sweet yet comforting pie. Serve it up with some whipped cream or ice cream to cement that decadence!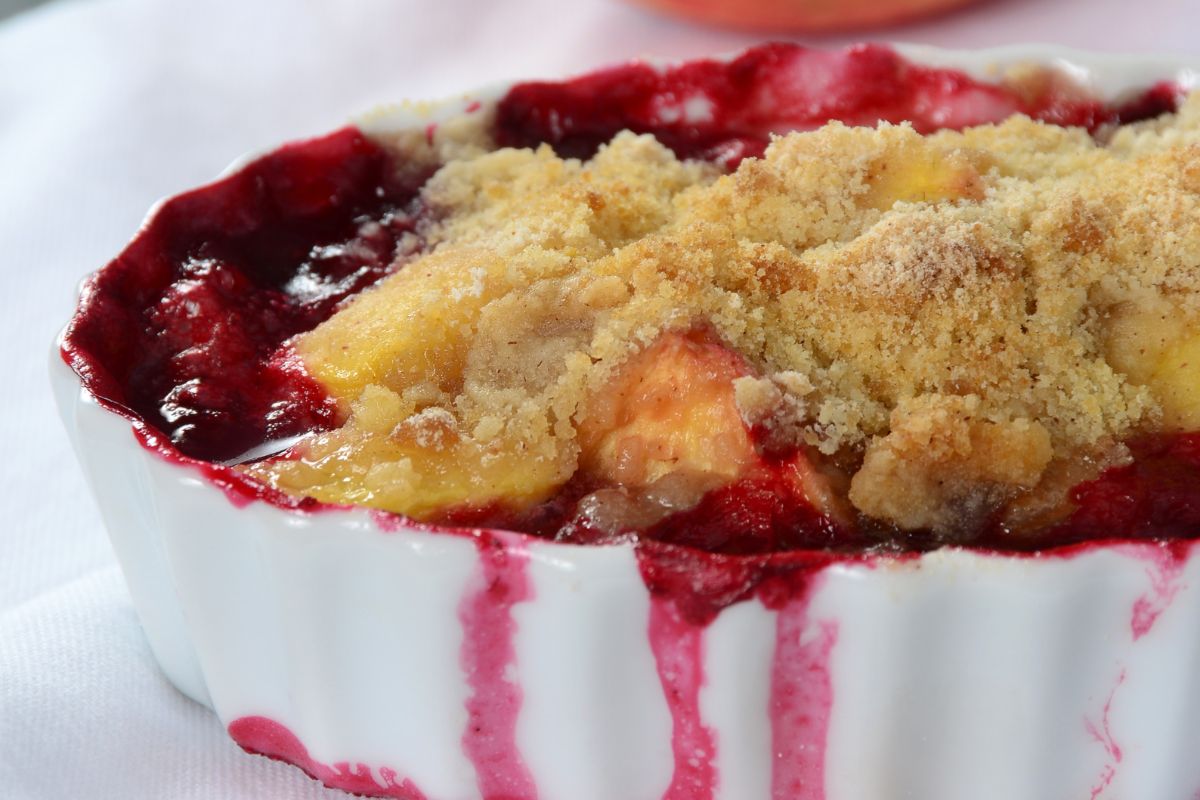 The next fruit to pair up with the peach is raspberry, which creates a beautiful blend of juiciness and tartness within a crumbly treat.
This is a recipe that is even easier to make than some of the others that we have mentioned on this list (though they are all pretty simple!), as the filling itself requires only five ingredients: peaches, raspberries, white granulated sugar, brown sugar, and cornstarch.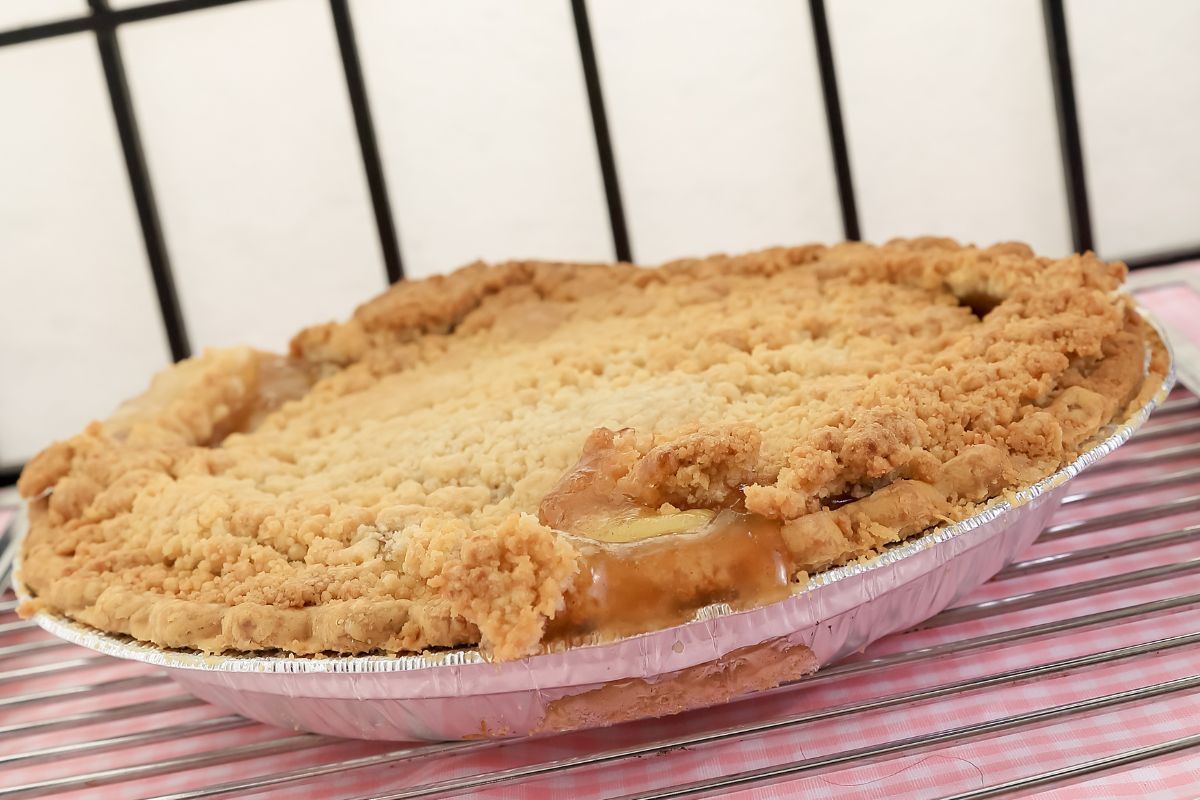 This spiced variation on the classical peach pie emphasizes that comforting vibe and transforms the summer dessert into one that is also well suited for the fall.
The spice from this pie comes from the combination of nutmeg, ginger, and cinnamon within both the pie filling and the crumb topping.
The topping also includes cloves to add more of that autumnal spice.
As well as these ingredients, the filling also needs flour, fresh, sliced peaches, vanilla, sugar, and lemon juice whilst the crumb topping also needs flour, sugar, and butter.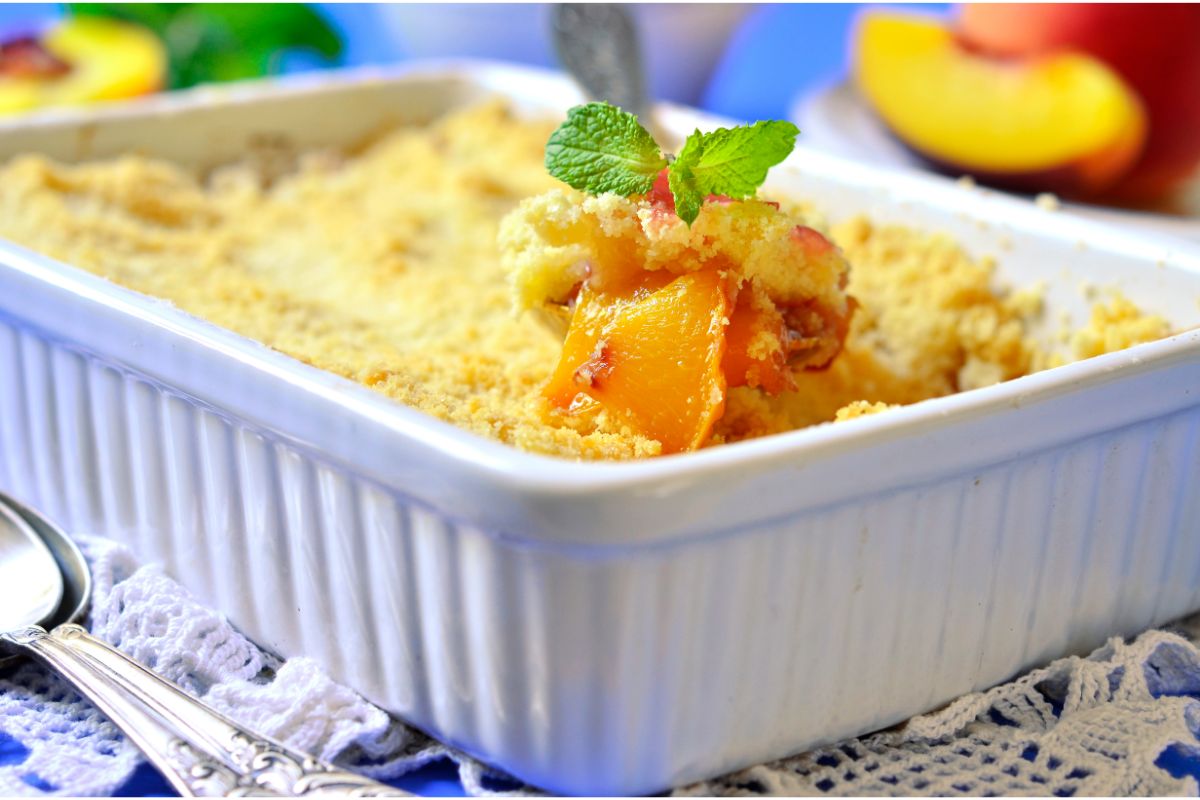 This recipe takes the classic peach crumb pie and puts it in the form of a slab pie, which is a shallow pie made within a rectangular and rimmed baking sheet.
Slab pies are great for use when feeding a large group, but they also allow for versatility when it comes to how the dessert is served, such as by creating bar-shaped pie slices that can be eaten more casually.
To make your own peach crumble slab pie, you will need pie crusts along with sliced peaches, ground cinnamon, ground nutmeg, cornstarch, melted butter, all-purpose flour, rolled oats, and brown sugar.
Top it off with some more sliced peaches and some whipped cream for a tasty garnish.
The sweetness of peaches comes together with the nutty crunchiness of pecans in this next recipe.
The pecan peach crumble pie is another recipe that combines summer and autumn flavors into one delicious dessert.
For the pastry of the pie, you'll need flour, salt, brown sugar, butter, ice water, and white vinegar whilst the filling will need sliced peaches, cornstarch, lemon juice, and sugar.
The crumb topping will need brown sugar, baking powder, flour, butter, cinnamon, and those all-important chopped pecans.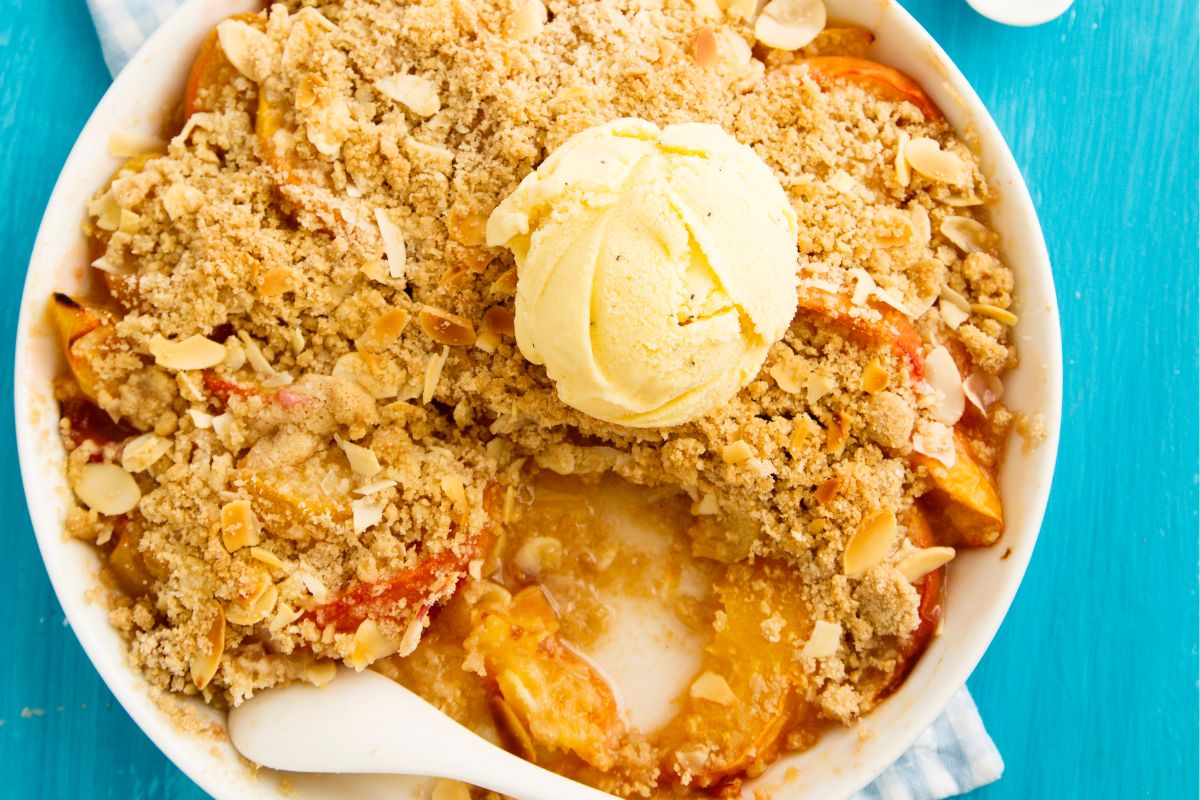 If caramel is more your thing, then this caramel crumb peach pie is definitely the recipe for you!
The sweet, richness of the caramel flavor combines with the peaches to create a dessert that is sure to become a favorite for those with a particularly sweet tooth.
This next recipe is a gluten-free one that makes the peach crumb pie accessible to those with that particular dietary restriction.
To make this, you will need a gluten-free pie crust as well as tapioca starch, sugar, cinnamon, salt, nutmeg, and- of course- peaches.
To keep the crumb topping gluten-free, you'll need gluten-free all-purpose flour with butter, white and brown sugar, salt, and cinnamon.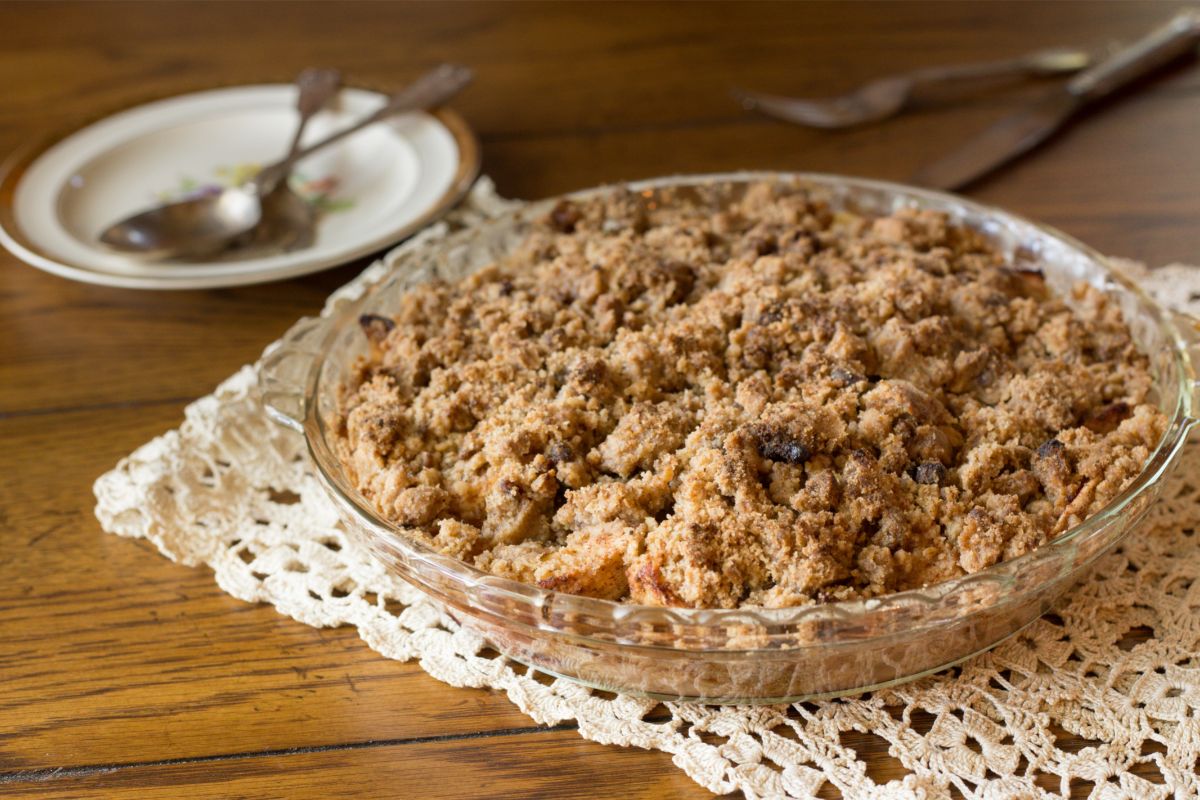 Featuring plenty of succulent and ripe sliced peaches along with a butter and brown sugar crumble topping, this Dutch crumb pie is well suited to a wide range of occasions.
Though not particularly different in relation to a classic peach crumb pie, this recipe is proof that when a traditional pie recipe isn't broken, you don't need to fix it!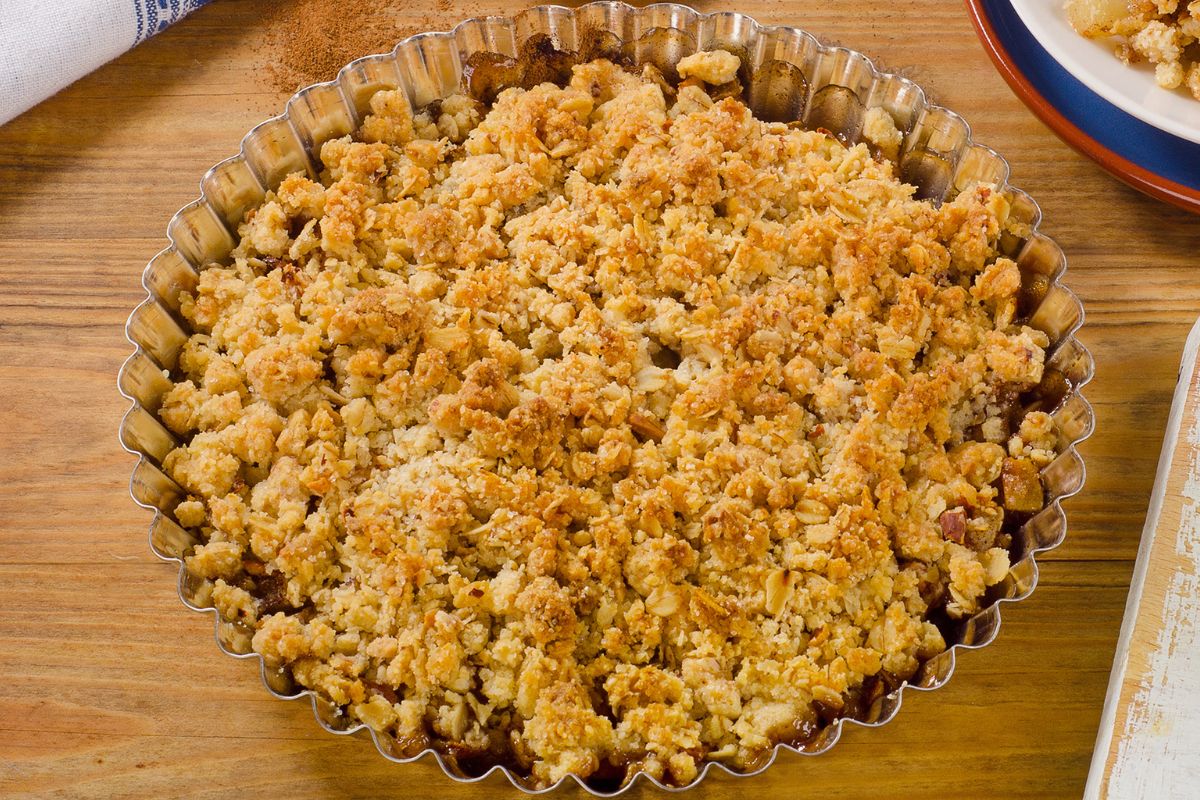 If you are looking for a finger food-style dessert to serve up at a party, these mini peach crumble pies are a perfect choice.
Though smaller than the other peach crumble pies on this list, these mini versions of the dessert pack a flavorful punch thanks to the inclusion of cinnamon and caramel sauce with the fresh peaches.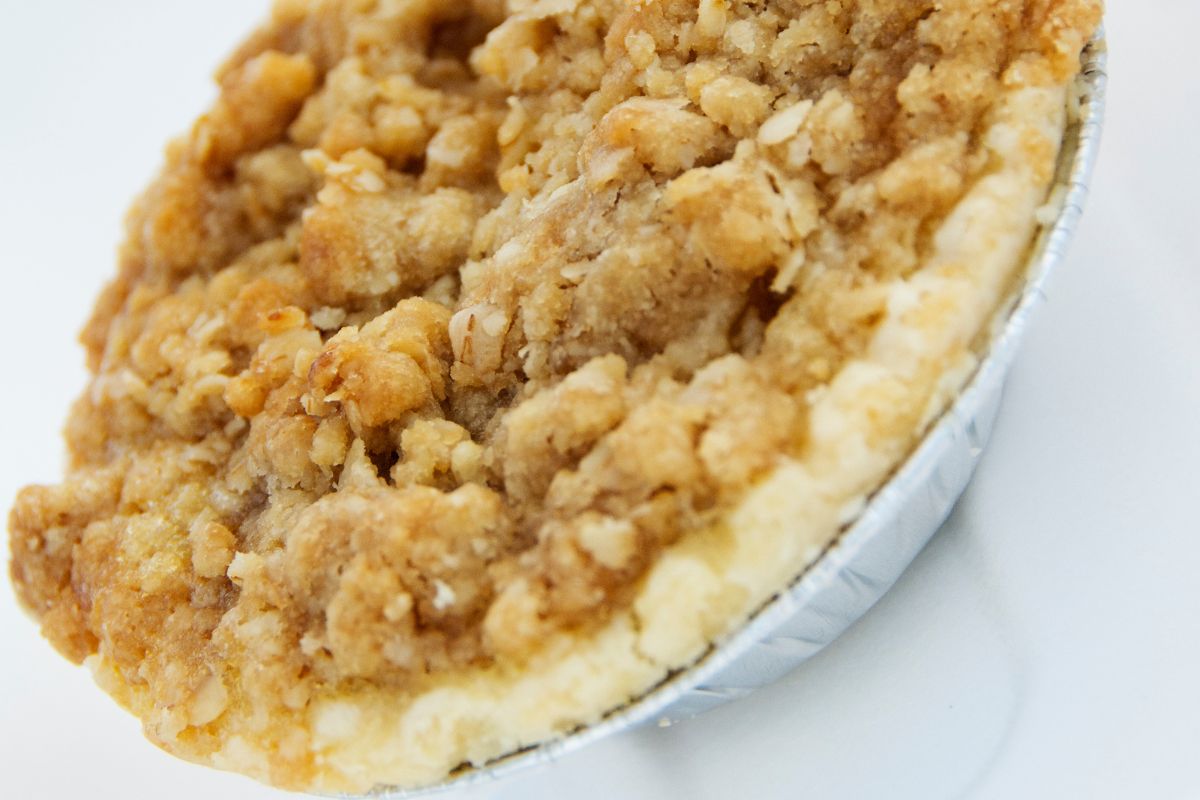 For a peach crumb pie that would be well suited for an adult get-togther like a dinner party (though it isn't a recipe suitable for kids!), then this whiskey peach crumble pie is an excellent option.
The pie features around three tablespoons of whiskey, though bourbon or rum would work well too.
The addition of alcohol keeps the sweetness under control and makes for a more mature taste.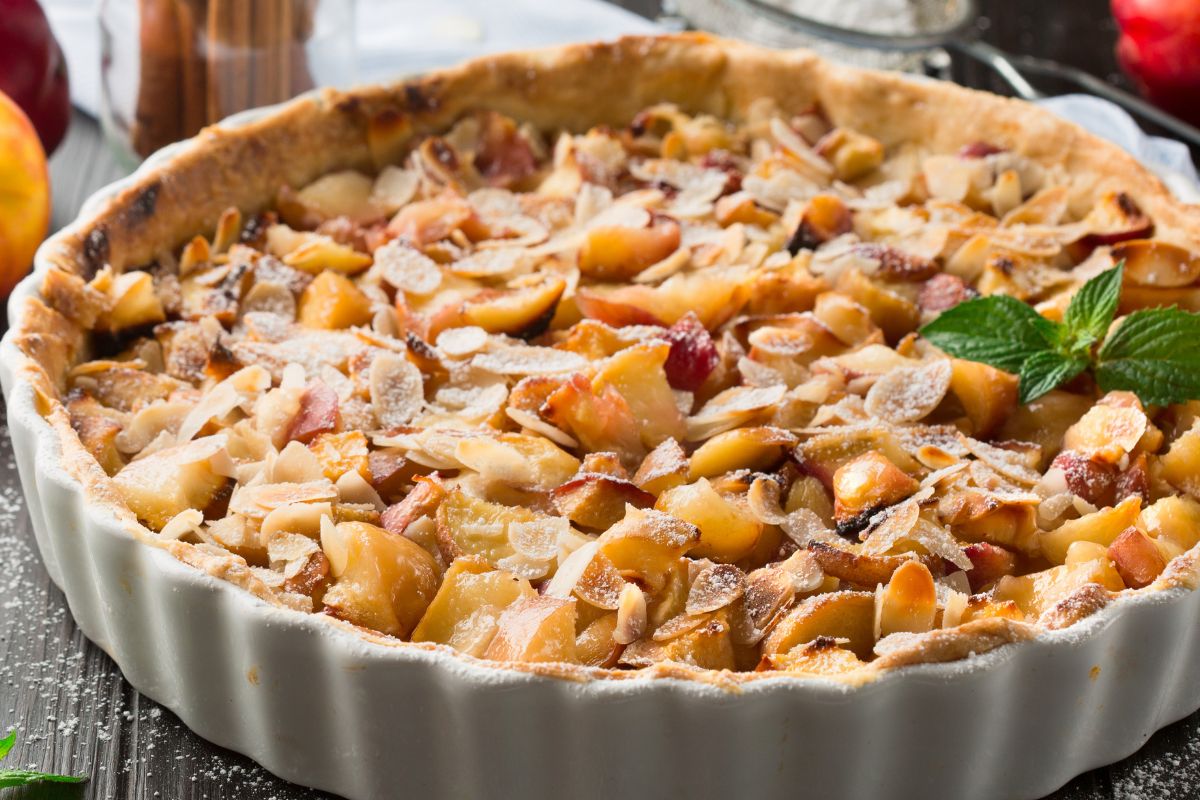 The combination of a nutty crust with the juicy peaches in this recipe makes for a unique and delicious take on the classic peach crumble pie recipe.
The almond crumble topping will need some sliced almonds, salt, all-purpose flour, brown sugar, and unsalted butter whilst the peach filling will need ground cinnamon, cornstarch, peaches, and granulated sugar.
Final Thoughts
No matter what kind of peach crumble pie you are looking to make, you will hopefully have found at least one or two recipes that have taken your interest!
Whether you want a plain and simple peach crumble pie or a pie that offers other kinds of flavors too, you are sure to find your perfect peach crumble pie recipe for you amongst these choices.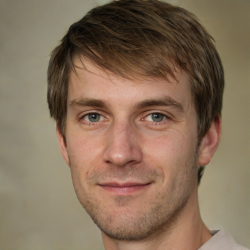 Latest posts by Mark Williams
(see all)