Galettes are a delicious French cake known for its flat, round and crusty nature. One of the most common forms of galette is the fruit galette, with various types of fruit often used for the filling.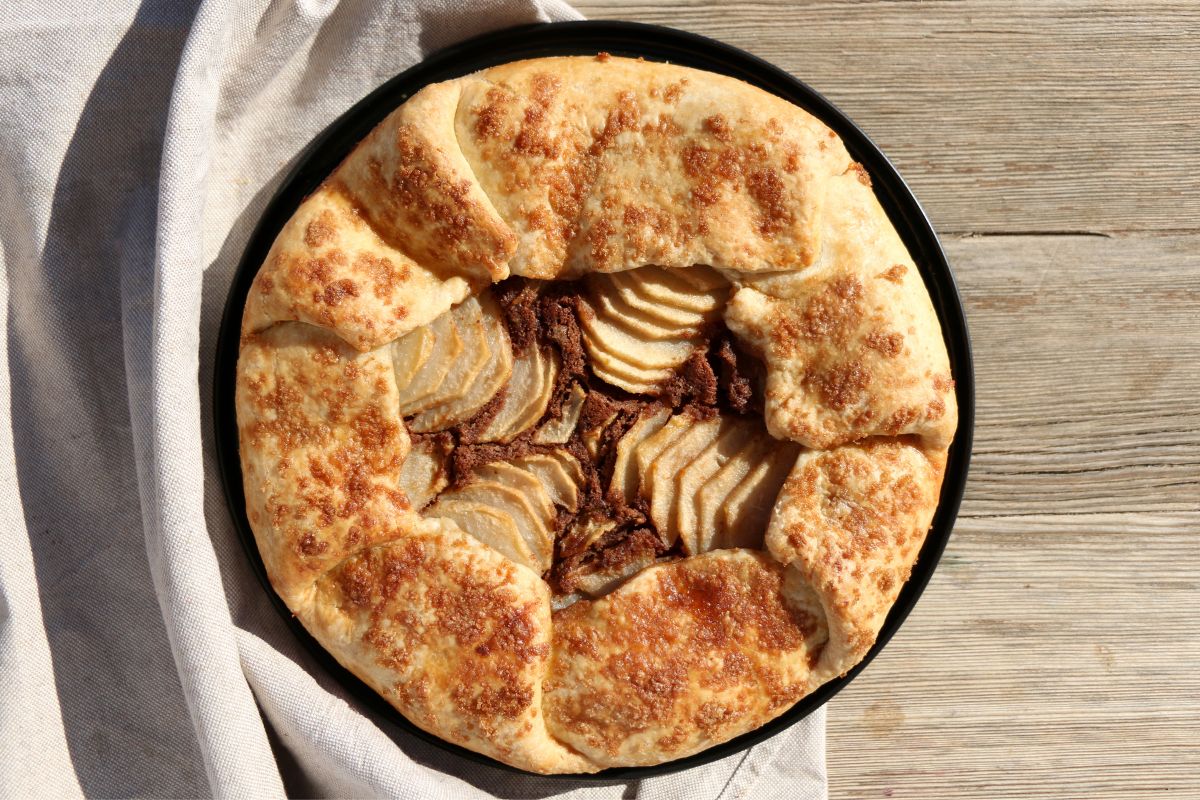 One common fruit often used with fruit based galettes is the pear, thanks to its ability to be used as a standalone fruit, but also one that works well with other kinds of fruit. It is also versatile enough to be used in savory galettes too.
With this in mind, we are going to be looking at fifteen pear galette recipes that are sure to be enjoyed by all! Let's get started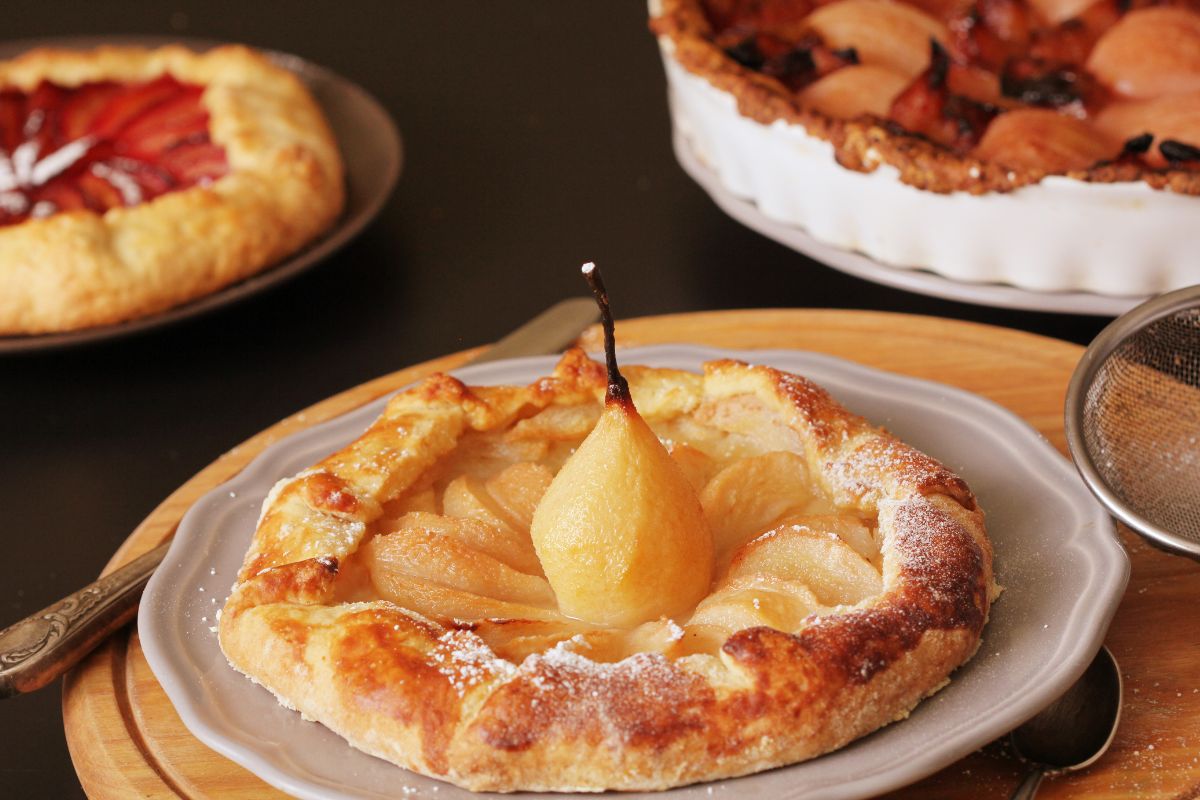 As the name suggests, this pear galette is the perfect pastry to get stuck into when the fall season rolls around.
This free form French style recipe features sticky, caramel coated pears wrapped within a sweet pie crust.
The filling of the galette also includes cheddar cheese, which excellently complements the pears and the sweetness of the caramel.
As well as a pie crust, you will need those aforementioned pears and cheddar cheese along with all-purpose flour, brown sugar, granulated sugar, ground nutmeg and lemon juice.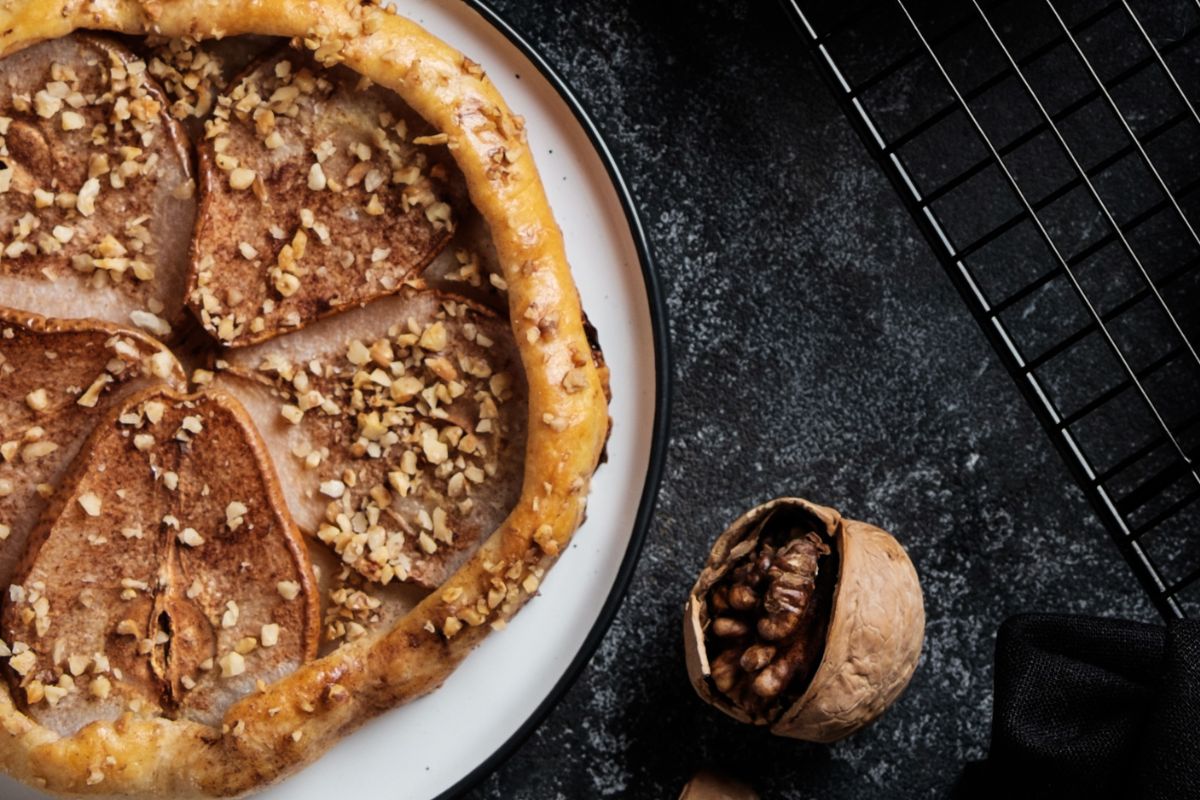 If you are looking for a galette recipe that offers a bit of crunch with your pears, then this apple and pear galette is the perfect option as it also features a walnut streusel.
In pastry and baking terms, streusel refers to a crumble like topping that is made up of sugar, flour and butter. Other ingredients are often added in modern iterations of the streusel, as with the walnuts in this recipe.
The streusel sits on top of the apple and pear galette to create some extra crunchiness and added texture. It also complements the taste of the apples and pears- and the flakiness of the galette pastry- fantastically well.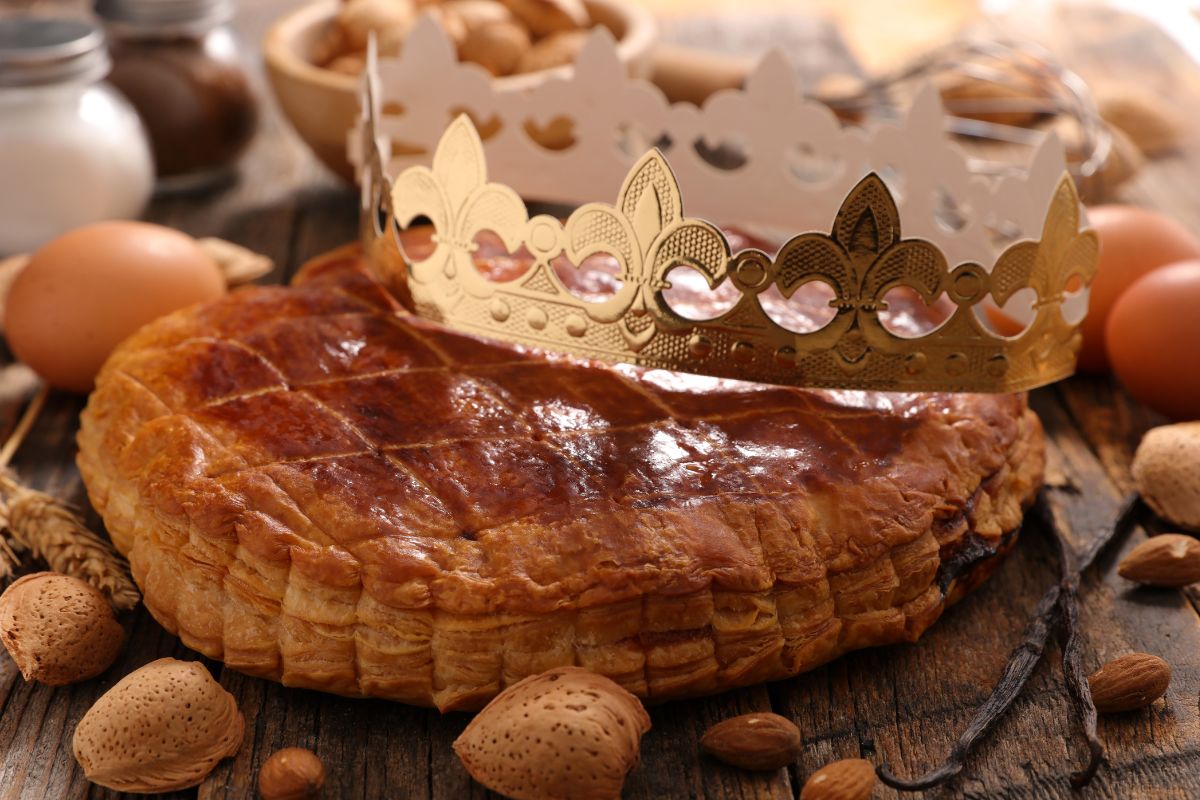 Everyone knows the perfect fruit and nut combination that is the almond and the pear, so why wouldn't you create a galette dedicated to this match made in flavor heaven?
The almond galette is a popular pastry in France and is often served on a holiday called The Feast of Epiphany, which falls on January 6th.
The buttery nature of the flaky pastry with the sweet pears and the nutty almond filling creates a dessert that is certainly worthy of being feasted on!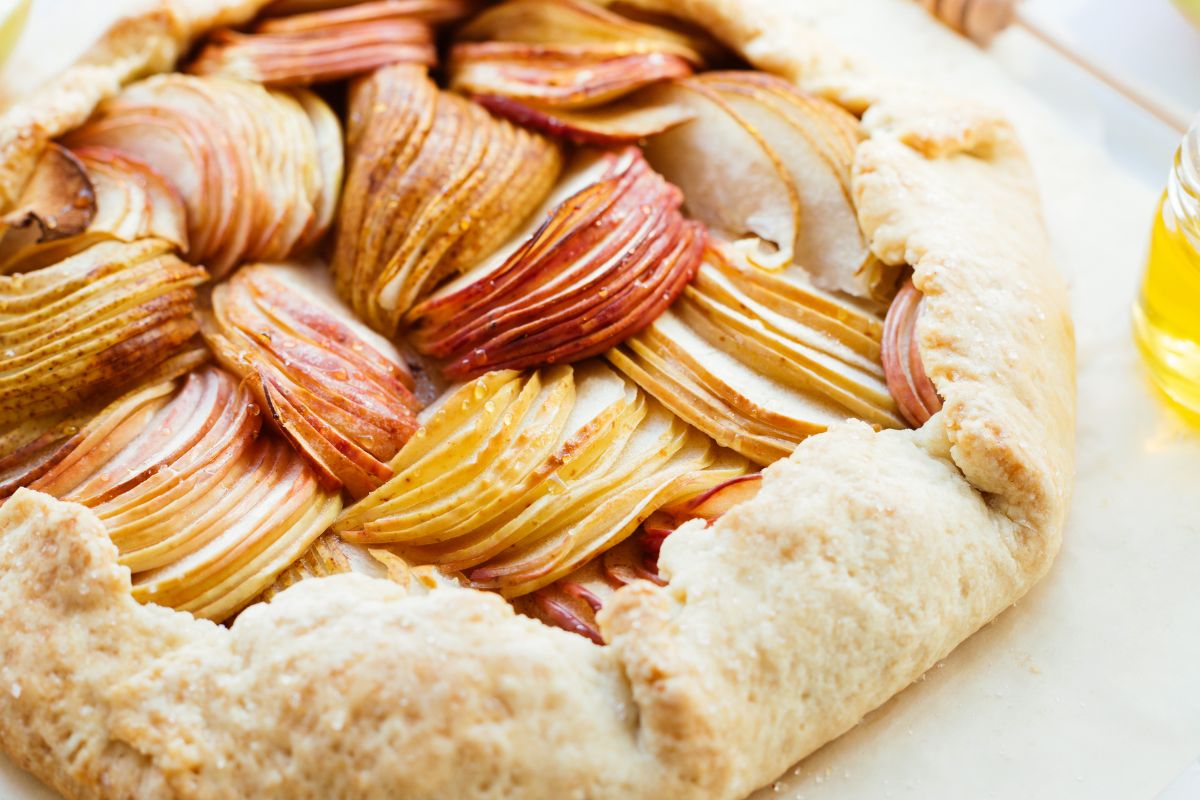 For a pear galette recipe that blends sugary sweetness with ginger spice, you will definitely want to consider this sugar spice pear galette.
The spice in this recipe comes from the use of cloves, nutmeg, ground cardamom and ginger along with cinnamon, which are often used in spiced desserts such as gingerbread.
As well as those aforementioned ingredients, you'll also need granulated sugar, brown sugar, pears, eggs and a premade pie crust to save on time.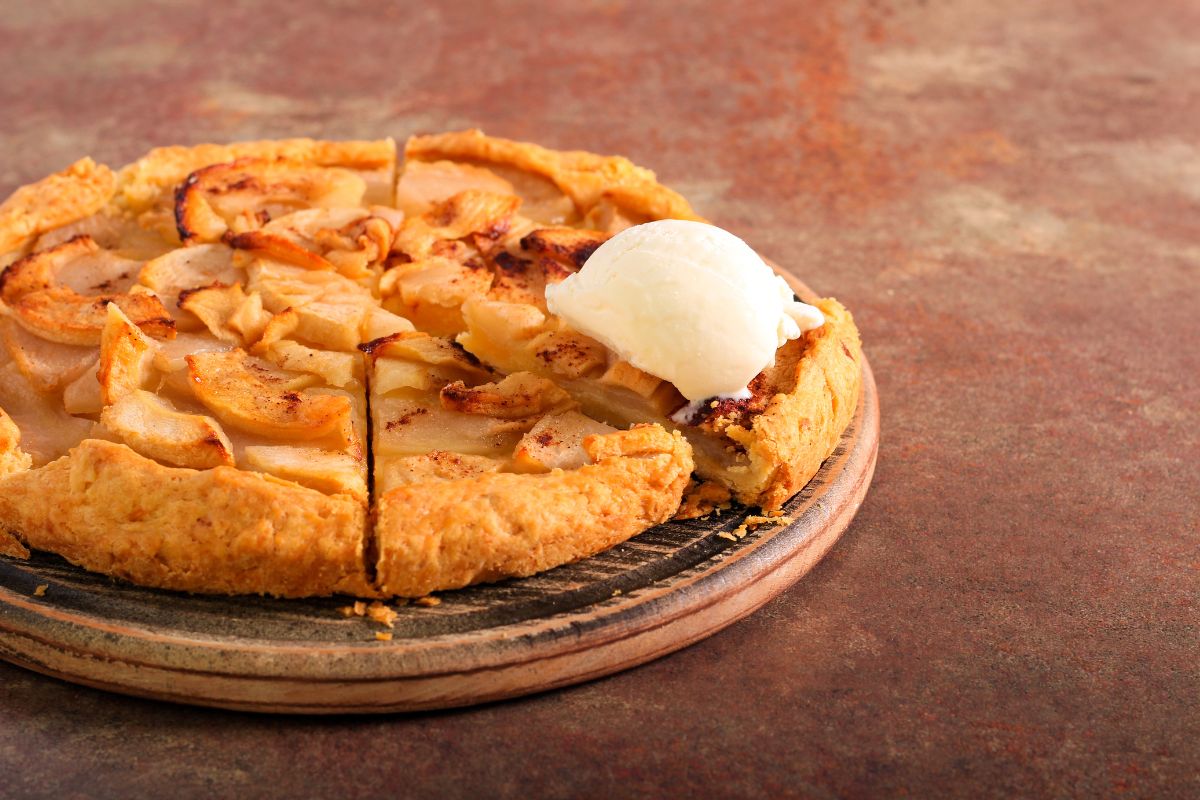 Simple, straightforward and an incredibly delicious autumn treat, this rustic apple and pear galette brings together the sweetness of apples and pears in a flaky pastry crust.
There are three elements to this galette: the crust, the filling and the finish. To make your own pastry crust, you'll need all-purpose flour, ice water, granulated sugar, salt and unsalted butter.
The fruit filling requires peeled and cored apples and pears as well as lemon juice, all-purpose flour, ginger, coriander, cinnamon, nutmeg, and dark brown sugar, whilst the glaze finish will need cinnamon, unsalted butter and granulated sugar.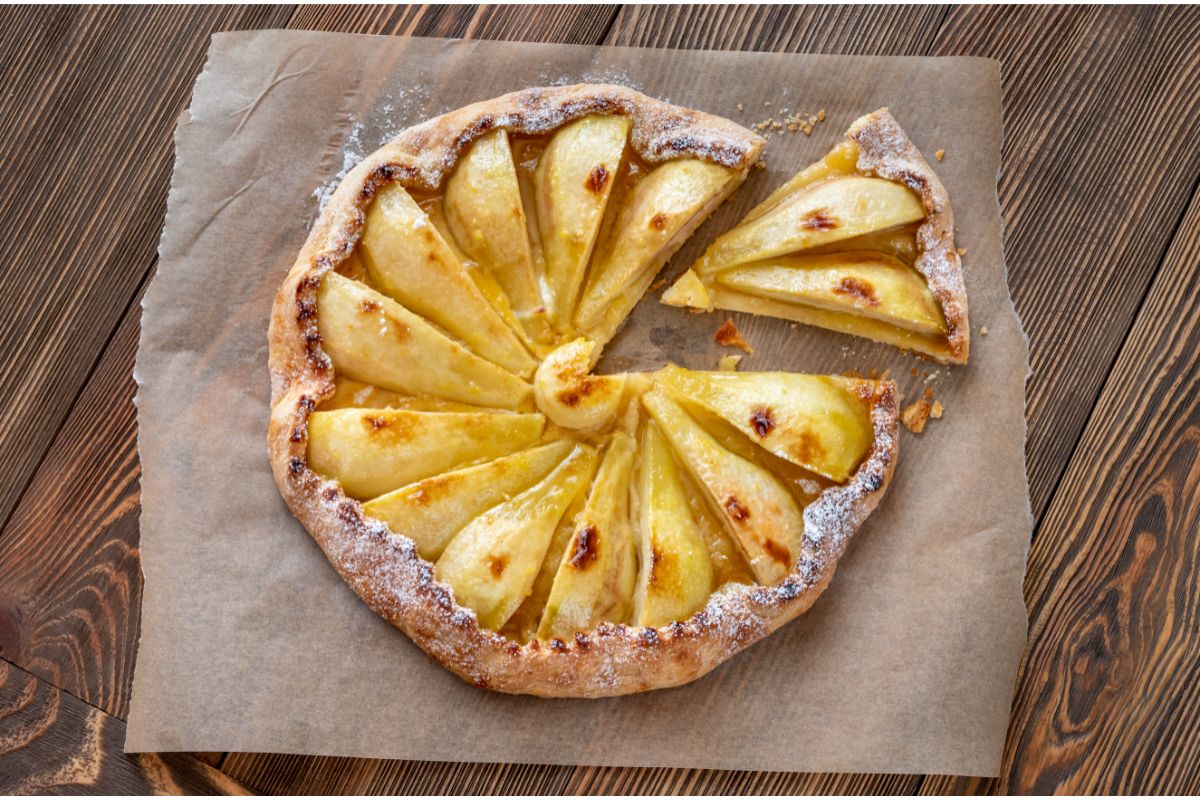 This is another pear galette that incorporates that ginger spice into its recipe to create the perfect fall themed dessert. Because of this ginger flavor, this will also make for a tasty sweet treat around Christmastime.
As well as that ginger and the all important pears, you will also need butter, egg whites, brown sugar, granulated sugar, finely shredded lemon peel and puff pastry.
To top off the galette, you can also garnish it with some whipped cream and some crystallized ginger.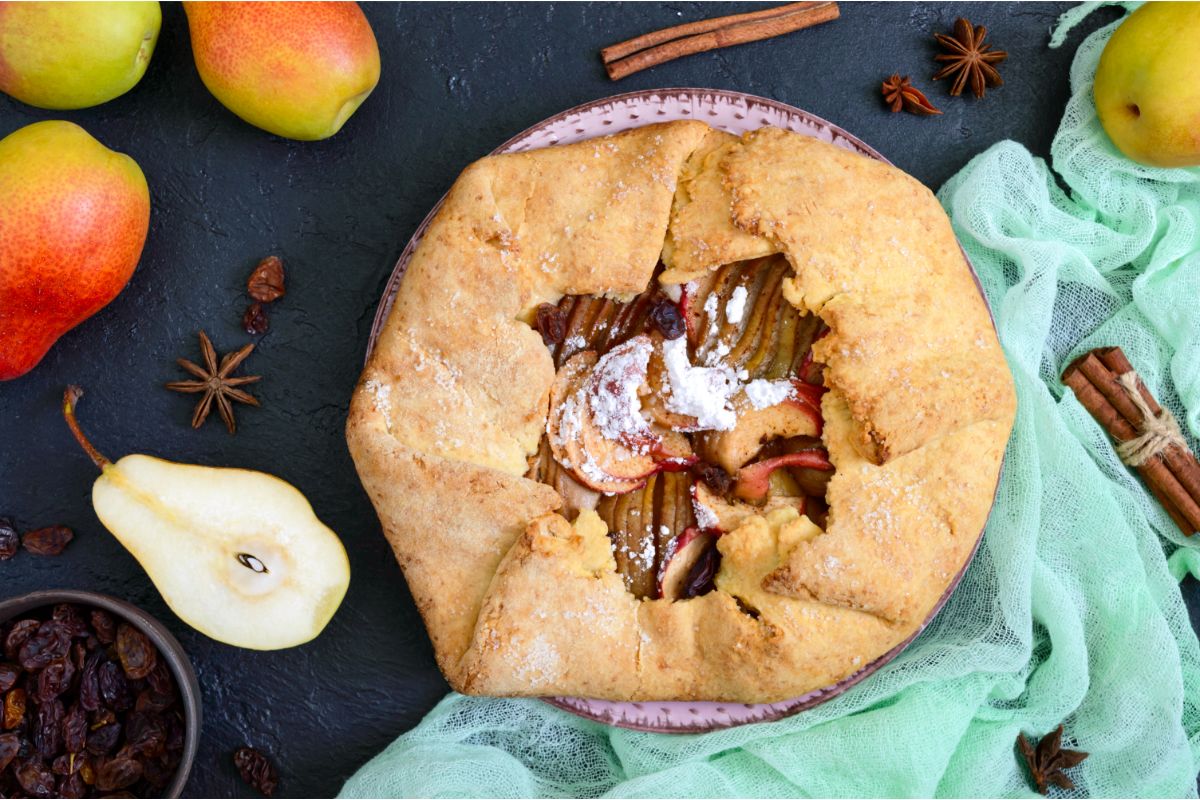 Frangipane is an ingredient often used in pastries, made up of a sweet, almond flavored custard.
When it comes to the pear galette, a frangipane base complements the fruity pears excellently to create a truly mouthwatering pastry dessert.
To make your own frangipane pear galette, you will need a pie crust with pears, almond flour, butter, eggs, sugar and vanilla extract.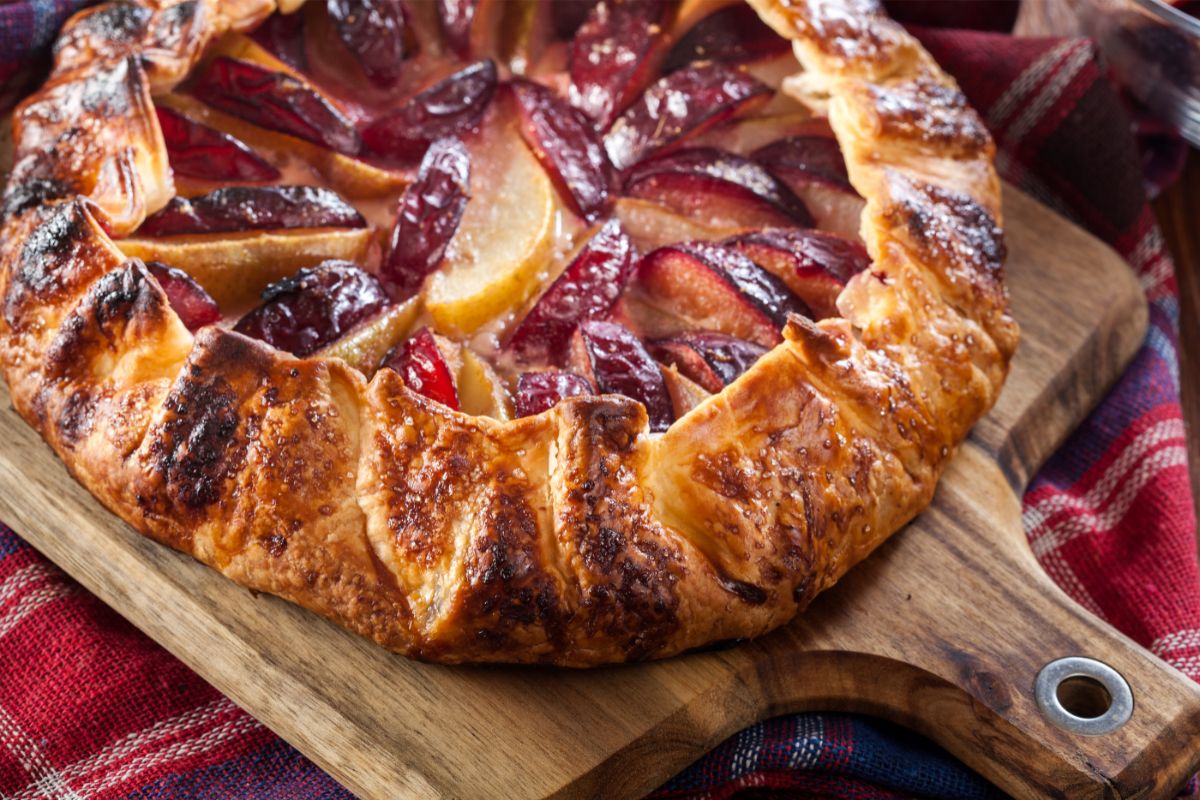 Apples aren't the only fruit that works well with pears when it comes to a pear galette, as seen in this juicy pear plum galette.
The combination of pears and plums makes for a tart yet juicy filling, whilst the honey and red plum glaze that can be found in this recipe adds an extra layer of sweetness.
Along with puff pastry, you will need plums, pears, sugar, red plum jam, cornstarch, honey and lemon juice to create this tasty peach plum galette.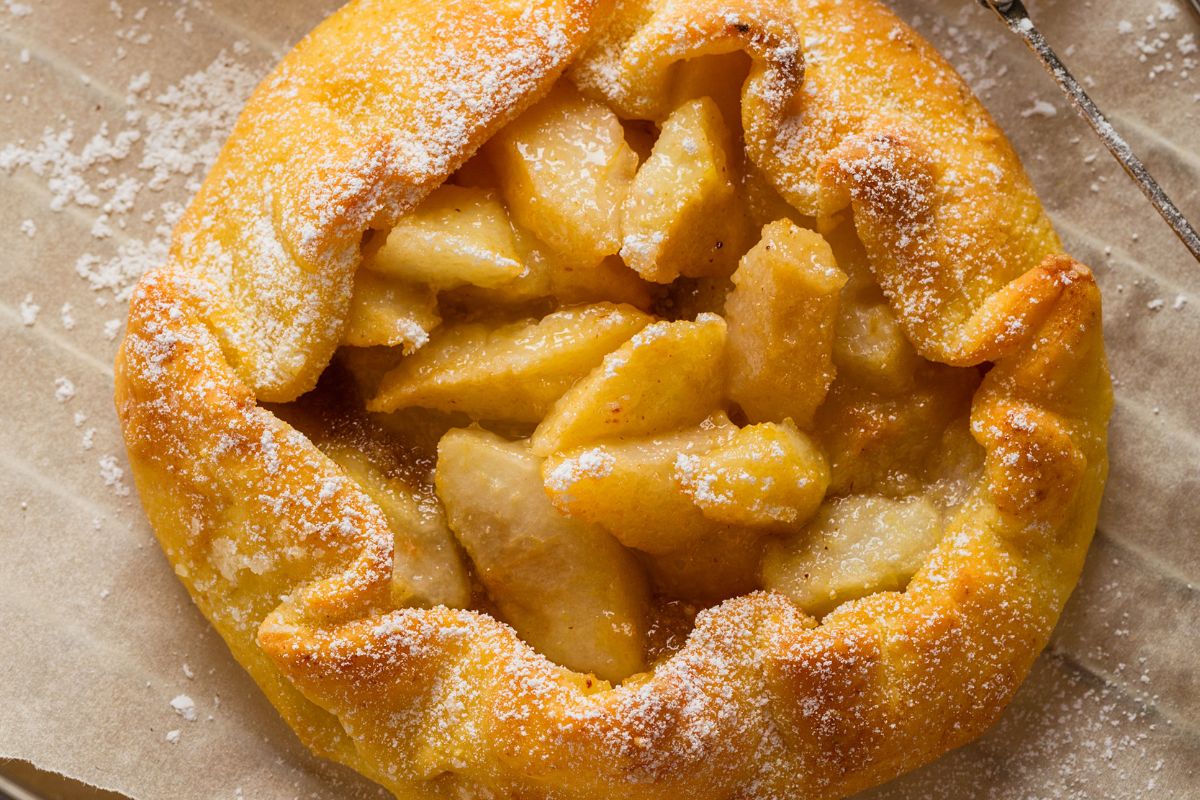 This salted caramel pear galette is another choice of dessert that would be well suited for the fall season thanks to the association that salted caramel has as a flavor to autumn.
The combination of sweetness from the pears with the salty and sweet mixture from within the caramel makes for a well-balanced blend of fall flavors.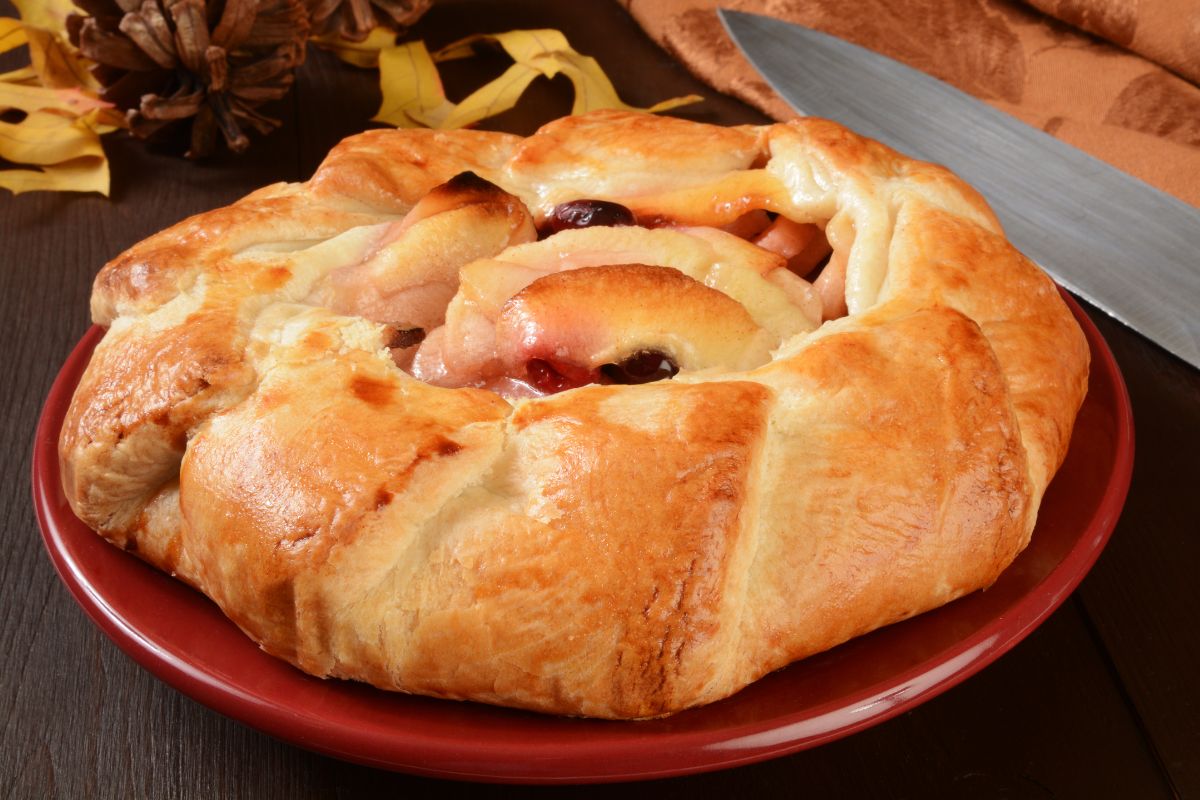 If you are looking for a dessert that is well suited for the colder weather, then this roasted pear and cranberry galette could be exactly what you are looking for.
The roasting that occurs in this particularly recipe is a great way to intensify the sweet flavors of the cranberries and the pears.
You will need pie dough for the outer crust to make this recipe along with brown and granulated sugar, fresh or frozen cranberries, pears, cinnamon, lemon juice, cornstarch, and orange zest.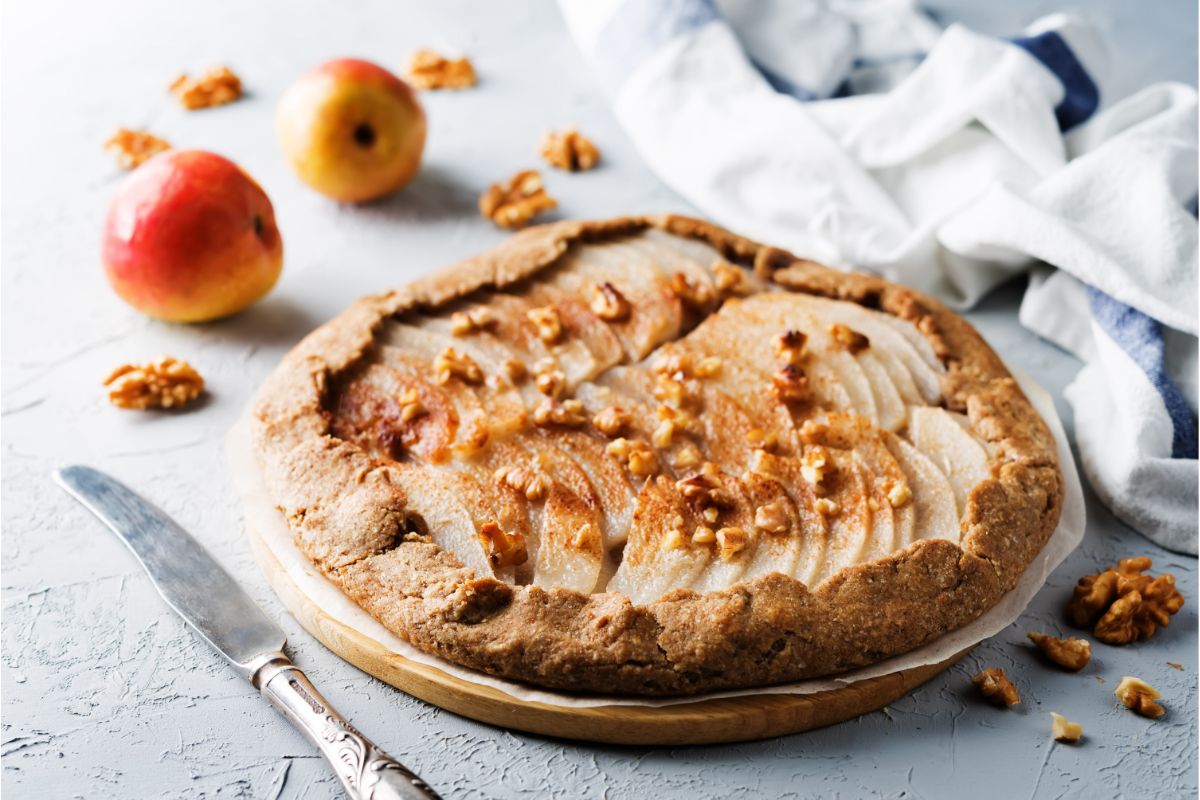 A simple and easy to make dessert, this galette combines spicy cinnamon with sweet pears and toasted walnuts in one tasty tart.
The walnuts in this recipe creates some crunchiness which complements the soft, fruity filling excellently.
You will need skim ricotta cheese, pears, caramel, California walnuts, cinnamon, vanilla extract and a pie crust to create this galette.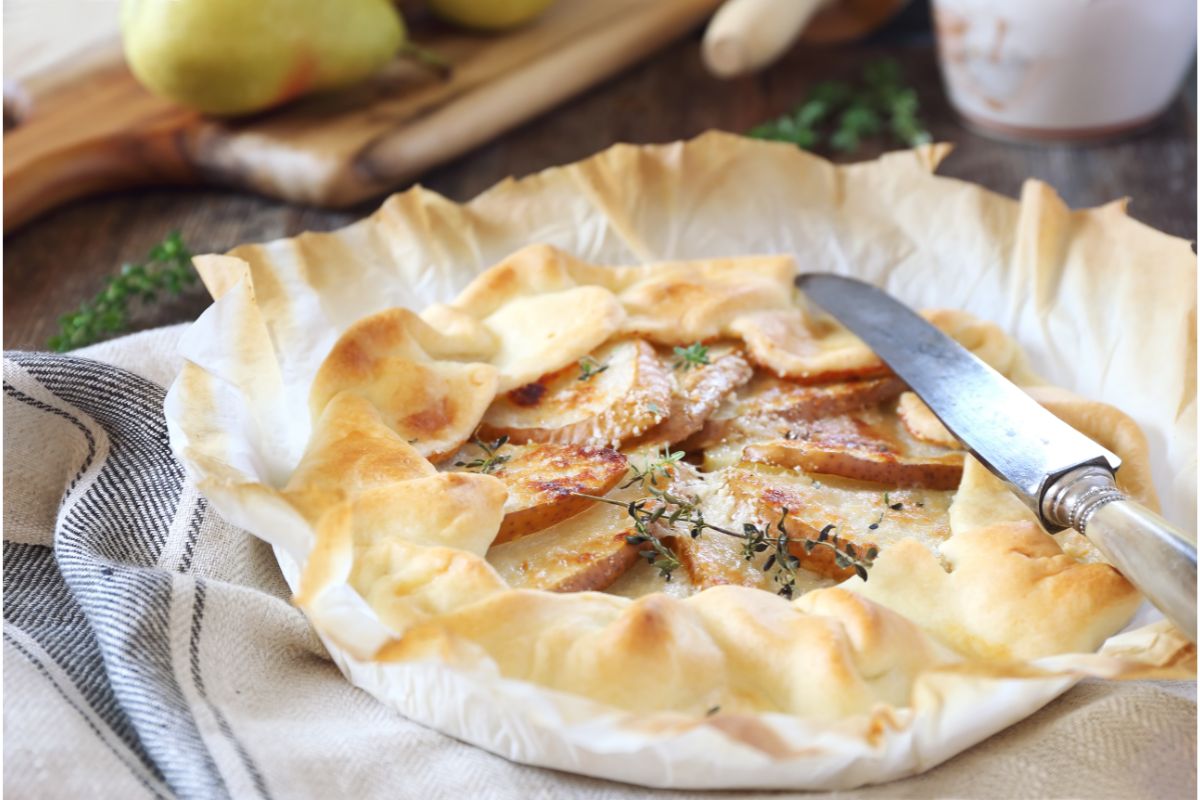 Savory pear galettes are also a popular pastry, thanks to how well pears are able to fit in with both sweet and savory options.
This particular recipe combines pears with caramelized onions. The flaky pastry encases the mixture, only heightening the deliciousness of the recipe.
If you are considering making this savory pear and onion galette, you will need pie crusts as well as pears, melted butter, freshly ground pepper, salt, all-purpose flour, eggs, crumbled blue cheese, large sweet onions and chopped pecans.
You can also add a bit of fresh thyme to the top to tie the whole thing together.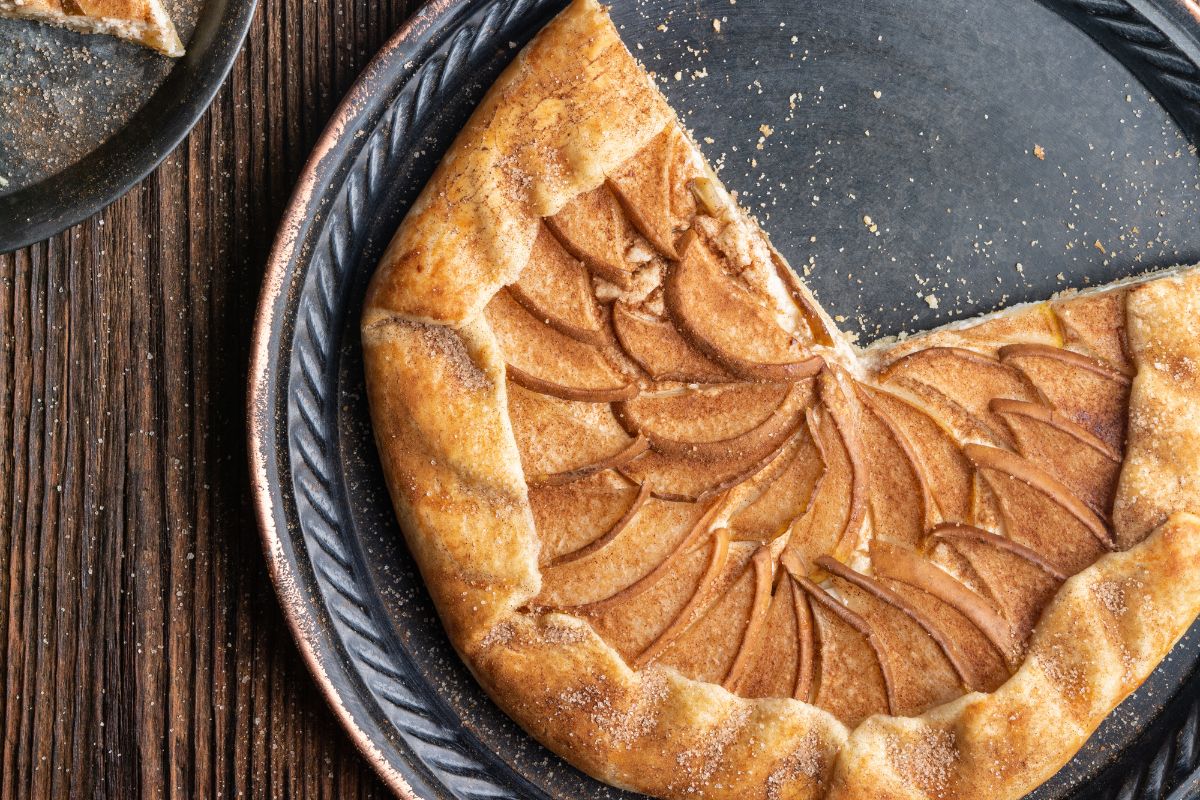 Asian pears are a type of pear that is native to China and Japan. Sweet and crunchy, these pears blend the best of the flavors of both apples and pears with a delicate, subtle nature that makes them well suited for a galette.
This particular recipe blends Asian pears with cardamom whipped cream to create an Asian styled galette that is unique and delicious.
The dough of the galette requires whole wheat flour, unsalted butter, granulated sugar, rice vinegar and kosher salt.
The pear filling requires an Asian pear with lemons, lemon zest and lemon juice, turbinado sugar, vanilla extract, dark brown sugar, and heavy cream.
The cardamom whipped cream for the topping features sugar, heavy cream, cardamom, sour cream or crème fraîche and vanilla paste.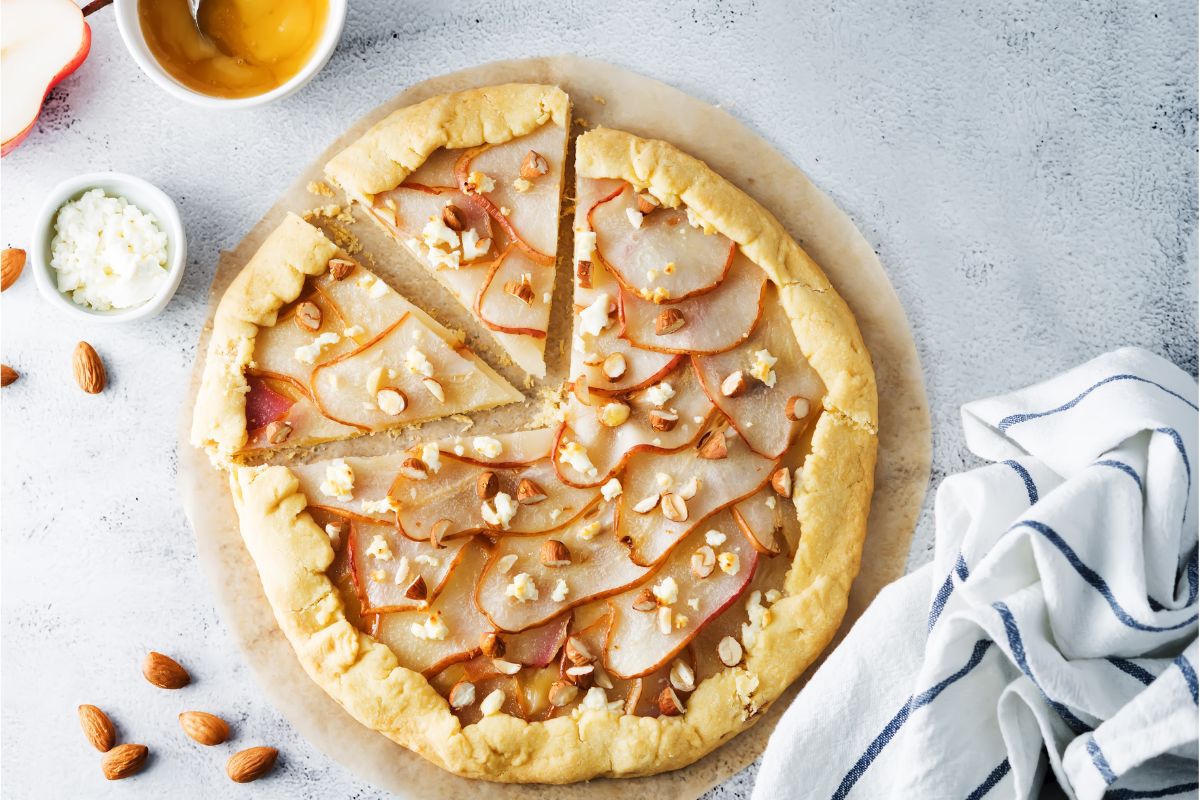 Another savory option, this pear and honeyed goat cheese galette features a buttery and flaky pastry exterior with tangy and warm goat's cheese alongside sweet pears.
The galette is baked into a deep and attractive rustic hue, giving it an aesthetically pleasing look too.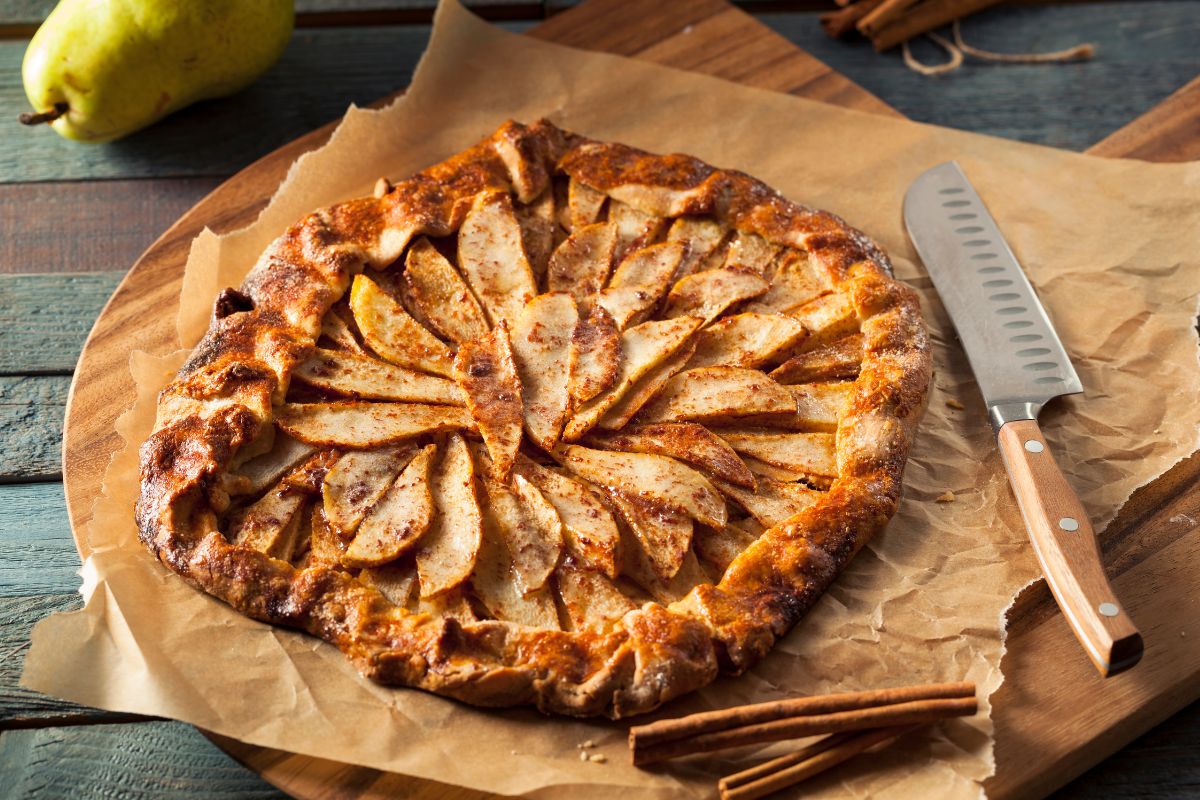 This recipe features tasty cinnamon spiced pears encased in a light, and sweet buttery tart crust to create another dessert that is best suited for the fall.
This is another recipe that is incredibly easy to make, only needing all-purpose flour, salt, sugar and unsalted butter for the crust- and ice water when needed-, as well as pears, sugar, salt, eggs, water, lemon juice, and cinnamon for the filling.
Final Thoughts
There you have fifteen pear galette recipes that you can try for yourself right now, including both savory and sweet options.
This list not only shows the versatility of the pear when used within a galette, but it also offers tons of variation so that no matter what your tastes are- or whether you prefer a sweet or savory galette- you are sure to find a recipe here that suits you perfectly!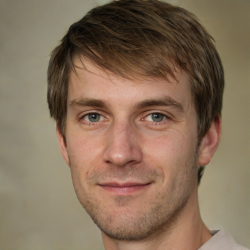 Latest posts by Mark Williams
(see all)