Tomato season is one of those seasons that people anticipate the most! With it comes fresh, juicy, and delicious home-grown tomatoes that can be incorporated into a range of mouthwatering recipes.
A great way to enjoy tomatoes is in a galette! If you're unfamiliar with the galette, they are flat, round cakes made using bread, dough, or pastry, and they can be sweet or savory!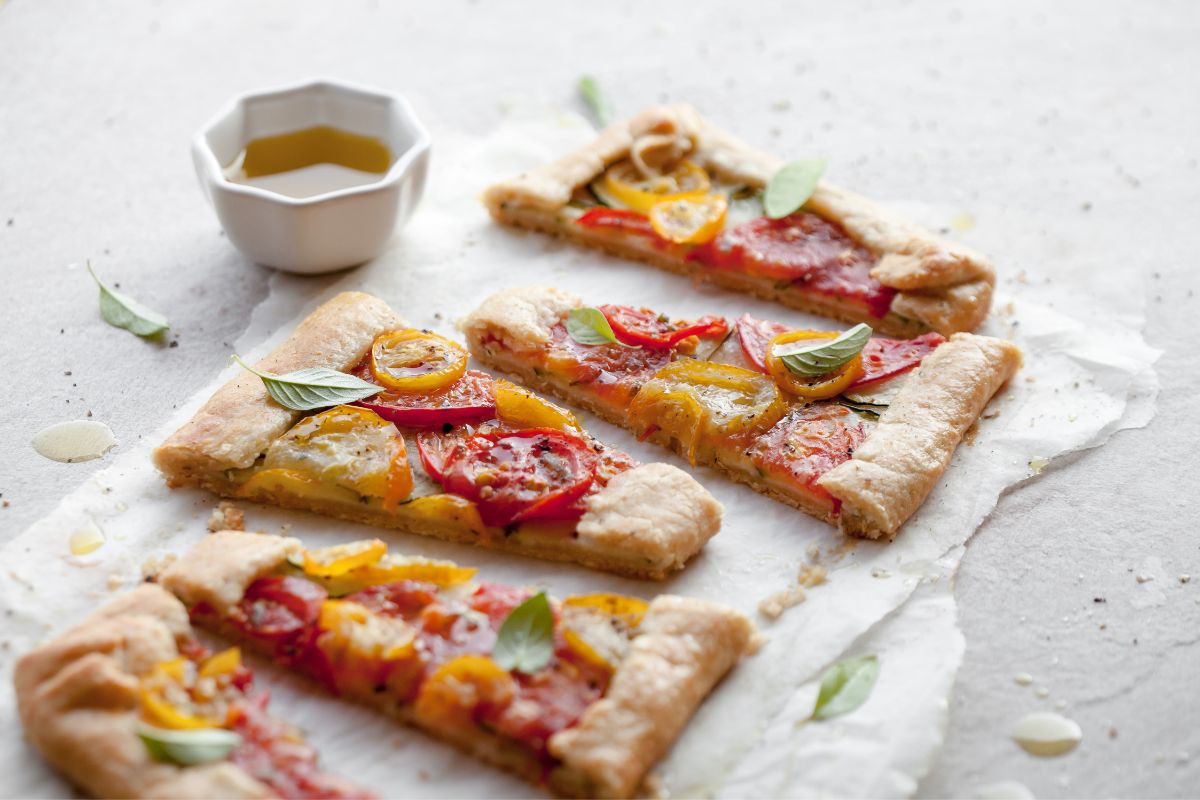 Take your tomatoes on an elegant journey with one of these galette recipes. Whether you're looking for ways to use up leftover tomatoes, want to understand all the fuss surrounding galettes, or simply want to try a new recipe, well, you're in the right place to do so.
In this article, you will find 15 delicious tomato galette recipes that you simply have to try. From rustic tomato galettes to roasted heirloom tomatoes with fennel seeds and cornmeal crust, there is sure to be something on this list that everyone will enjoy.
With this in mind, let's jump straight into the recipes. Enjoy!
This heirloom tomato galette recipe features a delicious free-form tomato tart made from layering homemade galette dough with generous amounts of herbed goat cheese and sliced tomatoes which are then baked to perfection; leaving you with a flaky, yet buttery savory galette. 
Whether you bake it for breakfast, brunch, or even as a light dinner (with a quick and simple salad on the side), this galette is made to impress.
Tomatoes are the ultimate summer food. As the temperatures get hotter, you can start to see your tomatoes turning a beautiful shade of cheek-pinching red.
At this point, you know they'll contain a deliciously sweet flavor that goes perfectly into all your summer dishes.
Take this rustic, free-form heirloom tomato galette, for example. It is the ultimate summer dish. Featuring heart cornmeal dough which makes for a lovely and manageable dough to roll out and shape.
And since the galette doesn't require any particular shape, you shouldn't have any trouble doing so.
Oblong, scalloped, Trapezoid, round, parallelogram, or squared – whichever shape you end up with, it is sure to taste delicious either way!
Pile your dough high with your veggies, sneaking some prosciutto and goat cheese into the mix, and you'll be rewarded with an easy-peasy, but delicious, meal.
This heirloom tomato galette with herm features everything you love in a savory galette: a flaky, all-butter crust, a mascarpone filling with garlic and lemon, and, of course, tomatoes in different sizes.
It is then topped with herbs that can be gathered straight from your garden; although, you can also use whatever herbs that are currently available to you.
Is it truly summer if you haven't made an heirloom tomato galette? Well, quick, you still have time!
This rustic galette features all the sweet summer flavors including bursting tomatoes layered with spicy arugula pesto – the perfect combination for an al fresco brunch or a quick, light dinner.
This tomato galette features the perfect combination of cheese and tomatoes that are all bound together with a deliciously flaky galette.
The rustic tart is sure to satisfy all your guest's appetites whether served at your next brunch or dinner party.
Galettes make for a stunning way to eat your tomatoes. Especially, when paired with creamy feta, woodsy thyme, and, of course, sweet tomatoes, to make a mouthwatering meal.
All these ingredients are encompassed in a flaky, buttery crust, which makes up the free-from pie that is easy enough to pull together within a couple of minutes – you won't even feel like you're cooking!
While the term 'galette' may sound slightly intimidating, it couldn't be an easier type of pie to make! Beyond the simple techniques and preparations, these pies are incredibly versatile and adaptable to suit a wide variety of fruits and vegetables or whatever is in season!
This recipe in particular calls for sweet cherry tomatoes with contrasting strong cheese which both come together to make a delicious meal. 
For the finishing touches, top off with some fresh basil, and voila, your very own galette. See, it's easier than you would think!
This combination of ingredients is truly to die for; featuring sauteed zucchini, scallions, lightly charred and slumped cherry tomatoes, parmesan, and crunch sweet corn, everyone needs to try this recipe!
Here, you are going to get all the nutrients and minerals you need from a meal. And you wouldn't even realize it – it tastes that delicious!
Therefore, if you're looking to be more adventurous with your tomato galette, then we recommend this recipe.
The beauty of galettes is that they are incredibly versatile. So, if you're looking to add, or even remove, a particular ingredient you have complete freedom to do so without ruining any of the delicious flavors.
This recipe, in particular, calls for heirloom tomatoes, red onion, garlic cloves, goat cheese, and fresh herbs – which all come together in a gloriously flaky crust.
Nothing screams summer more than ripe, sweet, tangy, and juicy tomatoes. With these delicious vegetables; the possibilities are endless.
From salads and sandwiches to pies and, of course, galettes – they are incredibly versatile, making them the perfect summer treat.
This recipe achieves just that! Heirloom tomatoes, herbed cream cheese, egg yolk, Za'atar spice, thyme sprigs, and salt and pepper all come together for an infusion that is bursting with flavors.
One tip when making this recipe is to place your sliced tomatoes on a paper-total to prevent the dreaded soggy bottom! This helps to draw out any leftover moisture in the tomatoes before baking them.
This roasted heirloom tomato galette with fennel seeds and a cornmeal crust is the perfect savory tart.
Nestled in the galette, you'll find slow-roasted tomatoes with a quick and simple savory spread.
While you may be put off by the long instructions, don't be afraid as this recipe is relatively simple to make! Unlike other recipes, this one requires slightly more of your time. But trust us; it will be worth it!
If you can, make double the recipe, as it's sure to be devoured in minutes!
This savory corn, gruyere, and, of course, tomato galette is a quintessential summertime French classic. Essentially, you are using out any ingredients already found in your kitchen; while spending as little time in there as possible.
The ingredients of sweet corn, salty gruyere cheese, and ripe tomatoes are all held together in a flaky crust that hits the spot!
It checks all the boxes of what a summertime meal consists of: it is seasonal, quick, and makes for a delicious, late-afternoon meal that the whole family will enjoy.
This recipe ensures that the all-time favorite classic meal can be enjoyed by everyone, even vegans!
This recipe calls for tomatoes galore, including yellow tomatoes, beefsteak tomatoes, and plum tomatoes – so, if you're a fan of tomatoes, you're going to love this recipe. The addition of yellow tomatoes provides a wonderful layer of both color and flavor.
To keep the recipe vegan friendly, all cheeses have been avoided. However, if you're not a vegan and looking to add some extra textures and flavors to your galette, then we suggest goat's cheese.
Tucked under a blanket of roasted sweet cherry tomatoes, you'll find a layer of pesto and creamy cashew cheese, all held together in a free-from, fuss-free flaky galette crust.
This recipe makes for a super simple, delicious, and utterly gorgeous meal – you can't go wrong with it!
This is an easy-to-make tomato galette featuring roasted garlic cream which is perfect for the summer months… or anytime really! It's hearty, light, and full of mouthwatering flavors.
A free-form base, packed to the brim with sweet summer tomatoes with a homemade almond-based roasted garlic cream, and, to top it all off, freshly picked fragrant herbs.
Galettes are the perfect meal for those fussy eaters in your family. Essentially, this recipe is a cross between a galette and a pizza, since this recipe doesn't contain as much fat as a regular galette dough. And, after all, who doesn't love pizza?
Final Thoughts…
As you may already know by now, galettes are the perfect summertime meal. What makes them especially special is their seasonal adaptability and versatility. So, depending on what's in season, you can include it in your galette.
Hopefully, this guide has provided you with some inspiration for your next tomato galette creations.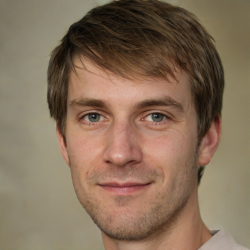 Latest posts by Mark Williams
(see all)