This easy apple turnover recipe is completely made from scratch. Here, you'll find a homemade rough puff pastry dough packed with a crispy apple filling with notes of vanilla and honey throughout.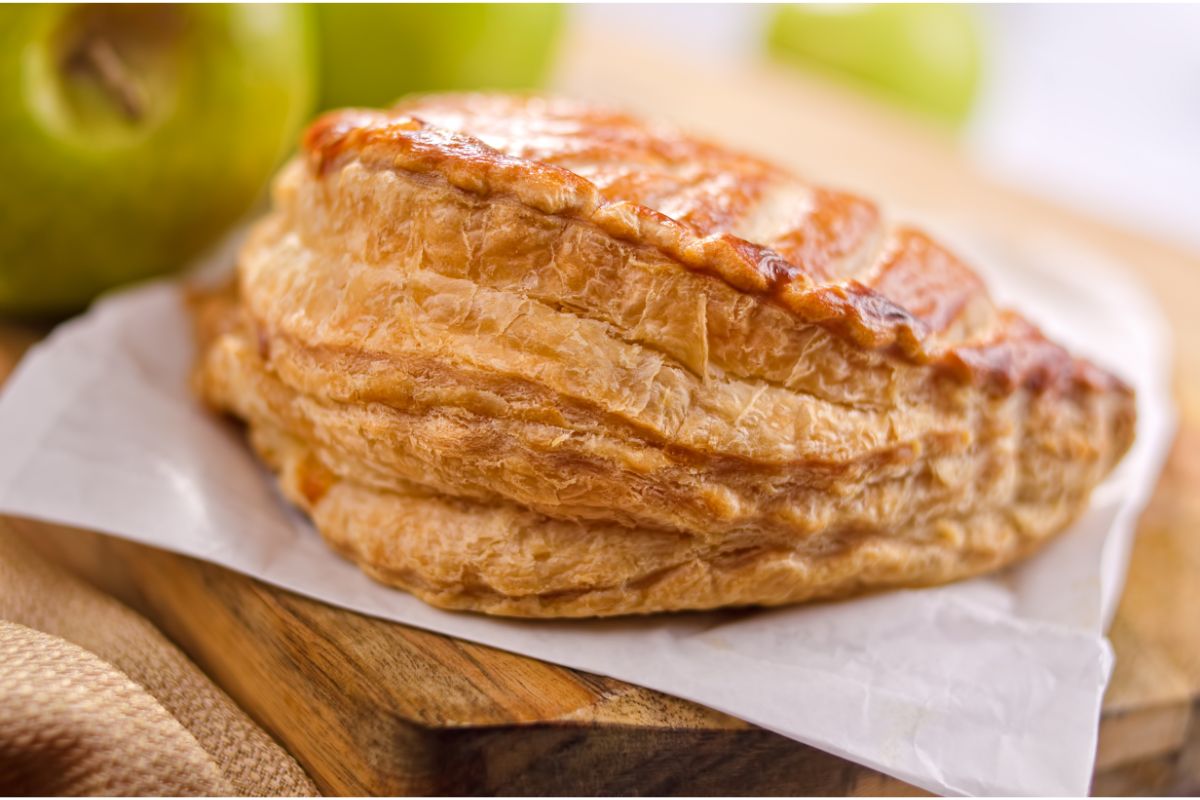 These homemade, buttery, melt-in-your-mouth pastries will remind you of croissants freshly made from a French patisserie. The result is flaky, buttery, delicious pastries filled with the perfect balance of acidity and sweetness thanks to the apple filling.
An apple turnover is similar to that of a handmade apple pie or a fresh hand pie which are both traditionally made with puff pastry as opposed to pie dough.
With this in mind, this guide will explore everything you need to know about making your own easy apple turnovers from scratch.
Let's get started.
Homemade Apple Turnovers with Puff Pastry Made From Scratch
These delicious apple turnovers start with a healthy, homemade puff pastry dough that contains a wonderful apple cinnamon filling – like an apple pie!
Instead of packing the apple turnovers with chopped or sliced apples, you can shred the apples to create a more cohesive filling that doesn't fall apart once you bite into it.
After shredding your apples, you'll want to combine this with cinnamon, sugar, and some lemon juice (optional) and it is ready to be folded.
Homemade Puff Pastry is Tastier and Healthier
One of the benefits of making your own puff pastry is that not only is it tastier but it is healthier, too.
The ones in the supermarkets contain bleached and/or enriched flours (which is never organic), as well as high fructose corn syrup, cheap vegetable oils (soybeans, hydrogenated cottonseed, and palm), and preservatives and artificial colors.
While you may not think twice about the ingredients, just know that you won't be able to achieve the delicious buttery flavor that is only present with handmade pastries – since there is no real butter inside them!
If you were to purchase puff pastry from the supermarket that does contain real butter, just know that you'll be paying a lot of money for it.
That said, the sheets from the supermarket – regardless of the quality – won't be made with organic flour. Therefore, it is likely to contain glyphosate – a cancer-causing herbicide that is used on crops.
In fact, you won't be able to find any puff pastry in the supermarket that is labeled as organic. Therefore, the next best thing is to make it yourself!
Ingredients In An Apple Turnover
Gala Apples – These work best in an apple turnover since they are mellow in flavor and crispy. Plus, thanks to their natural sweetness, you need to add as much sugar to the recipe. That said, you can also use honey crisp, granny smith, golden delicious, or any other apples you prefer.
European Butter (Plugra) – This contains a higher fat content, making your pastry more flavorful and creamy. When you use high-quality butter, you'll achieve a super flaky puff pastry dough. However, make sure you're using COLD butter.
Vanilla Beans – While you can use vanilla extract or vanilla bean paste, vanilla beans are known to produce the best flavor.
High Gluten Flour (E.g. bread flour) – This contains more protein, allowing the gluten to develop and helping the dough to rise evenly. Moreover, you can also opt for all-purpose flour, too.
Honey – This adds some moisture to your apple filling as well as some extra sweetness, too. It has a distinct flavor that works well when combined with apples – ensuring a sweet taste.
Cornstarch – This helps to thicken up your apple filling. When you combine cornstarch with any liquid, it creates a sort of slurry – great for thickening up compotes, jams, and other fillings.
Can You Use Raw Apples In The Filling?
Yes, raw apples can be included in the filling. Here, you don't have to worry about cooking them since they will cook down once you bake them.
That said, when using raw apples, make sure you don't mix all the ingredients, especially when it comes to the sugar and apple since this will cause the moisture in the apples to ooze out and create a watery filling.
Therefore, before assembling your turnovers, make sure to combine the apple and sugar.
We have tried many different methods of making turnovers, including using raw apples, cooked apples, and a thickened apple filling (made using cornstarch). While they were all delicious, we found that the third option provides more of a store-bought feel, taste, and look.
The result is a more hearty filling that is not only delicious but easy to shape in your turnovers.
On the other hand, the ones made with a raw apple filling (sugar, raw apples, cinnamon powder, and sugar) tend to be leaner and drier (which could be the result of the apple juices evaporating) after being finished in the oven.
What Types of Apple To Use In An Apple Turnover?
When it comes to apple turnovers, you can use any apples that are crispy and light, tangy and sweet.
That said, you'll want to avoid any apples that are very soft or are likely to get smashed when baked or cooked.
For this recipe, we have used Pink Lady Apples, however, you can opt for Honey crisp, Fuji Apples, Granny Smith Apples, and whatever else you enjoy.
What Sugar To Use When Making Apple Turnovers?
You can use either white or brown sugar when making apple turnovers. However, personally, we prefer using white sugar.
When we tested with brown sugar, we found that the caramel flavor of brown sugar doesn't go well with the baked apples.
Likewise, we also made the recipe using caramelized white sugar, however, the same thing happened. While it looked delicious, the flavors didn't match well.
Can You Make The Apple Filling Ahead Of Time?
Yes! You can easily make the filling ahead of time if required.
All you have to do is make the filling as normal and then place it in the refrigerator in an airtight container once it has completely cooled.
How To Make Apple Turnovers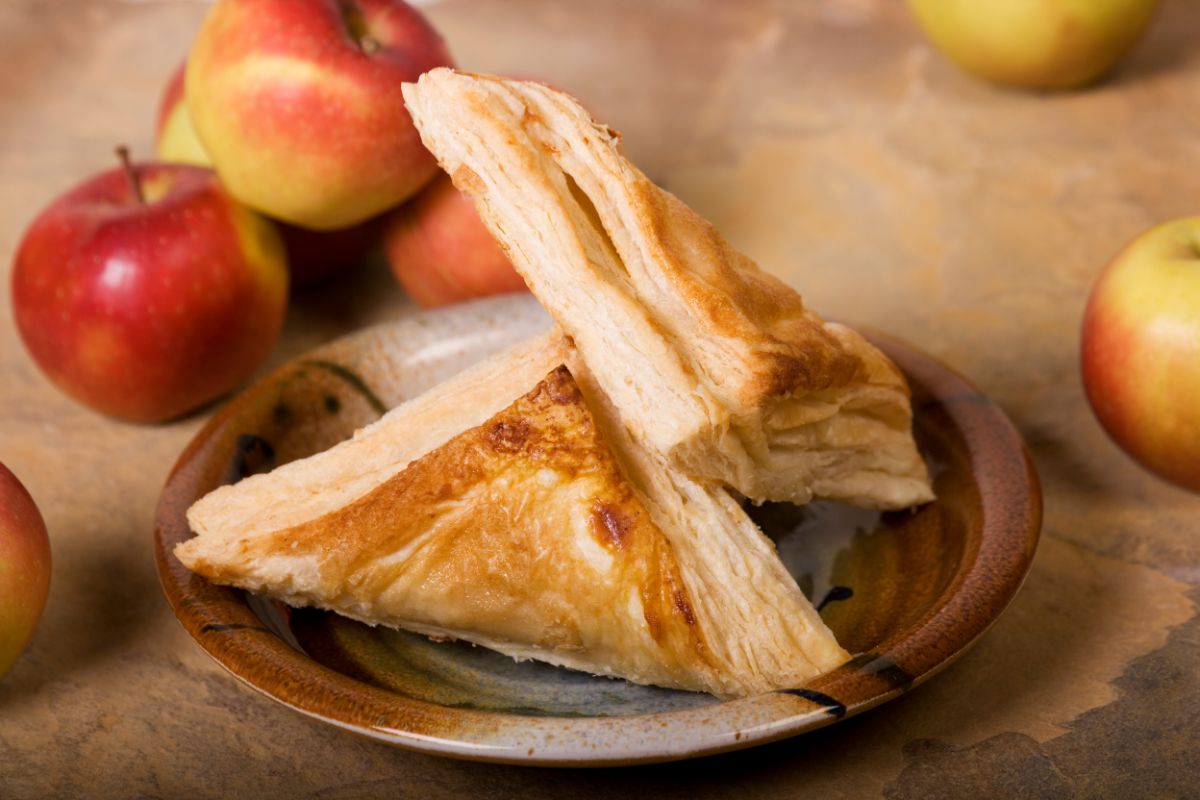 Ingredients
For the Pastry Dough
½ tsp salt
300g all-purpose flour (2 and ¼ cups + 1 tbsp)
25g sugar (2 tbsp)
170g unsalted butter (¾ cup o4 1 and ½ sticks chilled, cut into small pieces)
120-135 ml water (8-9 tbsp)
For the Apple Filling
50g granulated sugar (¼ cup)
2 apples (cored, peeled, and diced into small pieces)
Pinch of salt
½ tsp ground cinnamon
60ml water (¼ cup)
1 tbsp corn flour
1 tbsp lemon juice (optional)
For Topping
½ tbsp milk
1 egg
12g sugar (1 tbsp for the top)
Method
1. Prepare The Puff Pastry Dough
For the first step, all you have to do is combine sugar, flour, and salt. Then, you'll want to slice your frozen butter into thin slices.
Once done, toss your frozen, cold butter into your flour mixture.
Then, little by little, start adding cold water. Take a fork and gently toss and stir any large lumps to ensure that all the flour is completely moistened.
Be careful when adding water. If you add too much, then the pastry will become hard and tough.
Therefore, you'll want to add it little by little until you're able to press the mixture to form a dough.
Likewise, you don't want all your butter to be dissolved into the dough either. Therefore, if you see butter flakes in your dough, this is a good sign.
Next, using your hands, gently pat the dough to form a ball and wrap it with parchment paper or plastic wrap.
Once complete, place it in the refrigerator for 30 minutes or until the dough is completely firm.
If you're preparing your dough ahead of time, it can be stored in the refrigerator for up to 2 days. Alternatively, you can freeze it for up to a month, too.
2. Prepare The Filling
While your dough is chilling, you can start on the filling. Here, take a small pan and add cinnamon powder, sugar, corn flour, water, and salt and bring to a boil.
When the sauce thickens, stop cooking and remove it from the heat source.
While we don't want the apples to cook here, we want the cornstarch to.
Keep in mind that corn starch has a tendency to settle at the bottom of a pan, therefore, you want to make sure you're stirring the mixture periodically and efficiently – stirring continuously to remove any lumps.
3. Assemble The Turnovers
The first step is to line your baking sheet with parchment paper.
Then, on a lightly floured work surface, roll out your prepared dough to approximately ⅛-inch thickness.
Using a cookie cutter, you can cut the pie dough into circles. Similarly, you can use a pizza cutter, to cut squares or long rectangles.
Once you have finished cutting the shapes, transfer them to your parchment-lined baking sheet.
Repeat this process for any cutout parts of the dough you have left.
Then, spoon around 1 to 2 tablespoons of the filling onto each dough sheet – folding it in half so the other sides come over the filling.
Once done, seal your turnover and make a decorative edge by pressing the edges of the dough with the tines of your fork.
You can place the covered tray of turnovers in the freezer for 20 minutes or refrigerate your assembled hand pies for approximately 30 minutes.
4. Bake Your Apple Turnovers
Using a small bowl, whisk the milk and eggs to create an egg wash.
Remove your chilled turnovers from the refrigerator or freezer and brush lightly using an egg wash.
Then, with a sharp knife, cut a few incisions into the top of each pastry, and then sprinkle with some coarse sugar.
Place them in the oven at 400 degrees Fahrenheit for 10 minutes, and then reduce the temperature to 375 degrees Fahrenheit, baking for an additional 16-20 minutes or until they are golden brown.
Keep in mind that the baking time will vary depending on how thick you have rolled the dough. For small pies, you will need a slightly shorter baking time.
For instance, they should be baked at 450 degrees Fahrenheit for 10 minutes and at 375 degrees Fahrenheit for 15-18 minutes.
Once they have finished baking, remove your turnovers from the oven – allowing them to cool slightly before serving.
When straight out of the oven, they are extremely hot. Therefore, wait for them to cool down a little.
Moreover, these pies are best eaten within a day of baking them – that said, your family will have no problem clearing them off the plate!
What Can You Make With Homemade Puff Pastry Dough?
You can use this puff pastry dough recipe for sweet and savory dishes.
All you have to do is prepare your desired filling and bake it as you would a regular puff pastry.
Storage and Use
As opposed to traditional puff pastry dough, rough pastry dough is much easier to make and still provides you with all those delicate, buttery layers.
Once you have finished making the puff pastry, it can be stored and used after an hour in the fridge, ready for the next day. Likewise, you can choose to freeze it too.
If you're keeping it refrigerated, try to use it within 3-4 days.
Frequently Asked Questions
How To Prevent  Your Apple Turnovers From Going Soggy?
To avoid any additional moisture, you'll want to place your baked apple turnovers in an airtight container and store them at room temperature.

This will result in fresh apple turnovers for 3-4 days. Alternatively, if you're planning on making them ahead of time, all you have to do is assemble them, freeze them, and then make them the day you plan on eating them for ultimate freshness. 
What Pastry Is Used When Making Apple Turnovers?
Apple turnovers are generally made using puff pastry dough. That said, they can also be made with pie dough, too. 

While you can use store-bought pastry sheets, homemade puff pastry, or rough puff, is always the better choice since it provides a flaky crust and crunchy texture. 
Final Thoughts
There is nothing better than homemade goodies. In fact, they trump store-bought options every single time!
This goes the same for homemade apple turnovers with a puff pastry dough made from scratch. While this may sound laborious, it is easier than you think.
Plus, the delicious flavors certainly make up for the extra effort put into them – they are sure to become a family favorite!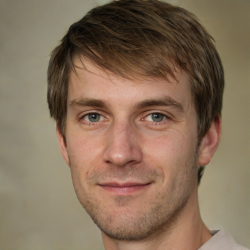 Latest posts by Mark Williams
(see all)