With the help of this recipe, you'll be making deliciously soft and chewy bagels in no time. The best part? They are super simple to make – perfect for kids and beginners alike.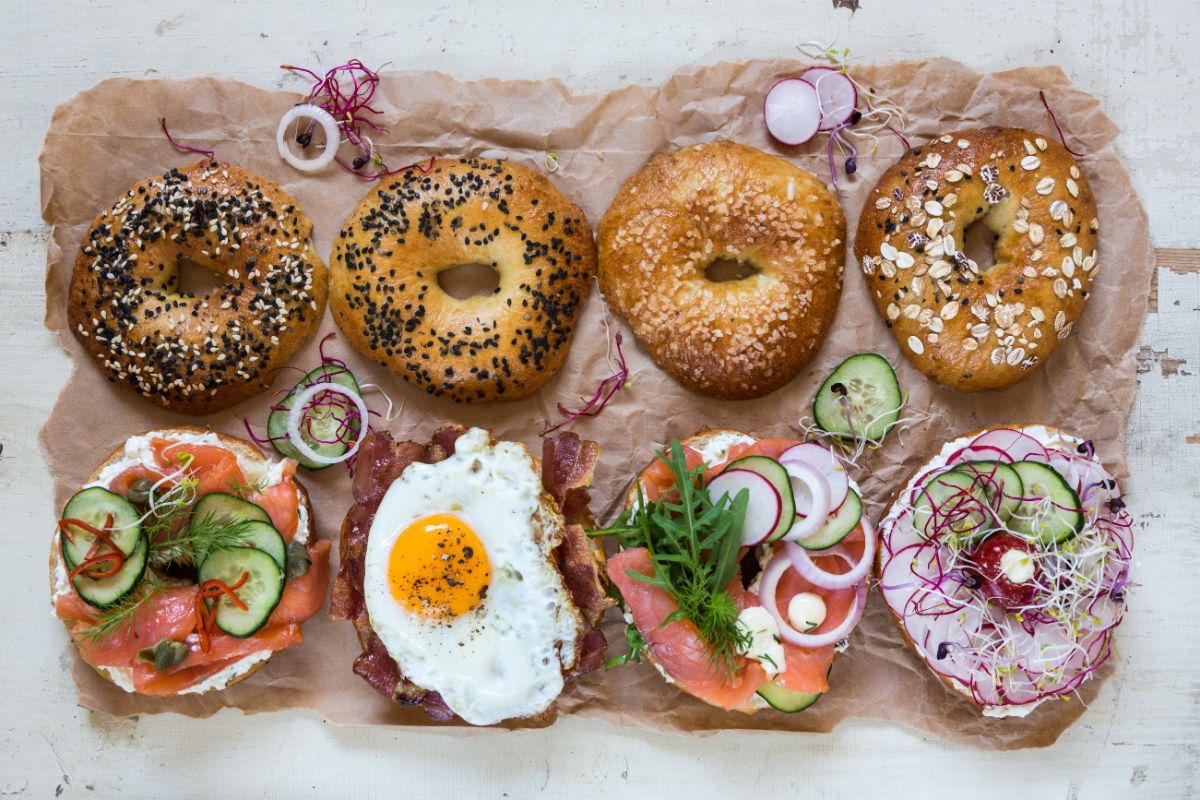 Homemade bagels are one of the best recipes for kids and beginner bakers to test their baking skills. Not only are they easy to make but they taste delicious, too – much better than the ones you buy in the store!
Whether you are enjoying them for breakfast, lunch, or even dinner, bagels are incredibly versatile. Plus, with this recipe, you'll never want to buy bagels from the store ever again (for the best way to microwave bagel bites, read here).
Since this recipe is so hands-on, it is the ideal dish they make with your little ones. Plus, with just a few simple ingredients and no special equipment necessary, you'll have these whipped up in no time.
With this in mind, this guide will explore everything you need to know about making homemade bagels.
Let's get straight into it.
What Ingredients Do You Need For Homemade Bagels?
When it comes to making homemade bagels, you don't need any fancy ingredients. Thus, you don't have to worry about messing up!
Warm water – This is necessary for activating the yeast and gluten in the flour. This should be between 110-115 degrees Fahrenheit. Here, we're using water as opposed to milk which is not only lower in fat but creates a chewier bread, too.
Bread flour – Since this type of flour is higher in gluten, it creates a chewier bagel. That said, you can use all-purpose flour, too, if that is all you have in your pantry.
Olive oil – Not only does this ensure your bagels remain soft but it creates a wonderful flavor, too.
Sugar – All you need is a small amount of sugar to allow the yeast to grow without making the dough sweet.
Salt – Again, this provides flavor. Salt is important in bread making. Plus, remember to never add salt to your flour until you have mixed the hot water with the sugar as it can stop your yeast from growing.
Instant yeast – This provides your bagels with tons of flavor and makes sure they rise. Additionally, you can use active dry yeast, too.
Toppings – The best part about homemade bagels is that you can choose whatever toppings you desire. For instance, poppy seeds, cheese, herbs, and many more. Simply make sure you top your bagels with an egg wash and then you're ready to go!
What Type of Yeast Is Best For Making Bagels?
If you love simple recipes, then this is sure to become one of your favorites. It is extremely similar to an easy bread recipe, however, there is less oil and sugar – creating a chewier dough.
This recipe uses saf-instant yeast which allows the bagels to rise very quickly. This is similar to active dry yeast, however, it works much faster. 
That said, if you don't have access to instant yeast, then don't worry! This recipe can still be used to make bagels. All you have to do is follow the instructions as you usually would but allow the dough to proof for 90 minutes as opposed to 30 minutes.
After you shape your bagels, you'll also want to allow them to proof for a bit longer, too. For instance, 20 minutes rather than 10 minutes.
Homemade Bagel Varieties
Plain bagels – Use the recipe outlined below. It is the perfect base if you're looking to make breakfast bagels!
Cinnamon raisin bagels – If you're looking for something more savory, then this is a great option.
Everything bagels – These homemade bagels are much better than the store-bought options!
Sesame seed bagels – Here, all you need is ⅓ cup of sesame seeds. Once you have brushed your egg wash, top each bagel with sesame seeds.
Poppy seed bagels – Here, all you need is ⅓ cup poppy seeds. Once you have finished brushing your bagels with egg wash, top them with your desired amount of poppy seeds.
Salt bagels – Again, all you need is ⅓ cup of coarse salt. Once you have finished brushing your bagels with egg wash, dunk each into the topping. These can turn out pretty salty, so use less salt as required.
Cheese bagels – When you're preparing your dough, add ½ of shredded cheese into your flour mixture. Then, after brushing your bagels with egg wash, sprinkle it with extra cheese.
Cinnamon crunch bagels – When you're adding your salt, add 1 teaspoon of cinnamon to the mixture. Then, after brushing your bagels with egg wash, spoon the cinnamon crunch topping onto each bagel.
How To Shape Your Bagels?
Shaping your bagels is easier than you think. All you have to do is poke your finger into the middle of the dough and then use two fingers to widen the hole – around 1.2 – 2 inches.
That is all it takes to make your bagel holes! No fancy techniques or equipment is required and you're rewarded with delicious bagels each time – don't worry about them being perfect!
How To Know When Your Dough Is Kneaded Well?
When it comes to determining whether or not your dough has reached optimum consistency, you can simply test it.
When properly kneaded, you should be able to stretch your dough without breaking or tearing it into a see-through thin membrane.
When using bread flour, this consistency is easy to attain (only requiring about 10 minutes of kneading). This is because bread dough contains more protein as opposed to all-purpose flour.
That said, you can use all-purpose flour, however, it will take longer to get to the stage of consistency.
Even if your dough doesn't pass the windowpane test, you'll still be rewarded with soft and good bagel dough.
Although, if it does pass this test, then you're guaranteed a dough that will be delicious.
If you have a stand mixer, then this process is one hundred times easier. Simply knead the dough for 8 to 10 minutes using the dough hook attachment.
Should You Boil Your Bagels?
Boiling your bagels before putting them in the oven is necessary for achieving that characteristic crispy crust and chewy texture.
If you skip the boiling step, the result will be a regular bread-shaped bagel without any of the characteristics of a normal bagel.
Why Does Boiling Your Bagels Help?
When you boil your bagels before baking, the starch on the surface of your bagel becomes gelatinized, therefore, creating a thicker crust.
This provides you with that chewy texture and crispy crust that is synonymous with bagels.
How To Make Homemade Bagels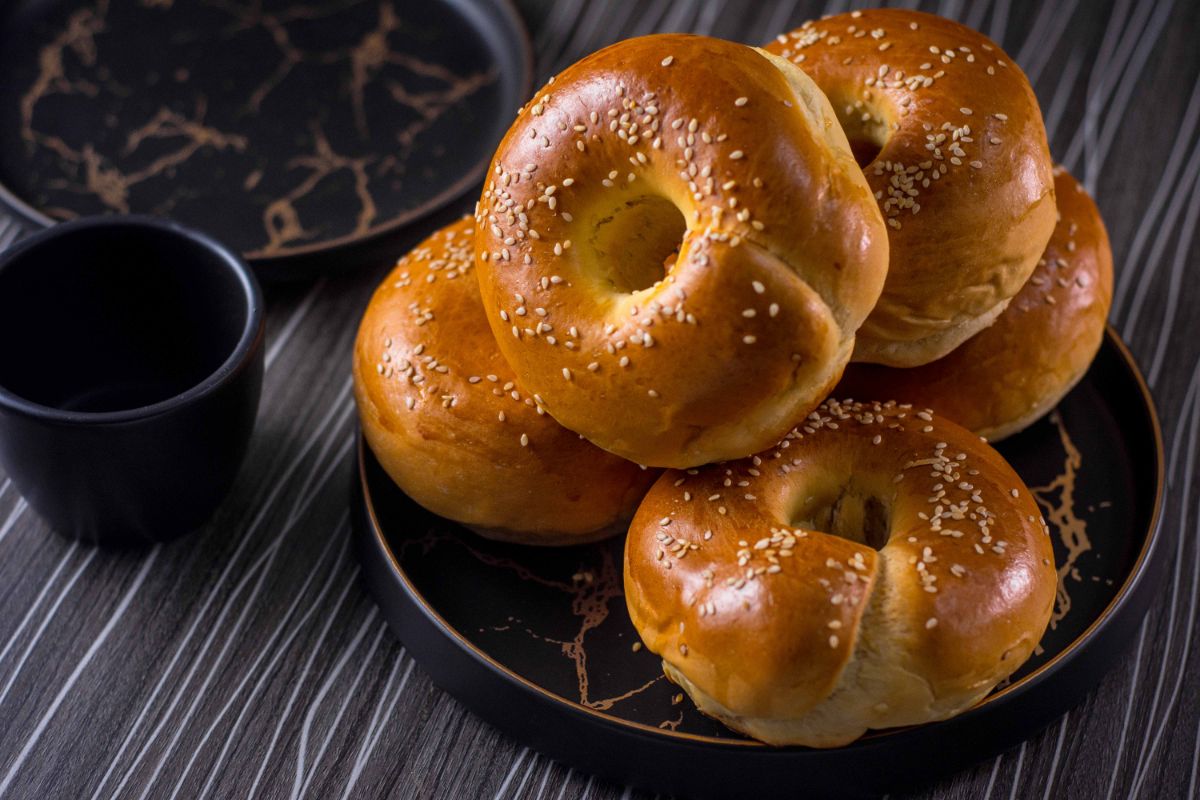 Ingredients
For the Bagel Dough
Water 270 ml (1 cup + 2 tbsp)
Flour 390 g (3 cups loosely packed)
Sugar 12 g (1 tbsp)
Salt 6 g (1 tsp)
Yeast 3 g (1 tsp) – for active dry yeast use 1 and ¼ tsp.
For Topping
Here, you can use whatever toppings you desire, some include poppy seeds, sesame seeds, chopped onions, kosher salt, minced garlic, etc.
Method
For this bagel recipe, all you need is five simple ingredients and one proofing method.
Below we have outlined an easy-to-follow step-by-step guide to making your own bagels at home.
1. Prepare the Dough
Using a large bowl, add all your ingredients one at a time and combine them to create a shaggy mass of dough.
Then, pour in your lukewarm water – this shouldn't be too hot or cold and slightly warm (around 95-100 degrees Fahrenheit). Like the temperature of baby food.
In a warm environment, yeast loves to grow and develop. Therefore, warm water is essential to ensure your yeast has maximum growth potential.
That said, you need to be careful when it comes to the temperature of the water, too, since it has the potential to kill yeast cells if the temperature is above 120 degrees Fahrenheit.
Combine the salt, sugar, and yeast – stirring until all the ingredients are dissolved.
Then add to flour and mix to create a shaggy mass of dough.
Once done, you'll want to transfer the dough onto a clean work surface. Then, knead the dough until it becomes elastic and soft.
You'll need a well-kneaded dough to provide the very best bagels.
2. Divide and Shape Your Bagel Dough
Once you have finished making your bagel dough, it is now time to divide the mixture into 8 pieces. If you're looking for precision, then, after you have divided the dough, make sure they all weigh 82-83 g.
With this recipe, you'll be able to make 8 medium-sized bagels.
To create the bagels, you have to flatten each piece of dough and then roll them out again to form small balls. Then, tuck all the edges into the middle and roll them into round balls.
Next, gently press the top to form a disc shape. Once done, put it aside and repeat these steps for the rest of your bagel dough.
Then, take the first bagel you shaped and place it on your lightly floured surface – making sure to slightly dust the top of the bagel with some additional flour.
Once done, take your thumb and create a hole in the middle of each piece.
Here, you'll want to gently stretch the hole by turning the dough around until it has reached 1-½ to 2 inches – you should have an even thickness all around.
Then, simply place your bagels onto a nonstick baking sheet, a well-greased baking tray, or a parchment-lined baking tray.
Now, all you need to do is cover it with some cling film.
Luckily for you, when testing out this recipe, we found that the cling film stuck to the bagel dough. Therefore, make sure you're dusting them with some additional flour before covering them.
3. Proof Your Bagel Dough
Unlike bread dough, this recipe only requires a somewhat short amount of proofing time.
For around 10-15 minutes, you'll want to keep your bagel dough in a warm environment.
Here, you should notice your bagel dough beginning to puff up (with about a 30% rise).
Once done, simply place the bagels in the freezer for around 15 minutes. This helps to reduce the fermentation time – allowing your bagels to keep a firm structure.
If cooking ahead of time, keep the bagels in the refrigerator as opposed to the freezer for up to 2 and 24 hours.
4. Boil Your Bagels
The next step is to bring a large pot of water to boil (the bigger the pot; the better). Plus, you'll want a slotted spoon on standby, too.
Once the water has finished boiling, you'll want to gently place the bagels into the water. (It doesn't matter which side you place in the water first).
Here, you'll only want to boil as many bagels that can fit comfortably in the pot. Here, it should only take 10 seconds for the bagels to float (if it doesn't happen immediately).
Once they have boiled for around 1 minute, you can then flip them over, and boil the other side for 1 minute. If you're looking to achieve chewy bagels, then boil each side for 2 minutes.
When you have finished boiling your bagels, use your slotted spoon to carefully remove them and then place them top-side up on a baking sheet.
Here, you may find that some of your bagels have a wrinkled surface while boiling the second batch, don't worry, this is completely normal. Once you have put them in the oven, they will puff up and look perfect.
Additionally, you'll want to make sure you're placing your boiled bagels into the oven for baking as soon as possible. This is because you don't want them to dry out. The baking process should come straight after the boiling process.
Once done, you can sprinkle your bagels with whatever toppings you desire, for instance, kosher salt, poppy or sesame seeds, minced garlic, chopped onions, and many more.
5. Bake Your Bagels
Once you have completed all the previous steps, it is now time to bake your bagels. Here, all you have to do is preheat your oven to 425 degrees Fahrenheit (220 degrees Celsius) for approximately 25 minutes – or until they have a delicious golden brown color.
After, remove your bagels from the oven and transfer them to a cooling rack – allowing them to rest for 10 minutes.
Final Thoughts
Whether you eat them for breakfast, lunch, or dinner, bagels are an incredibly versatile meal that not only tastes delicious but is easy to make, too.
Regardless of what you may believe, baking bagels couldn't be easier. With only a few simple ingredients and easy steps, you'll have a batch whipped up in no time.
Hopefully, this guide has informed you of everything you need to know about making homemade bagels.
Frequently Asked Questions
Should You Boil Homemade Bagels?
Boiling bagels are required to achieve that distinctive chewy texture, without it the result is bread-shaped bagels. 

While it may seem strange, you don't want to skip this step as you won't be able to achieve truly authentic bagels.
What Temperature Is Best To Cook Your Bagels?
The best temperature to bake your bagels is 425 degrees Fahrenheit or 220 degrees Celsius. Here, you'll want to bake them for around 25 minutes. 

Once they have finished baking, you'll want to transfer them immediately to a cooling rack to prevent a soggy bottom, then wait around 10 minutes before serving. 

The result is a homemade bagel that features a chewy texture and a crispy crust. Here, you can enjoy it with a classic cream cheese filling or any other filling you desire.
Are Bagels Vegan?
Bagels are vegan! For the bagel dough, all you need is a few simple ingredients: salt, yeast, flour, water, and sugar. 

As opposed to some bread recipes, you won't be needing any butter or eggs. Therefore, this recipe is completely vegan-friendly.
What Flour Should You Use?
You'll want your bagels to be chewy and dense, therefore, to achieve this, you're going to need strong bread flour. 

If you use plain flour, you won't be able to achieve the same texture.
Can Kids Help To Make Homemade Bagels?
Like other bread recipes, bagels are the perfect recipe for your children to get involved. 

Here, they can assist you by helping to measure and mix the ingredients, as well as kneading the dough. This is a hands-on job that is sure to keep them occupied. 

Another hands-on job that your children will enjoy is shaping the bagels. This step is easier than you think and your children are sure to enjoy it. 
Can You Flavor Your Bagels?
Yes! Transforming your plain bagels into flavored bagels couldn't be easier. Here, you can add various flavors and toppings depending on your preferences. 

Once your bagels have finished boiling, simply brush the top with an egg wash and then top with cheese, sesame seeds, poppy seeds, or whatever else you desire.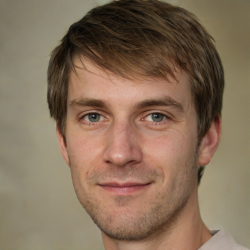 Latest posts by Mark Williams
(see all)