White gravy is a super easy and popular sauce that is used for a variety of things.
It is especially popular in Southern cooking and is frequently used alongside biscuits and chicken.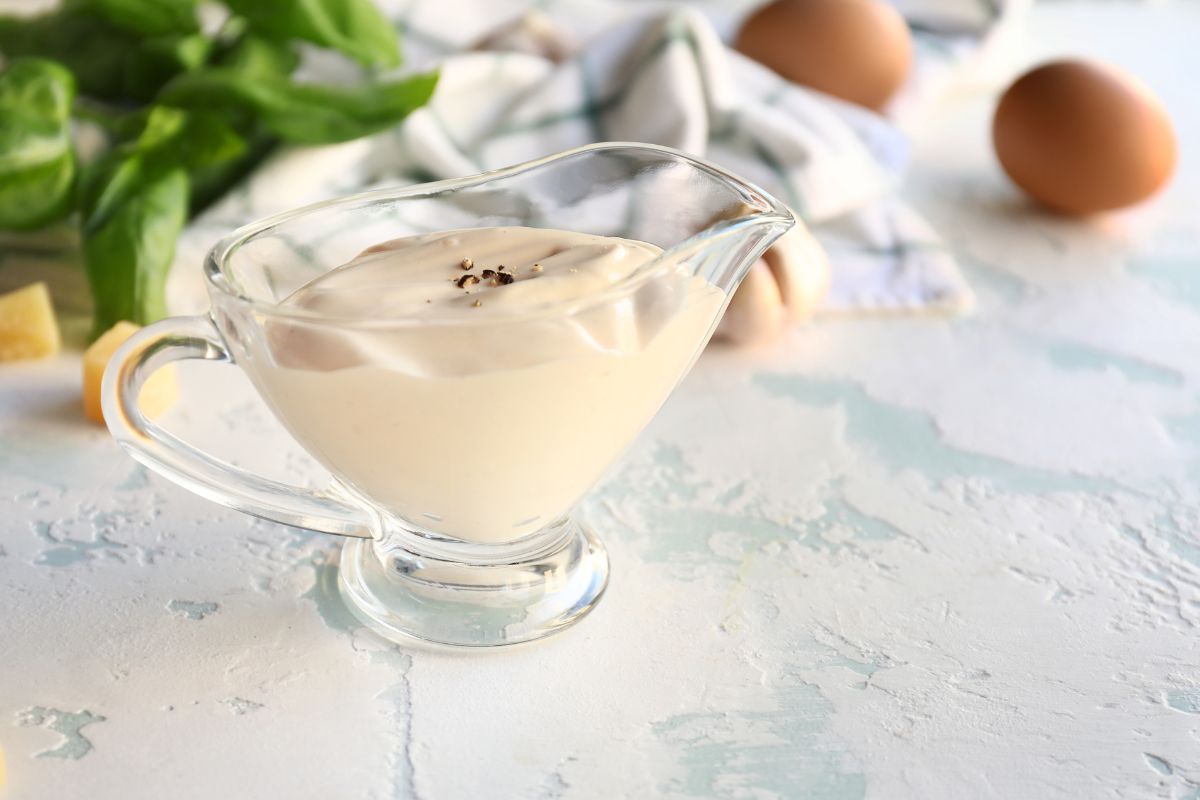 This must-try recipe is so easy, even a beginner could do it. However, just be aware that it can take some time!
The great thing about this kind of recipe is that you can make it in large batches, and you can even store the leftovers for an extended period of time. 
So, if you want to learn about this delicious white gravy, including how to make it, keep reading" We will cover everything you need to know in the section below.
What Is White Gravy?
White gravy is essentially a roux that is made by combining flour and butter, and milk is added to get the perfect consistency.
This easy sauce is traditionally only seasoned with salt and pepper before it gets served, but there are variations to try out. 
You can easily add some spice to your white gravy by adding things like red pepper flakes, chili powder, or some Cajun seasoning!
This recipe will never use nutmeg or onion, though, as that would make it a variation of bechamel sauce! 
What Is It Made Of?
Flour, butter, milk, salt, and pepper are the classic ingredients for white gravy.
However, there are some variations that include other seasonings to get a different flavor to make it suit different dishes.  
How Is White Gravy Used?
White gravy can be used for a variety of things! There are literally thousands of uses that you would love.
However, the most popular uses include things like making simple broccoli and cauliflower dishes, serving it with chicken, and also enjoying it with biscuits! 
You could also use white gravy as a replacement for bechamel sauce in many cases, so you could add white gravy to lasagnas, pasta, and anything else you could think of.
White Gravy Vs Béchamel Sauce
It's important to note that white gravy and bechamel sauce are essentially the same thing.
The only difference is that white gravy is typically thicker and seasoned only with black pepper.
Bechamel, on the other hand, gets seasoned with things such as onion and nutmeg, among other things. 
How To Make White Gravy
Luckily, making white gravy is a very simple process, and actually requires minimal effort.
In some cases, making your white gravy could take some time, as you want it to be the right texture, but this is not difficult.
We will go through what you need to know in the sections below.
Ingredients And Equipment Needed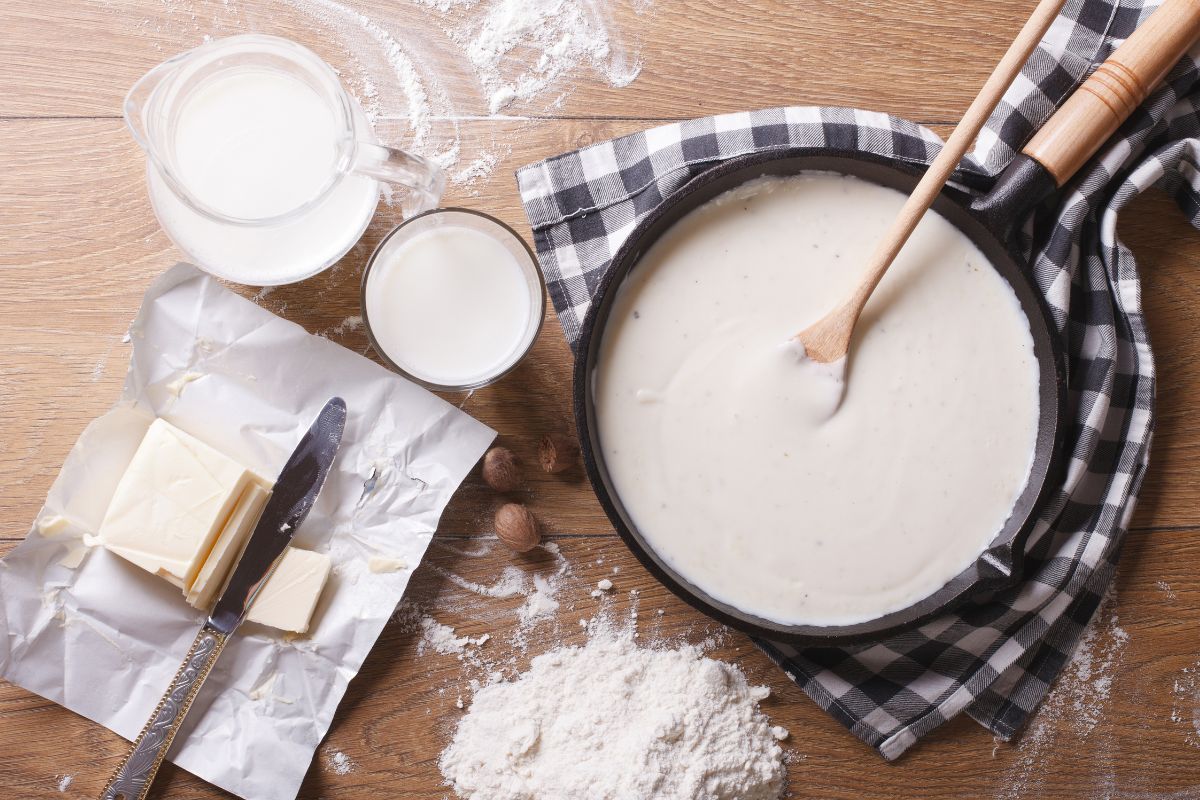 To make your white gravy, you will need the following ingredients and equipment:
Unsalted butter (½ a stick or 4 tablespoons)
All-purpose flour (¼ cup)
2% milk or another milk of choice (2 cups)
Kosher salt (½ teaspoon)
Black pepper (freshly ground, ¼ teaspoon)
Cayenne pepper, chili flakes, etc. (optional, for added spice, a pinch)
Equipment you will need to make white gravy:
Small or medium-sized saucepan
Spatula or wooden spoon (you may also need a whisk if you prefer)
A means of measuring out ingredients
If there are other pieces of equipment that you think would work for this recipe, use them!
Everything we have to say is simply guidelines, and you know what works for you.
If you have made bechamel sauce, you can use all the same pieces of equipment that you would use for that.
The Steps
Follow these simple steps to make the perfect white gravy:
Once everything is measured out and ready to use, have them sitting on the side and ready
Heat up a medium saucepan on a medium-low heat
Add your butter and slowly allow it to melt
Add your flour and whisk the butter and flour together until homogenous
Allow the butter and flour to cook a little while, until a nice, toasty smell is evident and the mixture has a golden hue (3–5 minutes will do the trick)
Continue to whisk and slowly start to add your milk. Add a few teaspoons at first and combine everything. Continue adding just a few teaspoons at a time until you have a smooth mixture.
Once the mixture is more liquid than paste, you can begin adding the milk in larger quantities, still stirring to ensure it remains smooth and creamy
Once all the milk has been added and everything is homogenous, you can add your salt and pepper, and whisk everything together again
Whisk continuously until the sauce reaches the desired thickness. This could take some time!
In the end, the sauce should be thick enough to create a thick stream when you scoop it with a spoon – it should not clump up. If it does clump up, you can simply add a little more milk to get it nice and creamy again.
Add more salt and pepper if you like, or any other seasonings you like to suit your taste
NOTE: This recipe makes around 2 cups of white gravy. If you would like to make a larger batch, you can double or triple it as needed.
This will extend the cooking time, so make sure you have enough time to get the job done!
Storing Leftovers
You can easily store your leftovers in the fridge for 3–4 days, or you can freeze the sauce for up to 3 months.
In either case, ensure that you allow the sauce to cool to room temperature before transferring it to an airtight container or freezer bag. 
When you want to use it, make sure that you allow it to thaw in the fridge overnight to be used however you like.
Final Thoughts
White gravy is delicious and so easy to make. All you need is butter, flour, milk, black pepper, and salt!
Once you make it and get it to the perfect consistency, you can use it in numerous dishes, or even store leftovers in the fridge or freezer for later use.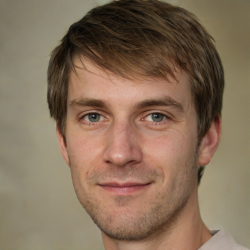 Latest posts by Mark Williams
(see all)