Is your soup a little watery and you don't know what to do? Maybe you can't seem to thicken your soup? Or are you curious about thickening soup and want to know more?
No matter the reason that brought you here today, we have the answers for you!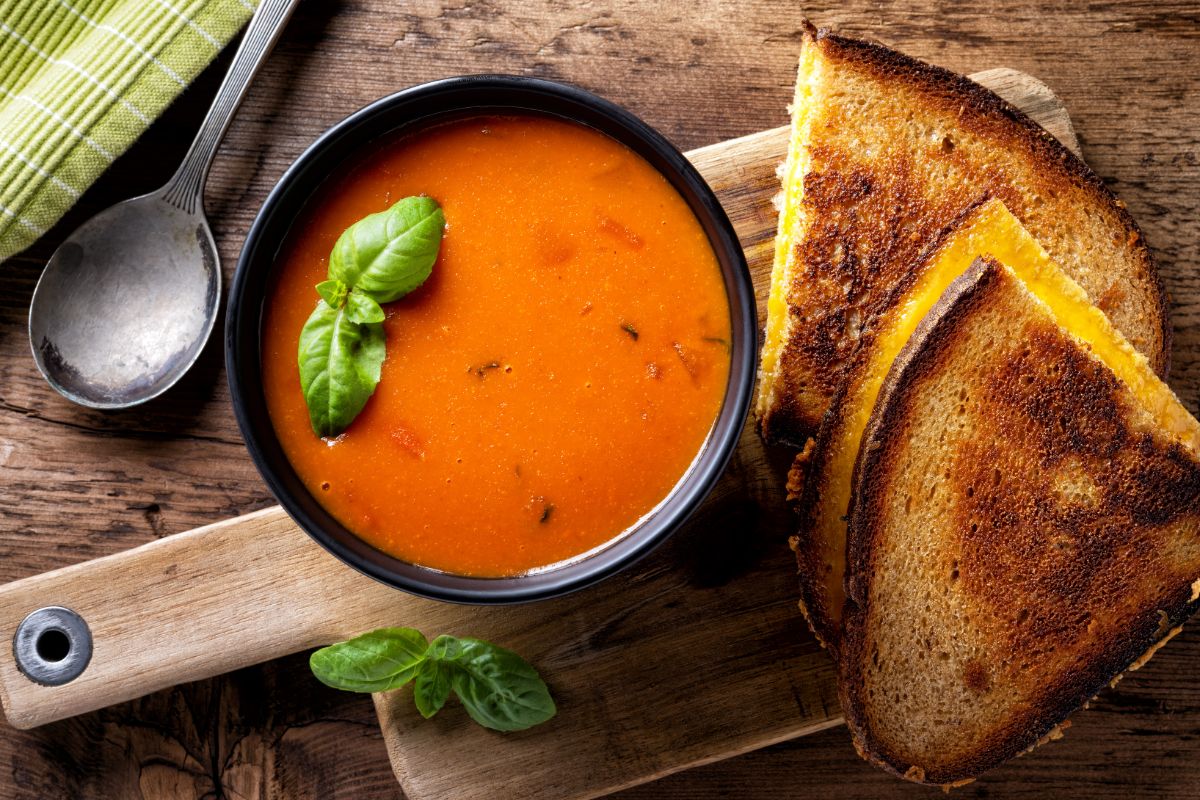 Figuring out how to thicken soup can be tricky, especially if you have never done it before. You head online for some guidance, but are met with page after page of confusing and conflicting information.
Disappointed and overwhelmed, you are left unsure where to turn or who to trust. How will you know how to thicken soup now?
Well, by turning to us! Today, we are here with the answers that you need. Keep reading to find out how to thicken soup and everything you need to know about thickening soup. Get ready to become a soup expert today!
How To Thicken Soup
Let's dive straight into it! There are several ways that you can thicken your soup. These methods will help to thicken the soup and give it a better consistency without impacting the taste of your soup.
Take a look at our list below to find a soup-thickening method that works for you! 
Blend The Soup
An easy way to thicken your soup is to blend it! We recommend this method for soups with starchy ingredients like rice, pasta, or potatoes, as when they blend they will help to thicken the sauce.
You can also blend soups with meat in them, but you need to make sure there are no bones in the meat and that you use a powerful blender. 
To blend your soup, start by pouring it through a sieve. Take a third of the whole ingredients and blend them with your broth in a blender. You can then stir the rest of the whole ingredients back in.
This gives you a thicker texture for your soup, without needing to remove all the vegetable chunks! 
If you don't have a blender to hand, you can use a potato masher. Simply mash directly into the pan until your soup reaches the desired thickness.
Add Flour Or Cornstarch
If you don't want to blend your soup, add some flour or cornstarch. Both flour and cornstarch are widely used for their thickening properties and work well to thicken the consistency of your soup!
Take a tablespoon of flour or cornstarch and add it to a small bowl. Pour in two or three tablespoons of your soup and stir them together. You want a smooth mixture in the bowl before adding the contents to your soup.
Bring your soup to a simmer and cook for a few minutes. The starch granules in your mixture will thicken and cook out any flour flavor, leaving you with a delicious and thicker soup!
Add Yogurt Or Cream
You can also use some cream or yogurt to add thickness to a blended soup.
This works well if there is already some cream or yogurt in your soup, or if you are working with a tomato-based soup, as the creamy taste will compliment your tomatoes beautifully. 
Simply stir a spoonful of thick yogurt or cream into your soup. Make sure you don't boil the soup after adding the cream or yogurt, as they could split. Another option is to add a spoonful of cream directly to the bowls as you serve the soup.
This can improve the presentation of your soup too, but not everyone enjoys some cold cream added to the hot soup!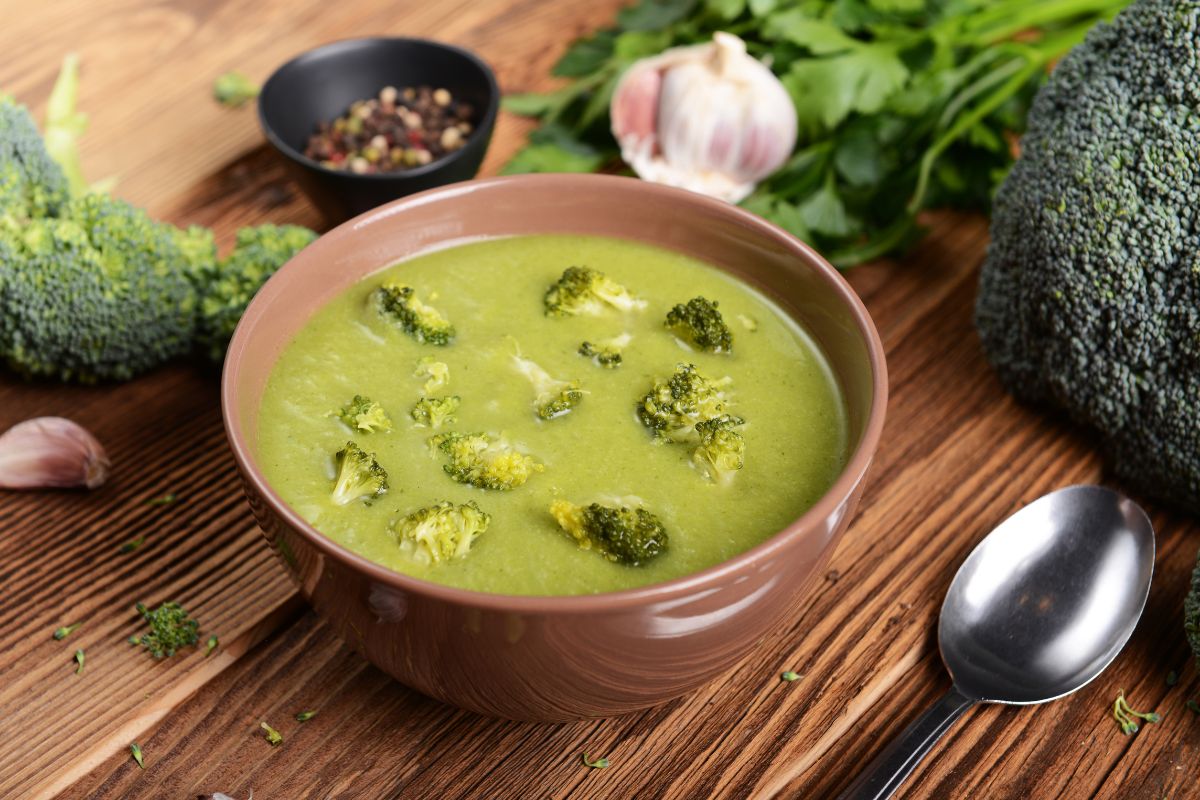 Add Lentils Or Rice 
If you have noticed early on that your soup is looking a little thin, lentils or rice can save the day! If you have uncooked red split lentils, you will need to allow fifteen to twenty minutes for them to get to work.
Simply pour in the lentils and allow the soup to simmer. 
The lentils will absorb some of your water and give the soup a thicker consistency! Rice will also do the same, just be sure to double-check the cooking instructions on your rice before you add it to the soup.
Green lentils can also be used, but they do take twice as long to cook. Green lentils are best used in green soups or soups where cauliflower has been used. Red lentils work best in vegetable-based or tomato-based soups.
Once your lentils have cooked you can either blend the soup or leave it with chunks in. If you haven't noticed the thickness of your soup until it is almost done, cook the lentils separately and blend them with the soup to create a thicker consistency.
Use Butter And Flour
Another option is to use a butter and flour paste to thicken your soup. To do this, mix two teaspoons of flour with equal parts of butter. While your soup simmers, add the paste to the pan and continue stirring.
The butter helps the flour to disperse through your soup, without leaving white chunks of flour. No one wants to bite into those! 
Add Bread
Finally, you can blend bread into your soup! To do this, we recommend mild-flavored bread that won't change the flavor of the soup. If you do want to add something to the soup, sourdough will give a stronger flavor!
Soak your bread to soften them before adding them to your blender with your soup. It will help to thicken your soup and shouldn't change the flavor too much.
You don't need a lot of bread either, start with half a slice and add more until you reach your desired texture. 
Final Thoughts
And there you have it, six ways that you can thicken your soup!
Whether you are looking for a quick solution before serving your soup or a method you can incorporate as soon as you start cooking your soup, we are sure you have found the answers you need today! 
Be sure to follow our suggestions and you can enjoy a thick soup time after time!
Happy cooking!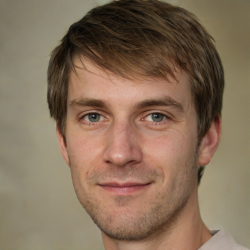 Latest posts by Mark Williams
(see all)