Everyone loves cake, but the problem is… we always have leftover cake! Maybe you baked too much, or maybe plans changed, but the issue remains.
If you are someone who recently remembers all that leftover cake sitting in your freezer, or you are looking at layers of it on your counter right now, you are probably thinking… I need to do something about this.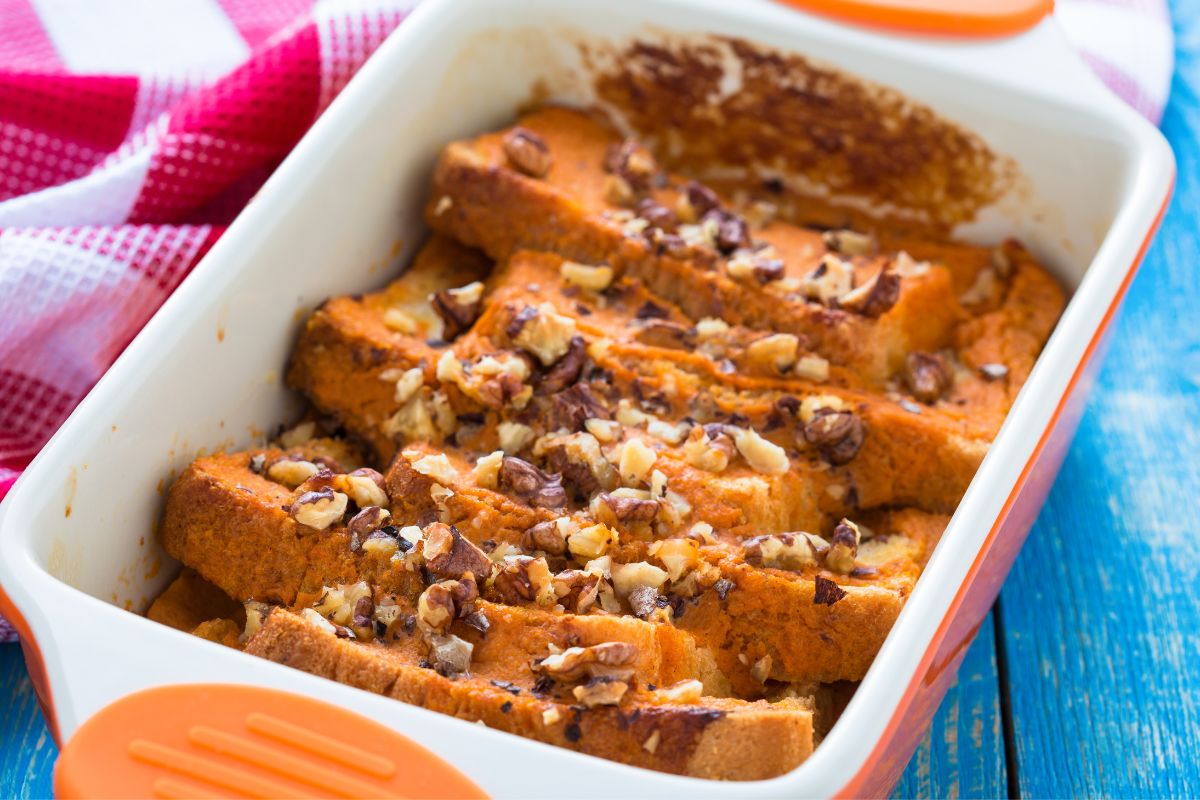 You're not wrong – you do. However, knowing exactly what to do with all that cake can be a challenge in itself. The answer is easy, and you probably already know what it is if you are reading this… cake bread pudding!
It only makes sense, right? You might be used to using the scraps of your bread for this, but who says you can't use cake? It's already sweet, and just asking to be eaten.
To us, using your cake for a pudding is the only logical thing to do, and once you try it, you will never look back.
So, if you want to find out how to make this delight, stick around! We will be going through everything you need to know about this recipe, including a step-by-step guide on how to get the job done.
You will be shocked by how easy it is – especially since the cake is already made!
What Makes This Recipe Different?
We all know that bread pudding is a classic dessert that many of us grew up with. However, when you use cake instead of bread, it just does something, and the recipe is even better.
The simple but convenient use of cake instead of bread means that you will not have as much waste sitting around your house.
We all have bags of frozen cake in our freezers, and it's time to get rid of them! Easy, quick, and a pleasure to make, this leftover cake bread pudding is going to be a winner.
Why You Are Going to Love This Recipe
You mean besides the fact that it's leftover cake bread pudding? Not that you need any more convincing, but here are just a few reasons why you are going to fall head over heels for this recipe:
Bread pudding is a classic – who doesn't love bread pudding? This classic pudding is so easy to make, and it always comes out absolutely delicious.
It's a great way to use leftover cake – leftover cake isn't always easy to use, and this is a fantastic way to get it out of your freezer!
Botched cake can be used to make this! – over baked or dried out cake? You can still use it for this kind of recipe, so you can reduce any waste you might have
There are so many variations you can try – there are plenty of different variations you can experiment with and enjoy with a pudding like this. Make it chocolate, add more fruit, or add sprinkles to make this pudding your own
No special equipment is needed for this recipe – you don't need anything fancy to get the job done for this. This means that everyone will be able to enjoy this recipe
You don't need to be a pro in the kitchen for this – this is a beginner-friendly recipe, and anyone can make it. If you baked the cake, then you won't have any problems with this!
As you make and enjoy this pudding, we don't doubt that you will be able to come up with a dozen more reasons to love this recipe. We will leave that up to you, though!
A Few Tips And Tricks To Help You Out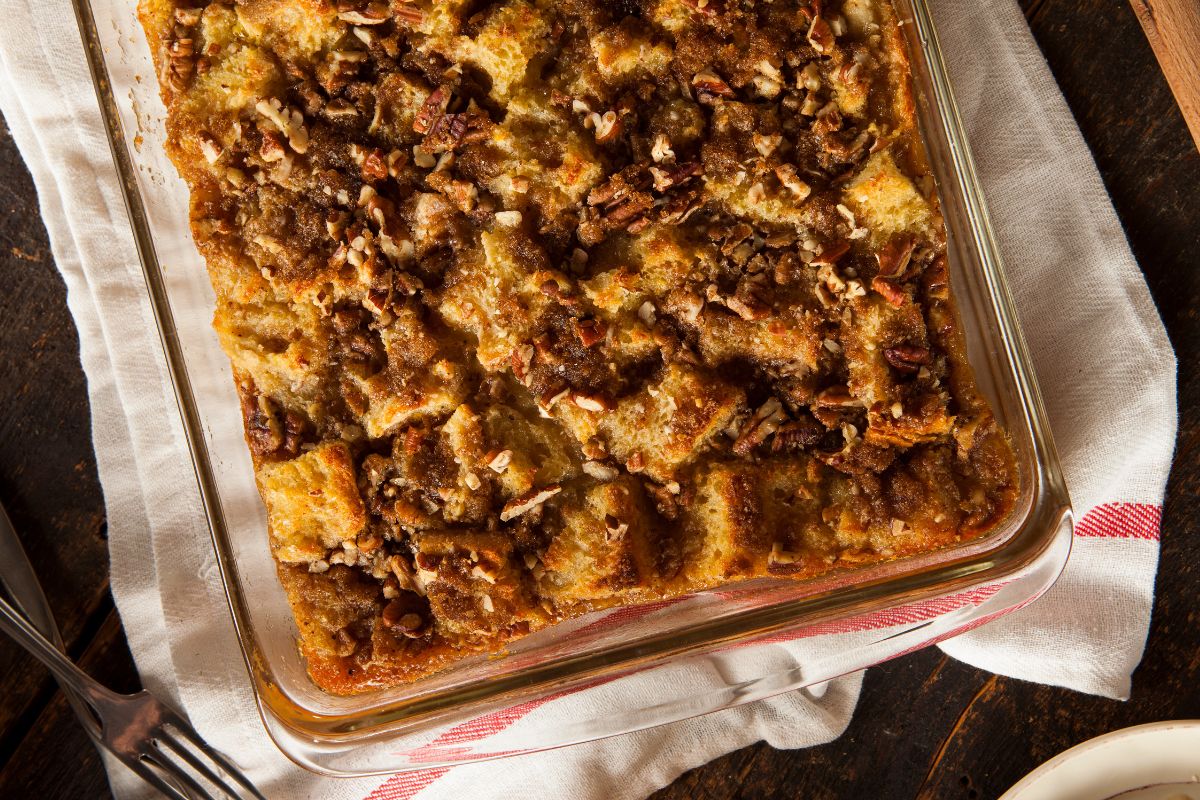 Running into problems, or want to avoid making a few common mistakes? Take a look at our tips and tricks that you will want to bear in mind while you are making this recipe!
Try Different Variations!
You don't need to stick to the most basic forms of bread pudding – you have the freedom to get creative! You can try all kinds of variations of this recipe and all of your favorite ingredients to truly make it our own.
A delightful difference would be to use toasted almonds, coconut, and chocolate chips instead of the regular pecans and the like. Top it off with chocolate sauce, and you have a luxurious pudding.
You will definitely want to enjoy this with a scoop of creamy ice cream. Add some chopped strawberries or cherries to really step it up a notch.
Another great option would be to add sprinkles to your leftover cake bread pudding! Pair it with a vanilla sauce (just melt some leftover vanilla icing if you have some frosting left), and you have a delicious pudding.
You can incorporate all of your favorite fruits and nuts into a pudding like this, so make sure you experiment! From summer berries to apricots and apples, there are combinations that will blow your mind.
Be sure to pair these combinations with a sauce that compliments them – caramels, toffees, and similar sauces will be delicious.
Use Cake That Has No Frosting
You really shouldn't use cake that has frosting on it to make this leftover cake bread pudding. If that is all you have, and you want to make this recipe, make sure you scrap the frosting off. Try to get all of it off in order for the recipe to work the best.
Ideally, you should use leftover came with no frosting – leftover pound cake is a particularly good option. This is because it has a solid structure, and it is easy to cut into cubes for the recipe.
These cakes are also excellent for absorbing liquid, which is what you are going to want for this recipe!
There are plenty of other leftover cake recipes you can try out if you don't want to waste your frosting, so bear that in mind, too!
Botched Cake Works A Treat
It's easy to mess up a cake recipe, but don't worry if you do! Whether you over baked your cake, or it did not rise properly, you can use it for this recipe.
These cakes will still be great for leftover cake bread pudding, so hold onto them rather than throwing them out.
While un-botched cake might be the ideal, it would be a shame to waste food. There might be a few minor differences between using a botched vs un-botched cake, but we guarantee that the final result will be delicious nonetheless.
Be Sure To Thaw Your Cake Before Use
Okay, might sound obvious, but do not try to use frozen cake! You need to give your cake enough time to thaw correctly before you can use it for this recipe. A frozen cake is not capable of absorbing all the liquid you will need it to.
To thaw frozen cake, you could leave it in the refrigerator overnight. Keep it sealed in an airtight container to make sure it doesn't go off, and by morning it should be ready to use!
There is another way to do this, though, which is our next point!
Get That Cake Nice And Dry
Okay, so you are going to essentially want stale cake for this recipe. As such, you can make your life easy if you have a sheet of frozen pound cake. Just get the cake out of the freezer and cut it into cubes while it is still frozen.
Put the frozen cake cubes on a baking sheet, and leave them to thaw out. Bear in mind this could take several hours for them to thaw and dry a little.
Make sure you plan ahead to get your cake properly thawed, then adequately dried out for this mouthwatering recipe.
Leftover Cake Bread Pudding: The Recipe
Now that we've covered all that, it's time to get to the good part! Let's take a look at everything you are going to need to make this scrumptious pudding, as well as the minimal equipment.
Once you make sure you have everything, you can begin making preparations – probably starting with thawing out that cake!
The Ingredients You Need
You will need at least three cups of leftover cake. We know – this is not how you measure cake! To measure this, cut the leftover cake into inch-sized cubes, and go from there.
It does not need to be a specific kind of cake – any tasty cake will do! You can use vanilla, chocolate, almond, or anything else that you happen to have lying around.
Cake crumbs will not work for this recipe. So, if you discover that you mostly have crumbs, you can use them for another recipe, like cake balls or cake pops.
These will be absolutely delicious, too! Even if you don't have enough cake to cut into cubes, turn it into crumbs, and turn them into alternative desserts.
For the custard mixture, you will need these ingredients:
Milk of your choice (1 cup)
Whole egg (1; large)
Butter (salted or unsalted; 2 tablespoons)
Granulated sugar (white; ¼ cup)
For the flavoring, you will need these ingredients:
Nutmeg (¼ teaspoon)
Vanilla extract (1 teaspoon)
Cinnamon (½ teaspoon)
Additional ingredients might include the following:
Brown sugar (½ cup)
Butter (salted; ¼)
Dried cranberries (¼ cup)
Toasted pecans (¼ cup, chopped)
The Equipment You Need
No fancy equipment is needed for this easy recipe! You will need the basic things like the following:
Chopping board
Knives
Saucepans
Spoons
Bowls
Use your discretion, and see what is available to you, and what makes sense. There are no hand mixers required, so you probably have everything you need already.
The Recipe: A Step-By-Step Guide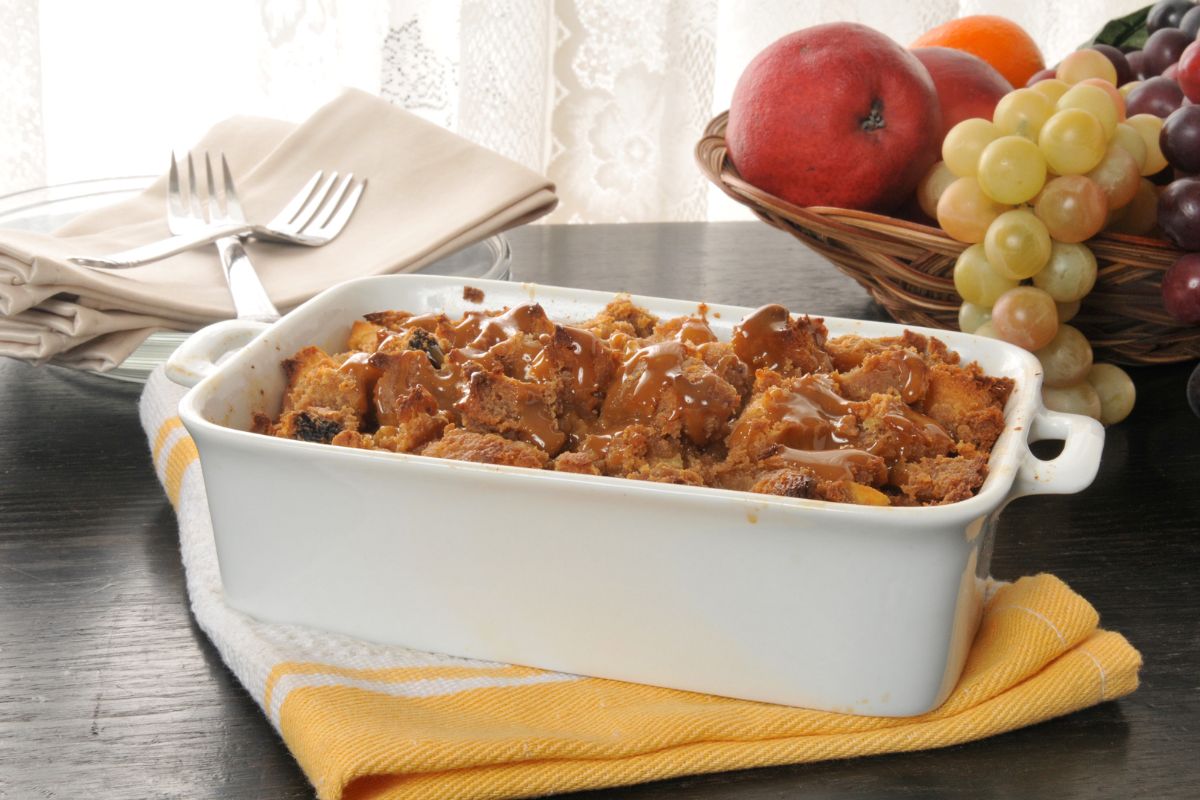 Things are getting exciting now. Let's begin the process of starting this mouthwatering pudding, starting with all the prep work that you need to do.
The Prep Work
The first thing you are going to want to do is prep the cake. If the cake is frozen, you can cut it into cubes as it, and dumb the cubes on a baking sheet to thaw out.
Make sure you do this a few hours in advance, because you want the cake to thaw and dry out.
Simply cut the cake into inch-sized cubes and leave them on a baking sheet in a single layer. Make sure no cubes are sitting on top of one another.
If you have the time, leave these cubes out overnight to thoroughly dry out, making them perfect for the pudding.
The second thing you need to do is prep those pecans (if you are using them)! We will put this in an easy step-by-step format below:
Over a medium heat, preheat a skillet
Toss in the pecans, and toast them. Stir them every few minutes, so they get evenly toasted and not burned
Cook the pecans for around 5 minutes
Remove the pan from the heat, and allow the nuts to cool off enough to be handled
Get your pecans out and chop them into chunky pieces, you don't want them too small!
Set aside – you will need those shortly
Making The Custard Mixture
Making the custard mixture is super easy, so don't be stressed about it! Follow these simple steps below to get the job done:
Preheat your oven to 350°F (175°C)
Get a large mixing bowl and put your cubed, dried cake into it
Get your egg, and ensure it is at room temperature. If you keep your eggs in the refrigerator, you can do this by placing it in a small bowl of warm (not hot) water.
Start heating the butter and milk in a small saucepan over a medium-high heat. Melt the butter, and allow the milk to get warm enough to steam but NOT boil
**You can use the microwave if you like. Simply put the butter and milk into a microwave-safe bowl and allow it to heat up for one minute. Stir the mixture until the butter melts, and make sure the milk never boils. You might want to use 10-second intervals and stir to make sure you don't get it too hot.
Wisp together the vanilla, egg, and sugar until combined, then add a few tablespoons of the milk combination. DO NOT just pour in all the mixture, or you will cook the egg. You need to temper it!
Add your salt, nutmeg, and cinnamon, and stir
Slowly add the rest of the milk and butter mixture, and stir until everything is homogenous (combined)
Pour this mixture into the bowl with the dried out cake cubes, and stir until most of the mixture has been absorbed by the cake.
Add your choice of dried fruit and those toasted pecans you prepared
Allow everything to sit together for 15–20 minutes. This will give the cake enough time to absorb as much as they possibly can.
At the end of the allotted time, take a look at the amount of liquid left in the bowl. If there is a small amount, you can transfer everything into an oven pan. If, however, there is a large quantity of the eggy liquid left, drain some. Too much liquid with the cake will make us soggy and take too much like egg – this is supposed to be a pudding!
Time For Baking
You will need to use an oven-safe dish to transfer everything in to bake. However, you will first need to grease your chosen dish or pan with some butter.
Here's a quick step-by-step to follow:
Get a 8×8 inch casserole dish, or a similar tray for the cake cubes
Using butter, spread a thin layer of grease of the bottom of the dish
Pour your cake combination into the dish
Place the dish in the preheated oven (350°F), and leave everything to bake for 30–40 minutes
When it is done, the pudding should still look moist, but not soggy. You can stick a toothpick into it, and it should come out mostly dry/clean. You do not want it to be completely clean, or else everything will be too dry
Time to get the pudding out the oven!
Making The Brown Sugar Caramel Sauce
As the pudding is baking in the oven, you can make your brown sugar sauce to enjoy with the finished product! This is also very easy, so follow these steps outlined below:
Put your brown sugar and butter in a small saucepan and put it over a medium heat (NOT too hot)
Allow the butter to melt, stirring occasionally and gently
Once melted, turn the heat down, and let the combination continue to cook so that the sugar can melt completely
When everything is melted together, turn the stove off and remove the pan, placing it on a heatproof mat or something similar
As soon as the bread pudding comes out of the oven, drizzle this sauce over the top! Then allow everything to cool for about five minutes, and top it off with a scoop of creamy vanilla ice cream and enjoy!
How Far In Advance Can You Make This Leftover Cake Pudding?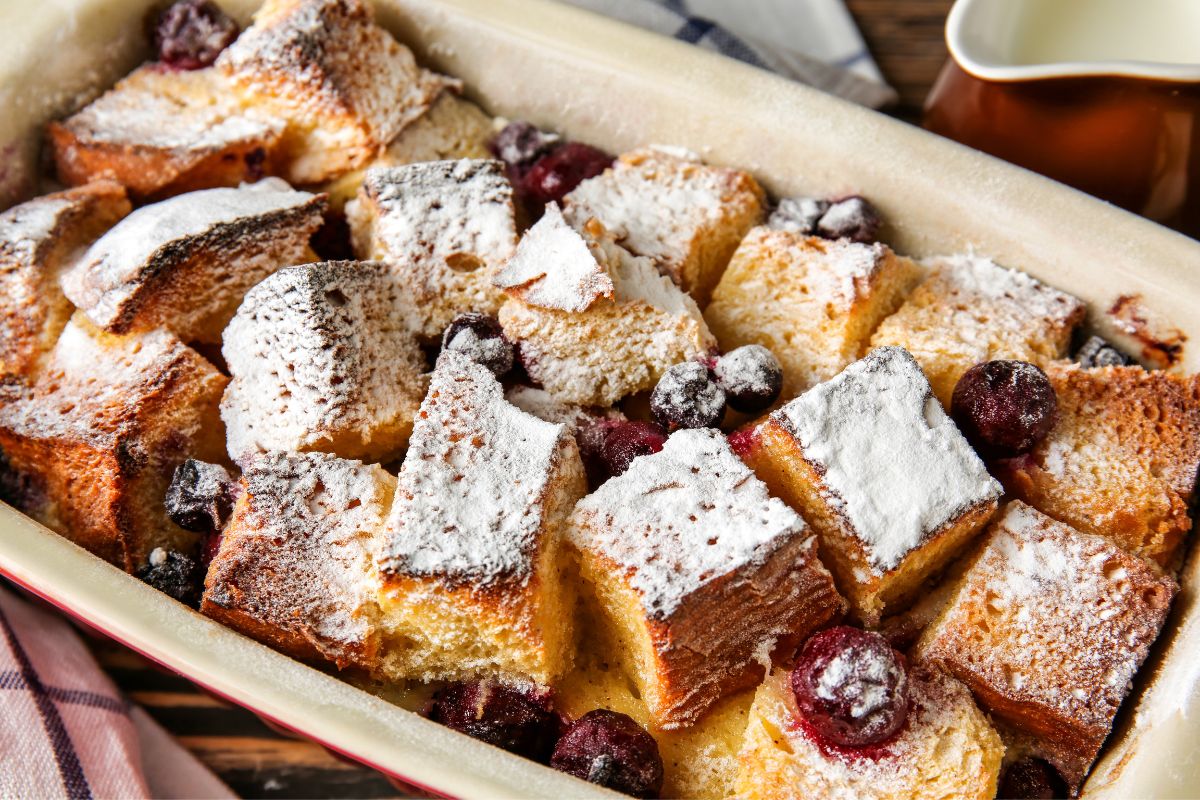 You can easily make this pudding up to two days before an event, but fresh is always best! Everyone loves a warm pudding, do try to make it shortly before you intend to serve it – everyone will appreciate it.
With that being said, you can reheat this pudding if you need to. We will go through how to do this below.
How To Store This Dessert Properly
Make sure you store your pudding in an airtight container in the refrigerator. If you can't get it in a container, make sure to cover it with plastic wrap to prevent mold growth from all the moisture in it.
Reheating Leftover Cake Bread Pudding
If you need to, you can reheat your leftover cake bread pudding. This is very easy, and can be done in the oven for 15–20 minutes at 350°F, or in the microwave for 30–45 seconds.
How Long Will This Leftover Cake Pudding Last?
The maximum time we would recommend keeping this pudding is about a week. However, it would be much better if you could finish it within three days of it being made.
Three days is typically the maximum for most types of food, so it's just about being safe!
Can This Pudding Be Frozen?
Yes! You can freeze this pudding for 3–4 months easily. Make sure you keep it in a freezer-safe container to do this. When you are ready to enjoy it, simply leave it in the refrigerator overnight, so it can thaw, and it will be ready.
Final Thoughts
If you have leftover cake sitting around, you had better put it to good use! This recipe really makes the most of any kind of cake, even if it is overcooked or didn't rise.
Since this recipe is so quick and easy, we wouldn't be surprised if it became your new go-to. It really is that good, and the number of variations you can try only adds to the appeal.
If you have some combinations that you are itching to try, be sure to do some experimenting! We doubt you will be disappointed.
Frequently Asked Questions
What Makes Cake Bread Pudding Different Compared To Regular Bread Pudding?
This pudding uses cake instead of bread! This adds to the flavor, and can make it even more luxurious. It also gives you more possibilities in terms of trying out different flavors.
Can You Use Broken Cake For This pudding?
Yes! As long as your cake is not a mess of crumbs, you can use it for this mouthwatering recipe. The cake doesn't even need to be able to be nearly cubed for it to do the job. As long as it is edible cake, you're good to go.
What Other Pudding Or Desserts Can You Make With Leftover Cake?
Popular options include things like cake balls or cake pops. These are especially great if you have a lot of cake crumbs left over. You could also turn your cake into crumbs by blending it, if you really want cake pops!
Can You Eat The Pudding Cold?
You can absolutely enjoy this pudding cold once it has been cooked. You might ever prefer it! However, if you want to get the most out of the sauce and ice cream toppings, you are definitely going to want to warm everything up. You will not regret it.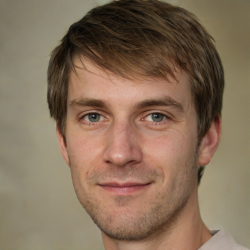 Latest posts by Mark Williams
(see all)