Spinach is a very versatile food that has been used in many recipes since we first started cultivating it.
However, one of the most traditional ways to serve spinach is in pastries. This can be in pies, in quiches, in tarts, but the most common and popular way to eat a spinach pastry is through the use of turnovers.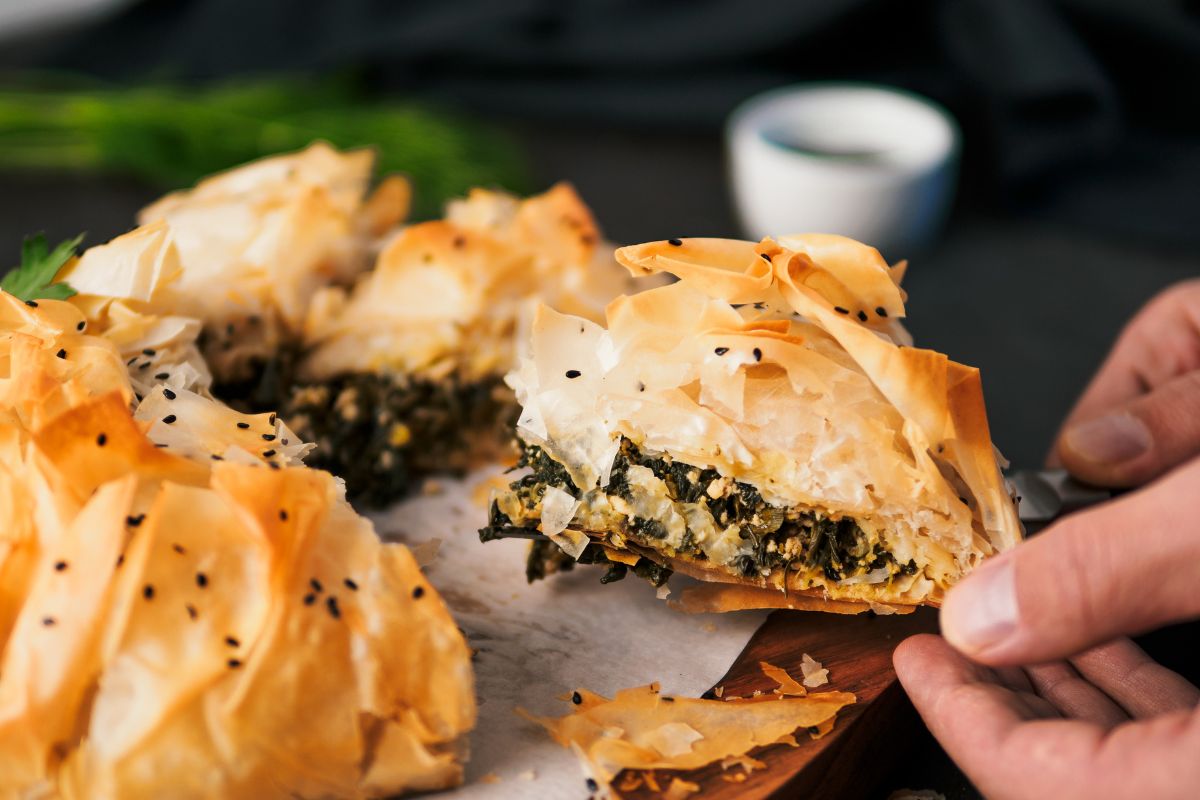 Turnovers are triangular shaped rolled pastries with fillings inside. For most of them, they are sweet, like with apple turnovers or peach turnovers, but spinach turnovers definitely fall on the savory side.
There are lots of recipes for cooking spinach turnovers, some of which we believe you will greatly enjoy.
As such, we've decided to create a list of 15 marvelous spinach turnovers that you will adore and can be cooked easily at home.
This dish is the pride of many Greek homes, with families constantly bringing their A game when making it.
Spanakopita is a traditional Greek cuisine that has been blessing the tables at parties since time immemorial.
It is an absolute delight, with people most of the time filling up on spanakopita before the main course has even come out of the oven.
It is basically spinach and feta cheese encased in filo pastry and baked.
The result is a juicy, slightly bitter, and slightly sour dish that tastes as good as any pastry and will be sure to have your guests coming back for more.
Heading to another corner of the Mediterranean now – the Levant – we have a dish quite similar to Spanakopita, but incredibly unique in its own way.
This dish is called Fatayer and has been made for as long as Spanakopita has. Fatayer are savory pastries that are filled with a variety of different vegetables, meat and cheese.
This version is made with spinach, green onions, and feta cheese, but the pastry is a little more flaky and crumbly than the phyllo used in spanakopita, making an all round different experience.
A lot of the time, spinach goes well as an undercurrent flavor to other bolder flavors. This is true for this turnover which is made of chicken, spinach, and Gruyère.
The chicken provides a mild, juicy flavor and a hearty bite that the others don't, but it is truly the Gruyère that makes this dish.
When the sharp, rich cheese is combined with the slightly bitter spinach, it creates an amazing flavor that otherwise wouldn't be there.
This is a fantastic dish to serve at a get together, where a meal is not wanted or required, but snacks are appreciated.
Sometimes what you need to offset bitter flavors are not stronger or richer flavors, but smoother, milder ones.
This is the case with Spinach, Gouda, and Cream Cheese turnovers, which use the milder, slightly sweeter flavors of cream cheese with a little sourness from the Gouda to mellow out the spinach and make it slightly less bitter, but still full of tons of flavor.
The pastry in this dish is also slightly thicker, more like an empanada, and so it has a lot of bite that goes with the flavor.
Crescents are delicious, and although they are not technically turnovers, they can be filled in a very similar manner.
In this recipe, you fill the crescent with spinach and cheese and allow the texture and slight sweetness of the pastry to counterbalance the rich flavors within.
The pastry is flaky and buttery, which works perfectly with the spinach and cheese.
These crescents can also be served at parties easily and are not hard to make at all, with you only needing a little time and patience.
If you are looking to create a spinach turnover, why not go one better and make a spinach calzone.
Calzones are a great way to transport piping hot flavor directly into your mouth and this calzone is particularly good, as it is filled with three different types of cheese, each one with its own unique and delicious flavor.
Traditionally, a calzone is served with a marinara sauce on the side, and this calzone works great with the little bit of sweetness and freshness that sauce provides.
Spinach works really well when put with other differently flavored foods, and this is especially true when those foods are roasted.
So making a roasted vegetable and spinach turnover seems like the ideal thing to do.
The roasty flavors play really nicely with the slight bitter flavor of the spinach in the background, and the buttery pastry ties it all together.
Adding some salad on the side will serve as a bit of a palate cleanser, so you can dive back into the pastry and taste it all fresh once more.
If you are having spinach in your turnover, a slightly bitter, fresh, and refreshing flavor, then you can get away with adding some heavier flavors without overpowering the entire dish.
This can mean many different meats, but we have found that sausages work really well in this capacity.
They are delicious together, as the fatty, rich sausage does not become too heavy when spinach is added to the mix.
These are great for a weekend lunch or a naughty midweek treat for you and the family.
Artichoke is not a common flavor anymore, but it is definitely one that should be brought back into style. It is mild and slightly sweet with a hearty texture to it when you take a bite.
When combined with bitter spinach and buttery pastry, it becomes an amazing dish that is well worth trying to make yourself.
This dish can also be made to be completely vegan or vegetarian, which is fantastic, as you can include those who may not otherwise get to have anything to eat.
This spinach and artichoke turnover recipe is one of
the easiest turnovers you can cook, and it also has a delicious flavor. If you
want to cook something that is simple but has a strong flavor and feel, this
is the spinach turnover to cook.
Goat's cheese is a fantastic ingredient to put into a warm turnover. It is an incredibly rich cheese that is often made to be incredibly creamy as well.
As such, once it is cooked, and you bite into the warm flesh of the pastry, you are likely to be greeted by an ooze of gooey, delicious cheese that has a rich taste followed by the slightly bitter taste of spinach.
It is a fantastic turnover to make and is especially good for those who may have a refined palate that you have difficulty feeding.
Sun-dried tomatoes are an underrated food. They are fantastically flavorful, as they are basically dried foods, which means that all the flavor has been concentrated.
Considering that they concentrate that sweet tomato flavor into one area, this makes them the perfect food to have in a turnover with spinach, as they will become the dominant flavor with the spinach playing a subsidiary role.
Red lentils are another perfect alternative that vegans and vegetarians can enjoy, if they change the pastry.
They provide a whole host of nutrients that you don't normally get in plant based food, including plenty of protein.
Not only that, but they are incredibly creamy and will work fantastically well when combined with spinach, especially if you add a few curry spices to the mix.
If you are looking for ways to use your leftover turkey after a Thanksgiving dinner, then this recipe might be for you.
You can make a whole batch of turkey and spinach turnovers and feed the family for days, especially if you have a bit of cranberry sauce on the side.
Not only that, but if you freeze each ingredient, you can have a taste of Thanksgiving well into March the next year.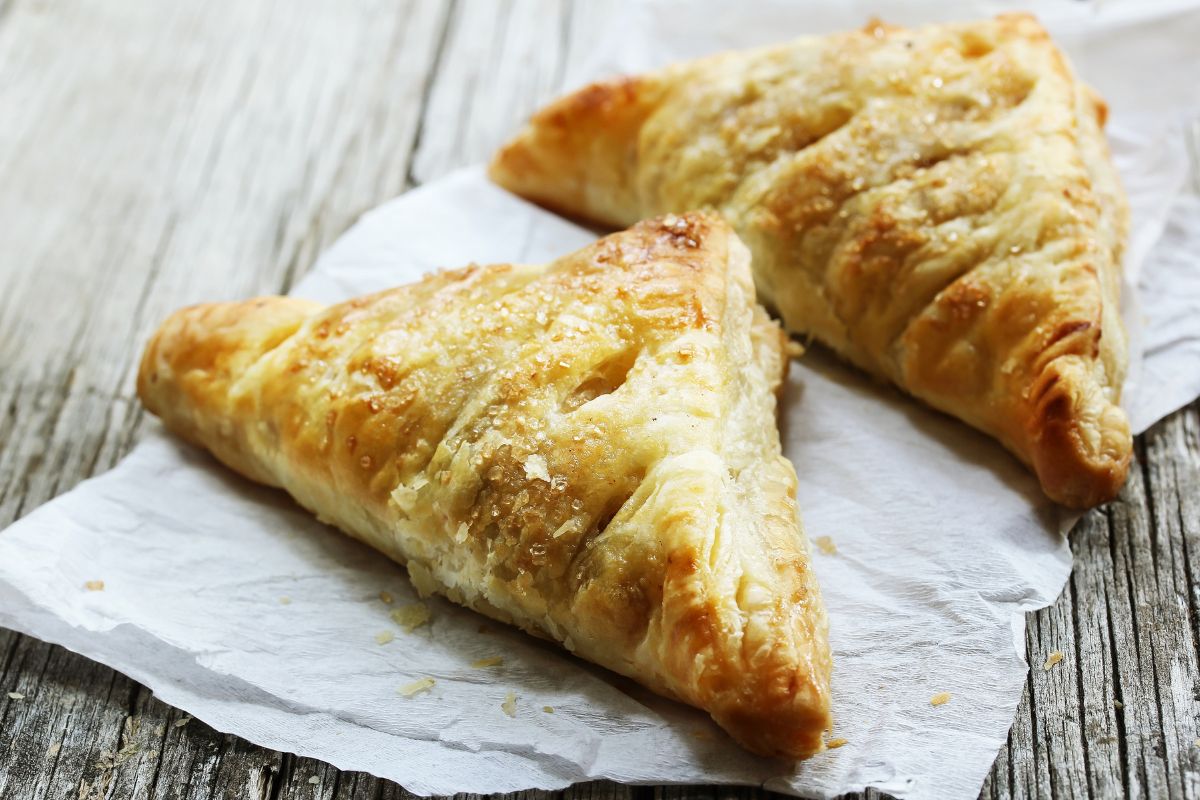 If you are going to have a turnover, why not just make them absolutely enormous.
This recipe basically takes the spanakopita recipe, adds some extra parts, and uses a shortcrust pastry exterior to create a giant version of the classic dish.
These can be served as a complete meal to whomever wants them, and they make excellent handheld food for when you are out on a picnic.
This one is not exactly a turnover, but uses a piece of chicken as such. The chicken is stuffed with spinach, garlic, and cheese before being grilled.
The result is a delicious gooey mess that has been browned to golden perfection by the oven.
Conclusion
Spinach turnovers are a great food to have and there are so many variations of this turnover that there is no excuse not to try one for yourself or at least cook some for other people.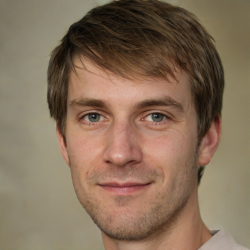 Latest posts by Mark Williams
(see all)