Have you ever seen the premade graham cracker crusts in the grocery store? If you have, you're likely to have lots of questions and you've certainly come to the right place.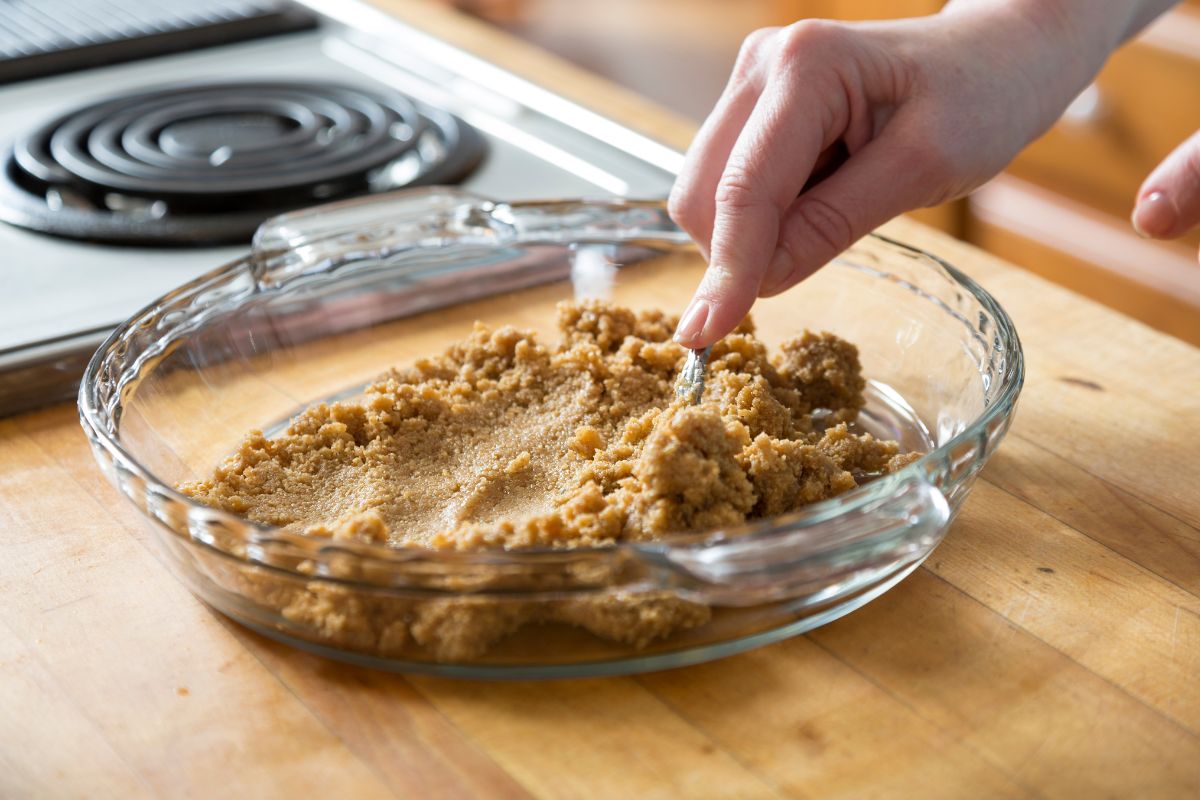 We've compiled a guide to premade graham cracker crusts that will provide you with all of the information you will ever need about this wonderful product.
This ultimate guide will blow you out of the water with the detail surrounding how long these pie crusts last, the best storage practice for the crusts, and what to use them for! You will even get a list of nutritional information regarding the pie crust!
So, if you find yourself on this page, you're likely ready to learn all about premade graham cracker crusts! Let's dive in.
About Premade Graham Cracker Pie Crusts
These graham cracker crusts have been previously baked. This is why they are great to use for lots of different desserts including ones that do not require any baking. They do not even need to be heated before use, they can simply be chilled and enjoyed as they are!
You can buy a variety of different graham cracker crusts that are all equally as delicious as each other! Keebler and Honey Maid are two of the most popular brands for these crusts.
What Is A Homemade Graham Cracker Crust?
A graham cracker crust is a type of pie crust. This crust is made from graham crackers, sugar, and butter. It is commonly used in lots of different pies, including key-lime pies and cheesecakes.
Lots of people like to make the graham cracker crusts themselves from scratch. It is made by making crumbs from graham crackers and mixing them with melted butter and sugar. This forms a thick paste that can be pressed into a pie plate and baked so that it forms.
How Long Do Premade Graham Cracker Pie Crusts Last?
These pie crusts, made by Keebler, have a very long shelf life. Each product will have a 'best if used by' date on them which are often over a year after the date the pie crust was purchased.
This means that the pie crusts have a very long shelf life and will remain just as tasty for this whole time!
How To Store These Pie Crusts?
Keebler pie crusts should be stored at room temperature if you want them to remain in good condition for as long as possible. They should be left in the packaging that you picked them up from the grocery store until you use them.
You should also ensure that these pie crusts are kept away from any products that have a strong smell.
If you store these pie crusts correctly, they can last a lot longer than their sell-by date suggests.
Can You Eat A Graham Cracker Pie Crust That Has Expired?
It is recommended that you eat up your product by the "best if used by" date. However, this date does not have any relation to the safety of the product, instead being related to when you can eat the pie for the best flavor and quality.
If you choose to, you can eat an expired pie crust. However, before you eat it you should consider checking whether there are any signs of the crust being spoiled.
If there are no signs of this, then there is no harm in eating an expired Keebler crust. The only downside is that it may not taste quite as good as a newer one.
If the date is a long time out of the stamped date, you should consider purchasing another pie crust just to be safe!
Can You Store These Pie Crusts In The Refrigerator?
You should not store graham cracker pie crusts in the refrigerator. They will last for much longer and remain much fresher if they are kept in a cool, dark place. They will also need to be kept in their original packaging.
Keeping these pie crusts in the fridge will impact the quality of the product. This is because they can pick up the different smells in the fridge over time. For instance, you might end up with a pie crust that smells of garlic or strong cheese!
The refrigerator can also dry out the pie crust, making it very difficult to work with because it may become very crumbly.
All in all, keeping the graham cracker pie crust in the fridge is a huge disaster and it is best to avoid it at all costs!
There is one exception to this rule, and this is that if you have made a pie with a graham cracker crust in preparation for a party or event, you can keep this in the refrigerator for between 3 and 4 days and it will stay completely intact!
Refrigerator Pie Crust
There is a refrigerated pie crust that you can purchase which can last between four and six weeks. This should be stored in the fridge in its original packaging. You should not store the normal dry Graham Cracker pie crusts in the fridge, though!
Is It Possible To Freeze Graham Cracker Pie Crusts?
While you can freeze these pie crusts, there is often very little need to do so. This is because the shelf-life of the product is so long that freezing the product may not actually give you any more time to use the product.
If you did choose to freeze the crust, you should make sure to keep it in the packaging that you bought it in at the grocery store. This is because you will want to make sure that it is sealed.
As well as this packaging, you should also place it in a freezer bag. This will add an extra layer of protection for the pie against unwanted freezer odors.
While freezing the pie crust alone is a waste of time, you may want to freeze a pie that you made using this pie crust!
Pies made from premade pie crusts will freeze very well, whether you have already cooked them and are looking to freeze the leftovers, or you have premade them and want to store them until it's time for use!
How To Freeze Pies Made With Graham Cracker Pie Crust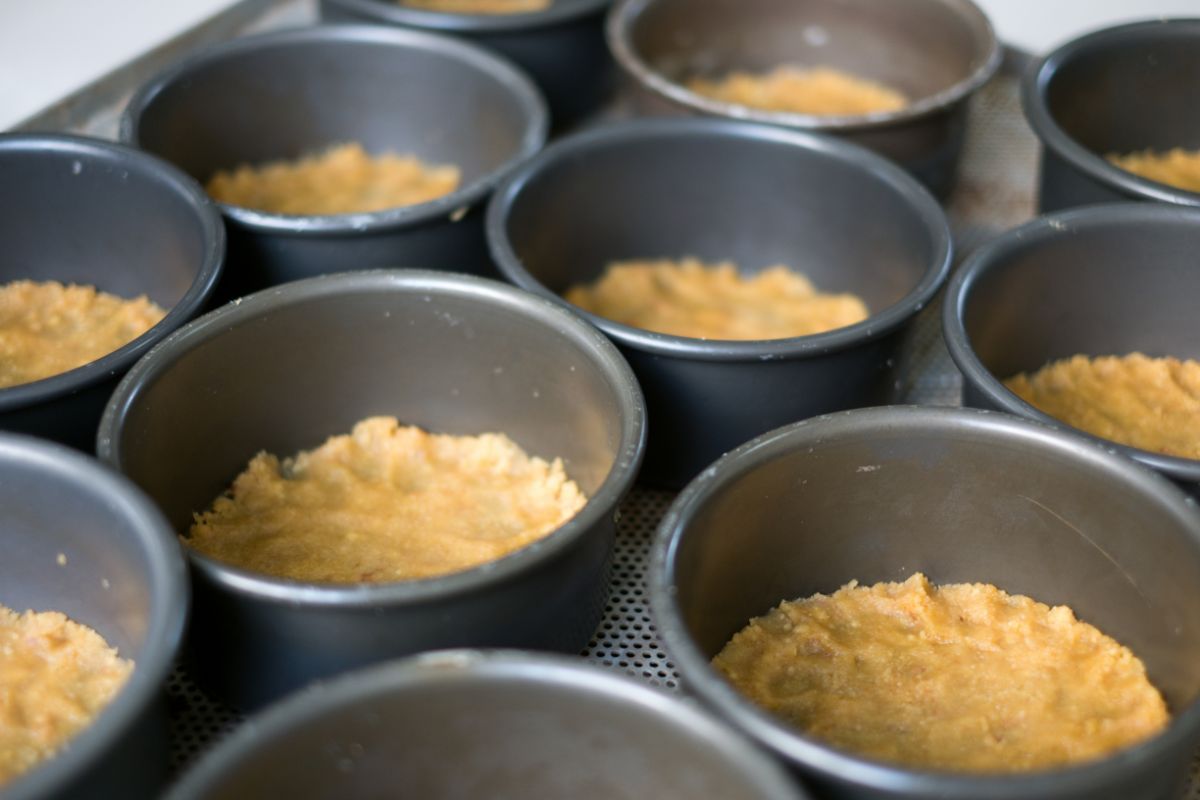 If you are hoping to freeze a pie that you have made using a Graham Cracker Pie Crust, this is very simple and easy to do. Follow the steps below to get the best results:
First, place the clear plastic lid that came with the pie crust back onto the pie.
Next, crimp the foil to keep the lid in place.
After you have done this, place some aluminum foil over the pie tin for extra protection.
Next, add another layer of protection with a zip-top freezer bag!
After this, place the pie in the freezer for between 2 and 3 months.
When you want to eat the pie, take it out of the refrigerator the night before to thaw.
Types Of Graham Cracker Crusts
Nabisco's Honey Maid Graham Cracker Crust
This company has made some super delicious graham crackers, so it is no surprise that their graham cracker crust is equally as delicious!
This pie comes in one size of 9 inches or 6 oz. There are no other size options available at the moment.
Keebler Graham Cracker Crusts
The graham cracker crusts by Keebler are an excellent choice when it comes to making both baked and no-bake pies.
They come in three different sizes, making them perfect for lots of different baking projects. The three sizes are 10 inches or 9 oz, 9 inches or 6 oz, or 3 inches or 4 oz.
Kroger Graham Cracker Crust
Kroger is a great brand that prides itself on quality. It is no surprise that their graham cracker pie crust is made to a very high standard.
This crust is made using crumbs from real graham crackers so you will not be disappointed with the taste of this product. It really is to die for!
Kroger graham cracker pie crusts only come in one size. This is 9 inches or 6 oz, the same size as Nabisco's Honey Maid graham cracker crust.
What Size Pie Crust Will You Need?
The size of the pie crust that you will need will depend entirely on the pie that you are hoping to make. The average size of most pies is 9 inches or 6 oz. This size pie will usually hold around 4 cups of filling.
A pie this size will easily divide into 8 slices. If you only want small slices, then you may be able to get 12 pieces out of one pie.
If you opt for a 10-inch pie, you may also choose to cut the pie into four. This is very simple and easy to do, and it means everyone will get a delicious hefty slice of your pie!
When cutting your pie, always begin by cutting the pie in half and then continue to cut it from there.
Remember to ensure that you ask around to see how big of a slice your friends and family want. You don't want to be forcing your pie on them!
How To Make Pie From A Graham Cracker Crust?
All graham cracker crusts can be used immediately after purchase. If you are making a recipe that doesn't require baking, you can just add your fillings to the pie crust, chill it and serve it!
However, if you want your no-bake dessert to have a golden crust, you should preheat the oven to around 375 degrees Fahrenheit. Then, brush the pie crust with some egg white wash and bake the crust for 5 minutes. Before you add your filling, allow the pie crust to cool.
If you are hoping to make a baked dessert with your premade graham cracker pie crust, you will need to follow the instructions for the recipe that you are using. Most pies, especially pumpkin pies, will take around 40 to 45 minutes to bake.
Should I Prebake The Graham Cracker Crust?
It is not necessary to prebake these crusts because they have already been cooked. You should bake this crust for 5 minutes only if you want to have a golden crust.
You do not need to pre-bake these crusts, instead, you will just need to ensure that you follow the instructions in the recipe.
What Pies Can You Bake Using The Graham Cracker Pie Crust?
The best thing about the graham cracker pie crusts is that they are so versatile! You can bake whatever you fancy using this crust. For instance, try a blueberry pie, a cherry cheesecake, or a pumpkin pie!
These crusts also make fantastic bases for savory pies such as quiche and chicken pot pie.
What Problems Can You Find With Graham Cracker Pie Crusts?
Soggy Pie Crust
It is important to make sure that you are aware of the issues that you can face when it comes to premade graham cracker crusts.
One of the most prominent problems is the graham cracker crust becoming soggy. There are a few different ways that you can prevent this problem, including:
Bake Dry
If you are concerned about your pie crust becoming soggy, one great way to prevent this is by baking the crust for 5 minutes to dry it out.
Place the oven on 375 degrees Fahrenheit and put the crust in the oven for 5 minutes and five minutes only (any longer and you'll dry it out too much!). After 5 minutes, the crust will turn brown and will have dried out.
Use Chocolate
Chocolate is a great way to protect the pie crust from becoming soggy. Use a layer of melted chocolate to brush onto the pie crust. When the chocolate hardens, you can add your filling.
This will mean that the crust is protected against getting soggy because the layer of chocolate will prevent the moisture from seeping through. It will also taste delicious!
You should not use this method if you are baking your pie, it is only suitable for no-bake recipes.
Use Saltine Crackers
Adding saltine cracker crumbs is a great way to prevent your crust from becoming soggy. These crackers will absorb any excess moisture that can cause sogginess.
This is a great method for pies that are going to be baked.
Bake Using Egg Wash
If you are concerned about your pie crust becoming soggy, you can always opt to bake it in the oven for 5 minutes at around 375 degrees Fahrenheit.
This layer of egg wash acts as a layer of protection between the filling and the pie crust. Sometimes, if the filling is moist, this can make the crust soggy. Adding this pie crust is a great solution to this problem.
Crumbling Pie Crust
You need certain things from a graham cracker pie crust, and stability is one of them. This is why it can be devastating when these pie crusts don't hold their own and begin to crumble.
If you notice any crumbling, you should take some steps to prevent it before it ruins your pie for good!
Bake The Crust
The best way to prevent crumbling when it comes to your pie crust is to set the oven to 375 degrees Fahrenheit. Make up an egg mixture by whisking together two egg whites and 1 tablespoon of water until it becomes frothy.
Then, you will need to brush the egg white wash onto the pie crust and place it in the oven for 5 to 7 minutes. Allow this to cool and then place it in the freezer for around 10 minutes. Then, remove it from the freezer and add the filling.
Use Chocolate
You can also use melted chocolate to stop the pie crust from crumbling. This is a great method, and it adds delicious chocolate flavor to your pie!
To do this you must first chill the crust in the refrigerator for 15 minutes. Then, melt some chocolate. Brush this melted chocolate onto the crust that you have removed from the refrigerator.
If you then allow this chocolate to harden, you will be able to add your filling without the crust cracking.
Cut The Pie With The Right Knife!
When it comes to preventing the pie from cracking, it is very important to cut the knife using a serrated knife. This will mean that the slices you cut are much cleaner, and it is much less likely to crack.
What Does Graham Cracker Crust Replace?
If you fancy making a pie but don't want to go through the hassle of making the pie crust yourself, a graham cracker crust is a great option for you! These bases are perfect for lots of different pies and they make a perfect replacement for pie crusts.
If you would like to, you can always add a topping to this crust. For instance, add some crumble to finish off the pie. This works great if you add it to the top of the pie before you start cooking it.
What Are The Benefits Of Premade Graham Cracker Crusts?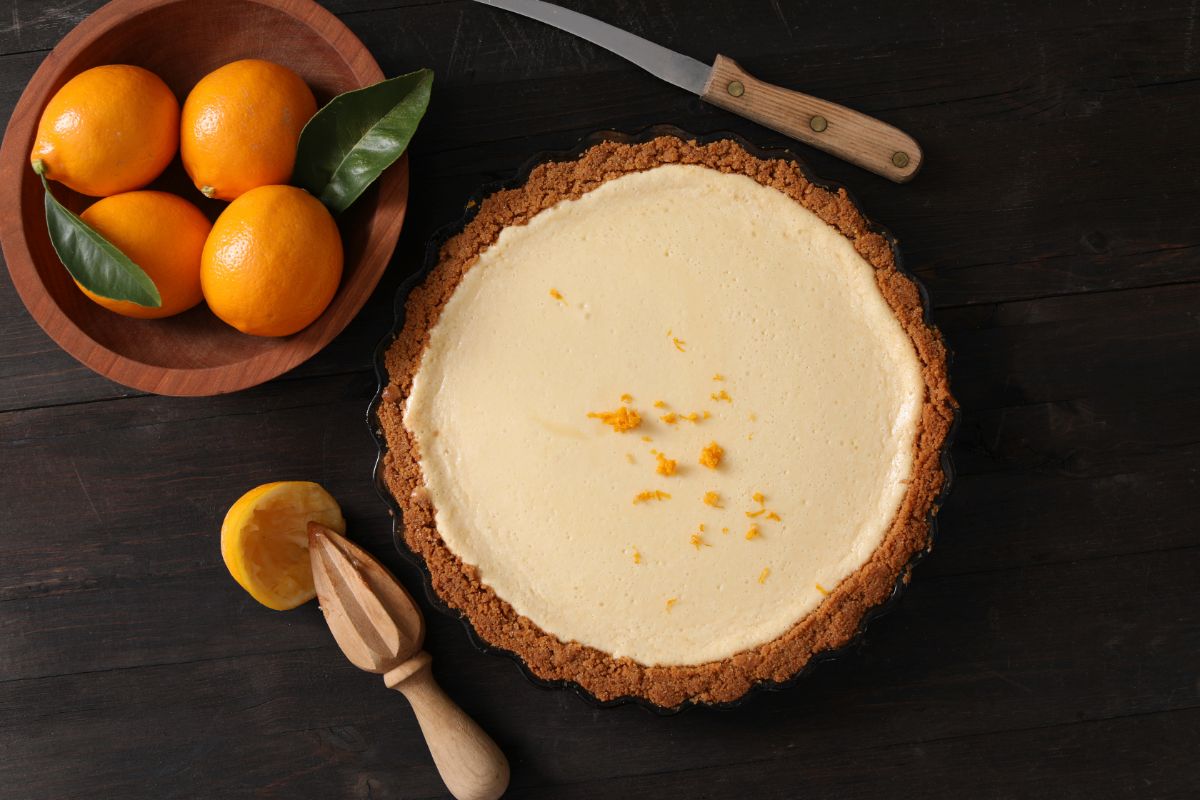 There are a few great benefits to using premade graham cracker crusts! These include:
Ease
The main benefit of premade graham cracker crusts is the fact that they are so easy to use and convenient. They are completely ready to be used, and they can be stored for a long time, too! There is nothing complicated about using these cracker crusts in your baking.
Taste
Premade graham cracker crusts taste absolutely delicious. They are just as good as the real thing as they use very similar ingredients to the ones you would use if you made them at home!
Price
They are also a lot cheaper than purchasing all of the ingredients that you need to make them yourself and cooking them from scratch. Buying these crusts from the grocery store will save you a lot of money!
What Is Homemade Graham Cracker Crust Made Of?
Graham cracker crusts are made of three main ingredients. These are:
Graham Crackers
You will need to get some graham crackers for your graham cracker crust. If this wasn't obvious before, I'm sure it must be now! You will need around 180 grams of graham crackers to make this recipe.
If you don't want to crumble the graham crackers yourself, you can opt to purchase the cracker crumbs. Head to the baking aisle in any store and you're sure to find them!
You can choose which flavor you want to go for. Graham crackers come in honey, chocolate, and cinnamon flavors. They also come in low-fat versions if you are watching your weight!
Butter
Butter is essential for making a good graham cracker crust. This butter binds together the crumbs, ensuring that the crust remains intact. It will also add a delicious buttery taste to your crust.
You will need around 6 tablespoons of butter to add to this recipe. If you are making a crust for a cheesecake, you may want to reduce the amount of butter in the dish.
This is because filled cheesecakes can be very heavy, so it is a good idea to make them slightly lighter by removing the butter.
Sugar
You will also need to add some granulated sugar to the dish. As you bake the crust, the sugar crystals will help to bind all of the ingredients together.
You will need around ¼ of a cup of sugar for this recipe. As the dish is already so sweet, you won't need to add any more sugar than this.
How To Make A Homemade Graham Cracker Crust
These ingredients are all mixed together and pressed into a pan. You will then need to bake the crust in the oven at around 375 degrees Fahrenheit and bake it for around 7 minutes.
The reason that you should pre-bake this crust is to help the crust keep its shape and to stop it from cracking.
The premade graham cracker crusts that you purchase in grocery stores are usually made from very similar ingredients. However, some of them are not made from graham crackers that have been crushed.
They are sometimes made with alternative ingredients to replace this aspect of it. For instance, they may contain flour, graham flour, and lots of other ingredients.
Premade graham cracker crusts may also contain lots of other additives that will help to keep the food fresh and to increase the shelf life of the product.
Top Tips For Making A Homemade Graham Cracker Crust
We've compiled a few very important tips that will certainly help you with your homemade graham cracker crust.
Don't worry about it being too crumbly. The mixture does feel very crumbly, but once you apply enough pressure to the mix, it will start to combine and form a crust.
Start off using your hands. You can apply a good amount of pressure with your hands, so press the bottom and around the sides of the base until it is flattened. You will want to apply a medium amount of pressure, not too much!
Don't overpack the crust. The crust needs to be compact, but you don't want it to be too dense and not taste very pleasant. You should pack it until it doesn't seem crumbly anymore, and then you can stop.
Ensure that it is round. You want to make sure that this crust is shaped correctly. You don't want the sides and bottom to be at a right angle to each other, you want them to be rounded off too.
Frequently Asked Questions
What Can You Use A Graham Cracker Crust For?
Graham cracker crusts are very versatile. They can be used in lots of different ways, and they work well as a base for both sweet and savory pies. These crusts are very easy to use as you just take them out of the packet and use them right away! 

They also work with chilled pies and baked pies, so there really is nothing that you can't use one of these pie crusts for! 
How Much Sugar Is There In Premade Graham Cracker Crust?
There is a large amount of sugar in graham cracker crusts. The Keebler graham cracker crust contains around 6 grams of sugar per serving. In a 9-inch pie crust, there are 48 grams of sugar. 
Does A Graham Cracker Pie Need To Be Baked?
No, you won't need to bake a graham cracker crust because it is already baked. You can use this pie crust for chilled pies, too, as it is ready to be eaten. It is delicious if you chill it before you eat the pie.
Can You Bake Your Own Graham Cracker Pie Crust?
You can bake your own graham cracker crust very easily! You will only need three very simple ingredients: sugar, graham crackers, and butter. This pie crust is very easy to make from home, but it is much easier to use the store-bought crust. 
Final Thoughts
So, there you have it! This article has given you all of the information you could ever wish for about premade graham cracker crusts. You should now know what these crusts are, what they can be used for and so much more!
For any pie that you want to make, the graham cracker crusts that are premade will make a perfect base. It is delicious and super easy and it compliments so many different pie flavors, both sweet and savory. So, get baking with one of these crusts today and you definitely won't be disappointed!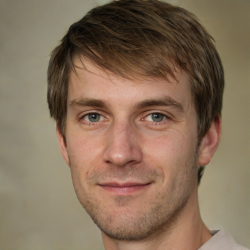 Latest posts by Mark Williams
(see all)