Turkish flatbread, otherwise known as bazlama, is a type of yeasted flatbread that doesn't only taste amazing but is super easy to make, too.
If you're looking for the ultimate fluffy and thick flatbreads, then you've come to the right place.
As you cook them in a pan, you'll watch as they begin to cook and bubble – the satisfaction never gets old!
The results are fluffy, soft, and chewy flatbreads with a slightly crispy exterior. Serve them warm and fresh and you'll never purchase store-bought ones ever again.
Falling in the middle of being a pita and nana, this leavened flatbread is made using a delicious Greek yogurt – which also helps to add some tang to the recipe.
This is the ultimate recipe if you're looking for pliable flatbreads that are perfect for wrapping grilled vegetables or roasted meats.
With this in mind, this guide will explore everything you need to know about making these delicious flatbreads.
Let's get straight into it.
What Is Flatbread?
If you're unfamiliar with flatbread, essentially, it is a type of thin bread that is made using flour, salt, and a type of liquid (usually milk, yogurt, or water).
Then, the dough is portioned and rolled into a flattened dough.
When it comes to flatbread, most of the time, they are unleavened, for example, homemade wheat tortilla bread. That said, some are leavened, too, including Turkish Pide Bread and Tawa Naan.
Additionally, flatbreads have different levels of thickness, too, and you don't have to worry about slicing them.
You can eat them plain or with toppings and there are numerous ways you can eat this delicious bread.
Whether you bake them in the oven, grill them over hot coals, fry them in hot oil, or cook them in a hot pan, comal, metal griddle, or Tava.
Flatbreads are best eaten when freshly made, however, they can be frozen and stored for up to 3 months, too.
In Turkey, flatbread is a staple component of a lot of meals. Plus, there are a ton of varieties, some include Turkish Lahmacun, Sucuklu Pide (Turkish Bread with Spicy Sausage), Bazlama, and Gozleme (Turkish pancakes).
The main difference between all these flatbreads are toppings, shapes, and cooking methods.
Ingredients You'll Need
Sugar – All you need is a little granulated sugar. That said, brown sugar should work just as well, too.
Instant dry yeast – This is required to leaven the bread and to help it rise. If you have never used yeast before, don't get intimidated by it, it is actually easier than you'd think to use. When using yeast, the most important thing to remember is to not burn your yeast with hot water. Plus, make sure it is fresh and within its expiry date.
Greek yogurt – For the best results, you'll want to use full-fat Greek yogurt.
Plain flour – Plain flour (or all-purpose flour) is the main component of this recipe.
Baking powder – While the baking powder isn't traditionally used in flatbreads and is optional in this recipe, it provides your bread with some extra puffiness that you won't achieve unless you undertake a 3-hour fermentation.
Salt – Only a little is required for flavor.
Ways To Use Turkish Flatbread
You can divide the dough into 14 or 16 portions to create smaller flatbreads. Here, you can serve them in a basket along with your dinner.
Whether you eat it plain, with some peanut butter, or with a drizzling of honey, it makes for the perfect snack.
Make some flatbread pizzas! All you have to do is add your desired toppings and bake in the oven at 450˚F.
Place a spoonful of hummus down the middle of your flatbread. Then, top with diced tomatoes, grilled (or rotisserie) chicken, Kalamata olives, cilantro, crumbled Feta, and a drizzle of your preferred dressing. Serve it as a wrap and enjoy!
Use a piece of flatbread in place of bread for your sandwich.
Pack your flatbreads with bacon and eggs for a quick breakfast meal.
Serve it with Turkish Cucumber Tomato Salad and Grilled Chicken Shawarma.
Using a non-stick pan, heat some olive oil over medium heat – swirling the oil to coat the pan. Then add your flatbread, cooking until it is golden. Once done, cut into wedges and serve as an accompaniment to your appetizers, salads, and soups.
Tips For Making Turkish Flatbread
As every stove is different, you might want to experiment a bit when it comes to cooking your first flatbread. You'll want to heat the temperature high enough that bubbles appear on the surface and the bottom develops some golden spots after 45 seconds to 1 minute. If you can't see any bubbles, then you'll want to increase the heat. On the other hand, if the underside is browning too fast, then it decreases in heat.
You can make these flatbreads thinner or thicker by rolling the rounds smaller or bigger. For a medium thickness, you can roll the flatbreads approximately 7 inches in diameter.
While this recipe uses whole milk Greek yogurt, any variety of plain yogurt should be fine.
Make sure to brush your dough rounds lightly with olive oil. You'll want to cover the surface but avoid any greasy flatbreads.
If you haven't worked with yeast before, then don't worry! The trick when it comes to using yeast is to have the right water (or whatever liquid you're using) temperature. For the best results, your water should be between 105-110 degrees Fahrenheit. Likewise, you can test it with your finger, too. Here, it should be hot enough to feel the heat but not too hot that you want to remove your finger. That said, a thermometer will provide you with an accurate reading each time.
While a tablespoon may sound like a lot, just keep in mind that this is divided between 10 large flatbreads. We tested the recipe with less salt and the result was something blander. That said, if you're using a different salt, such as iodized salt, then you'll certainly want to use less.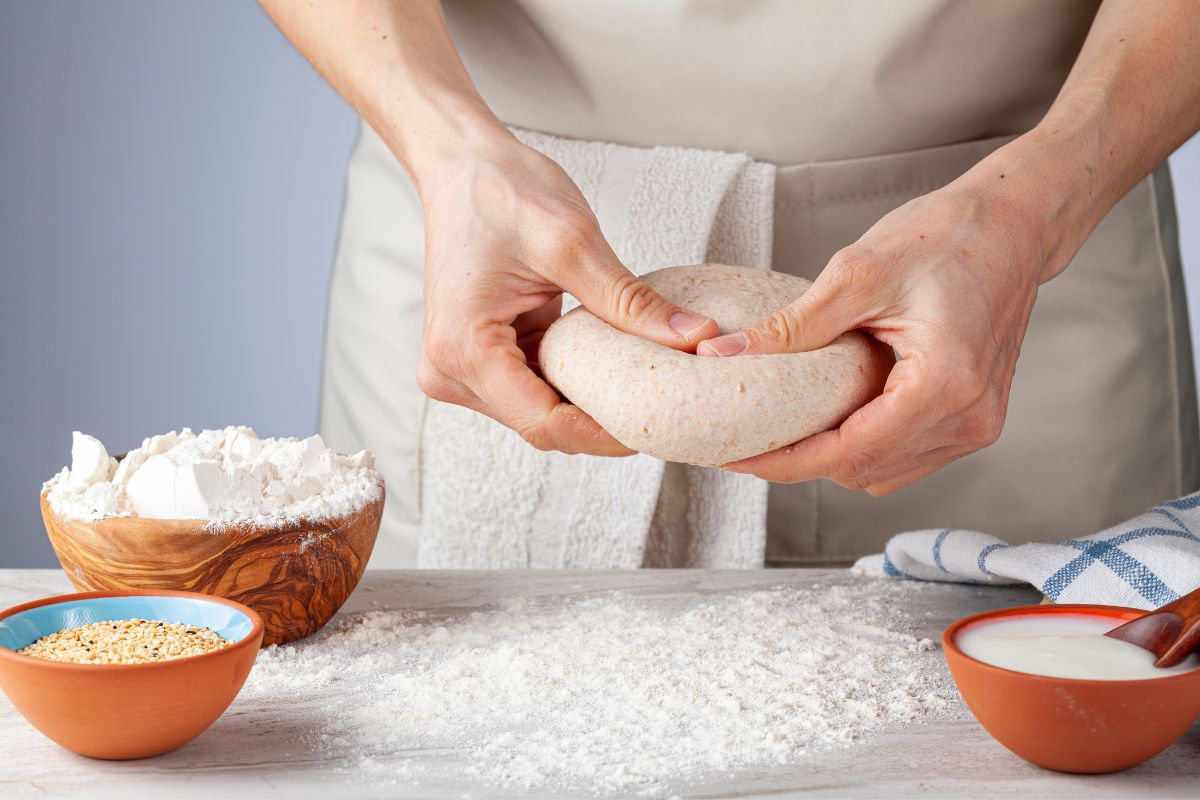 How To Make Bazlama, Turkish Flatbread?
Ingredients
Water 312 ml (1 and ¼ cup + 1 tbsp)
Flour 390 g (3 cups, loosely packed)
Sugar 12.5 g (1 tsp)
Salt 6 g (1 tsp)
Yeast 4.5 g (1 and ½ tsp). For Active Dry yeast, 2 tsp.
Method
1. Prepare The Dough
This recipe doesn't require any kneading. Instead, all you need to prepare the bread dough is a super easy and simple method.
First, pour your lukewarm water into a large bowl. Then add salt, yeast, and sugar.
Then, combine all the ingredients until they have completely dissolved.
Once done, add the flour and mix it together to create a shaggy mass of dough – make sure there are no dry patches left in the bowl.
2. Proof The Dough
The next step is to cover your dough, using plastic wrap, and leave it in a warm environment to rise for 30 minutes.
3. Divide And Shape The Dough
Once your dough has finished rising after 30 minutes, stretch and pull the dough from its four sides.
Since the dough will be extremely sticky to handle, you'll want to dip your hands in some water to prevent it from sticking.
Then, all you have to do is divide the dough into four equal halves.
Once done, shape each one into a round ball.
Since the dough will still be very sticky at this stage, dust each ball with flour to ensure you're working smoothly.
Likewise, when shaping the dough into a ball, you'll want to work less with the sticky dough – allowing you to handle it easier.
Then, take the first piece of dough that you have shaped into a ball – making sure to cover the rest.
Here, you'll want to use your hands to flatten the dough ball into a flat round disc – around 16-17 cm in diameter with a 1 and ½ cm thickness.
Once done, you'll want to transfer it to your preheated oven. For the best results, make sure you're using a heavy-bottomed pan, such as a cast iron skillet.
For this recipe, we used a 10.5-inch Lodge Cast iron Pan which is ideal for making both Flatbreads and pizzas.
4. Bake Your Flatbreads
Using a heavy-bottomed cast iron pan, heat your pan over medium heat and place your rolled-out dough in the center.
After 1 minute, when it starts to puff up and cook, flip it onto the other side.
Then after around 1 and a half and 2 minutes, flip it again. Repeat this process a few times. In approximately 6-7 minutes, your flatbreads should be done.
Once cooked, transfer your flatbreads to a tea towel and cover them with another tea towel. Repeat this process for all the remaining flattened dough circles.
Just keep in mind that since we're making Bazlama, Turkish flatbread, it is usually a lot thicker. Therefore, you want to make sure the inside is cooked well. As such, make sure you're cooking it over low to medium heat.
Frequently Asked Questions
What Does Bazlama, Turkish Flatbread Taste Like?
Bazlama contains a very similar texture to something in the middle of a Pita bread and a crumpet. 

The taste itself is closer to pita bread. It is moist and soft in the middle and features tons of open pores. 

Likewise, it is cooked in a very similar manner to English muffins. 

These open pores are ideal for absorbing spreads such as jam, Hummus, oil, or honey. You can go as adventurous and as simple as you like. 
Why Is My Bazlama, Turkish Flatbread Doughy In The Middle?
Since these types of flatbreads tend to be thicker, you'll want to make sure you're baking them on a stovetop. If the preheated cast iron skillet is too hot, it will cause the outside to burn and the inside not to cook properly. 

Therefore, make sure you're cooking your break over medium heat to ensure that the inside cooks completely. 

After cooking and before slicing, make sure you allow enough time for your flatbreads to sit and cool down a little.
Here, the entrapped steam helps the bread to cook completely. 
How To Store Your Flatbread?
These flatbreads are best eaten fresh. Although, if you're looking to store them for later, follow the steps below. 

–Room temperature – To eat the bread within a day or two, you can store your flatbread in a Ziploc bag after completely cooling. 
-Refrigerator – You can store your flatbreads in the fridge for up to 2 days and then heat them up to revive them. 
-Freezer – To keep them for the longest amount of time, store them in a food storage container in your freezer for up to 3 months. 

Can You Make Flatbreads Ahead Of Time?
Yes! You can make your flatbreads ahead of time. 

After the first proofing, you can keep your dough in the refrigerator. Likewise, you can opt to do all the folding and stretching before putting it in the refrigerator, too. 

When you're ready to cook your flatbread, all you have to do is remove it from the fridge and allow it to sit at room temperature for approximately 30 minutes or until it reaches room temperature. 

Once it has reached room temperature, all you have to do is degas the dough and process with the rest of the steps. This involves dividing the dough and cooking it. 
Final Thoughts
Not only do Turkish flatbreads taste amazing but they are incredibly simple to make, too – perfect for anyone looking to improve their bread-making skills.
With only a few simple steps and ingredients, you'll have these flatbreads whipped up in no time. The best part? You don't even have to worry about kneading your dough!
Hopefully, this guide has informed you on everything you need to know about making Turkish flatbread – you'll never want to go back to store-bought ones ever again!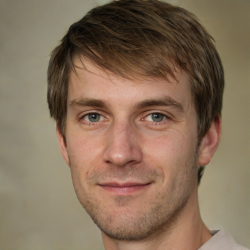 Latest posts by Mark Williams
(see all)