Crescent rolls are a wonderfully convenient pastry that can be baked plain or filled with all sorts of delicious fillings. They can be eaten as a breakfast dish, an appetizer or a snack.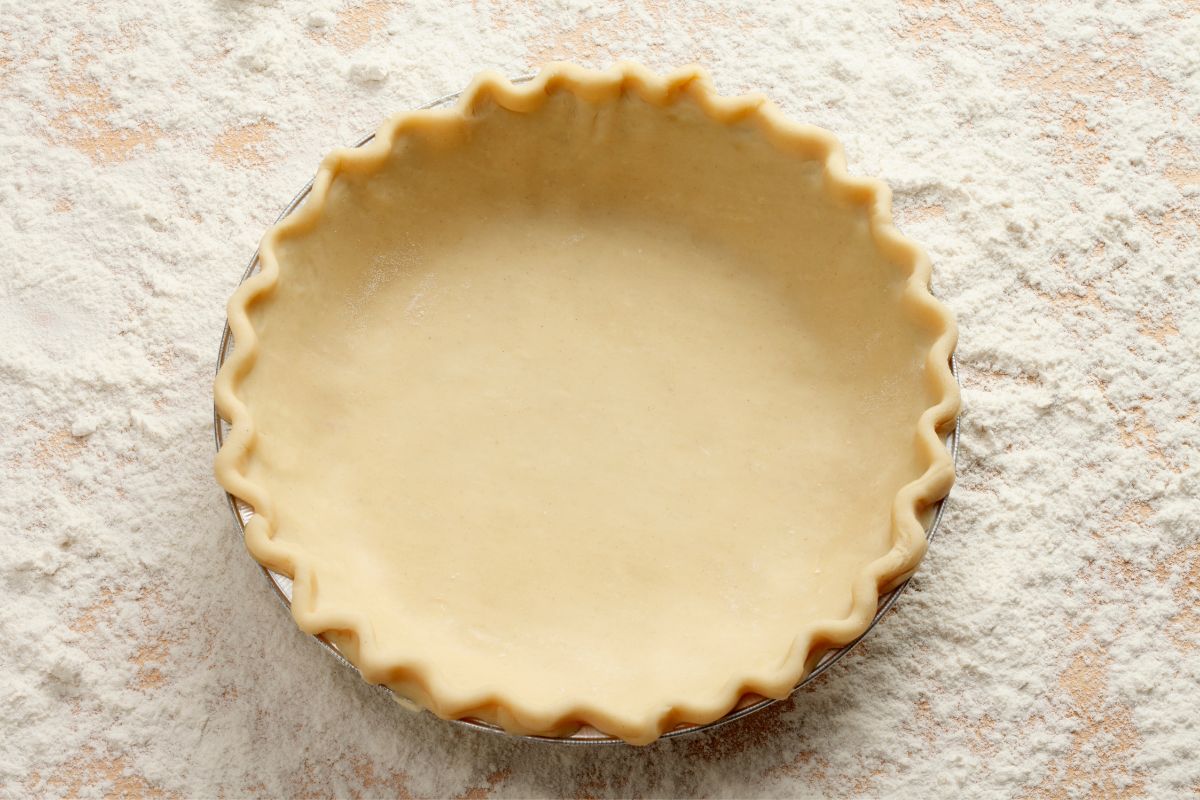 But can you use crescent rolls for pie crust? We take a look and find out.
What Are Crescent Rolls?
Crescent rolls are a type of puff pastry that is pre-made and ready to bake. The pastry comes in a cylindrical shaped tube for convenience and in various sizes.
You can get plain crescent rolls, as well as those that are filled with fruit like apple or cherry.
Crescent rolls dough can also be purchased as a sheet and even as rounds, in a swirl pattern.
The main producer of crescent rolls is Pillsbury, but there are other companies that do similar products.
Crescent rolls are similar in appearance to French croissants, but the pastry is not as flaky.
Crescent rolls are not the same as puff pastry either as they contain yeast as a leavening agent.
Puff pastry gets its leavening from the steam created by the hundreds of layers of butter filled dough.
Can They Be Used For Pie Crust?
Yes, crescent rolls can absolutely be used for pie crust and is a great go-to product when you are in a hurry. It can be used with both savory and sweet pie fillings and tastes delicious with both.
You can separate out the triangles of dough and lay them in the base of a greased pie dish and prebake to form a flaky pie crust.
This can then be topped with filling that does not need to be baked, such as cream pie filling or unbaked cheesecake.
Alternatively you can buy crescent dough sheets which are seamless pieces of dough unlike the crescent rolls which have perforations.
Crescent rolls will give you a rich, buttery crust that is filled with flavor and the convenience of ready made pastry.
Thin Pie Crust With Crescent Rolls
To create a traditional pie crust lay the crescent roll triangles around a 9-inch pie dish with the edges touching.
Press the pastry flat with your fingers making sure that there are no gaps between them by joining the seams.
Continue to press the dough with your fingers until it is flatter than when you started.
However, you shouldn't be able to see through it, or it may not hold up during baking.
If you prefer you can lay the triangles of pastry on your counter, press the edges together and flatten before putting it into the pie dish.
Remember to sprinkle flour on the surface beforehand to stop the dough from sticking to it.
Put your chosen filling into the pie dish on top of the crescent roll dough and bake.
You can put another layer of crescent roll dough on top of your filling before baking if you want a double crust pie.
Fluffy Pie Crust With Crescent Rolls
If you want to make a thicker crescent roll pie crust fold the triangles of pastry in half along their length.
Place them around the sides and center of the pie dish making sure that there are no gaps between them.
By folding the dough triangles in half you should be able to create an extra thick pie crust.
You can press the pastry down onto the pie dish around the edges to hold it in place, otherwise avoid pressing on the dough.
Put your chosen filling on top of the layer of crescent roll dough. You can then lay other triangles of crescent roll dough around the top of the pie with the edges overlapping.
Fold or roll the extra dough that will extend beyond the rim of the pie dish.
Recipes For Crescent Rolls Pie Crust
With such delicious pie crust made from crescent rolls you will want to make as many pies as possible.
Let us get you started with a chicken pot pie for dinner and a delicious dessert of apple pie.
Both will use crescent roll pie dough and demonstrate how versatile this pastry is, being suitable for savory and sweet pie recipes.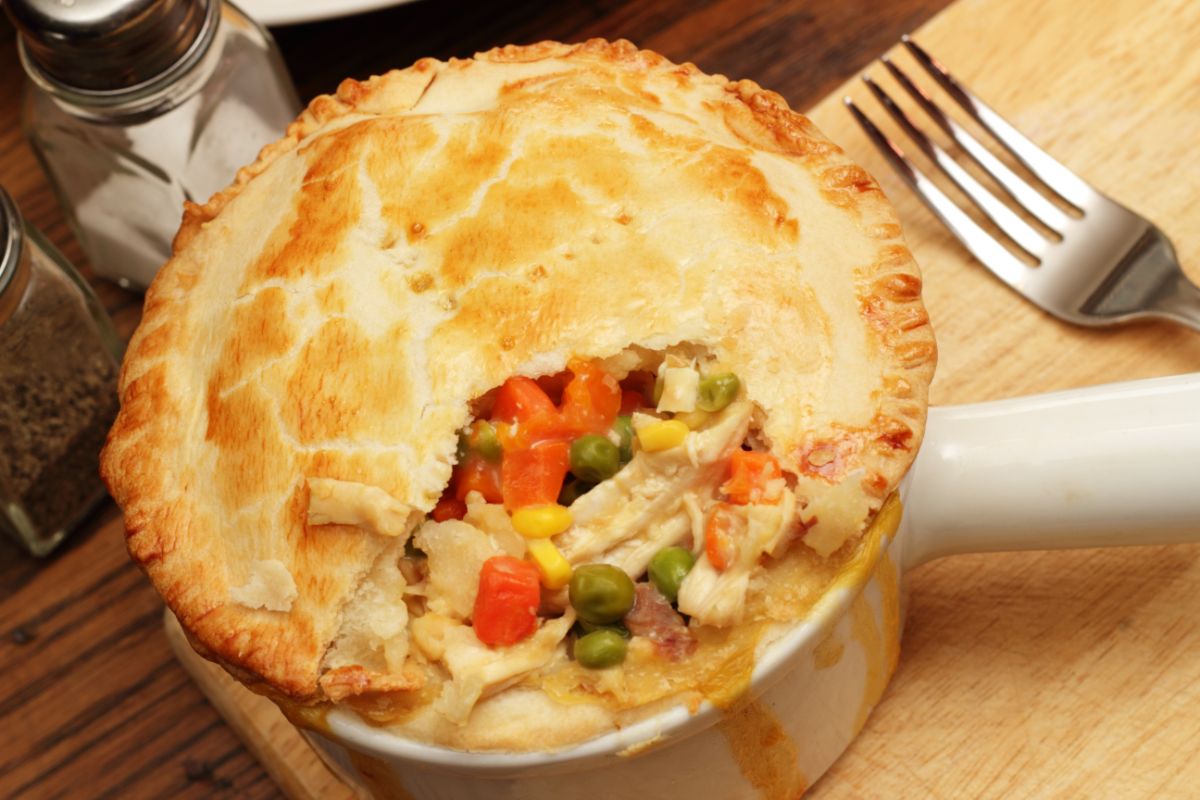 This recipe is a tasty mixture of chicken, vegetables, and seasoning all wrapped in a crescent roll pie crust. It takes just 15 minutes to prepare and only 25 minutes to cook.
Ingredients
3 tbsp butter
1 medium onion
2 stalks celery
2 medium carrots
1/2 cup frozen peas
4 garlic cloves
2 cups cooked chicken
1/4 cup all purpose flour
1 1/2 cups chicken broth
1/2 tsp dried thyme
2 tsp dried parsley
1 tsp seasoned salt
1/2 tsp poultry seasoning
1/2 tsp garlic powder
pepper
3/4 cup heavy cream
1 (8 oz) tube of crescent rolls
Method
Simply cook the vegetables in butter until tender, add the garlic then the chicken.
Sprinkle the mixture with flour, then add the broth, seasoning and cream.
Put into a prepared pie dish and cover with the crescent roll dough.
Bake for 12-15 minutes at 375 °F until golden brown.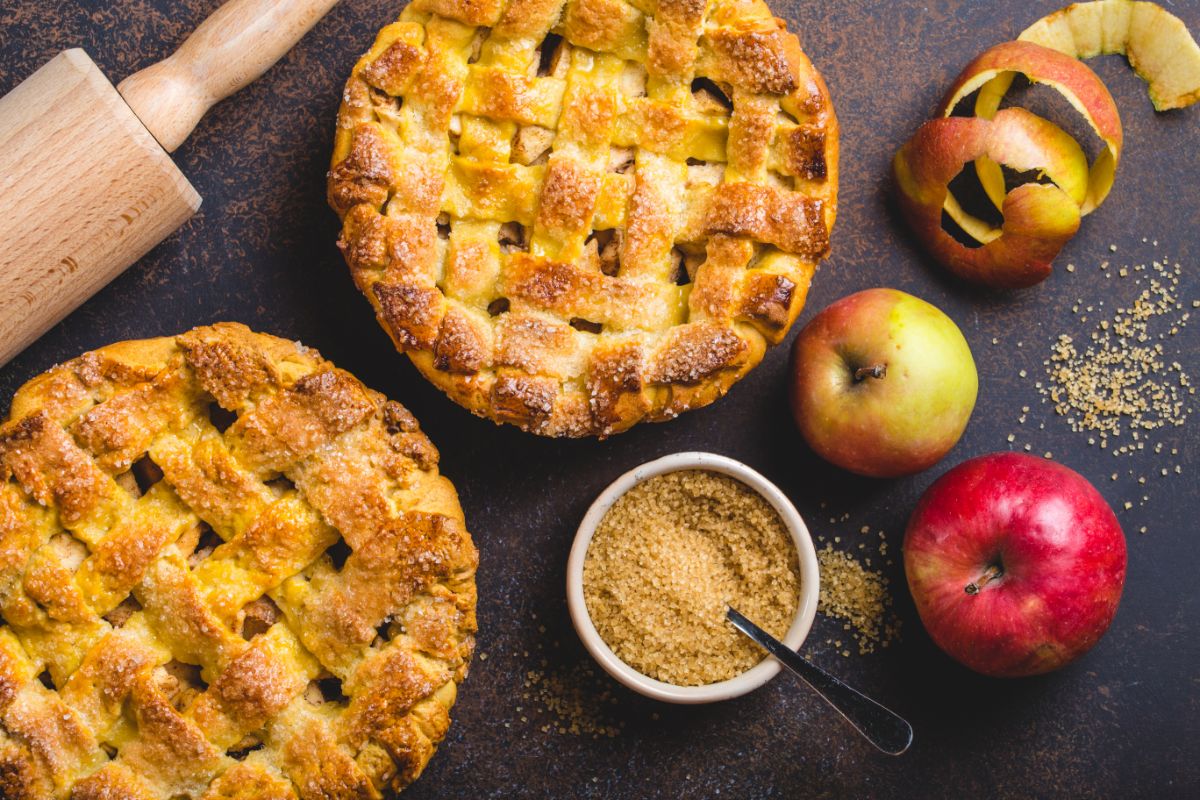 For dessert make this crescent roll apple pie. It is simple and quick to make with just 10 minutes preparation and 40 minutes of baking.
Ingredients
2 cans Crescent Rolls (8 rolls each)
1 20 oz can apple pie filling
½ cup powdered sugar
1-2 tbsp heavy cream
Method
Line pie dish with crescent roll dough pressing the seams together.
Put the apple pie filling on top of the pie crust.
Use the second can of crescent roll dough and join the pieces by pressing the seams together. Cover the filling with the pastry.
Tuck edges and crimp to the bottom layer of dough to make a double crust.
Bake at 350 °F for 30-40 minutes or until golden brown.
In Conclusion
We hope you have enjoyed our guide to using crescent rolls for pie crust, and we wish you happy baking.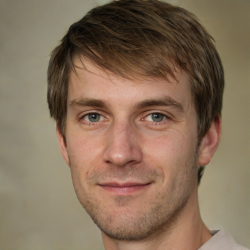 Latest posts by Mark Williams
(see all)