Fruit cake can be a very daunting cake to make. It's not as common or straightforward as many other types of cake such as sponge cakes and this can deter would-be bakers from giving it a try.
Fruit cake often has a reputation for being dry and crumbly, but this needn't be the case.
When made correctly, fruit cake should be deliciously moist and full of tasty flavors. It can be a luxurious cake that is ideal for special occasions such as Christmas, birthdays, and weddings, and there is no need to feel nervous about making your own fruit cake!
In this article, we will give you a recipe for making a super moist fruit cake. We also have plenty of hints and tips to ensure your fruit cake stays fresh and delicious.
Ingredients
Let's take a quick look at some of the ingredients you will need for this recipe. In this section, we'll give you some more information about some of the ingredients and also explain substitutions where necessary.
Sugar
Fruit cakes are not the sweetest cakes you will make. They are still a little sweet, however, and this comes from both the dried fruit included and some sugar.
Try not to be too heavy-handed with the sugar and stick to the quantities indicated in the recipe.
You can use either soft dark sugar or light brown sugar for this fruit cake. We don't recommend using white sugar for this cake.
Brown sugar helps to add moisture to your cake whereas white sugar will make it crispier and this is not the texture you want for your fruit cake.
Molasses
Molasses are commonly used in fruit cakes and other heavy types of cake but they're not a regular ingredient in many other recipes.
This may mean that you won't have any molasses in your cupboards already and as the recipe only calls for three tablespoons, you may find purchasing a full jar to be a waste.
If for any reason, you don't want to include molasses in your fruit cake then you can substitute this for regular brown sugar instead.
Dried Mixed Fruit
You can choose whatever dried mixed fruit that you want. There are so many options available to you here but our favorites are either raisins or a mix of raisins and sultanas.
However, if you're not a fan of this type of mixed fruit, you still have plenty of options to choose from!
Other great options for a fruit cake include candied peel or glazed cherries. You can also opt for a mix of fruit and nuts if you prefer.
Adding nuts to your fruit cake won't affect its taste or cooking time but will add a little crunch to the cake that it usually wouldn't have.
If you don't want to use a store-bought dried fruit mix you can also make your own from scratch and balance out the fruit with whatever you want.
However, if you do decide to take this route, remember that the dried fruits and nuts should be relatively small so if you're using larger nuts, you may need to chop them first.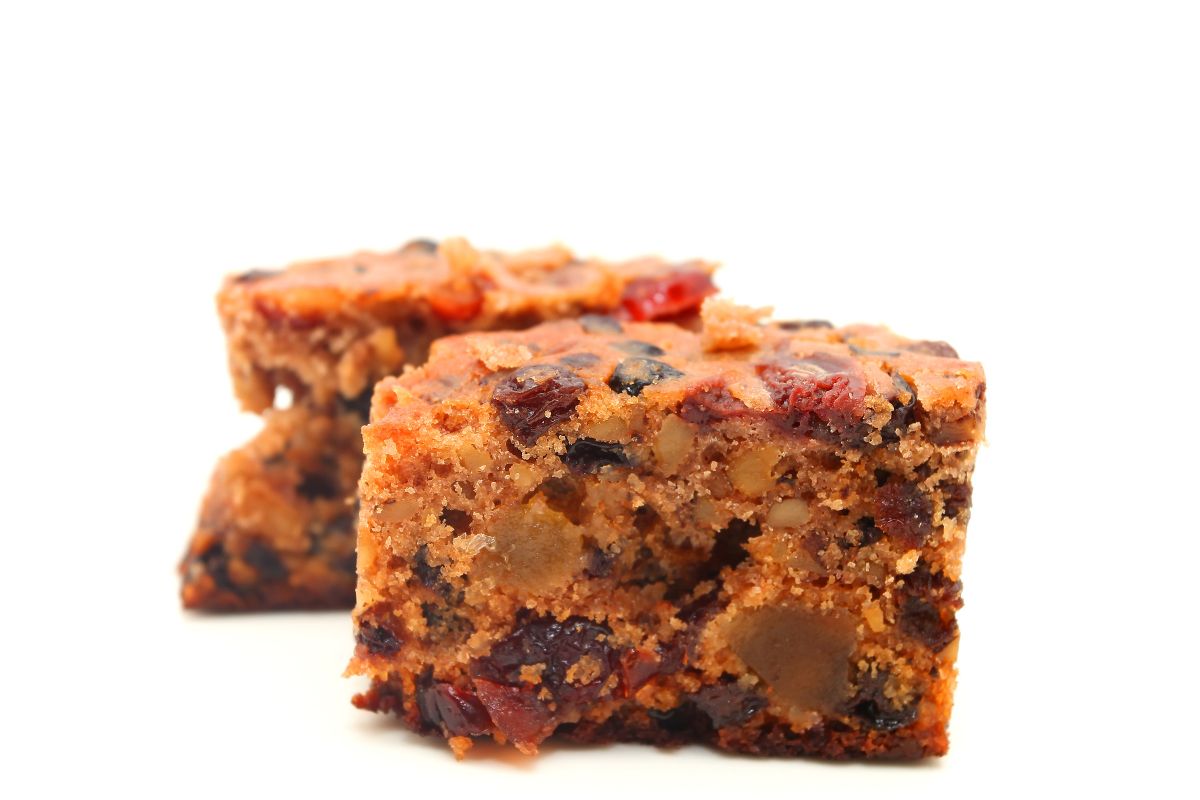 Super Moist Fruit Cake Recipe
Let's now get started with the recipe for our super moist fruit cake. We'll begin by listing the equipment and ingredients you need before moving on to the method.
Equipment
Medium saucepan
Wooden spoon
Whisk
Small bowl
Sieve
Zest grinder
Large bowl
7 or 8-inch cake tin
Butter/oil
Greaseproof paper
Ingredients
1 and ¾ cups (228g) of loosely packed plain flour
1 teaspoon of mixed spice
1 teaspoon of cinnamon powder
1 teaspoon of baking powder
½ teaspoon of salt
3 medium eggs
½ cup (100g) of soft dark or light brown sugar
3 tablespoons of molasses
1 cup (226 g or 2 sticks) of butter
600g to 700g or dried mixed fruit
1 lemon zest
1 orange zest
¾ cup (180ml) of water
1 teaspoon of vanilla extract (optional)
Instructions
Although there are a lot of ingredients, making a super moist fruit cake is easier than you might think!
Before you start, make sure that you preheat your oven to 320 degrees Fahrenheit (160 degrees Celsius)
Step One
Take your saucepan and place your butter, dried fruit (no nuts), sugar, molasses, and water inside. Mix them all together over moderately high heat and bring the mixture to a boil.
Step Two
Once it has begun to boil, let the mixture simmer for three to four minutes. Remember to stir the mixture occasionally throughout this time with a wooden spoon.
Step Three
After the three to four minutes have elapsed, remove the saucepan from the heat and allow it to stand and cool. This should take at least 45 minutes and make sure that it is thoroughly cooled before you continue.
Step Four
Lightly beat your eggs in a small bowl and add them to the cooled saucepan mixture. If you want to include vanilla extract in your cake, add this as well.
You should also add the nuts to the mixture if you plan on using these.
Step Five
Using your sieve, sift the flour, baking powder, cinnamon, mixed spices, and salt into a large bowl.
Step Six
Grate the rind of an orange and a lemon. Add this to your flour mixture and mix them all together evenly.
Step Seven
Add the flour mix to the saucepan. Mix all of the ingredients together until the cake batter becomes smooth and even. Make sure that everything is mixed well and that the dried fruit and nuts are evenly distributed and buried in the batter.
Step Eight
Use some butter or oil to lightly grease your cake pan. You can use either a seven-inch or eight-inch pan for this cake. Once greased, line it with some greaseproof paper as well.
Step Nine
Pour your batter into the greased and lined cake pan.
Step Ten
Bake the cake in the center of your preheated oven for around 75 to 90 minutes. You can check whether the cake is fully baked or not by inserting a toothpick into the center and seeing if it is clean when it is removed.
If there is still wet batter on the toothpick, let it bake for a little longer.
Step Eleven
When the cake is baked completely, remove it from the oven and let it cool. You should allow it to cool fully before you attempt to remove it from the cake pan (How long will this take? See our guide here).
Step Twelve
Once cool, remove from the cake pan and transfer to a plate or a serving platter.
Frequently Asked Questions
Now that you know how to make this super moist fruit cake, let's answer some more questions about the process and the cake itself!
When Is It Best To Serve Fruit Cake?
Although you can serve your fruit cake as soon as it has fully cooled down, fruit cake does benefit from being left to stand for a few hours first.

As the cake stands, the flavor and the texture of the cake continue to develop so you will find that it tastes better the next day than on the day it is baked. 

This is also why you should allow it to fully cool before attempting to transfer the cake from the pan or serving it. If it hasn't cooled down fully, it's likely that your cake will be lacking in flavor and will have a texture that is more crumbly and buttery than it should be.
How Long Will The Fruit Cake Last When Stored At Room Temperature?
The exact length of time that your fruit cake will last at room temperature is heavily influenced by heat and humidity. It has a shorter shelf life than fruit cake that is made from alcohol and if you want to keep it moist, it's best to keep it in mild conditions.

Make sure that you wrap the fruit cake and keep it covered so that no oxygen can get to the cake. It should be kept at a room temperature between 60 degrees to 80 degrees Fahrenheit and when kept at these temperatures it can last for up to two weeks.

However, if your home is hot and humid, you're best covering the fruit cake and storing it in a fridge or freezer. 
How Long Will A Fruit Cake Last When Stored In A Fridge?
Storing your fruit cake in a fridge is a great way to extend its life and keep it moist. Make sure that it is completely wrapped in either plastic wrap or an airtight container before you place it in the fridge.

Once placed in the fridge, it can last for up to three months.
How Long Will A Fruit Cake Last When Stored In A Freezer?
To keep your fruit cake at its freshest for the longest amount of time possible, you can store it in a freezer.

As with the fridge, you need to make sure the cake is fully wrapped and protected from the atmosphere within the freezer. Use plastic wrap or a ziplock and an airtight bag.

Fruit cake can last in a freezer for an entire year before it needs to be eaten!
How Long Does A Fruit Cake With Alcohol Last?
Many fruit cakes include alcohol. It's sometimes added as part of the initial ingredients but can also be fed to the cake after it has been baked (more on that later.)

Any fruit cake that has been fed or soaked in alcohol will last longer than one that hasn't. The alcohol acts as a preservative and works to keep the fruit cake fresher for longer.

It also helps to develop the flavors so if you're making a fruit cake, it's worth considering adding some alcohol.

Many dishes that would normally only last a few days can last for weeks when alcohol has been added. The difference in the shelf life of fruit cake is even more amazing as a fruit cake that has been treated with alcohol can literally last for years.

If you're considering adding alcohol to your fruit cake but don't know how, don't worry! We will address that later in this article and give you all of the information you need to know about the process.
What Does Seasoning Or Aging A Fruit Cake Mean?
If you look into fruit cakes and their recipes, you may come across the terms 'seasoning,' 'ripening' or 'aging.' All of these terms mean the same thing and they all refer to the process of allowing your fruit cake to mature before eating it.

Traditionally, fruit cake was made weeks before it was intended to be eaten. After being baked, it would then be stored in a cool and dark place where it would mature and this would lead to the flavors developing and becoming more intense.

It also helps to improve the texture of your fruitcake as well.

This aging process often involves feeding the fruit cake alcohol as well. For more information on this, see the following questions!
How Long Does It Take To Fully Age A Fruit Cake?
If you do decide to mature your fruit cake as we detailed in the previous point, then you need to plan ahead. 

To age your fruit cake fully will take between three weeks and three months! 
How Do You Properly Age Your Fruit Cake?
There is a tried and tested method for aging your fruit cake that has been used for centuries. The first step is to wait for your fruit cake to fully cool before removing it from your cake tin and greaseproof paper.

To season it, you will then need some alcohol. The most common forms of alcohol used for this are rum, brandy, or whiskey, but you can use any other kind of liquor as well.

Don't use wine for this as the fruit juices in the wine will improve the chances of your cake going off and becoming moldy.

You can either brush the top of the fruit cake with some of your alcohol or wrap it with a cheesecloth that has been soaked in the alcohol.

If you use the cheesecloth method, you should wrap the fruit cake with it before wrapping it again in plastic wrap. You will need to soak the cheesecloth again once a week and do this for six weeks to three months. 

If you choose to brush the cake instead, skip the cheesecloth wrap and go straight to the plastic wrap. You should then brush the cake two or three times a week for around two months.

Whichever method you choose, remember to properly rewrap your cake in plastic wrap each time.
How Do You Store Fruit Cake That Has Been Iced?
Fruit cake is the traditional base for many different types of cakes. It's especially popular as a Christmas cake as the spices and alcohol involved give it a very Christmassy flavor.

When served as a Christmas cake, it is often covered in marzipan and fondant icing.

Icing helps to preserve the cake even further, but you have to ensure that the cake is correctly iced first. You should place your fruit cake on a cake board and then ice it on the board.

This ensures that the fondant icing will cover the entire cake and form a seal with the board itself.

When you have iced the cake, it should be covered in foil and stored in a place that is cool, dark, and dry. Placing the cake in an airtight container is not recommended as it can make the icing moist.

For long-term storage, you can place iced fruit cake in the freezer. This is the case with both a full cake and slices. In both cases, make sure the cake is securely wrapped in a double layer of plastic wrap and is fully covered.

Then place the wrapped cake in an airtight container and freeze.
Final Thoughts
In this article, we gave you a recipe for a delicious and super moist fruit cake. Even if you've never made a fruit cake before, you should be able to make the perfect fruit cake with this recipe. We hope that you will enjoy this recipe and our hints and tips.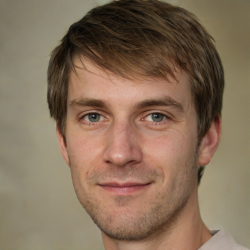 Latest posts by Mark Williams
(see all)