Learning how to cook jerky in a dehydrator is not only about knowing the times; you must know how long it takes to cook different meats. If you're struggling to find the best way to cook your deer jerky, you've come to the right place.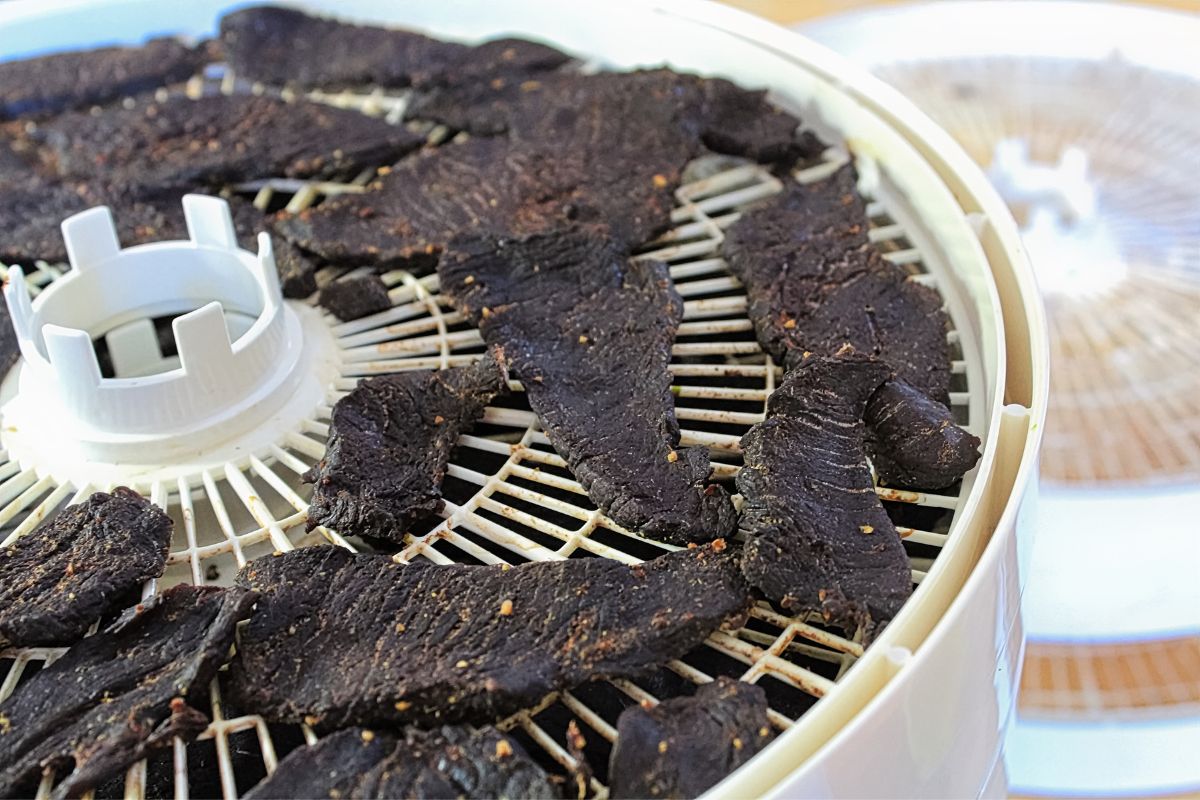 In this article, we will answer any burning questions you have about the dehydration process and whether it's the right choice for you.
By the end, you'll be on your way to becoming a pro at making deer jerky. However, you need to remember that making deer jerky isn't easy, and it takes some practice before you get it absolutely perfect.
Should I Smoke Or Dehydrate My Jerky?
Ultimately, this is more of a question of taste than anything else. Some prefer a smoky flavor, while others prefer to enjoy their jerky dry.
However, if you are struggling to decide, we can help you by weighing the key differences between smoked and dehydrated jerky.
Why Should I Have Smoked Jerky?
If you prefer more distinct and intense flavors, then smoked jerky may be your preference. Your jerky will usually be leaner, as more fat is lost during drying. However, that can also make it easier for people to eat.
If you're buying it, then it can be more expensive than its dehydrated counterpart, mostly because more time is spent smoking it to perfection.
Why Should I Have Dehydrated Jerky?
You might prefer dehydrated jerky if you want to make your deer jerky on a budget. Compared to smoking meat, dehydrators are easy to use and aren't known for using too much space. Your deer jerky will also last longer, and it's more affordable than smoked jerky.
Admittedly, you might not prefer it if you like intense and distinct flavors, but if you aren't a fan of the flavor of smoked jerky, then dehydrated jerky is your best option.
How Do You Dehydrate Deer Jerky?
There are two ways you can dehydrate your deer jerky. You can put it in a dehydrator or put your deer jerky on baking sheets and bake them in the oven.
If you leave it in a dehydrator, you should set your temperature to 145°F or higher. If you leave it in the microwave, you should set it to bake at 160°F. Both methods should be left for between 3 ½ to 5 hours before they're done.
At What Temperature Should You Dehydrate Jerky?
Generally, we recommend cooking your deer jerky at 160°F, as it should only take four hours to dehydrate thin meat strips. However, we do know that if you have thicker cuts, it can take longer.
On average, we'd say that you're looking at a maximum of 7 hours for thin strips of jerky.
While some prefer to set their dehydrators to 165°F-170°F, we wouldn't recommend it. With thin strips at 160°F, you can check on your jerky every hour after to ensure it's not dried out.
However, you don't have that level of control at higher temperatures, and there's a risk that your deer jerky will become too tough and have poor quality due to rushing the process.
While it might be tempting to cook at 170°F, we aren't joking about dehydrating meat being an art form. Cooking at a higher temperature may be quicker, but you won't have the same level of quality as you would at 160°F.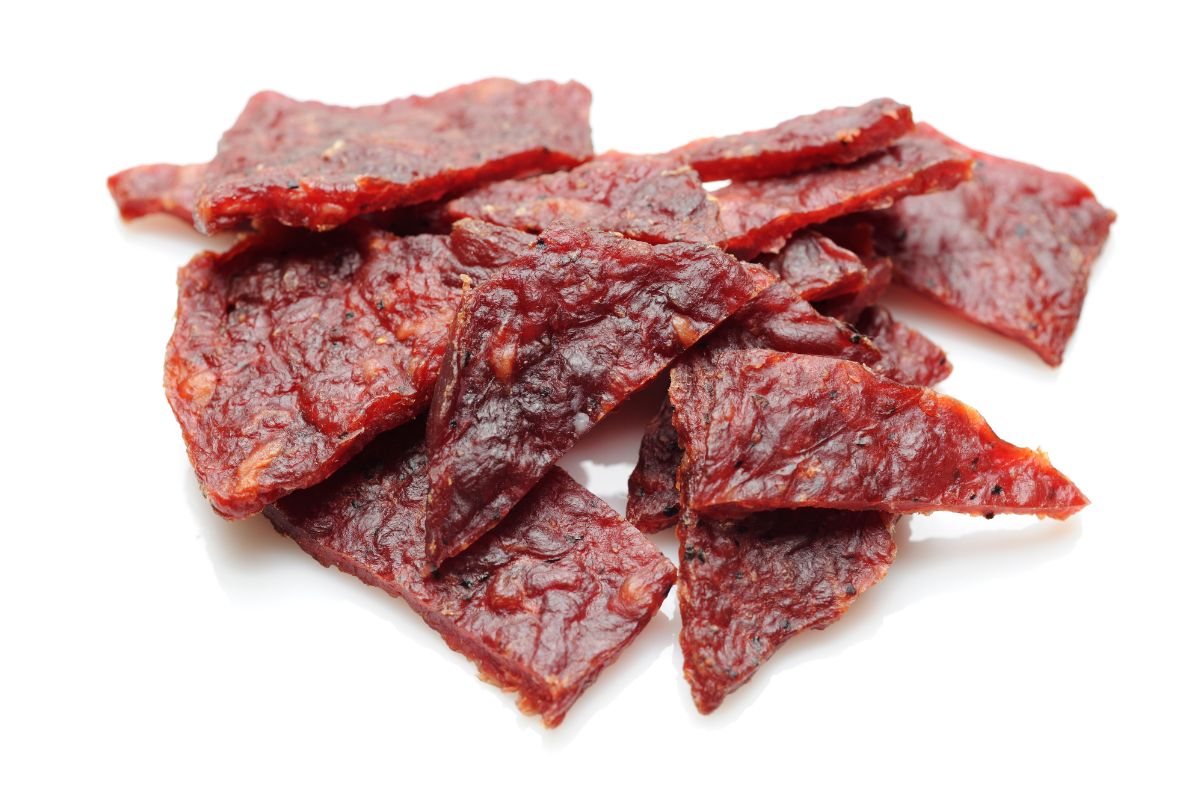 Can Jerky Be Over-Dehydrated?
Your deer jerky can get over-dehydrated, so we don't recommend leaving your dehydrator alone while you're cooking.
Deer jerky is more likely to get over-dehydrated if you cook it too quickly at a higher temperature. When this happens, it has a lower quality, and it will be tougher for you and your friends to eat it.
This is why we recommend sticking to the recommended cooking time of 160°F, so you have more control over your deer jerky.
How Long Does It Take For Jerky To Cook In A Dehydrator?
Admittedly, how long it will take for your deer jerky to cook will depend on a few factors.
The type of fuel you use will affect your cooking time, and so will the wetness and temperature of your jerky. However, we would say that you can expect it to generally take between four and seven hours to dehydrate your deer jerky.
However, we recommend not leaving your jerky alone for too long. After all, while on average thin jerky strips will only take four to seven hours, other strips may take longer.
If you have thicker strips, we would say the longest time for you to leave would be between twelve and fifteen hours. Once twelve hours have passed, we recommend checking on your deer jerky to see if it's done.
How Do You Know When Deer Jerky Is Done?
You'll know when your deer jerky is done by testing it using two different tests. These are the bend of chew tests.
No matter which method you're dehydrating your deer jerky, you need to ensure it's been cooked for at least five hours or more to be safe. Once it looks dry and tough, take it out of the dehydrator.
To do the bend test, take your jerky and bend it gently until it's bent to 90°. If no moisture comes out, then it's done. However, if there is a little bit of water, you'll need to cook it for a little longer. After cooking it for a little longer, test it again until there's no moisture.
When you're chewing your jerky, you should know the texture you're looking for. It should be tough and have a gum-like texture while you're eating.
However, you'll know it's overcooked when it crumbles in your mouth. However, if it's undercooked, you won't even be able to chew on it.
Ideally, here's the best way to know if your jerky is done: bend your jerky. If your deer jerky doesn't crack much when you bend it, then it's done.
Always bend and taste your jerky to check if it's cooked; if it's not, you'll need to carefully monitor it to ensure it's done.
Helpful Tips For Beginners
If you're new to making deer jerky, we have a few helpful tips that can help you as you come to grips with making your own.
Don't make them in bulk for the first time. It can be tempting to make all your jerky in one go, but it can be a recipe for disaster if you haven't made jerky before. You should experiment first, or there's a chance that you will lose all your meat if it goes wrong.
You don't have to marinate your jerky if you don't want to. If you want to marinate your jerky in the future, you can. The first few times you make your jerky should be about ensuring that it's cooked correctly.
When slicing your deer jerky, always use a sharp knife. You want your slices to be even, and this is the best way to ensure your slices don't have varying degrees of thickness.
Always store your deer jerky in an airtight container and leave it in a cool dark place, so it doesn't spoil.
Bottom Line
We hope this guide has helped you master the fine art of making deer jerky. It can be a little daunting if you've never made deer jerky before. However, if you practice enough times, you should have no issues with mastering this art form.
We hope you enjoyed this guide and that it answered any questions you have about dehydrating your deer jerky. If you want more info and recipes, feel free to check out some of our other articles to inspire you.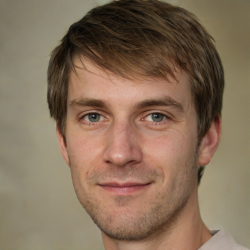 Latest posts by Mark Williams
(see all)