Do you love Taco Bell's bean burritos? We have good news for you! This bean burrito is actually really easy to recreate, and you only need five simple ingredients to get the job done.
Sometimes, you just crave one of those delightful take out meals, but you are too lazy to go anywhere. We get it – we've all been there!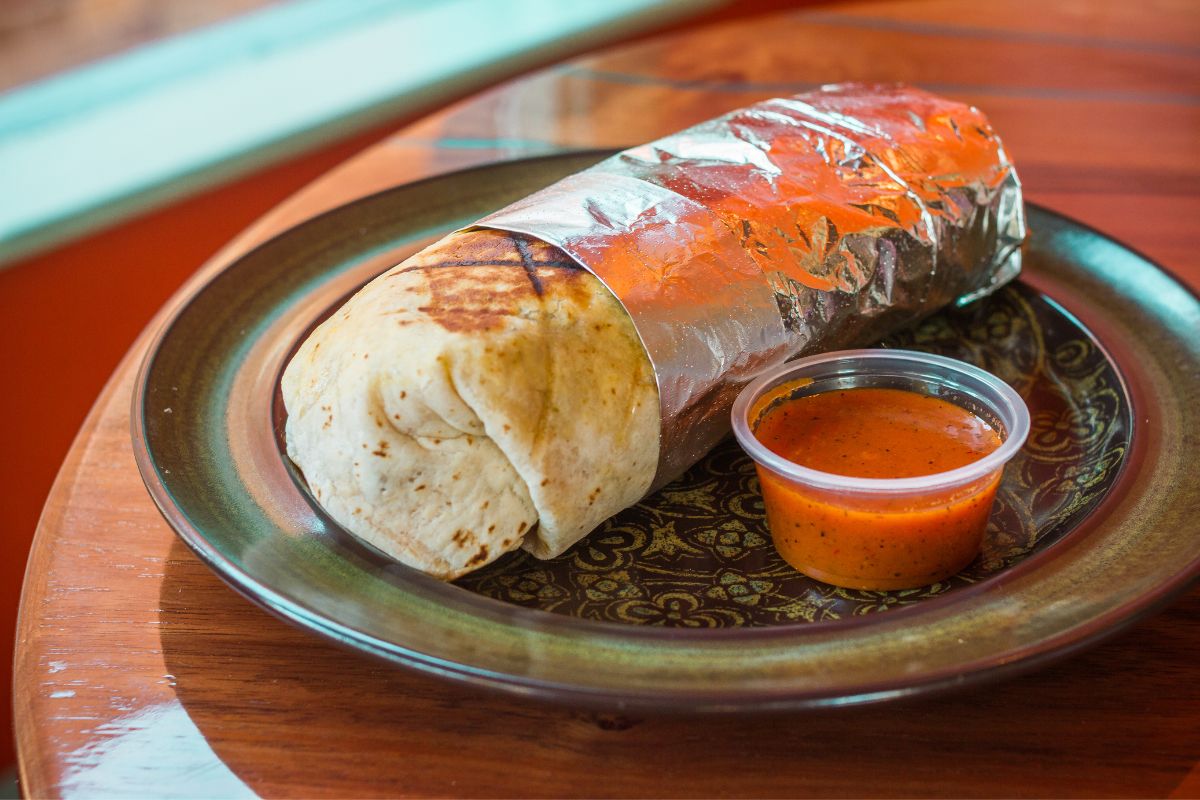 Luckily, in many cases, you have the skills to make the perfect copycat meal at home. In this case, you can easily make this copycat Taco Bell bean burrito, and it will blow you away.
With just five simple ingredients, you can make this killer meal, and everyone will love you for it.
Why You Are Going to Love This Recipe
Okay, there are plenty of reasons for you to love this easy Taco Bell bean burrito copycat recipe. If you need to be convinced, consider the following reasons why you might love this:
Quick dinner idea – you probably only need around 20 minutes or so to get this copycat recipe done, especially if you use canned refried beans. This makes it the perfect mid-week dinner when you don't have the energy for something elaborate.
Super easy to make – anyone can make this dish, because there are hardly any skills involved. The most difficult part is probably folding the burritos, and we think anyone can handle that once they get the hang of it.
Only needs five ingredients – a whole meal with only five ingredients? Yes, please! You are only going to need your flour tortillas, refried beans, a yellow onion, red taco sauce, and cheddar cheese. Talk about keeping things simple.
It's a Taco Bell copycat recipe – do we need to say any more? If you love Taco Bell, and are a fan of their bean burritos, that should be enough to convince you to make this copycat recipe. It is just as good as the real thing.
Taco Bell Bean Burrito Recipe: The Recipe
Below, we will go through all the ingredients and equipment you are going to need, then go through the step-by-step guide. This is going to be a walk in the park.
The Ingredients You Need
10-inch flour tortillas (x10)
Refried beans (x1 30oz can)
Yellow onion (⅔ cup, diced)
Red taco sauce (2 ½ cups)
Cheddar cheese (1 cup, shredded)
Flour Tortillas
Any burrito connoisseur will know how important a good flour tortilla is. Get some 10-inch flour tortillas and get them warmed up for the ultimate burrito. If you don't warm up your burrito, it will be more difficult to roll, and it could crack.
You can easily warm up your flour tortillas in the microwave, or simply on the stove top. Be sure not to overdo it so that the outside burns – this can also make it crack when you roll it.
You can buy some flour tortillas from your local grocery store, or make your own! The ones that Taco Bell uses are vegan and use cottonseed or soybean oil instead of lard.
So, if you want to stay true to the copycat, make your own and use the same ingredients. Just avoid ones that contain lard, and you will be close enough to the real thing.
Refried Beans
Depending on how much effort you want to put into it, or what you have available, you can make your own refried beans or buy some.
Canned refried beans are a great way to keep things quick and easy – and that is what we all want, isn't it?
The only issue you might run into with canned refried beans is how thick they are. The refried beans from Taco Bell have a slightly different thickness, so you might want to make your beans a little thinner. We will go over how you can do this in the tips and tricks section.
Yellow Onion
This is optional, because we know that onions are not for everyone. If you are an onion lover, then all you are going to need to do is dice up a yellow onion. This will give the burrito some extra flavor and a nice crunch.
No one will mind your onion breath, because they will all have it, too!
Red Taco Sauce
You can't have a burrito (or a taco) without the classic red taco sauce. The sauce that Taco Bell uses is very simple and mild.
You can easily replicate this by getting some Taco Bell medium or mild taco sauce at most grocery stores. Just factor in how mild you want it to be, and go from there.
Alternatively, Ortega taco sauce will give you similar results. If you can't get your hands on the Taco Bell sauce for any reason, this is a great option to try out.
Make sure that you have some extra sauce out on the table when you are enjoying your burritos. You are definitely going to want to dip those delights in the sauce for some added flavor.
If you have the time (and willpower), you could also make your own red taco sauce! This is a great recipe if you would like to try your luck – it's pretty difficult to mess up!
Cheddar Cheese
You don't need to stick to the regular old cheddar – feel free to experiment! It might be a good idea to try out a few different combinations, like pepper jack cheese, Monterey, and cheddar.
Combine them, and you will get some great flavors that you will only want more of.
You could also try out different kinds of cheeses if you feel like being adventurous, but we will leave that up to you!
The Equipment You Need
Good news! You are not going to need anything fancy to get this Taco Bell bean burrito done. There are just a few pieces of equipment that you are going to need. Don't worry, you definitely already have these in your kitchen:
Knife
Chopping board
pot/saucepan
Everything else you could need, you can choose (like utensils). It should be pretty clear what you will need for each step, so use your discretion.
The Recipe: A Step-By-Step Guide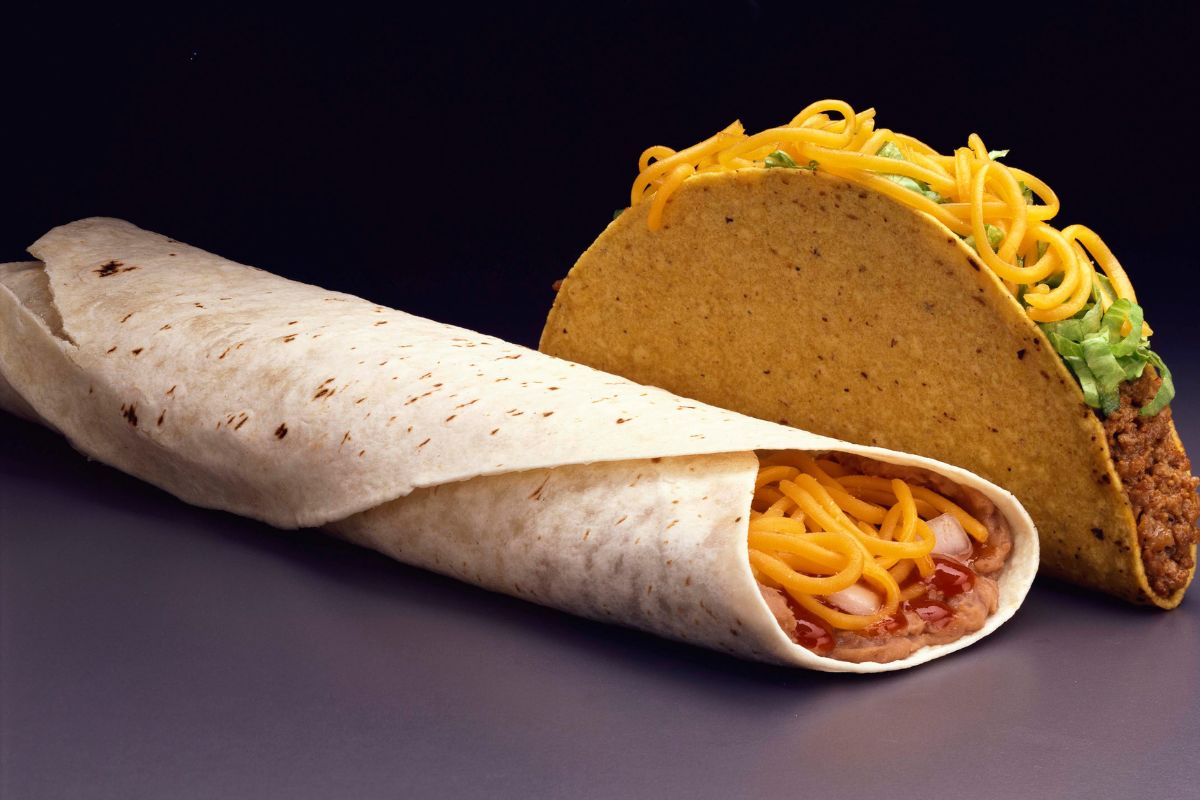 Here is a super simple step-by-step guide that you can use to make this delicious meal. We guarantee it is super easy, and anyone can get it done in a couple of minutes.
To Make The Refried Beans
Before you even start to prepare your refried beans, you should preheat your oven to 225°F (around 110°C). This will simply be used to keep your burritos warm while you are making them, because no one wants a cold burrito!
With the oven warming up, you can start to make or prepare your refried beans by following the instructions laid out below:
Get a medium-sized saucepan and empty your 30oz can of refried beans into it
Place the pan over a medium-how heat
Depending on how liquid you want your beans to be, add anywhere between ½ cup to 1 cup of water (or another liquid of your choice). By using milk, you will get the closest finished result to Taco Bell's beans. However, you can use milk, cream, or half-and-half if you want your beans to be more like restaurant-style beans
Stir everything together to mix the beans and liquid together
Put the lid on the pot, and leave it until the beans are slowly simmering away
Stir everything together again and make sure everything is homogenous
Turn the heat down to low, and leave the beans to simmer for another 5 minutes
Remove the pot from the heat and turn the stove off. Leave the beans sitting on a heatproof mat for another 5 minutes to allow them to cool down a little. You do not want the beans to be too hot, or you will burn yourself when forming the burritos.
The Rest Of The Steps
While the refried beans are sitting on the counter and cooling down, you can start with everything else! This will take around the same amount of time the beans need to cool, so everything works out perfectly.
Here's what you need to do:
First up, you need to shred your cheese. You can use cheddar cheese, or any other kind of cheese you think will work. Combine some cheese options to get something new and exciting. You could also use bagged cheese that is already shredded if you like!
Prep your yellow or white onion by removing the skin and dicing half of it. The pieces can be as large or small as you like, depending on your preferences. If you are not a fan of onion, you can even skip this step
Time to warm your tortillas! Get a skillet over medium heat and allow it to heat up. You will only need to warm the tortillas for 10–15 seconds on both sides for them to be ready. Doing this will make the tortillas much easier to fold
Get your burrito assembly station prepared. You need to have your tortillas, refried beans, onions, cheese, and red taco sauce all ready to go and accessible.
Make the burritos!
Never made a burrito before? You can use this guide to get the job done:
Get a flour tortilla and lay it flat on the table
Scoop out two tablespoons of refried beans and dollop them in the center of the tortilla, then spread it out to make a rectangle. Leave about ½ an inch of the tortilla bean-free from the top and bottom
Sprinkle some onion over the beans if you are using them (be careful not to over do it, about a teaspoon will do for each one unless you really love onion)
Next, add 1–2 teaspoons of the taco red sauce over the top. Try to get an even layer over the top of the beans and onions
Sprinkle a tablespoon or so of cheese over the top of the sauce. Again, try to get an even layer of cheese
Fold the burrito!
Once folded (see the folding technique below in the tips and tricks section), place them seam down in an oven-safe pan.
Place the burritos in the oven one by one, so that they stay warm while you fill and fold all the burritos
Leave all the burritos in the oven for about 10 minutes, just to make sure the final burritos you added warm through, and the cheese is adequately melted
Serve and enjoy! Do not forget to serve these burritos with the extra taco sauce (Need more burrito sides? Find our favorite here). They will be unbelievably delicious.
A Few Tips And Tricks To Help You Out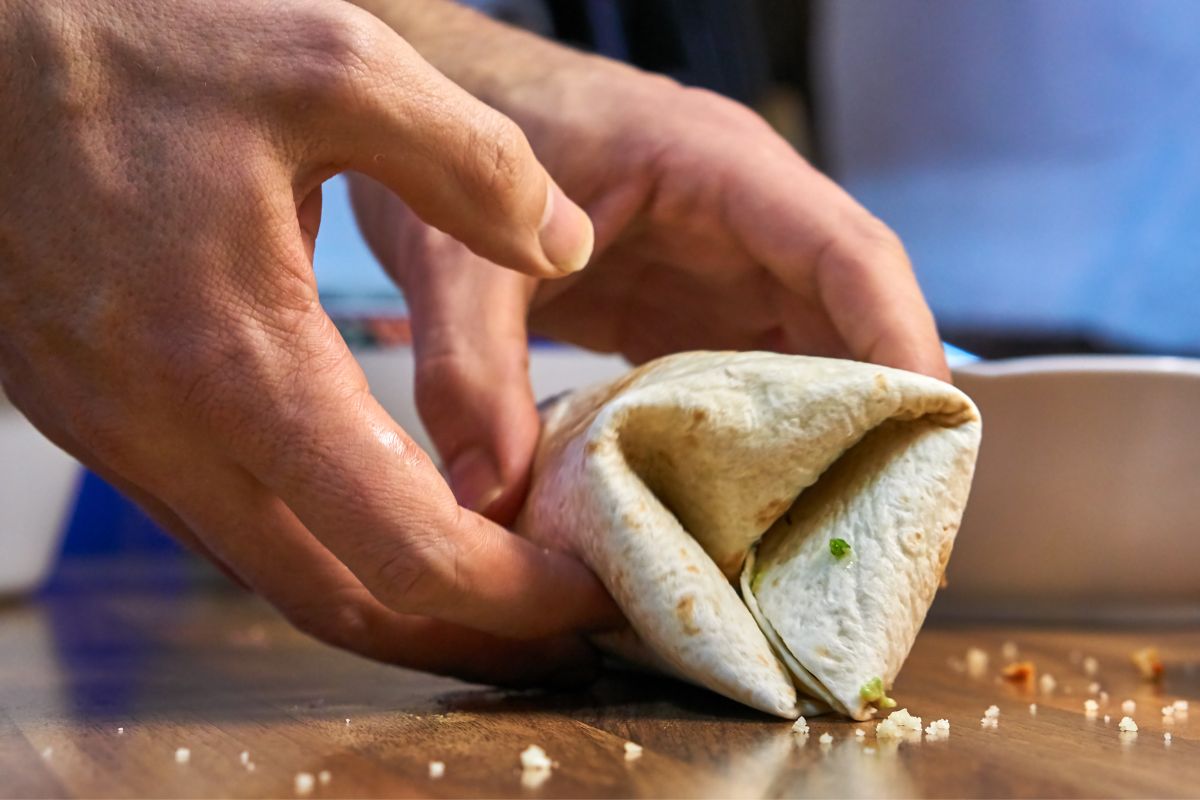 Running into trouble? Take a look at some tips and tricks that you will want to keep in mind when you are making this recipe. Maybe this can help you enjoy the final result more.
The Folding Technique
Folding a burrito is super easy, especially if you do not overfill it. Here's what you need to do:
Fold the side of the tortilla that is perpendicular to the filling. This will be the top and bottom of the burrito, and will prevent the filling from falling out either side
Roll the right tortilla side so that it goes over the bean filling. Keep rolling (gently) until the burrito is fully rolled and secure.
The burrito is rolled! There should be a single "seam" showing, and they are ready to cook!
Thinning Out Your Canned Refried Beans
You can easily thin out our canned refried beans to get it as close to Taco Bell's texture. The good news is, you can use a variety of things to do this, depending on your needs and preferences!
You could use any of the following products to get your refried beans a little thinner:
Sour cream
Milk
Half-and-half
Chicken broth (or a broth of your choice)
Water
Cream
If you want to stay true to Taco Bell's dairy-free bean burrito, you will want to go with water as your option. You could also use a broth of your choice if you would like some extra flavor.
All you need to do is add a cup of water or broth for every can of refried beans (30oz). Throw everything in a pot, let it heat up, and you should be good to go!
If you want your refried beans to resemble the stuff you would find in a restaurant, opt for cream instead.
Season Those Beans First!
Since Taco Bell flavors their beans, you are going to want to do that, too. Bear in mind that the flavor of your refried beans might differ from one grocery store to another, so season them accordingly. There is no one set seasoning route, so trial and error it is!
Generally, you are going to have to add ingredients like some hot sauce, onion powder, and some garlic powder into the mix.
This should get the flavor pretty close to the Taco Bell beans – if you can pick out anything else they season their beans with, throw it in! You can even add some chili powder instead of hot sauce if you really want to give it a kick.
What Can You Serve With Taco Bell Bean Burritos?
Not sure what to serve with your Taco Bell bean burritos? Take a look at some of these delicious options to try out. You could even have more than one and enjoy a nice combination at the dinner table – whatever suits you.
Side Salads
A side salad can be anything you want it to be. We would recommend using your favorite lettuce and adding in some watercress or arugula.
Chop up some bell peppers (red, preferably), tomatoes, and radishes for some kick. Toss it in a chipotle ranch, and finish it off with some queso fresco for the ultimate side dish to enjoy with your bean burritos.
Guacamole
Guacamole goes with basically all Mexican-style food, so why not enjoy it with your bean burritos? You can dip your burritos in this fresh guac, or simply dollop some on the top – whichever you prefer.
Quesadillas
Looking for another light snack to add into the mix? Make some super easy and cheesy quesadillas. Just get some cheese on a flour tortilla, throw on some cheesy jalapeño sauce, and get it done!
You might also want to dip these into the guac or nacho cheese sauce.
Nacho Cheese Sauce
Want another option when it comes to dipping your burrito? Why not use or make your own nacho cheese sauce, and use it as a burrito dipping sauce? You can never have too much cheese, so cheese lovers are going to be a fan of this one.
Nachos
Why wouldn't you want to have nachos with your Taco Bell bean burritos? You do whatever you like to these, and they will turn out great.
Make your own nacho cheese sauce if you like, or buy some from the store. Add whatever toppings you like.
Seasoned Mexican Rice
This is a fantastic option, and the flavors will compliment each other perfectly. You can easily make your own Mexican-style rice – it takes no time at all, and it is beyond delicious.
How To Store These Taco Bell Bean Burritos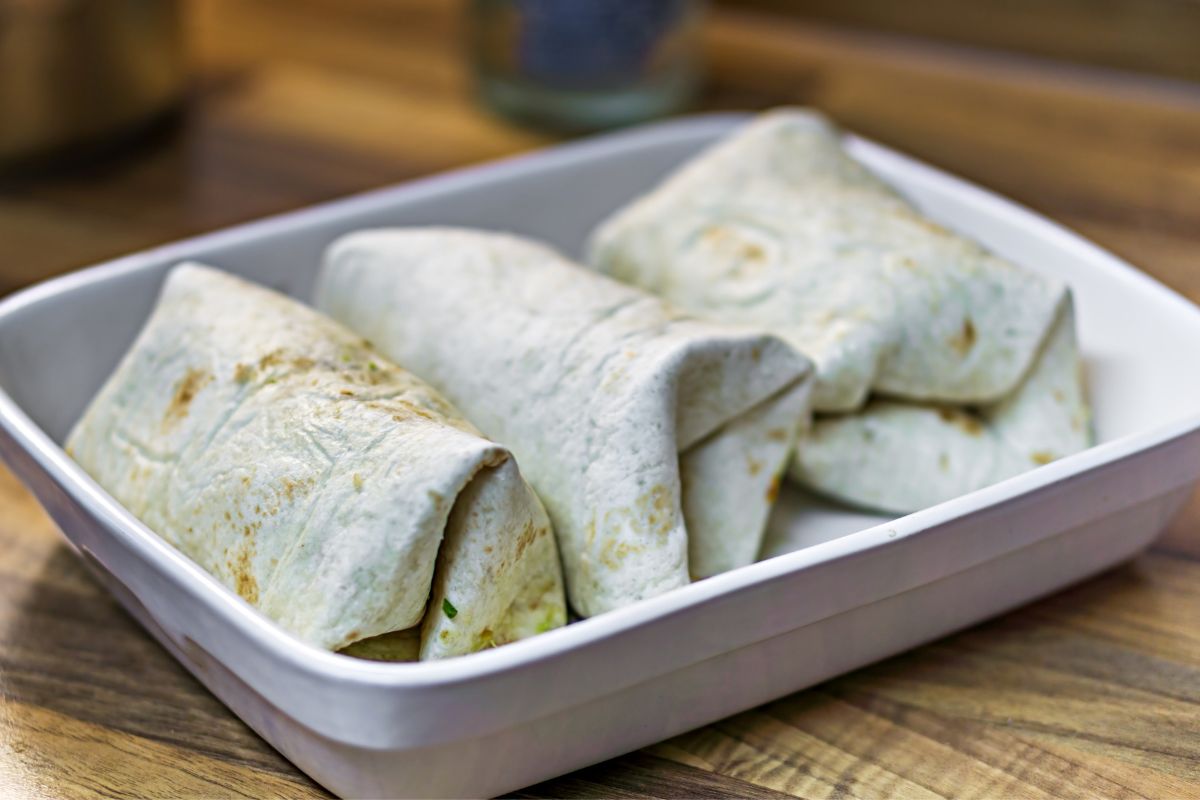 Not that you will have any leftover burritos, but hypothetically, you would store them by doing the following:
Allow it to properly cool off (or else the burrito will sweat and become soggy)
Get some aluminum foil and wrap the burrito. This will prevent it from drying out
Put the wrapped burrito in a sealable bag, and place it in the refrigerator
Make sure the refrigerator is kept at 40°F or lower
How Long Will These Homemade Taco Bell Bean Burritos Last?
Eat your burritos within 2 days, ideally. You could get away with 3 at a push, but definitely do not let it get past that point. You do not want to get food poisoning!
How Do You Reheat Taco Bell Bean Burritos?
You can easily reheat your Taco Bell bean burritos using two methods: the microwave or the oven. The microwave will be much faster, but we have found that oven-warmed always tastes better.
For the microwave method, remove the aluminum foil and dampen some paper towel and wrap it around the burrito. This will prevent it from drying out.
The burrito will only need to be in the microwave for up to 45 seconds, depending on the size of the burrito. Smaller ones will only need about 30 seconds.
Make sure that you use a microwave-safe plate, and make sure the machine is on high power. Heat up one side for 15–20 seconds, then flip it and repeat.
In an oven, you can place the burritos in a large tray. They can stay in their aluminum blankets to keep the moisture in. Simply reheat them for 15–20 minutes at around 225°F until they are piping hot.
Final Thoughts
These Taco Bell bean burritos are super easy to make, and will always go down a treat. In about half an hour, you could have this delicious meal ready to go!
Remember – you can experiment with flavors in this recipe! Try out different kinds of cheese, and even use different seasoning options.
You can also make your refried beans more Taco Bell-style, or restaurant-style by using water or dairy to thin them, so try that out, too!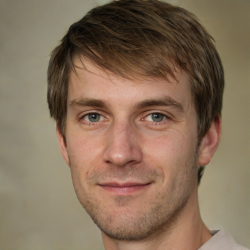 Latest posts by Mark Williams
(see all)