The rich and oily taste of salmon already makes this fish a delightful seafood treat all on its own, however when covered with a crispy, buttery quiche crust, suddenly the smoky flavor of the salmon starts to pop out even more.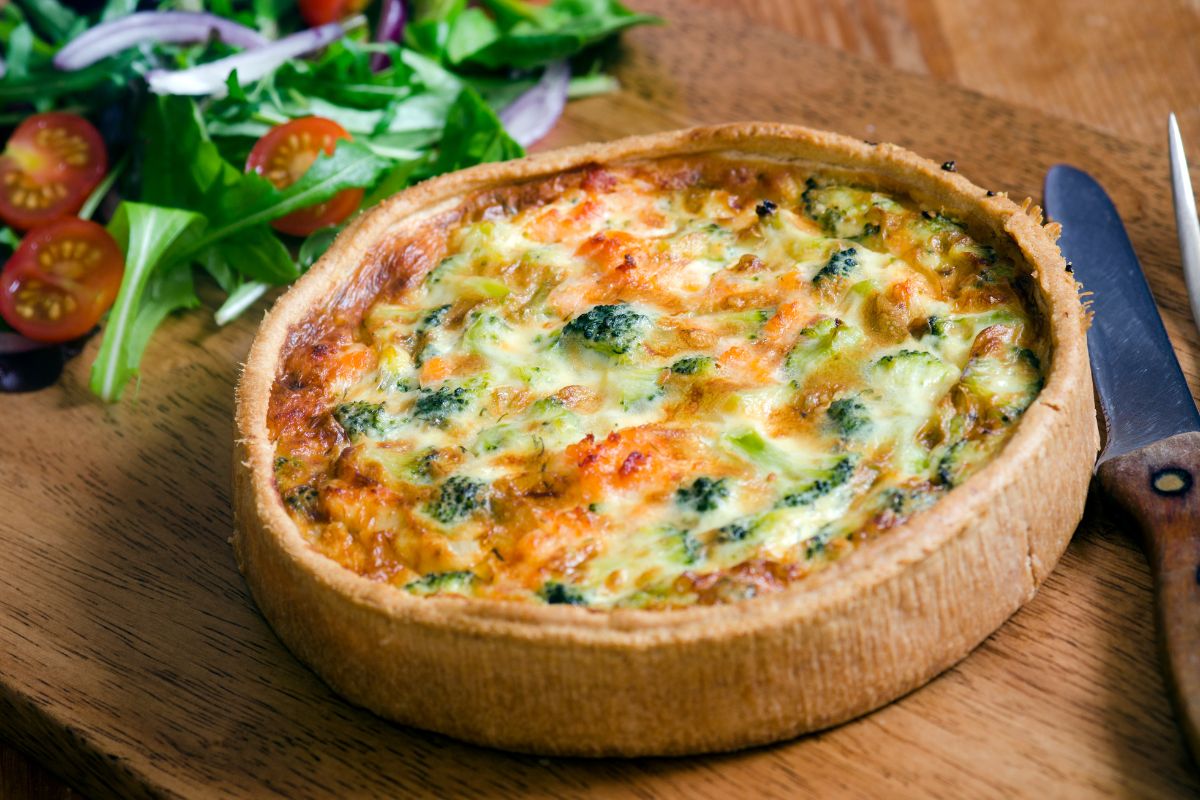 Quiches are perfect for any time of the day whether its a quick snack for lunch, part of a main dinner meal or even as a breakfast on the weekends when you have a little more time to prepare them, and when mixed with smoked salmon the taste becomes so addictive that chances are you'll be hooked after that first bite.
While a smoked salmon quiche is delicious enough on its own, there are some incredibly delicious recipes you can try out to enhance it's delicious flavors even more, here are 15 fantastic recipes to consider next time you want to whip up this seafood delicacy.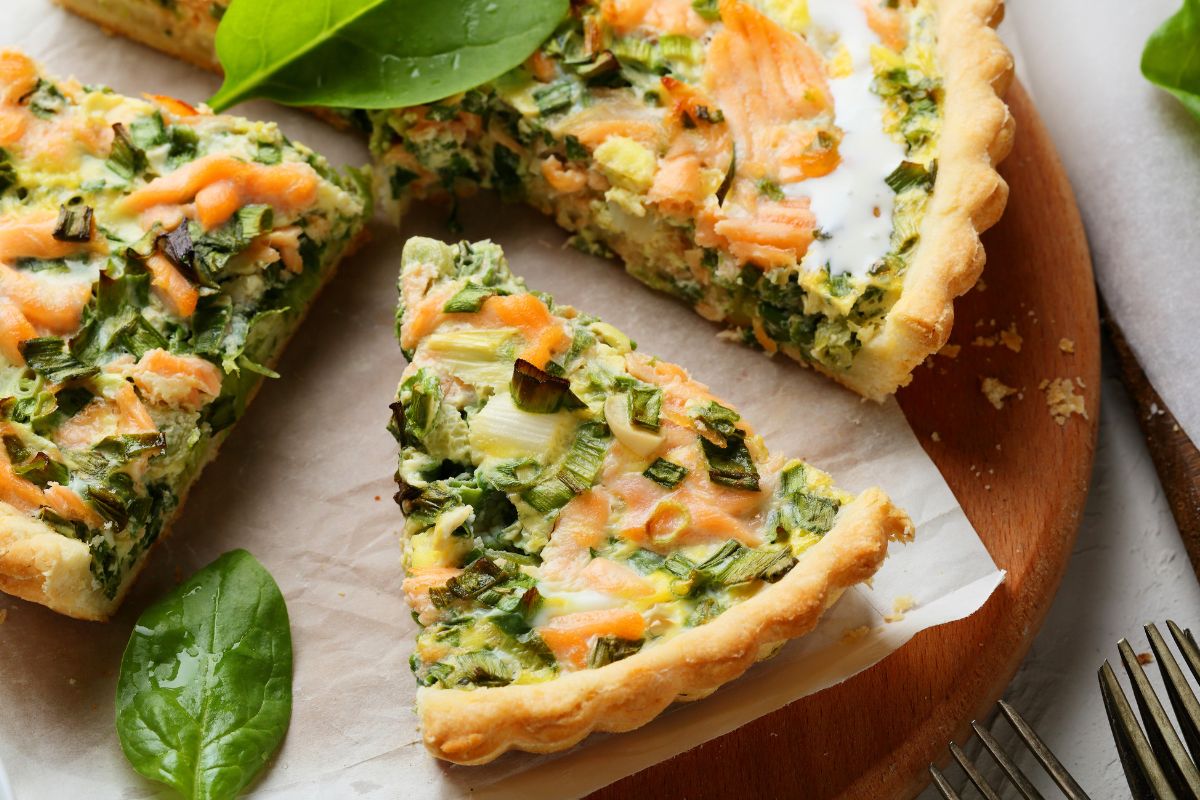 This cook-ahead quiche mixes the smoked salmon with a few pieces of roughly chopped watercress to help give the overall taste a much brighter and more refreshing flavor to help even out the strong fishy taste of the salmon.
When this delightfully tasty appetizer is ready, we recommend serving it warm or at least at room temperature where you can really taste the combination in all its glory.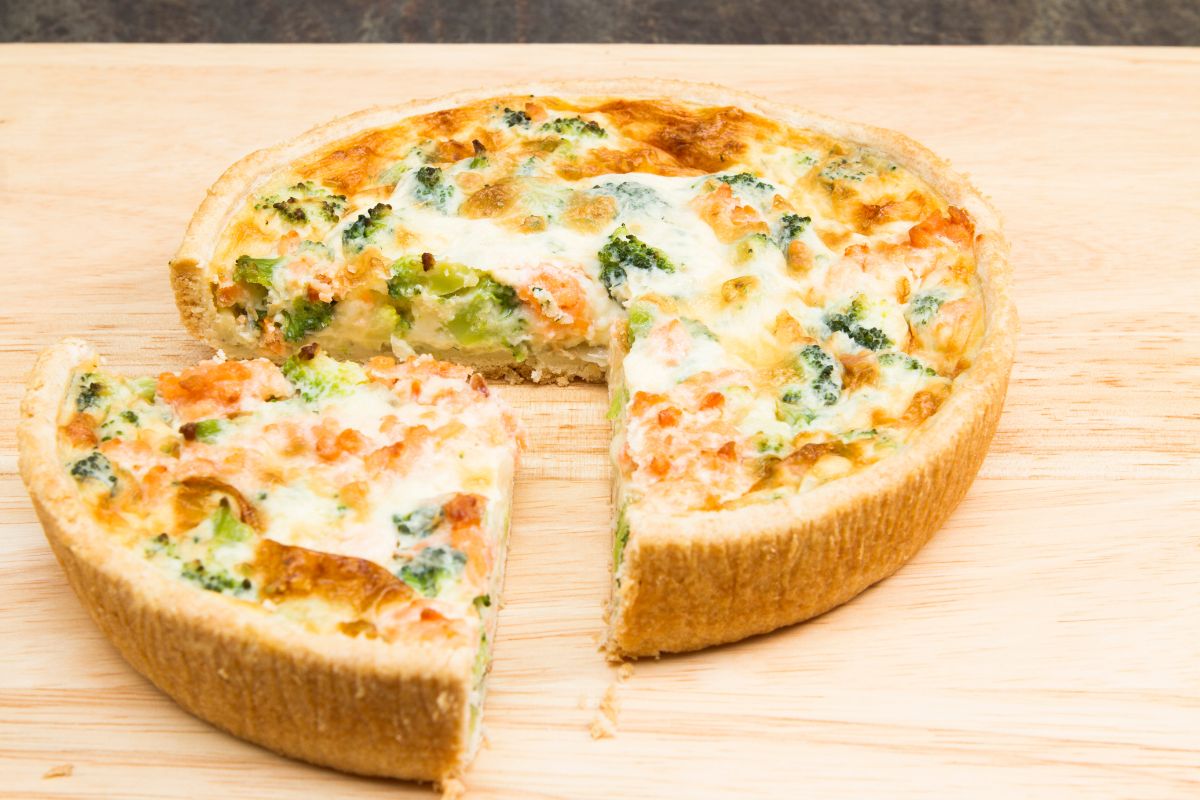 The fluffy puff pastry used in this recipe helps to make every bite full of delicious flavor as you can easily bite down into the core of the quiche which is filled with smoked salmon along with some buttery eggs and some creamy goat cheese that allows all the ingredients to blend together perfectly.
It is best served with either a simple salad for an extra bit of nutritional crcunhciness or some fresh fruit if you want a side dish that is a little more juicy and refreshing.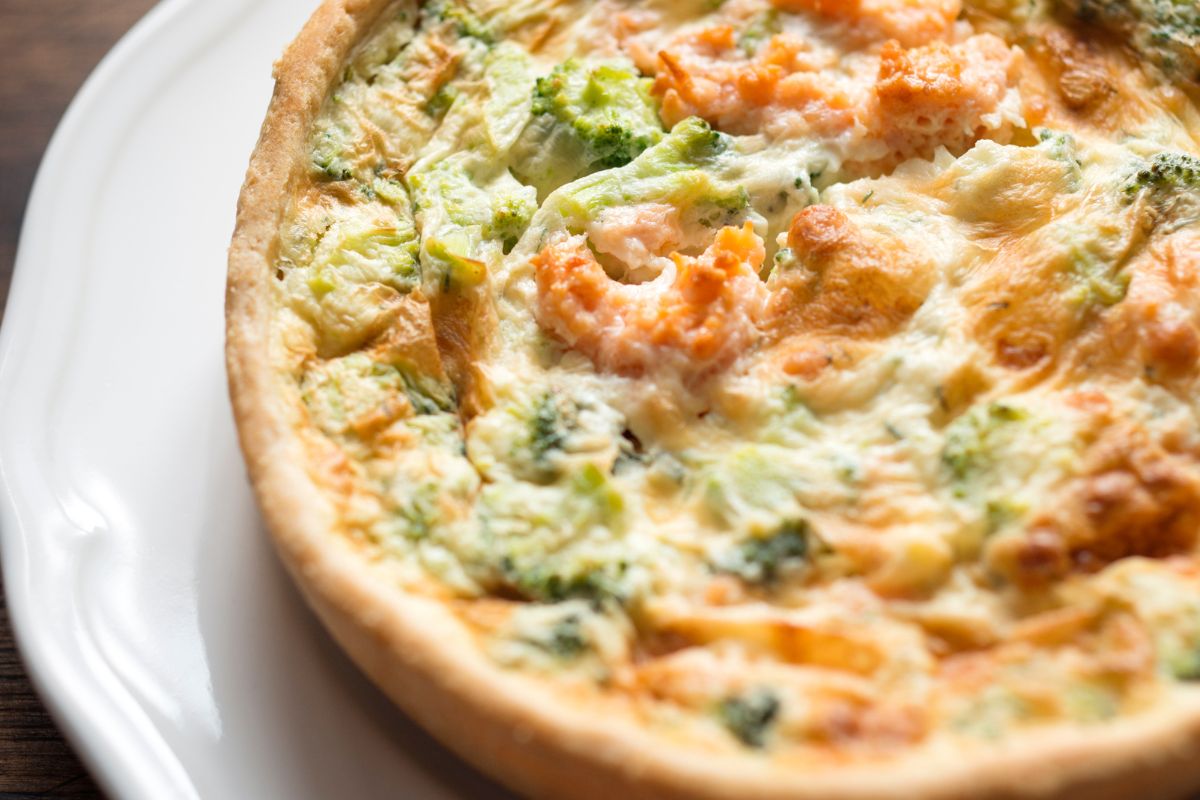 The crumbly pastry covering this quiche is stuffed with a custard filling along with softened leeks to add a slightly sweet oniony taste to the dish, along with the smoked salmon to create a blend of flavors that you really do need to try for yourself to believe.
With grated parmesan and cayenne peppers also mixed into this already delicious dish, you can guarantee you won't be dissatisfied when it's time to tuck in.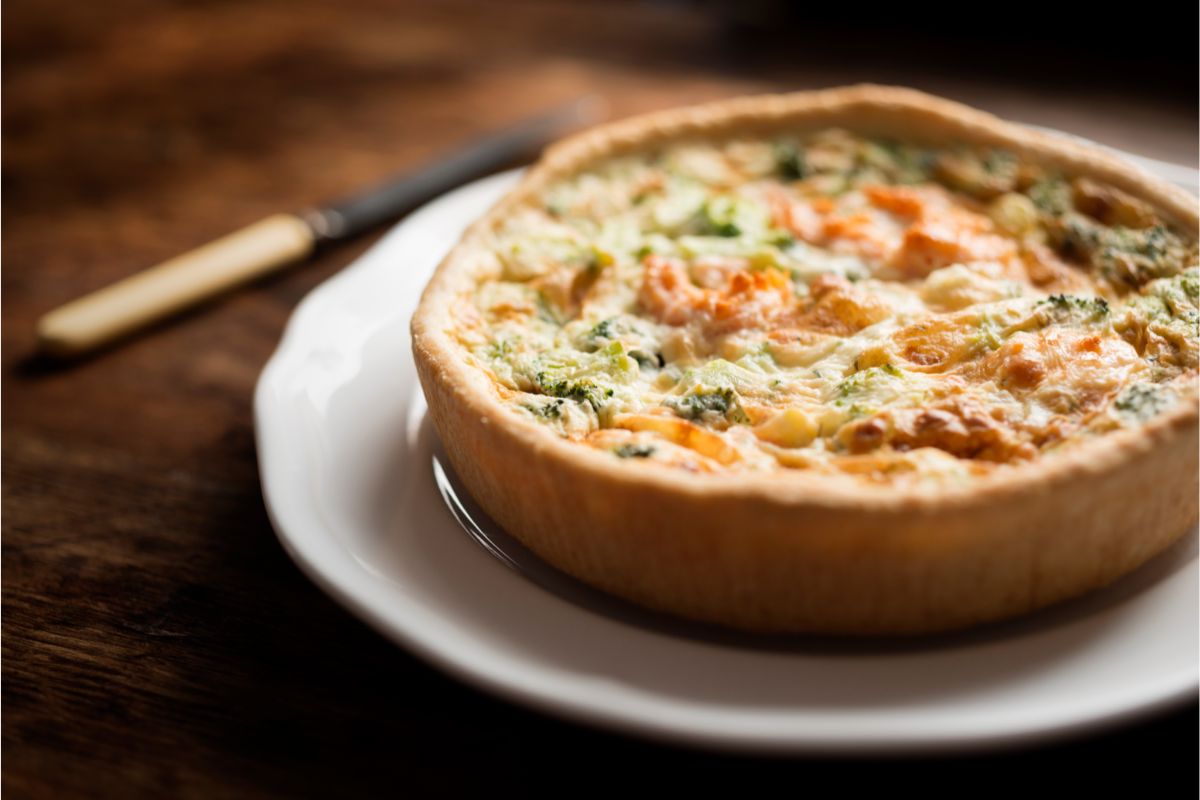 Perfect as a snack to put in the freezer to save for a picnic or a quick lunch in the future, the chilled camembert takes the flavor of this smoked salmon quiche to another level by adding a delicious amount of garlicky flavor that goes so well with the creamy butter used as part of the shortcut pastry.
Whether you decide to snack on this quiche as soon as you make it or if you decide to leave it for a later date, you can guarantee its combination of tastes will always be incredible on the taste buds.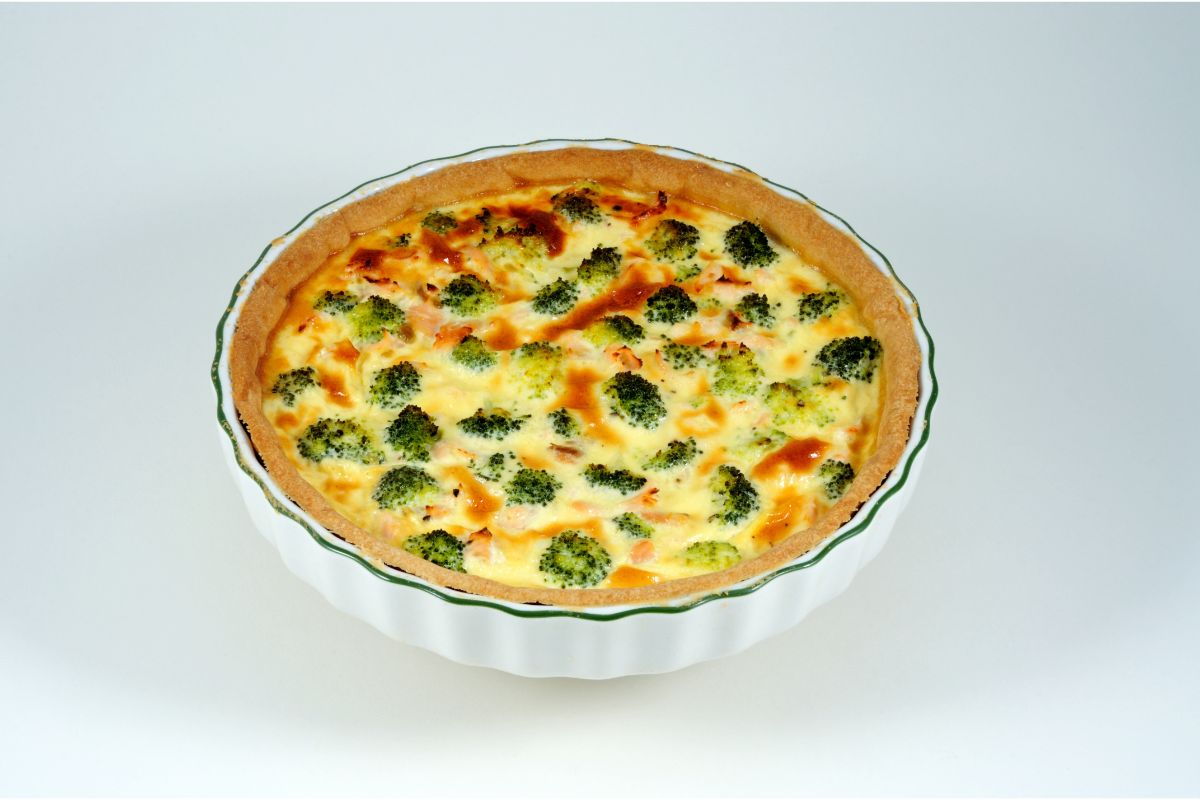 The freshness of the chopped up broccoli and the inclusion of spinach makes for the perfect combination when combined with some smoked salmon to make this both a delicious and a fairly healthy snack that can be made in little to no time, in fact, you probably have all the ingredients you need lying around right now.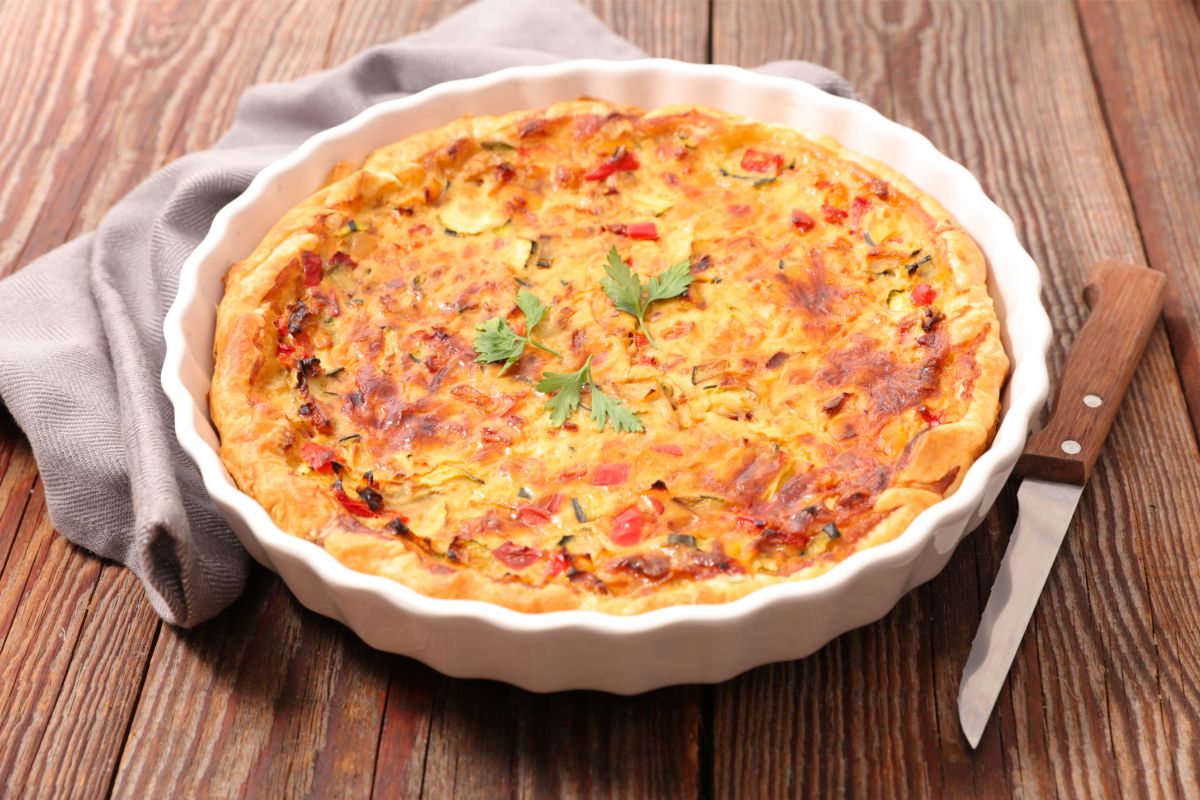 Sometimes, you don't need a whole host of other ingredients to put a flavorful twist on the standard smoked salmon quiche, in fact by using just a few red peppers and chili flakes as part of the filling and some cream cheese and plain flour for the pastry, you can make a deliciously spicy salmon quiche which is a must try if you're looking to add a bit more kick to this delightful dish. 
When thinking of ways to change up a smoked salmon quiche without needing to go to extremes, one of the easiest ways is to use Regal Manuka Smoked Salmon slices which are beautifully rich and have what many would describe as a distinctive kiwi flavor that tastes incredible when combined with a few chives and fresh parsley inside a golden brown pie pastry.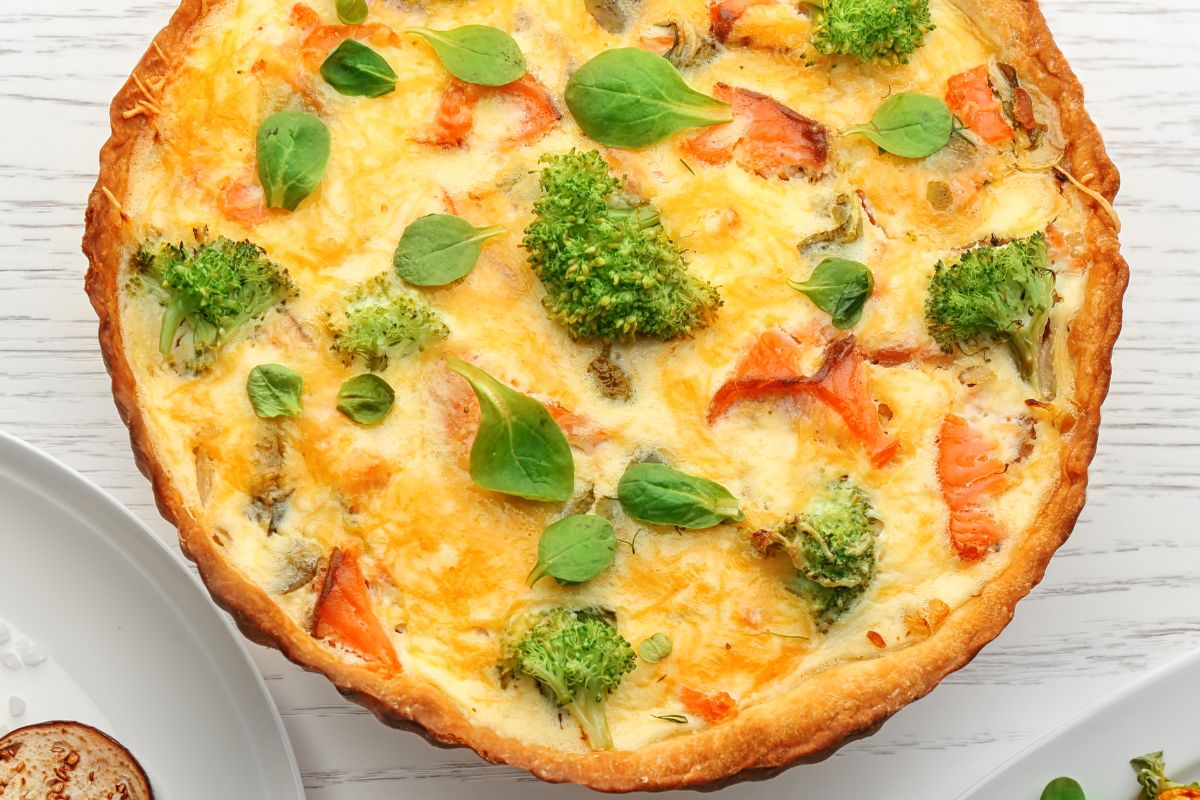 If you want to retain that familiar smoky salmon flavor but want to try and make the quiche as healthy as possible, this recipe incorporates a whole range of healthy options to make each and every bite that much more refreshing.
With black peppers, brussel sprouts and some zucchini all included in this quiche mix, feel free to add any more of your favorite healthy ingredients to make this appetizer as nutritious as possible.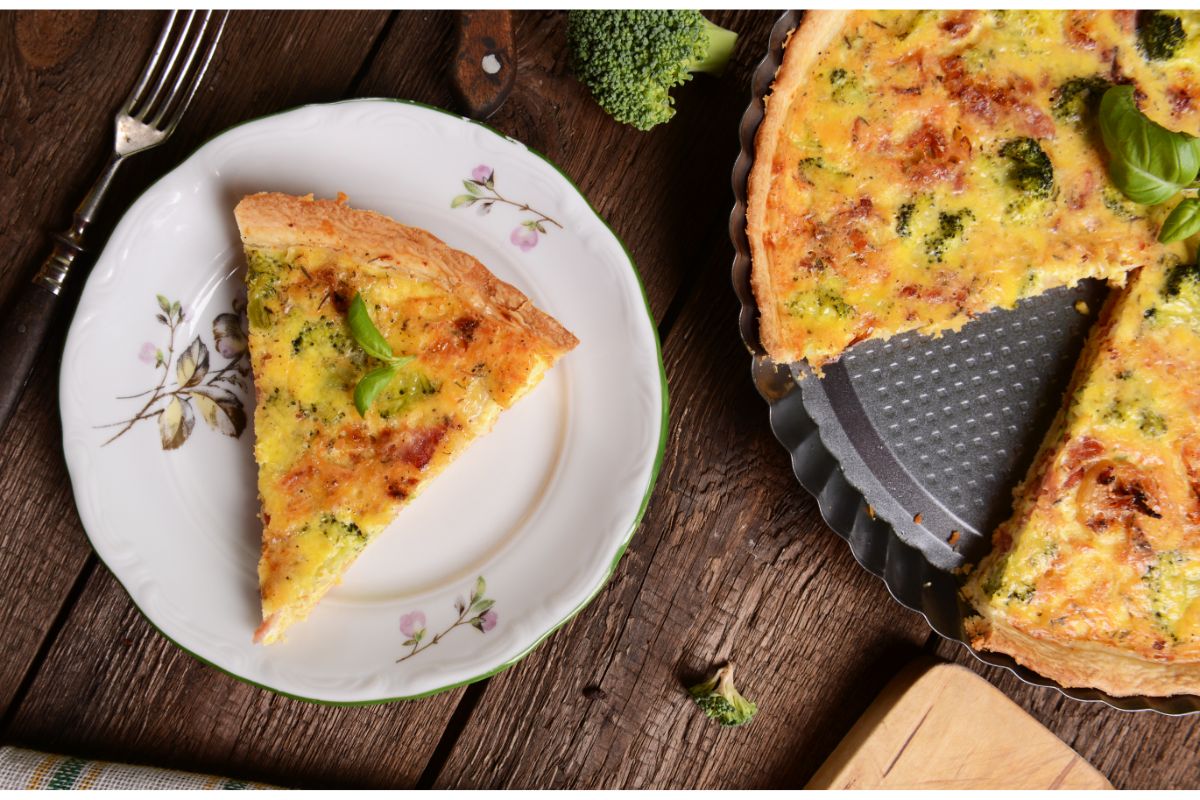 If you're not a big fan of the thick and often crusty crusts of the quiche's exterior but don't want to try removing it yourself to risk the whole thing falling apart, this recipe allows you to keep the crusts at bay as part of the cooking process so you won't need to worry about trying to awkwardly cut it when it's already been served.
Additionally, with a little bit of cream cheese added into this dish, the flavor is still just as smooth and delightful as you would expect.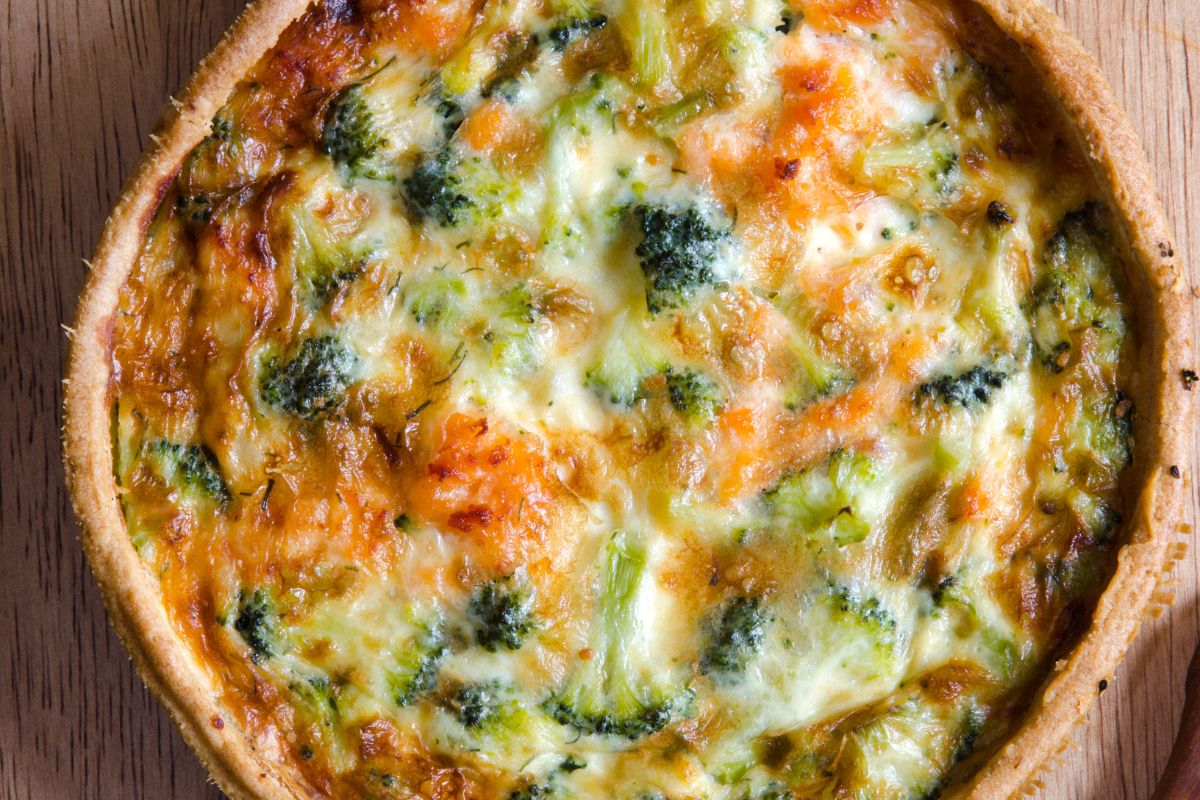 Because of just how packed this quiche is, full of delicious ingredients and with a huge amount of salmon, we recommend saving it for when you want to enjoy a smoked salmon quiche together with the family or as a big solo meal.
However, with onions, chives, garlic, basil and pepper all mixed into this delightful smoked salmon quiche, when you do finally get around to it, it really is bursting with a variety of vibrant and delicious flavors that you won't regret trying out.
If you have never tried out or even heard of samphire before, it is an incredibly nutritious and naturally salty vegetable that has a slight crunch to it and creates a delightful taste when paired with some oily salmon slices inside a golden brown quiche with the saltiness providing a nice variety in terms of flavor, not to mention it is incredibly healthy being rich in antioxidants and essential vitamins.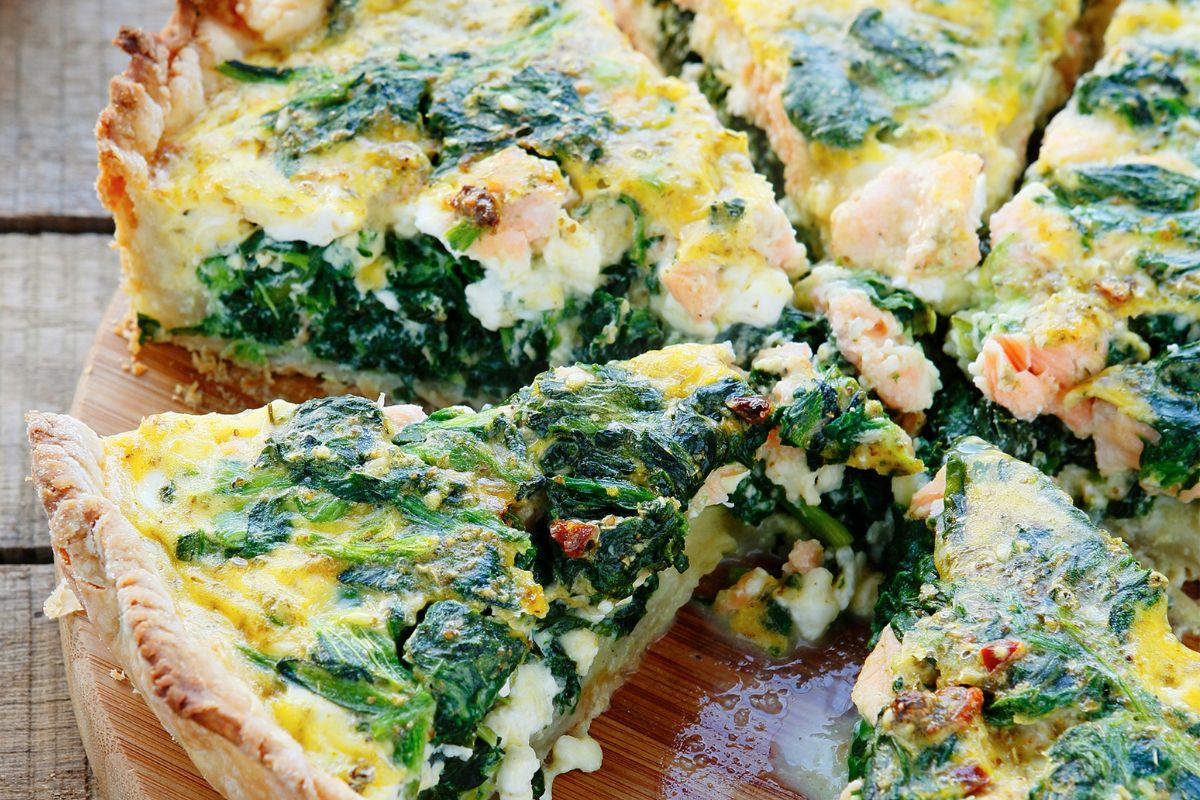 Chard's are known for having a leafy texture with a slightly bitter taste that aren't too pleasant when eaten on their own, however when fused with the smokey flavor of some salmon, it helps to incorporate the bitterness far more and makes the overall taste a lot more fresh and unique, making for a fantastic spin on the traditional salmon quiche recipe which is always a great option to prepare when you have a few guests coming around and you don't want to make something too large or hefty.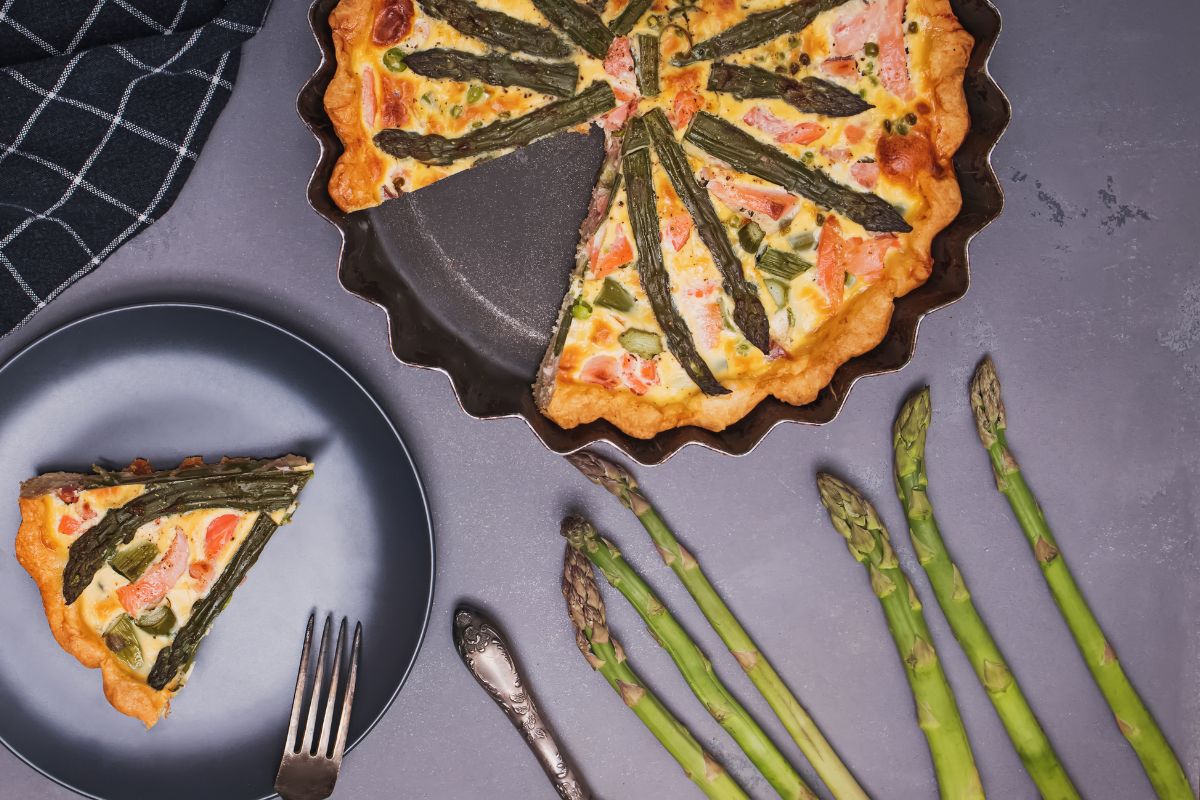 The lemony and almost juicy taste of some thick asparagus pieces has never tasted so good than when paired with some smoked salmon and fused with some green onions and fresh dill to create a blend of flavors all packed into a golden brown pastry.
The real beauty of this quiche is that these really are all the ingredients you will need to create this hearty nutrient-dense quiche that adds a little hint of juiciness to the original recipe.
When we say that this smoked salmon quiche recipe takes the creaminess level up to the max, we really do mean it with the inclusion of both heavy cream and sour cream that combine to make a delightful flavor which is only further enhanced by the rosemary, olives and pimiento to make this quiche a fantastic option when you have a few guests coming over who you know would appreciate the creamy fish mixture.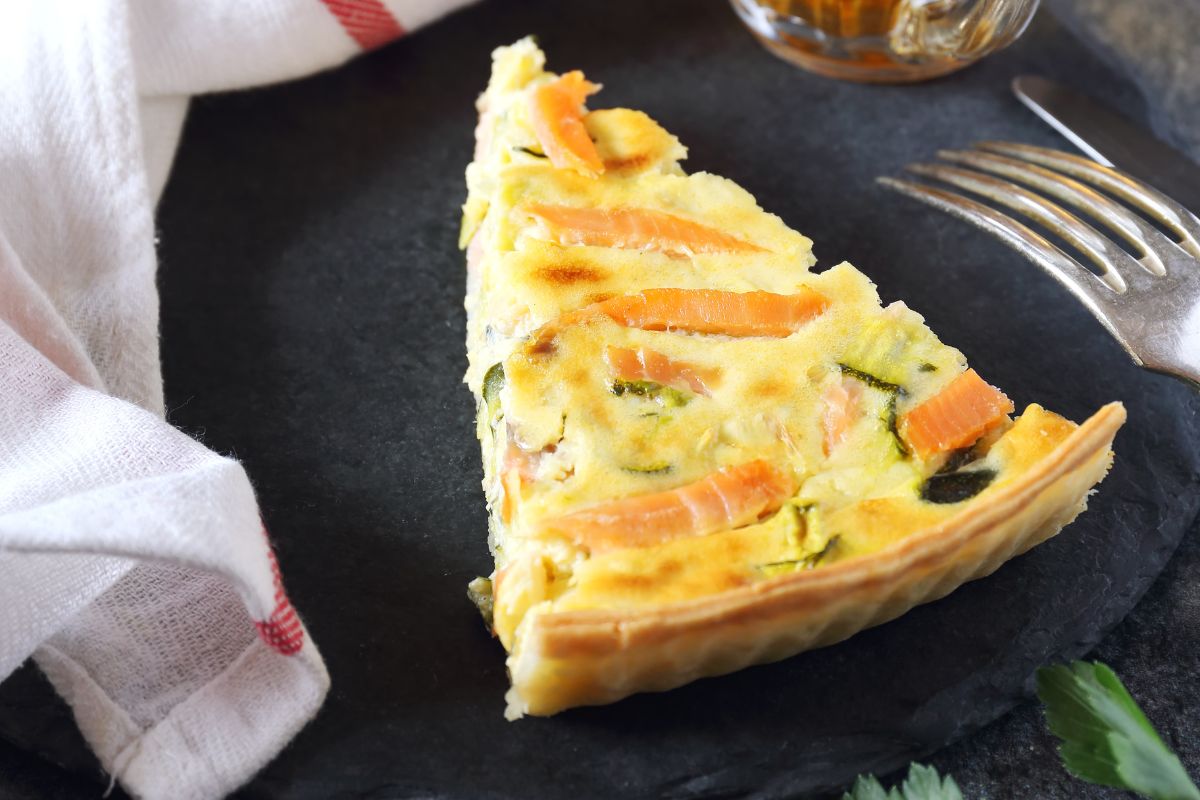 With how big and hearty this smoked salmon quiche, it is best suited as the main course for a family dinner, and trust us as soon as everyone has a taste of that delicious parmesan pastry and the lemon-infused salmon that makes up the core of the quiche, they will be asking for seconds in no time.
With a pastry made from a delicate combination of flour, butter and parsley along with the core ingredients including parsley leaves, lemons for a much sweeter flavor overall and finished off with some basil leaves, this uniquely tasting salmon quiche is perfect for feeding multiple mouths all in one go.
Summary
There are so many fresh and exciting ways you can make a smoked salmon quiche, it's always worth experimenting rather than sticking with the traditional recipe that may be delicious on its own, but can be made so much better when mixed with just a handful of other ingredients.
Try out a few of these exciting recipes to find out your new favorite way to create this succulent appetizer for any occasion.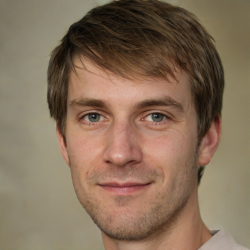 Latest posts by Mark Williams
(see all)