Quiche is a delicious and wonderfully versatile food. It can be served as part of a healthy and light lunch, eaten as a side, or even as part of a healthy breakfast.
Mini-quiches make great appetizers and finger foods and work perfectly as a part of a picnic spread.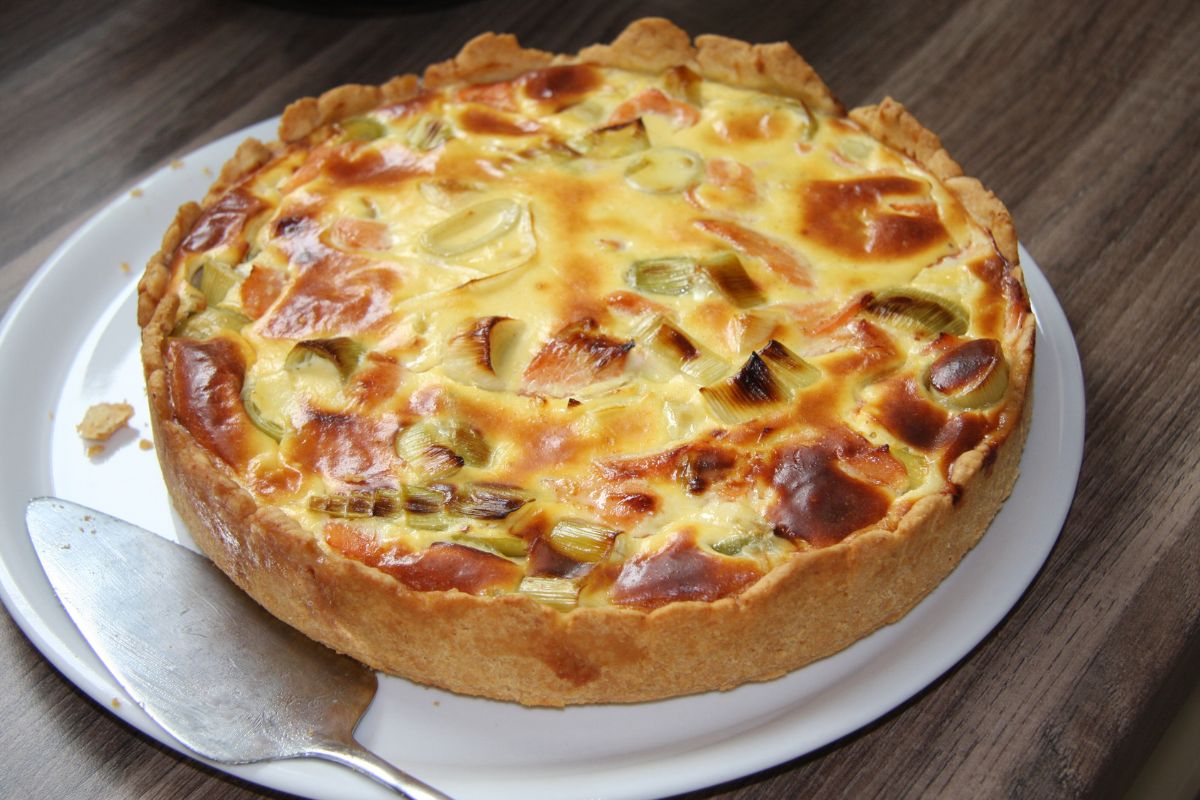 There are many different flavors of quiche and just as many different ingredients that you can use when making them.
Artichoke is one of our favorites because of its healthy properties and versatility as an ingredient.
In this article, we will list 15 awesome artichoke quiche recipes that you can try today. We have a variety of recipes that make use of artichoke and even have some vegan options.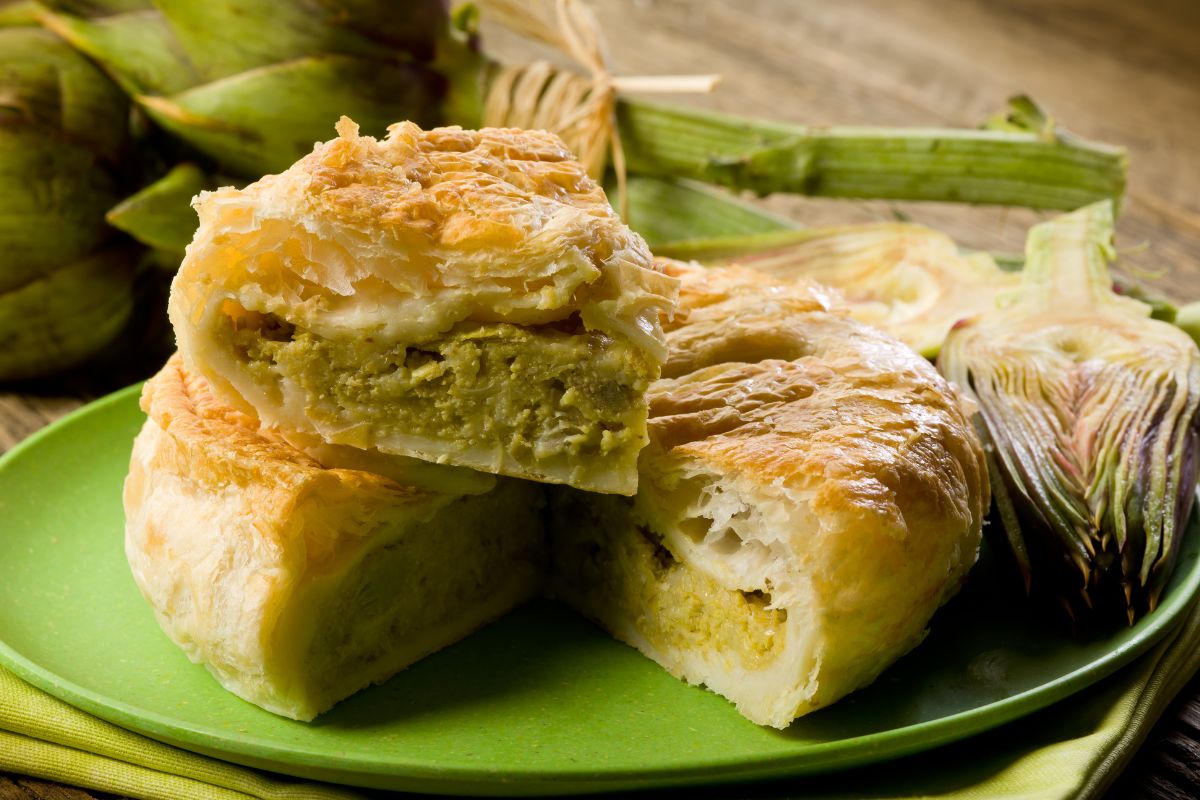 Crustless quiches are very popular with those who are trying to reduce their calorie intake as they take away the pastry base but leave the delicious quiche filling.
This crustless quiche takes artichoke and adds bacon and Parmesan cheese to great effect.
One of the main ingredients of the quiche is fat-free cottage cheese. This isn't a typical quiche filling but it works well in this case so don't be afraid to give it a try.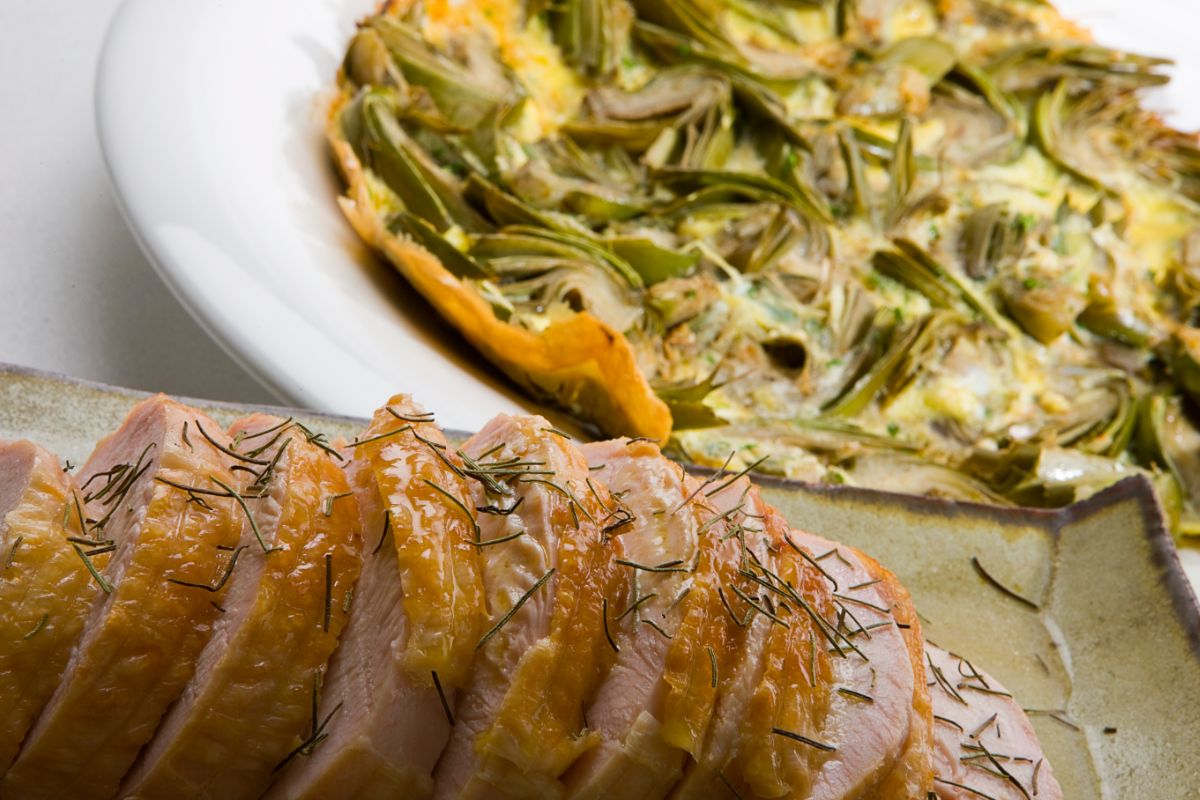 This is a pretty simple artichoke quiche and one of the most straightforward on the list as it requires fewer ingredients.
Instead, the artichokes take center stage, and you will need nearly a full pound of them (or 400 grams in metric measurements) for the quiche.
As well as the artichokes, the quiche uses a few different varieties of cheese and some pancetta for the filling. You'll also need some white wine and shallot to make the recipe as instructed.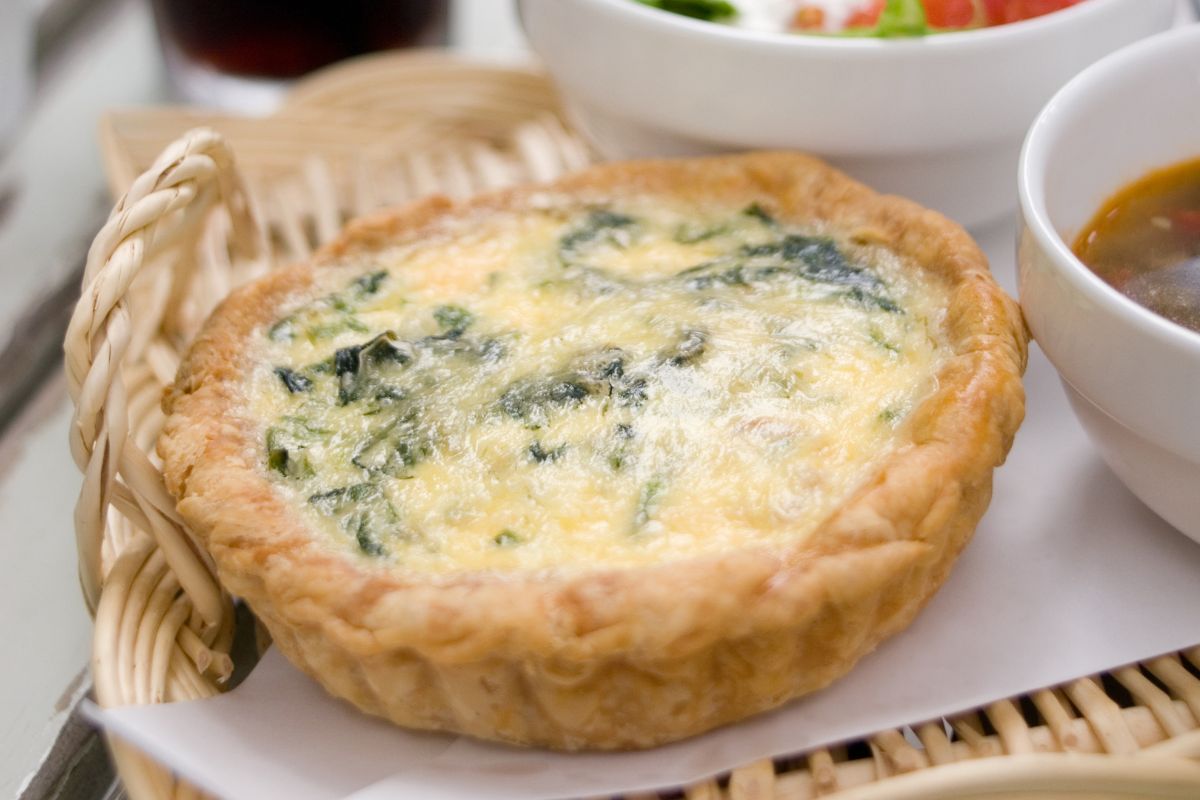 No matter what type of quiche we're making, bacon is one of our favorite ingredients. Thankfully, it matches well with artichokes, as this recipe for bacon, spinach, and artichoke quiche proves.
The spinach and artichoke combine to give the quiche a lovely green color and texture that makes the quiche look as good as it tastes.
The recipe also includes instructions for making a pate brisee base, although you can use a pre-made pastry base if you prefer.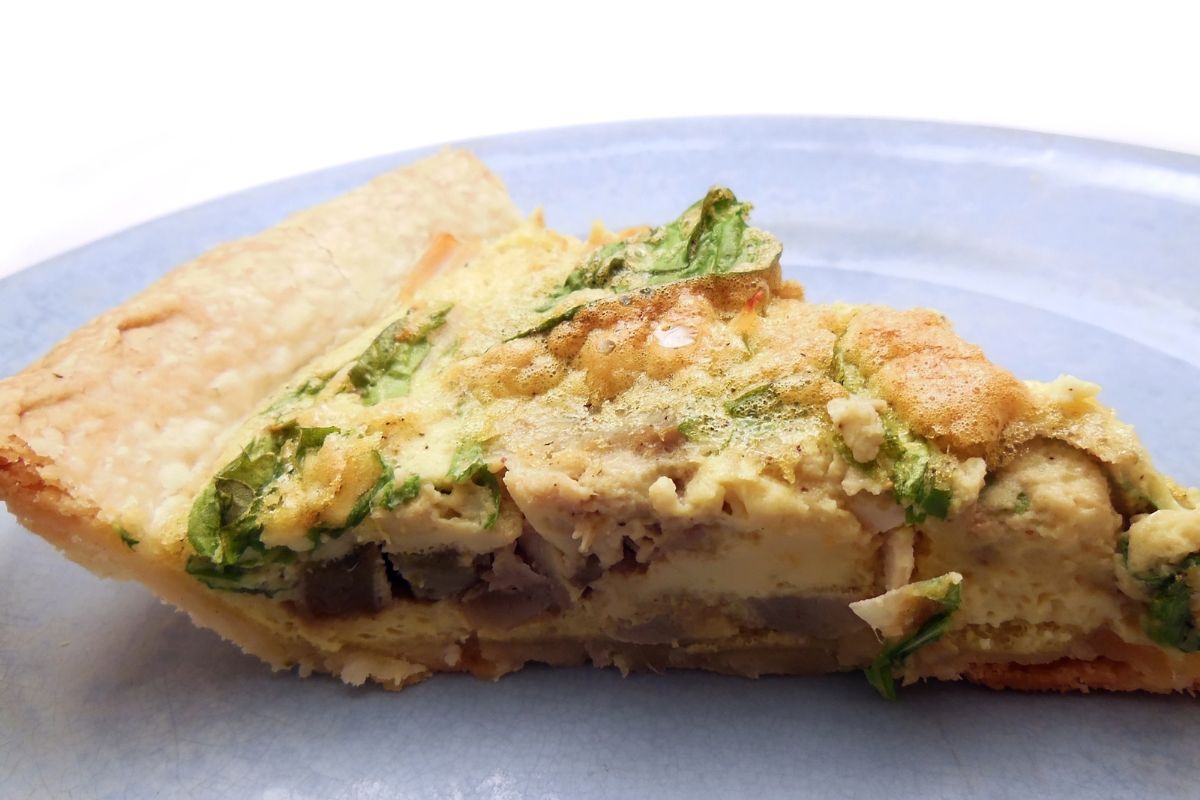 These tiny quiche cups are not only adorable to look at, but they are ideal appetizers and finger foods for any party.
They're the perfect size to be served to guests and won't look out of place at any party throughout the year although they're especially good in the early summer months when the vegetable is in season.
The quiche cups have a great flavor to them thanks to the addition of some ground mustard, pepper, and hot pepper sauce. These complement the artichokes and cheddar flavors perfectly.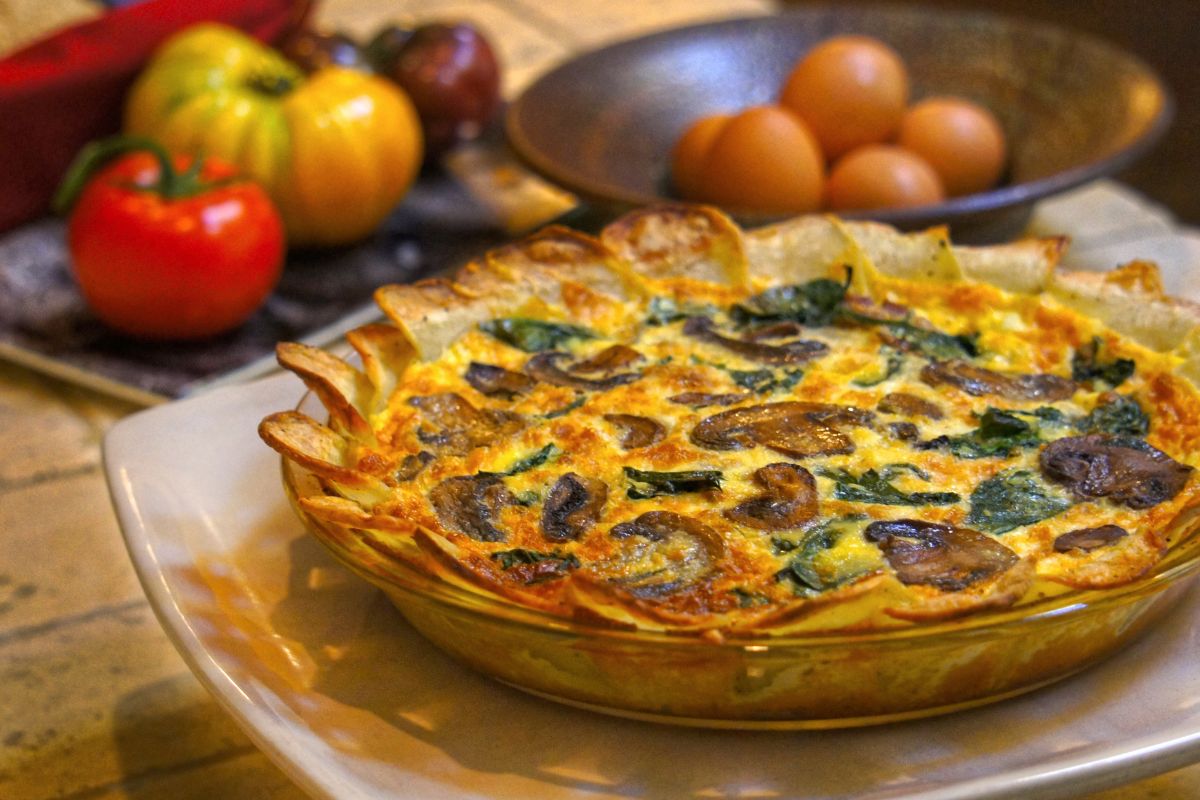 Our next recipe is another crustless take on an artichoke quiche. Crustless quiches are especially great for anyone that is on a low-carb or keto diet so keep this recipe in mind if you ever cook for anyone following these dietary plans.
Artichokes aren't the main feature of this quiche and are instead there to complement the 4 cups of spinach included in the quiche.
They still add their taste to the finished result, however, so if you have some spare artichoke hearts left but not quite enough for some other recipes on this list, you can use them for this quiche.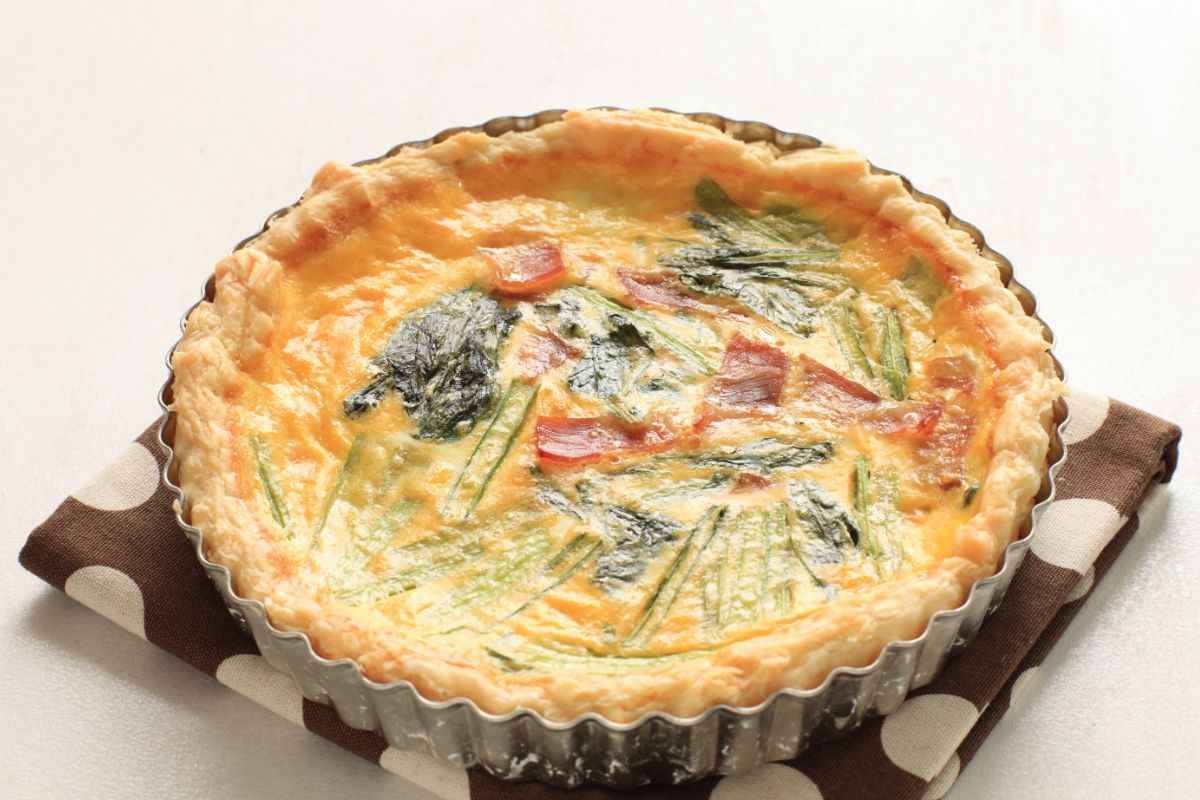 This recipe from Pillsbury unsurprisingly uses Pillsbury pie crusts as the base of the quiche. These crusts are very easy to use for quiches and if you don't want to make your own crust, they're a good option to keep in mind.
The filling of the quiche includes a variety of ingredients such as artichokes, Swiss cheese, and bacon. You will need to cook the bacon first and it can then be chopped or crumbled into the quiche filling.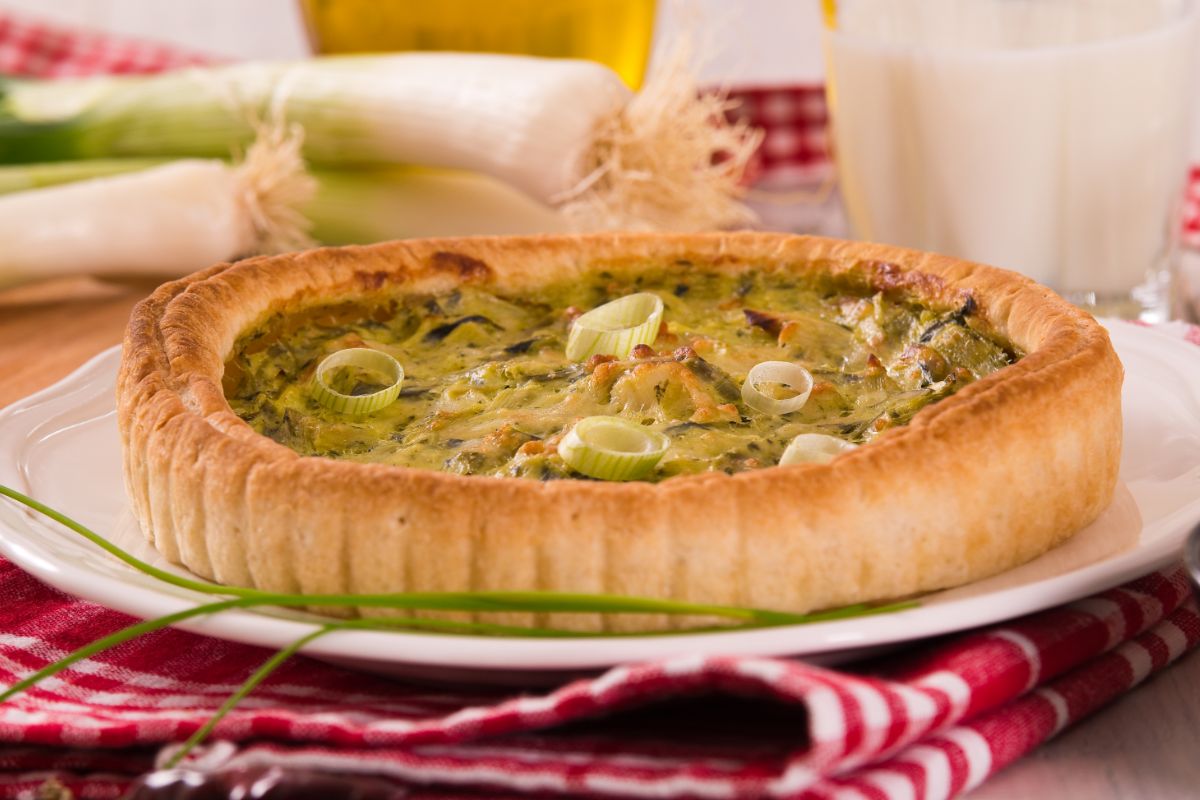 Cheese is an important ingredient in many quiches but most recipes call for regular cheese, made from cow's milk.
This recipe uses goat's cheese instead as it has more vitamins and minerals and also has a unique earthy taste that makes it taste great in quiches.
As well as the artichoke hearts, you will also need a medium-sized leek and some bay leaves for the quiche. The end result will be a delicious and creamy quiche that is sure to become a favorite.
This is our second recipe in a row to choose goat's cheese over the more common variety made from cow's milk.
As before, the addition of goat's cheese makes for a very creamy quiche filling that tastes great and will help make this recipe stand out.
There aren't many quiche recipes that use potatoes either, but this recipe uses them to great effect.
Smaller and tender potatoes, such as Yukon potatoes, are the best choice and you will need to pre-cook them first before making your quiche.
If you love bell peppers, then this is the artichoke quiche for you. The recipe uses roasted bell peppers and you can either buy roasted peppers in a jar or prepare them yourself.
Both options will work, so just choose whichever suits your circumstances best.
We like this quiche because of the mix of vegetables it includes. As well as artichokes, it uses bell peppers and shallots to make a healthy and colorful quiche.
It especially looks great with red bell peppers as the red and green colors look great together.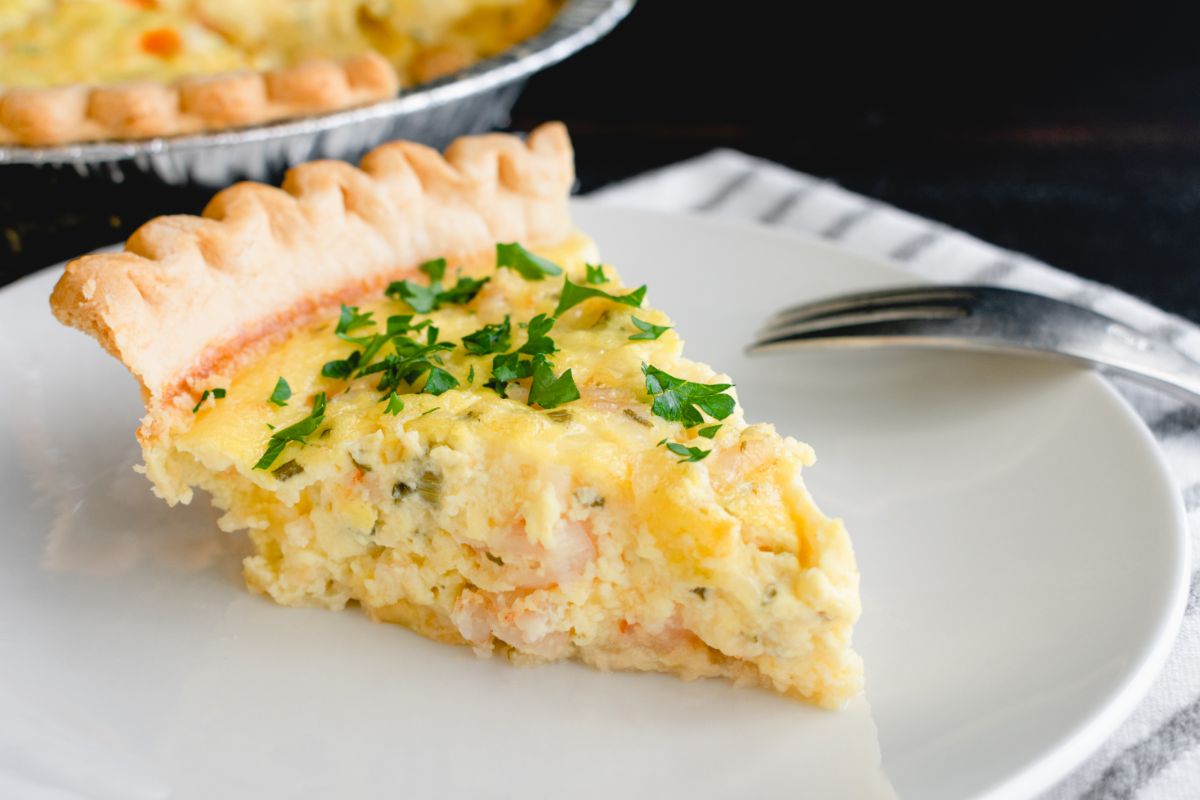 Fish isn't one of the most common quiche ingredients but whenever it is used, it always makes for a delicious variety of quiches. In the case of this recipe from Betty Crocker, it is shrimp that is used and you will need to cook this first.
Frozen shrimp is recommended but make sure the shrimp is thawed first and then coarsely chopped for the quiche.
The quiche mix is made from Bisquick mix as well as a combination of cheese, eggs, and a little milk.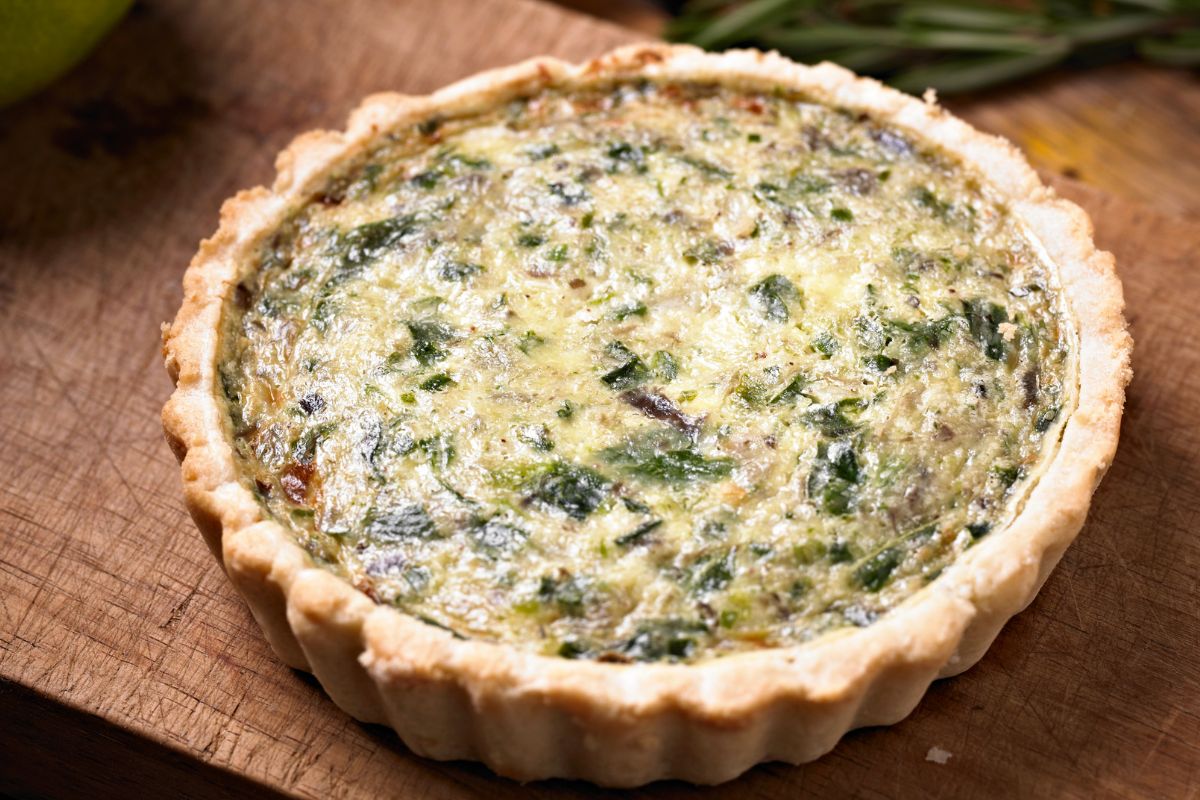 Unlike many other quiches on this list, this recipe also includes all of the instructions and details you'll need to make your own crust.
The filling opts to use canned artichoke hearts instead of fresh ones and combines this with baby spinach to make a healthy filling.
The seasoning comes from red pepper flakes, garlic powder, salt, and pepper.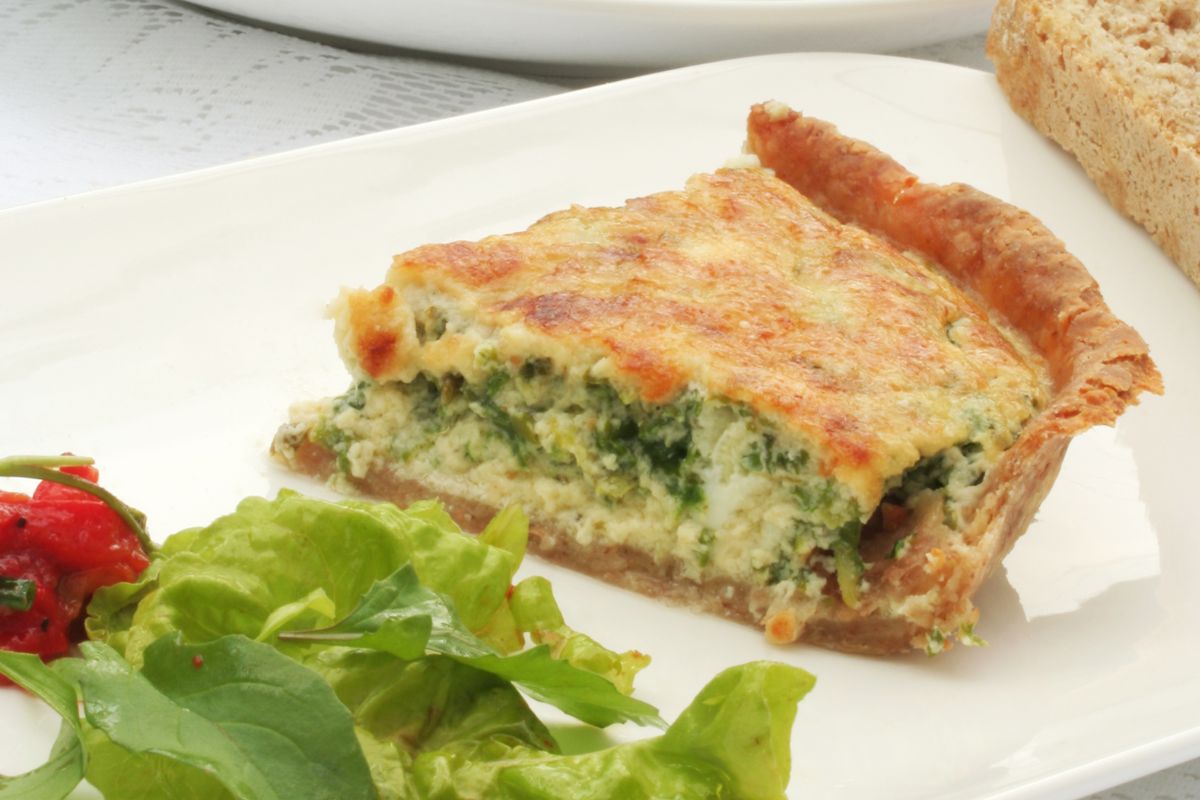 If you want a quiche that is full of green vegetables and has a beautiful green appearance, then this is the quiche for you.
The combination of artichokes, spinach, and green onions gives you a wonderful green quiche filling that looks as great as it is healthy.
The recipe calls for goat cheese to be used but does suggest some alternative cheeses if you'd prefer not to use goat cheese.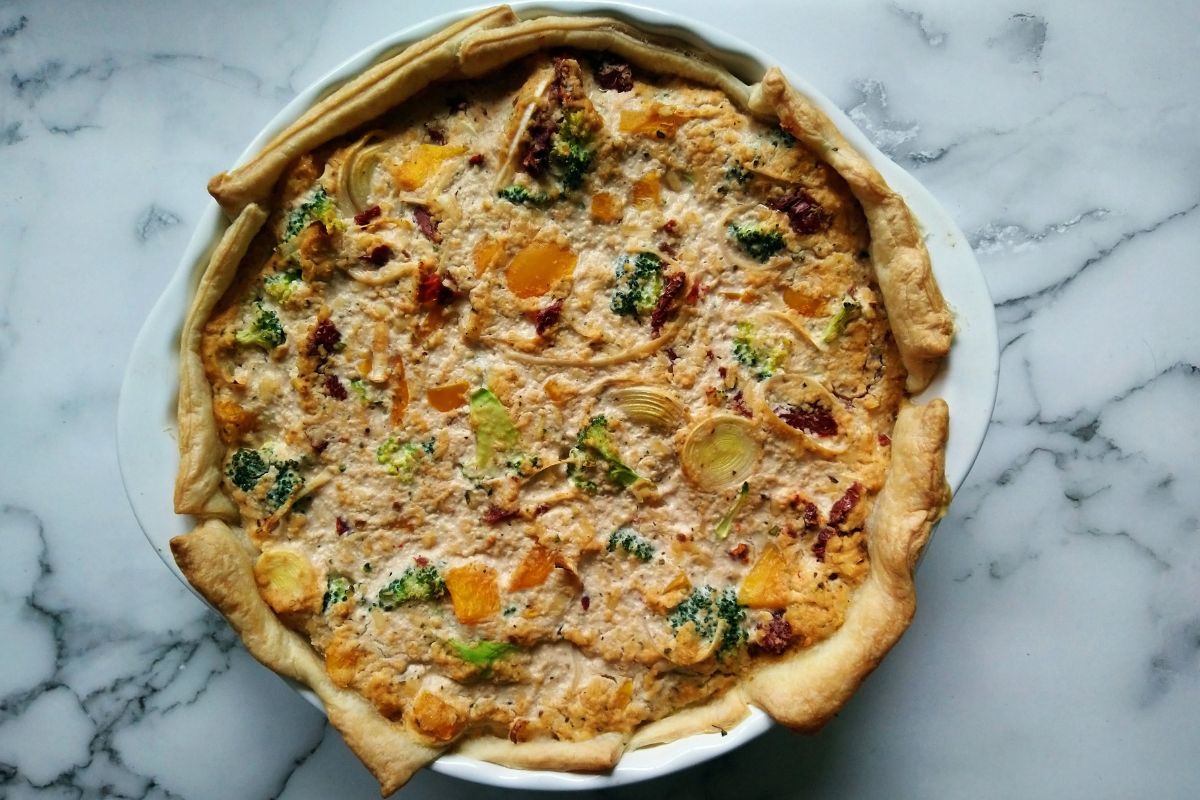 This is another recipe that marries spinach with artichoke but unlike the others on this list, it also adds mushrooms to give a different option.
It's made with a spelt crust due to the inclusion of spelt flour, but you can substitute white whole wheat flour in its place if you prefer.
The filling of the quiche uses baby bella mushrooms, fresh spinach, and marinated artichoke hearts that have been drained and chopped.
You will need to ensure that your artichoke hearts have been prepared correctly before making the quiche.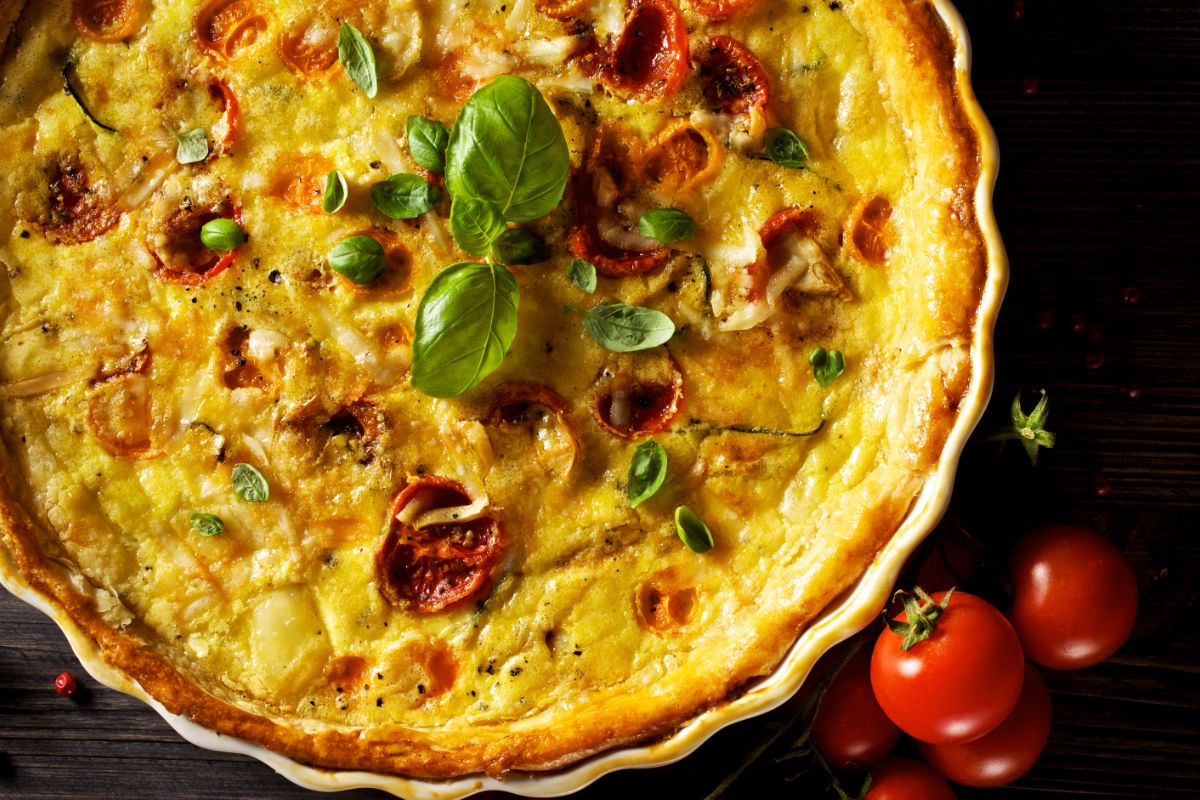 To finish our list, we will end with two vegan recipes. Quiches are typically not vegan as they require eggs and dairy products, but some substitutions can be made so that quiches can be included as part of a vegan diet.
For this recipe, the filling is kept vegan by using nutritional yeast, tofu, and almond milk to make the quiche filling.
The flavor comes from artichoke hearts and sun-dried tomatoes and the end result is just as delicious as non-vegan quiches.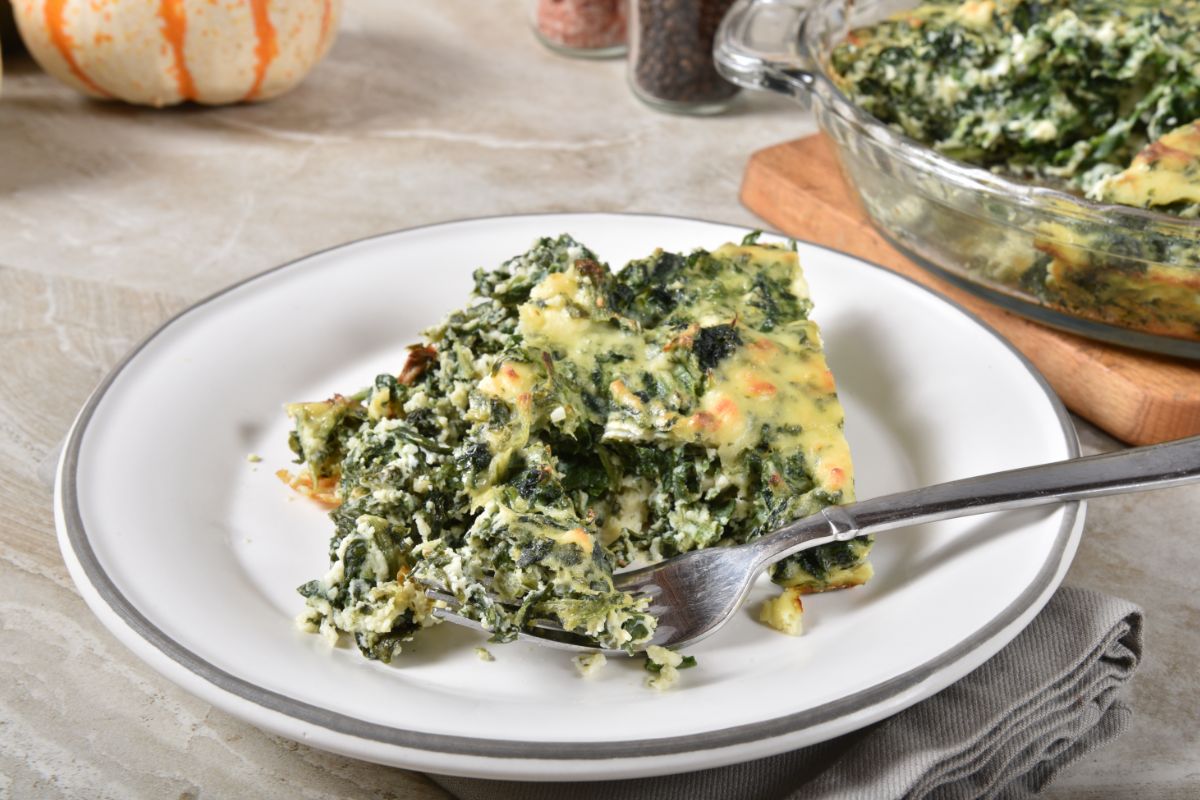 Our final recipe is a vegan spinach and artichoke quiche. Like the previous recipe, it uses tofu, nutritional yeast, and almond milk as the base for the filling.
Add some artichokes, baby spinach, and onion to make a delicious quiche suitable for vegans. There are many other vegetables you can add to this recipe too, such as leeks, mushrooms, and bell peppers.
Final Thoughts
In this article, we listed 15 awesome artichoke quiche recipes that you can try today.
We included recipes that concentrate purely on artichoke and others that use several other ingredients to complement the vegetable.
If you're vegan, we included a couple of options for making vegan artichoke quiches, too.
We hope that you enjoy making these quiches and that an artichoke quiche becomes part of your regular rotation of recipes.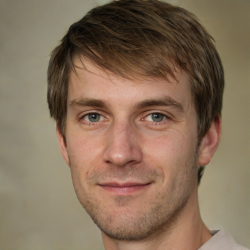 Latest posts by Mark Williams
(see all)