Fruit can add a lot of flavor to any dish you make, especially desserts, where they can add a tartness and a refreshing taste that is sure to get your attention, and it can be as simple with some recipes as mixing it all or topping your recipe with fruit.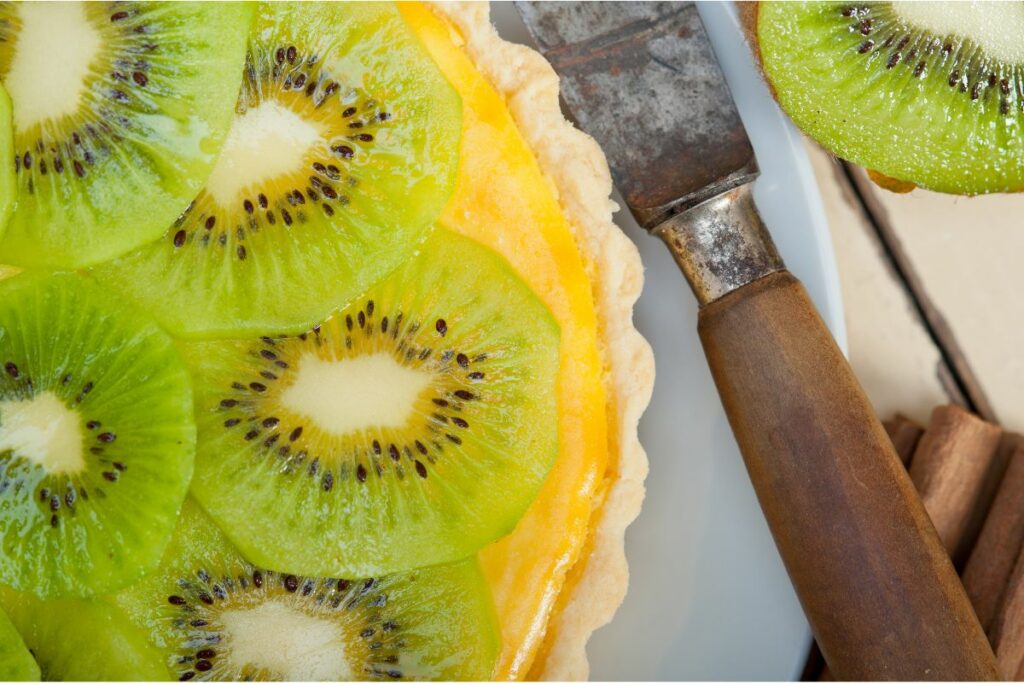 The kiwi, in particular, can add a pleasantly tangy and sweet taste and adds a citric element if you decide to liven your recipes up a notch, and when used with ingredients like milk and cream, you can get an even more delicious recipe.
Below are fifteen of the best kiwi pie recipes that use different elements, and you'll see just how easy it is to make your kiwi dessert dreams a reality.

We start with the base recipe that might give you the inspiration to try it out and see what is possible, but this one uses butter, sugar, flour, salt, oil, egg yolks, lime juice, lemon zest, and peeled kiwis, all for a decadent dessert that really stands out.
This will take you a total of 45 minutes to prepare and can serve around eight people, so if you need something for the potluck or barbecue, it makes a lovely summer dessert that will please many.
You want a simple kiwi recipe that isn't going to be too demanding of your time, as all you need is milk, egg yolks, sugar, cornstarch, vanilla bean, and some kiwis that you can slice and arrange over the cream on top of the pie.
You only have to wait for around 20 minutes for your pie crust to bake thoroughly, and you'll find once it sets that it sets well so that you could leave this in the fridge for a few days, and it will look just as lovely when you serve it up.
If you like pies that have variety and are layered, you can always try this strawberry kiwi pie that is simply delicious and has some apricot jam in it to give it a syrupy taste, which is made even better by the lemon juice, so prepare yourself for some intense flavors.
For the best result, you can make a layer of sliced strawberries, then you can make a kiwi mixture with cornstarch over these, so you can then use another layer of strawberries on top, and you can even use a different kind of pie crust for a different consistency.
This is a very unusual kiwi pie recipe, as you find a kiwi filling that is swirled in a cream cheese layer, which surprisingly uses softened Neufatchel cheese and some green food coloring to give it a nice pattern that is bound to impress.
This recipe does require you to puree the kiwi, but when you've done this, you can put some kiwi over the top if you want, and from here, you can decorate this any way you choose if you decide the food coloring isn't your thing.
Now this one has more of a pie look to it than we've seen so far, as this chilled pie doesn't require baking, so you can serve this up on occasions where you don't have a lot of time, and you can use a cracker crust pie shell or make your own which can fit with any dish you use.
Once you have your crust, you simply top your pie with your kiwis and cream cheese and add milk and instant pistachio pudding, then you can add more kiwi slices and chill for at least an hour, and from here, you can serve it any way you like.
You have a simple kiwi pie, but it comes in a jar so that you can see the layers of greek yogurt and cracker crumbs at work, and if you want a tropical flavor, you can use SunGold kiwis which are said to taste like a cross between a strawberry and mango.
With some lime juice and zest, honey, avocado, and vanilla in the mix, you can use this recipe to introduce more variety to your diet, and you can even use crushed pecans as part of your layering to provide more texture and avoids it becoming too cream heavy.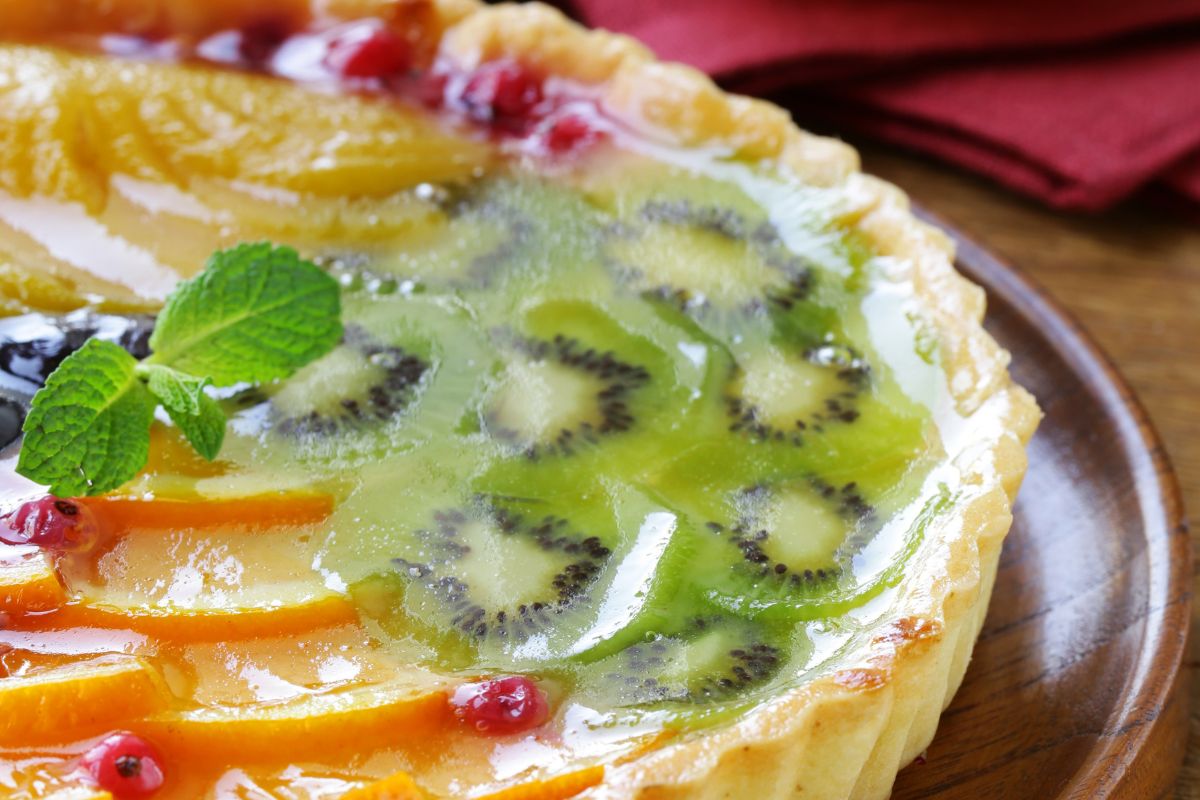 You can use practically any fresh or frozen berries you like, and with some golden blossom honey, lemon juice, cornstarch, and a pie crust of your choice, you can mash all your fruit together, and once cooled, you can layer it in your pie, with other fruit layers on top.
You can scale this recipe so you can make small pie cups if you want to make a batch, and if you let them cool will give your fruit more firmness, and when served with whipped cream, can make your desserts even more delicious.
This pie makes vegan dessert fun again, as you can use cane or coconut sugar, grated lime zest and juice from key limes, unsweetened coconut milk, vanilla extract, sea salt, and some nice sliced ripe kiwis for the finisher.
You can use a store-bought pie crust or make your own vegan pecan crust, which uses ground cinnamon, cane sugar, and vegan butter, and this makes your dessert crunchier on the outside, and this can only make this dessert more fulfilling.
Even though this one is a tart, there is much to like with an open pastry case that can house and blend all of your ingredients seamlessly, and with the gluten-free cracker crust, you don't have to compromise on texture either.
You can use kiwi puree, cream of tartar, lime juice, sweetened condensed milk, egg yolks, and some extra kiwi and lime slices for decoration, and it can take under an hour to make and serve, so this might give you some time to get creative with your toppings.
These pies can be made for any occasion, or you could make them for the family as a means of trying out different fruits, as the green and golden kiwis you can add here will make children and adults eager to try these.
These pies are made even better with their green jelly and custard filling, as the smooth and creamy custard and green jelly mixture pair well together and can make your desserts that more exciting again.
If a whipped cream topping doesn't appeal to you, there is always the chance to try out this meringue kiwi pie recipe that has sugar, eggs, cornstarch, milk, dairy butter, all-purpose flour, lemon juice, and some kiwis for the ultimate sweet dessert.
You can make a kiwi cream and pour this over the pie crust, and then you can divide a layer of sliced kiwis over the top, which you can cool while you make your meringue topping, which will form stiff peaks if you apply it with a piping bag.
This raw tart can give you an excellent opportunity to make a fun dessert in that you could use an already made pie crust, or you could use a vegan blend of almonds and dates, which could soon become your favorite if you are willing to try it out.
The filling is made with cinnamon and cashew cream, and you can freeze your tart crust to allow it to set, and once everything is added together, you can put it in the fridge for another 15 minutes to set before you serve, and it is rich enough to be served on its own.
Many of us adore cheesecake, but it is even better in this no-bake recipe, and the cream cheese with the cracker or cookie crust base and your sliced kiwis over the top is best served chilled, so you have a decadent dessert that is full of dessert goodness.
This one might remind you of the blueberry recipe, except this one uses some whole rolled oats, brown sugar, and cinnamon, and with all your fruit in the mix is going to make any party spread or dinner table that more exciting.
We finish with an unusual mix, but we find the balance of the citrus of the orange segments and kiwi fruit when combined with the cream cheese, vanilla, sugar, and non-fat milk to create a delicate treat that can be topped any way you please.
Conclusion
You can see that kiwi can be used in various ways and gives your dessert recipes a sweet and tangy taste that you can turn up or make subtle in any way you choose, so with all these ideas, you can get experimenting in your kitchen.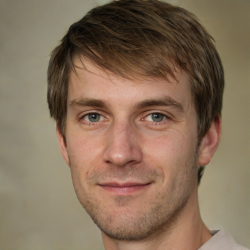 Latest posts by Mark Williams
(see all)