Mangoes are the ultimate summer fruit. There is nothing more refreshing than biting down on a juicy, delicious slice of mango.
So, today, we're going to combine your two favorite things: cheesecake and mango, to create the ultimate mango cheesecake.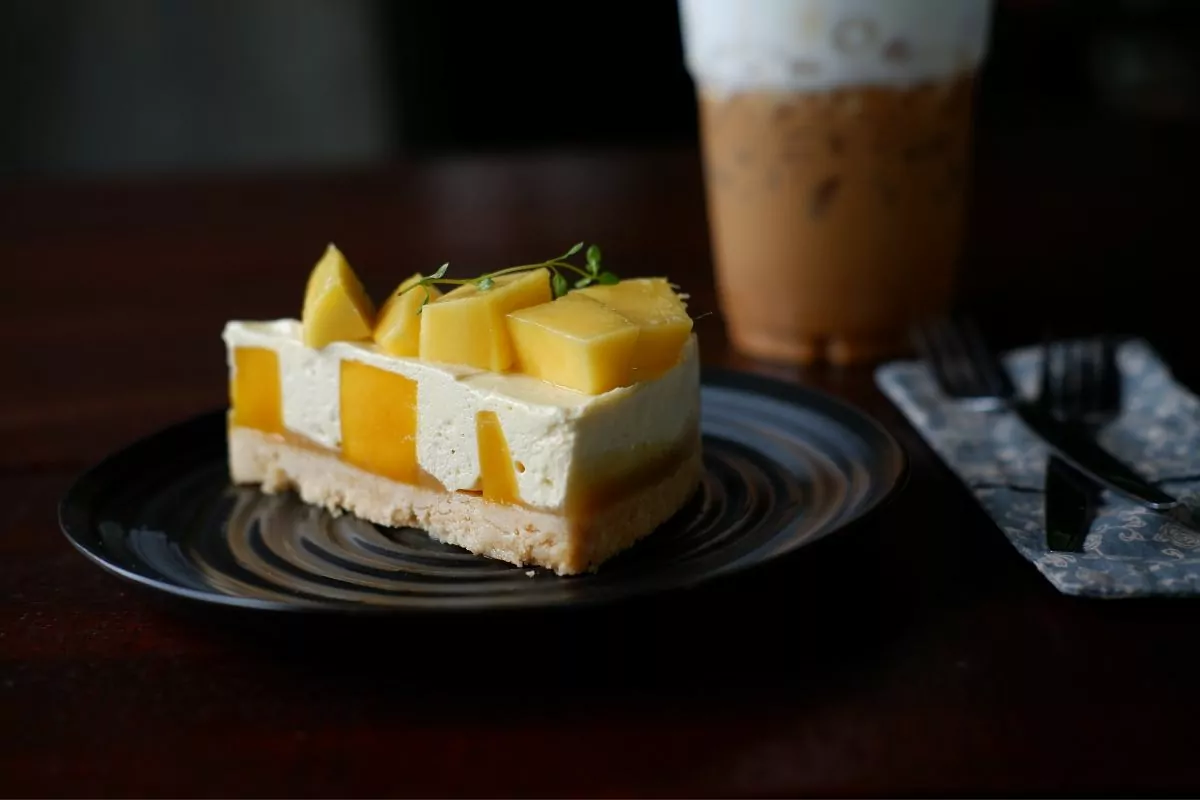 Not only are mangos incredibly delicious but they are also extremely nutritious; being rich in vitamin A which improves both your skin and hair health.
Therefore, there couldn't be a better reason to start including your favorite fruit in all your recipes.
With this in mind, in this article, we're going to be exploring everything mango cheesecake related. Perfect for those mango and cheesecake lovers.
Let's get straight into it!
This is a genuinely delicious no-bake mango cheesecake that features a mango jelly topping, mango cheesecake filling, a biscuit base, and much more!
This recipe goes all out in the mango theme, so if you're a mango lover, then you'll love this cheesecake!
For the filling, you'll find mango pulp, which gives it a strong, delicious mango flavor. For the mango jelly, you'll need a combination of the mango pulp, gelatine, and boiling water to create a stunning arrangement.
This is the only no-bake cheesecake you'll ever need – we promise! You'll be rewarded with a deliciously creamy mousse-like cheesecake that is packed to the brim with flavors and fragrances of Alphonso mangoes.
Essentially, this cheesecake is a true celebration of the mango and summer season!
Unlike some other recipes, this recipe is unique in that it calls for Alphonso mangoes. If you can't find fresh Alphonso mangoes, then not to worry; since canned Alphonso mango pulp works just as well.
Just before serving, decorate your cheesecake using fresh strawberries, and, of course, more mangoes – you can never have too many mangoes, after all!
This no-bake mango coconut cheesecake is sweet, deliciously refreshing, light, and super simple to make.
While the traditional baked cheesecakes are equally delicious, sometimes, you just don't have the time or motivation to make one! That's where this mango coconut cheesecake comes in.
This recipe eliminates all the complicated steps – such as cracked tops and over-baking – and, instead, offers a simple yet effective recipe that can be whipped up in minutes.
Although, the only downside to no-bake cheesecakes is having to wait, at least, 2-3 hours before they're ready to serve.
Having said that, everything else is a breeze! Not only does it taste delicious but it is also incredibly light and not heavy on the stomach.
This delicious vegan mango cheesecake features layers of creamy vanilla lime and sweet mango curd all within a no-bake crust – the perfect vegan cheesecake for summer desserts!
If you're a lover of tropical flavors, then you're going to make this recipe throughout the spring and summer seasons.
This fun vegan treat is packed to the brim with flavors, from tropical mango curd topping and creamy vanilla lime filling to a toasted coconut crust. 
This eggless mango cheesecake is ridiculously creamy and fruity; you're sure to be coming back for more!
It is the perfect treat for those hot summer days, filled with fruit, creamy, and slightly sweet flavors that are irresistible.
The best part? It is incredibly easy to make! Whether you're making it on the day or the day before, it is the perfect dessert for any occasion.
This cheesecake features a tropical-inspired twist with mango Key lime flavors, as well as a ginger-coconut crust with two luxurious layers that are topped off with a flavorful fresh mango coulis.
To make the coconut cream, all you need to do is add a few drops of coconut extract to the whipped cream mixture before topping it on the cheesecake.
Then, finish it off with a dollop of whipped cream and a sprinkling of those delicious toasted coconut flakes for bursts of flavor and texture.
While this dessert may look complicated, it is easier to make than you may think! From the outside, this looks like an intimidating cheesecake; however, at its core; it's essentially all about mixing delicious ingredients to create the perfect cheesecake.
Just from looking at the ingredients, you know that this is going to be a delicious cheesecake! Even if the crust may not be to your typical liking. 
The layer of cream cheese is sure to tickle your fancy; however, the white chocolate is what lures you in.
Mango cheesecake is one of those desserts that you know is going to be a hit among all your friends and family. And this baked mango cheesecake bears no exemption to the fact!
This mango cheesecake is a delicious variation of the popular American cheesecake made using flavors of mango, cream cheese, and yogurt.
Unlike typical cheesecake, this one features a soft vanilla sponge base which is a nice twist from the classic cookie base.
Whatever the occasion – Christmas, anniversaries, or birthdays – you'll know it will be a crowd favorite.
These no-bake vegan mango cheesecake bars are the perfect vegan summer treat! They are refreshing, easy to make, super creamy, and will be a crowd pleaser among all your friends!
With only a few simple ingredients, you'll be able to make this three-layer mango cheesecake in under 30 minutes, the rest of the time is simply used for chilling.
The beauty of a no-bake cheesecake is that you can put it in the refrigerator and forget about it until you're ready to serve. Perfect for dinner parties and festive occasions – it is the ultimate no-fuss dessert that you need to try.
This cheesecake recipe presents a simple twist on the traditional recipe by including a gently aromatic twist by using basil.
Basil in a cheesecake?! You may be outraged to hear such a statement. But, don't knock it until you try it. You may be pleasantly surprised to discover that it tastes delicious. Trust us, it does!
With only 20 minutes of preparation, you can let your oven do its magic for the remaining 80 minutes until it is ready to serve.
With only eight simple ingredients, these no-bake mango cheesecake mousse jars are not only insanely delicious but they are the creamiest dessert jars that you'll ever taste. Perfect for a late afternoon snack or even as a gift for friends and family!
In addition to looking stunning, since these fun cheesecakes are made in small jars it makes them perfect for transport. Whether you're going to a potluck or having a picnic, you can rest assured that these bad boys won't be spilling anywhere!
There's no need to turn on the oven with this recipe and with only eight ingredients, you'll have them whipped up in no time – there's no excuse to not make this recipe!
When it comes to summer desserts, the last thing you want to do is turn on the oven! That's where these no-bake mango cheesecake trifles come in.
Not only do they look impressive, but putting them together is nothing but a breeze! All you need to do is whip everything together, layer, and then leave to chill – it's that simple!
The general rule of thumb is the longer you leave the cheesecake set, the better it will be. So, if you're able to resist the temptation, leave these suckers for at least 4 hours before serving.
Trust us; the wait will be worth it!
This recipe may not be for the amateur bakers in the crowd. However, if you have the time, and the skill, you will be rewarded with a restaurant-quality cheesecake that is not only stunning to look at but utterly delicious to eat.
If you're up for a challenge, then definitely go for it!
These mini mango cheesecakes will disappear in minutes – they are that delicious!
If you're looking for a way to celebrate mangoes this summer, then this recipe is everything you could want and more!
Slightly tart, creamy, and sweet flavors with every bite – it is truly perfection!
Upgrade your next cheesecake tart with a tropical twist using mangoes.
This no-bake cheesecake is simple yet effective and packed with all your favorite ingredients including cream cheese, a cookie crust, and, of course, mangoes.
It is a simple but delicious recipe that you can whip up in minutes.
Final Thoughts
Mangoes and summer go hand-in-hand. So, why not celebrate all things mangoes this summer with these mango cheesecake recipes?
From vegan mango cheesecakes to mango cheesecake tarts, hopefully, we have provided you with some inspiration for your next mango cheesecake creations!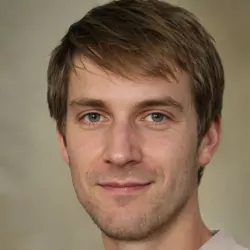 Latest posts by Mark Williams
(see all)