If you are looking for a dessert that is indulgent and creamy then you won't get much better than a triple chocolate cheesecake. It is perfect for chocolate lovers and will look very impressive due to its beautiful layers.
Cheesecake is an elegant dessert that is great for any occasion – parties, holidays, birthdays, or dinner parties.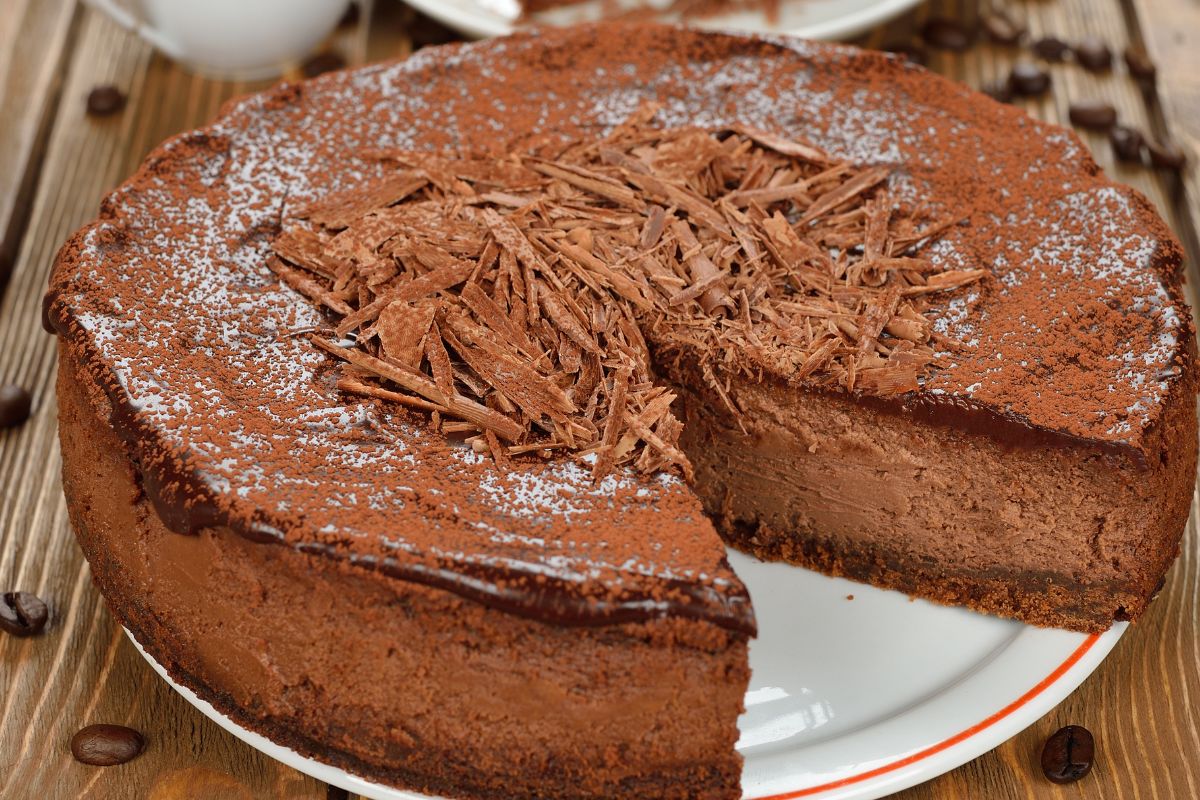 There are lots of different ways to make triple chocolate cheesecake. We have put together this list of the most amazing recipes for triple chocolate cheesecake so that you can find your perfect dessert. Keep reading to find out more.
This chocolate cheesecake requires no baking which makes it nice and simple. It is made of clear layers which look amazing when you slice into the cheesecake. The base is made with digestive biscuits which contrasts with the chocolate in the rest of the recipe.
There are three layers of cheesecake filling – dark chocolate, milk chocolate and white chocolate. The dark chocolate is a little bitter, the milk chocolate is smooth, and the white chocolate is sweet.
The cheesecake is decorated with whipped cream, chocolate sprinkles and chocolate shavings.
The chocolate biscuit base of this cheesecake extends all the way up the side in a thin crust, encasing the three layers of chocolate filling. The bottom filling is white, the middle filling is dark, and the top filling is milk.
Use a spatula or a knife to even the surface of the cheesecake so that it sets perfectly smooth as this will look more professional.For a truly decadent finish, this cheesecake is topped with chocolate dipped strawberries.
This cheesecake takes a little bit of time to make, but it will be worth it.
This triple chocolate cheesecake has a chocolate cookie base that is nice and crispy. The rich, creamy filling is made with smooth milk chocolate, and it has a dark chocolate ganache on top. It is finished off with chocolate shavings for a truly irresistible dessert.
It is very decadent so a small slice will go a long way, but chocoholics will want to tuck in to a big portion. You can serve it with fresh fruit or a fruit sauce to contrast the chocolate, and a little pouring cream.
This chocolate cheesecake has a very impressive appearance and would make the perfect centerpiece for a dinner party. The chocolate biscuit base is pressed onto the side of the deep tin, so it totally surrounds the cheesecake.
The filling inside is soft and creamy, and the cheesecake is topped with a shiny chocolate glaze.
It is very rich but not too sweet, as a mixture of dark and milk chocolate is used which introduces some bitterness.
Rather than usual chocolate biscuits, the base is made by mixing graham crackers with cocoa powder and butter which maintains a salty element to the cheesecake.
The chocolate filling for this cheesecake is so light it is almost like a mousse. It has an oreo cookie crust which is thin and crisp, adding a nice crunch to the cheesecake. The cheesecake is topped with a rich chocolate ganache which drizzles down the side of the cheesecake.
Espresso powder is used to help bring out the flavor of the chocolate and counteract the sweetness. A mixture of cream cheese and sour cream is used to create the filling which makes the perfect balance of flavors.
Why is this the ultimate triple chocolate cheesecake? Because it has four different layers of chocolate to dig into. It has an oreo biscuit base, a baked chocolate cheesecake filling, a rich chocolate ganache, and is finished off with chocolate whipped cream and chocolate sprinkles.
The baked filling has a thicker, more decadent texture than the no-bake cheesecake fillings and is super soft.
This recipe for baked triple chocolate cheesecake is one that you will want to return to again and again. The trick to preventing cracks is to let the cheesecake cool inside the oven. If you remove it straight away then it will shrink in the cool air, causing the filling to crack.
If you turn the oven off and leave the cheesecake in there for an hour as it slowly begins to cool, it will keep its perfect shape.
This cheesecake has a simplistic, modern design and it looks very tasty. You can clearly see the different layers of dark chocolate, milk chocolate and white chocolate cheesecake filling sitting on top of a dark chocolate biscuit crust.
This is a no bake recipe which means you can make it in the summer when you don't want to turn the oven on, but it is also perfect for winter celebrations.
This triple chocolate cheesecake is really easy to make and it requires no baking. It is topped with seasonal fresh fruit to contrast the creamy flavor of the chocolate. You can use whatever fruit you fancy – strawberries, raspberries, bananas, cranberries – or a mixture of different fruits.
The filling is made with 70% dark chocolate, cream cheese, double cream, icing sugar, cocoa powder, and just a touch of salt.
This recipe only takes 25 minutes to prepare, and then you can let the cheesecake set in the refrigerator. It has three layers of filling – dark chocolate, milk chocolate and white chocolate. Oreo cookies and melted butter are used to make the biscuit base.
The cheesecake is topped with a chocolate ganache made with double cream and melted chocolate, and then decorated with broken up pieces of your favorite chocolate bars.
This cheesecake looks like it would be complicated and fiddly to make, but it is actually very simple. The first step is the crust made from oreo crumbs, mini crisp pearls and melted butter which is pressed into the tin.
You then make your cheesecake mix and split it into three bowls to add the three different types of chocolate.
Pour the chocolate mixtures over your biscuit base one at a time, using a knife or spatula to smooth the surface of each one before adding the next. Add mini crisp pearls to the top of the final layer, then leave the cheesecake to set.
This simple recipe has everything you need from a triple chocolate cheesecake. It has a crunchy base, a creamy cheesecake filling, and an indulgent chocolate ganache topping. It is simple to prepare but looks really impressive.
You can serve it dusted with cocoa powder alongside a scoop of vanilla ice cream for a restaurant quality dessert in the comfort of your own kitchen.
This is a rich, baked chocolate cheesecake with a crunchy base and a sweet chocolate topping. It has eggs, sour cream and cream cheese to create a flavor that is decadent but a little bit tart, counteracting the sweetness of the chocolate to create a balanced flavor.
It is denser than a no-bake cheesecake, so it instantly feels more indulgent.
You need to be patient when letting the cheesecake cool – it smells so good but it should be entirely cooled before you decorate it and slice it.
This triple chocolate cheesecake has a cornflake brittle crust and is decorated with balls of cornflake brittle. Cornflake brittle is really easy to make – just melt your chocolate and mix it with cornflake cereal until all of the corn flakes are coated in chocolate.
As the chocolate sets it will create a crunchy, sweet treat that works perfectly as a cheesecake base. The cheesecake filling has three layers – dark, milk and white – so you can really enjoy the triple chocolate flavor.
This decadent chocolate cheesecake is perfect for a celebration or special occasion as it is so indulgent. It has a chocolate shortbread base, a rich and creamy baked filling, a ganache topping, and is finished off with a dusting of cocoa powder.
The edges of the cheesecake turn a wonderful brown color as they cook. It is a tall, imposing masterpiece that will look impressive in the middle of your table.
Summary
Cheesecake is a great dessert to serve when you have guests coming over as you can make it ahead of time. Triple chocolate cheesecake is super indulgent, rich and flavorsome and is sure to impress your family and friends.
It will smell so tempting and the chocolate layers are mouthwatering to look at. Make sure you make a big cheesecake as everyone will want to come back for seconds!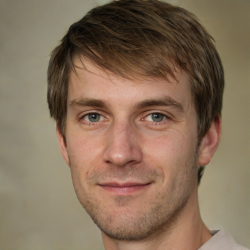 Latest posts by Mark Williams
(see all)