When you've got summer fruits available, deciding what you want to make next can feel like a challenge.
Thankfully, if you have a surplus of cherries in your kitchen, we've found some great recipes you can use to enjoy some cherry pie crumble and inspired recipes!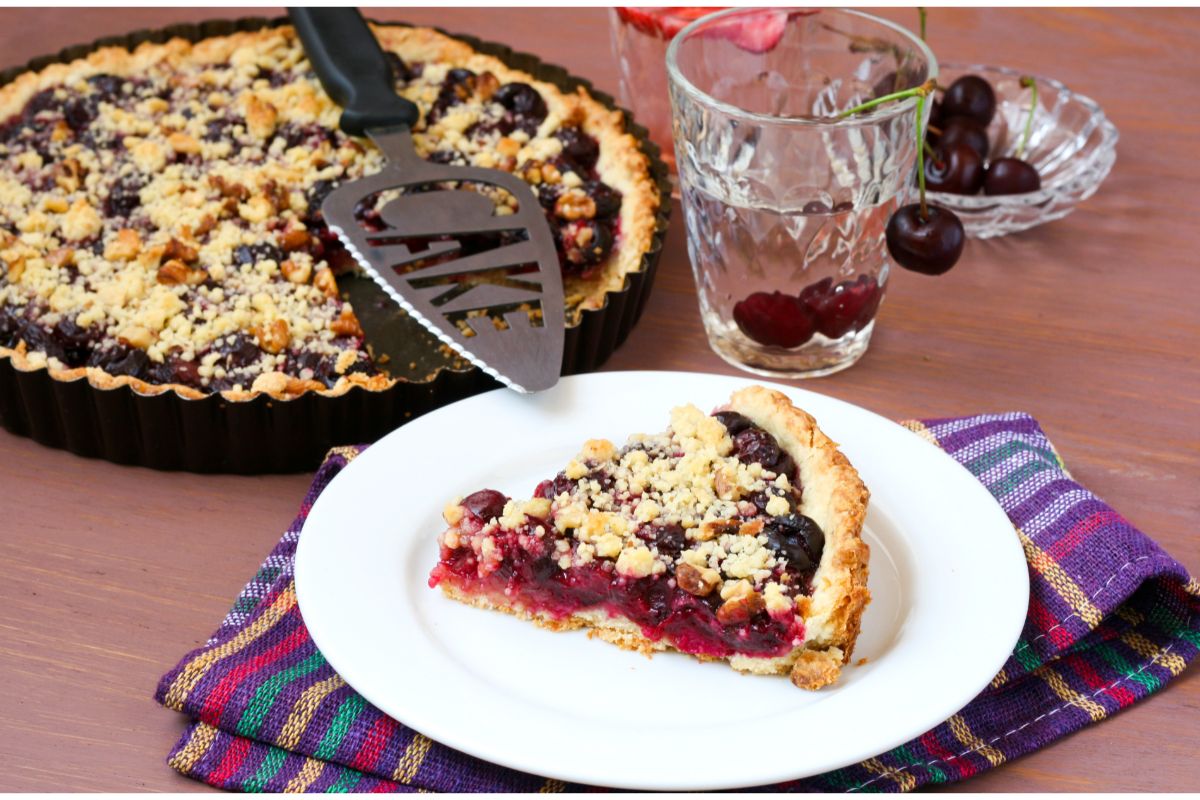 You don't have to be limited to a basic cherry crumble or a cherry pie, as we've compiled some of our favorite recipes just for you!
So, if you're struggling to decide what dessert you want to bake next, look no further! Here we have 15 amazing cherry pie crumbles and inspired recipes for you to make in the comfort of your own home.
I love both cherry crumble and cherry pie, so mixing them together will always bring about the best of both worlds. The topping has a great crispy texture, yet the base still has the secure structure of the pie.
Sure, you could just make the usual cherry pie with this recipe, but where's the fun in that?
If you want some of this cherry crumble pie, then don't worry because all of the ingredients can be bought in your local store, even if you don't have them readily available in your cupboard.
Cherries are the type of fruit that you can use for both dessert and breakfast. So, why not merge them both together with this cherry pie crumble bar recipe? Make some of these the night before, and you can grab them on the way out of the door.
You don't need fresh cherries at hand, as you can make this recipe with frozen fruits instead. Once you've made these, you can leave them in an airtight container, and they'll be there for you for five days or even longer while in the fridge or freezer!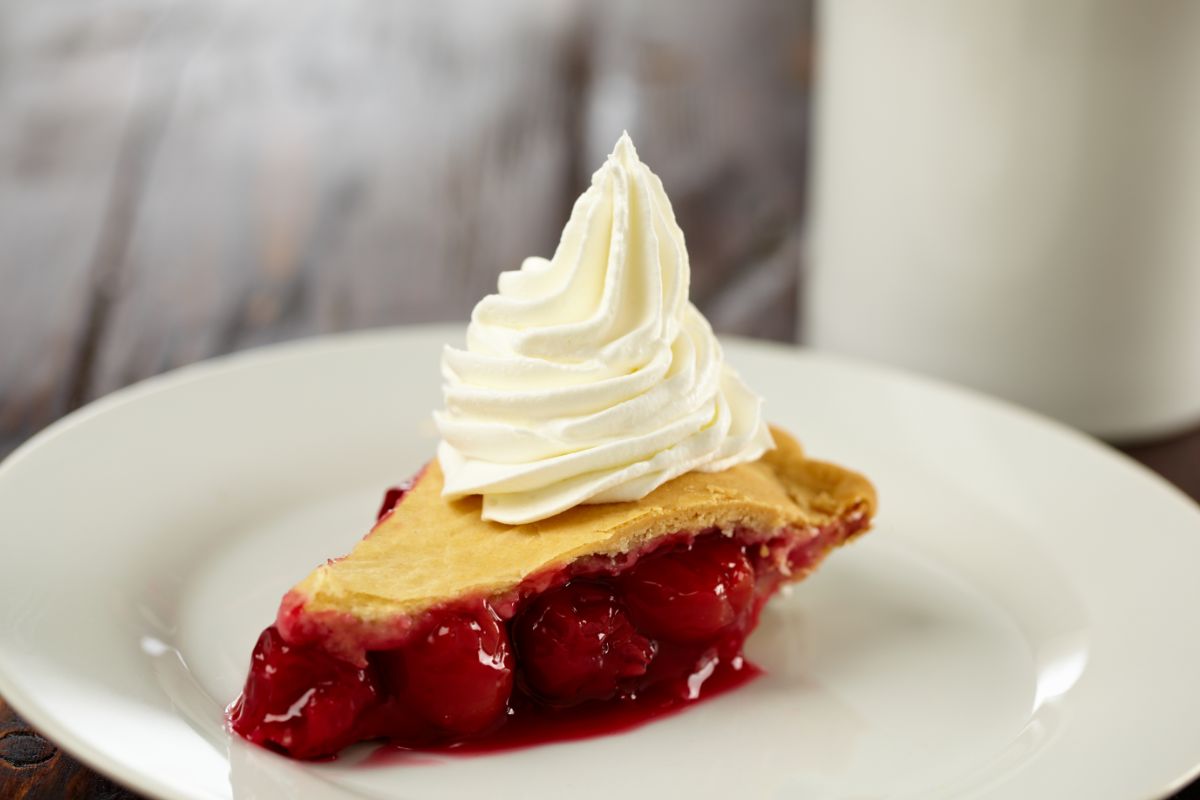 Not everyone is a massive fan of sweet cherries, so we've included some cherry crumble pie for those who love the sour tang of red tart cherries!
Of course, they're not too sour, as the crumble itself is made with brown sugar, and you can always serve it with some cinnamon ice cream, so you're ready for Fall. It doesn't matter when you serve it. After all, it's a great dessert that you can even serve guests with their coffee.
As much as I love cherry crumble pie, I also love a good cherry crumble itself. Top it with some hazelnut streusel, and you'll be in for a truly delicious treat! The best thing about cherry crumble is that it's essentially the filling of your pie, but without the base.
You can always add some ice cream or powdered sugar to your crumble or even some custard. Feel free to mess around with the variations, and soon you'll have cherry crumble on your list of favorite desserts in no time.
A perfect summer treat, cherry rhubarb crisp is ideal for those hot days when you just want something refreshing. Cook your cherry and rhubarb in a dish, and coat it with some oatmeal crisp toppings, and it won't take long for it to be devoured.
While you might think that rhubarb and cherry is a terrible combo, you'll be surprised to find it's a great mixture! Just pop your cherry rhubarb crisp in the oven, and serve it with ice cream or whipped cream, and there's no doubt that you'll love it.
I have great news for you if you're on a Paleo diet. You can still enjoy a cherry crumble pie with gluten-free and dairy-free ingredients! While most people assume that if they're on a diet, they can't have any fun, this shows that's not the case!
You can sweeten your cherries with maple or coconut sugar with some tapioca as a thickener to enjoy that sweet filling. The topping is made from walnuts and almond flour so that you can enjoy a sweet treat without guilt.
Sour cherries are in season during June and July, with sour cherries. Not everyone enjoys sweet fruits, so sour cherries work well for anyone who may find desserts a little too sweet.
While officially a dessert, I find that these sour cherry crumble bars work amazingly well as a breakfast treat, as they're so compact and provide a nice kick to wake me up in the morning.
Hand pies are always delicious, with the syrup of these cherry hand pies seeping out of the flaky crust. You can coat these with an icing glaze and enjoy them whether you save them for later or eat them straight out of the oven.
Of course, if you decide to reheat them in the microwave, I should warn you that they may explode. So, you can always enjoy these cherry hand pies with your lunch or as a little treat.
You can enjoy this delicious Southern dessert in the comfort of your own home! If you're heading over to a potluck, then this is a great dish to bring with you. After all, everyone can appreciate an excellent Southern cherry cobbler.
In fact, there are few differences between a cherry crumble and a cherry cobbler, with the topping still having the same delicious crumbly texture that we know and love.
I'm cheating a bit with this recipe, as I admit that it is more of a cake. However, that shouldn't be a problem for anyone who prefers the cake's texture to a pie.
Occasionally, it's called German cherry crumble because it has a crumbly texture and a streusel topping traditionally found on your usual crumble. However, that doesn't stop this recipe from being a delightful choice for anyone who wants a light treat with their coffee.
This cherry crunch pie is a super easy dessert to make, and it's also popular in the author's family for a reason. Cherry crunch pie is easy to make, with the cherries spread over the pie crust in a way that the recipe is full of flavor and texture.
Once you sprinkle the crumble over the top, you just need to put it in the oven, and it only takes half an hour! Once it's golden brown, you can serve it with ice cream, just so long as you wait a moment so that the ice cream doesn't melt before you sit down.
Apples and cherries are one of my favorite combos, and it's like that for a reason. This apple cherry crumble is perfect for the colder evenings when you just want to feel warm. You can use whatever apples you want, even mix them up to combine with your cherries.
Of course, you can also use whatever type of cherries you want. Apple cherry crumble is a perfect recipe to mix and match your ingredients, so you can have plenty of fun mixing your flavors together until you get something you love.
Just because I've mentioned cherry crumble bars doesn't mean you can't alternate your breakfast/dessert treats! Cherry crumble danishes are filled with a cherry pie filling and then baked in a puff pastry.
Cover them with a sugary glaze, and it won't take long for you to find a new favorite pastry for your morning routines. You can also freeze them for up to three months, so don't worry if you want to make some and then keep them ready for a rainy day!
Our penultimate recipe on this list is the cherry cheesecake crumble bar. These are two of my favorite desserts for a reason. After all, why do you need to choose which dessert you want?
The cheesecake filling adds to the tart flavors of the cherry pie filling in the crumble bars, with the crumbly texture not so different from what you would expect from a cheesecake's base.
Sure, you could use any topping for these mini cherry pies, but a crumble topping works wonders with these little treats. You don't only have to enjoy cherry pie crumble bars when you can enjoy your pies in a miniature form.
Just add plenty of cherry pie filling to your pie's bases, and you'll be in with plenty of flavorful treats you can share with your family and friends.
Final Thoughts
Cherry pie crumble is an easy dessert to make, and the main ingredient that makes it so is the cherry pie filling. So, I've taken some liberties to add a few small elements that will inspire you to get into some more baking.
Using these recipes, you'll find new ways to use both your cherry pie filling and your crumble toppings, and not in the way you expected! So feel free to enjoy these recipes and have fun experimenting!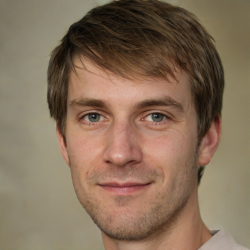 Latest posts by Mark Williams
(see all)