Cheesecake is always a super delicious dessert. It's creamy and smooth texture fits almost every meal.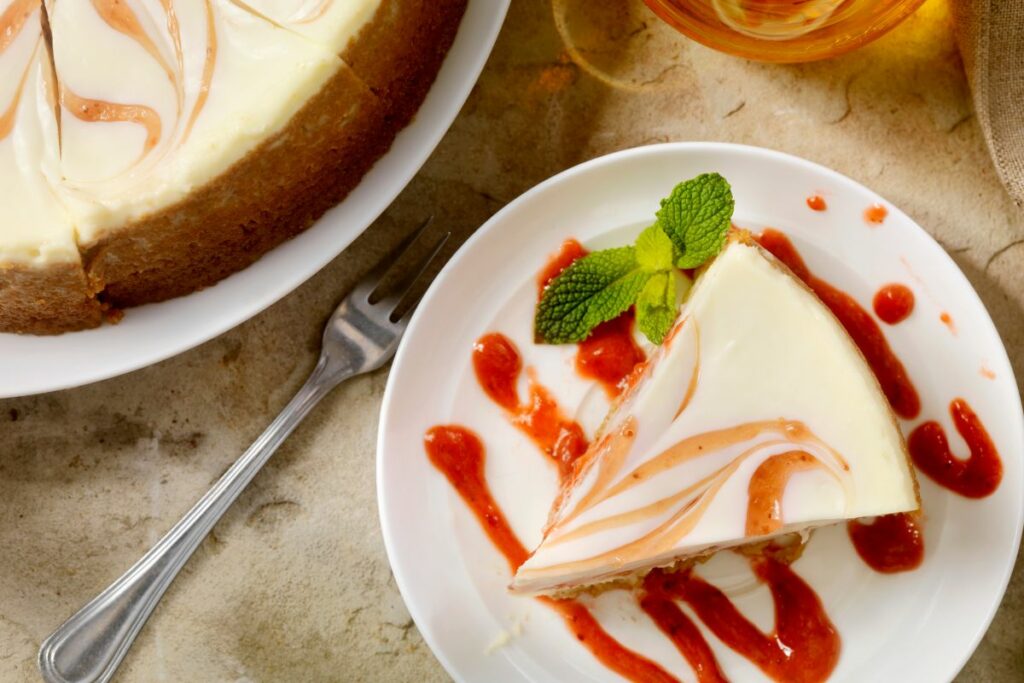 But what happens when you add some fresh strawberries and a little swirl in the middle? Then you get the richness of cheesecake with plenty of fruity strawberry.
Here are our favorite strawberry swirl cheesecake recipes that you will simply love.
This is a classic cheesecake recipe with the delicious fruitiness of strawberries added. It's a baked cheesecake, so you will need to bake it properly.
While this may sound daunting to some people, it's quite straightforward.When making a cheesecake like this recipe, it's important that you pick either rich cream cheese or ricotta.
The cream cheese will make your cheesecake much righter, although ricotta can make your cheesecake lighter.
Whether you want to celebrate a birthday or you simply want to say thank you, this strawberry cheesecake recipe is ideal for every occasion.
It has a rich creaminess that makes it taste like an extra special cake. The strawberries add a little bit of sweetness and freshness to this luxurious cake.
Make sure that all your ingredients are at room temperature. This will ensure that your cheesecake is beautifully smooth.
This tasty cheesecake recipe is made with a classic vanilla cheesecake base, fresh strawberry puree and Graham Cracker crumbs for the base.
Simply mix your Graham Cracker crumbs with sugar and butter, and put smooth it out in your spring form. It's as simple as that to get the base for this cheesecake done.
Then whisk your vanilla cheesecake mix together, put it on the base and gently add the strawberry swirls with a fork. When you are making your cheesecake mix, it's important that you beat the cream cheese up for a few minutes.
It should have a creamy and smooth consistency to ensure that your cheesecake is smooth when baked.
The fruity fresh strawberry swirls in this vanilla cheesecake just taste so delicious and refreshing. The biscuit base is a nice crispy contrast to the creamy vanilla filling and sweet strawberry sauce.
When you are making baked strawberry cheesecake, it's important that the base doesn't crack.
You can prevent any cracks in your cheesecake bake by not overmixing the base ingredients. Simply mix the ingredients for the base together just until they are fully combined.
In addition, you can also avoid a cracked cheesecake base by using a cake belt around your tin. This is a cloth or silicone band that fits around your cake tin.
It holds the cake tin in place even when it heats up during the baking process. This prevents the cheesecake base from expanding and potentially cracking.
If it's the season for fresh strawberries, then a cheesecake with strawberry swirls is the ideal dessert for spring dinners.
This cheesecake recipe is so quick and easy to make, and you can even turn it into a chocolate cheesecake with a delicious Oreo crust.
You can also make it smaller as a special Valentine's Day treat for two, or why not turn it into strawberry cheesecake ice cream to make it last longer!
If you love other berries, such as raspberries or blackberries, then you can also use other fresh berries or any berry sauce of your choice to make this tasty cheesecake.
Alternatively, you can also turn this strawberry cheesecake into a caramel cheesecake by substituting the strawberry sauce with caramel sauce.
It doesn't take much to whisk together a super creamy cheesecake with a fruity strawberry touch.
In this recipe, you will even learn how to make your own homemade strawberry sauce that fits so well with the smooth, baked cheesecake.
It should take only an hour of baking time, and you don't even need a water bath for your cheesecake in this recipe.
It's worthwhile keeping in mind that strawberry swirl cheesecake isn't gluten-free as it uses crackers or crumbs as a base. They are usually made with wheat or other grains that contain gluten.
However, you can also get some gluten-free biscuits and gluten-free flour to make a gluten-free cheesecake with strawberry swirls.
This easy strawberry swirl cheesecake has a creamy vanilla filling with fresh and fruity strawberry swirls. Made with a crisp Graham Cracker crumb base, you don't need a water bath for this cheesecake.
Plus, there is always a great option to use fresh strawberries to top your cheesecake off with some healthy fruit.
One of the advantages of cheesecake is that you can make it well in advance before your special day, or even in the morning of the day when you want to serve it.
As with other cakes, the fresh your cheesecake, the more delicious it tastes.
This super creamy cheesecake uses a New York cheesecake as a base and adds some tasty strawberry as swirls.
You can use as much of the strawberry jam as you want, so create your favorite strawberry swirl shapes or just cover the entire cheesecake in strawberries.
Whatever you choose to do with this cheesecake, it's always looking stunning.
If you can't get enough of fruit in your cheesecake, then this strawberry swirl cake definitely adds a little bit of lemon for more zest.
You still get the delicious creaminess of cheesecake combined with fruity strawberry flavor. Plus, the lemon adds a little sharpness to this cake recipe.
You can simply indulge in this easy-to-make cheesecake full of strawberry flavor. As you don't need to bake this cheesecake, it's also much quicker.
You can whisk together a delicious summer dessert in just a few minutes without putting the oven on.
Served with homemade whipped cream and strawberry coulis, this cheesecake is just the way we like it: rich, creamy and plenty of fruity swirls.
You can even freeze this strawberry swirl cheesecake. Just place it in the freezer for a few hours and then wrap it in aluminum foil.
This will ensure that your cheesecake stays as delicious as when fresh. And you can easily thaw the cake by leaving it out overnight.
Delicious, creamy and rich. This cheesecake has it all. It's ideal for a spring party or just as a late summer dessert for a birthday party.
The creaminess of the cheesecake pairs well with many main meals and even with some fruity cocktails. You can always add a few fresh strawberries, raspberries or other fruit on top. Just cut the cheesecake with a sharp knife.
The best way to cut cheesecake is by using a chef's knife that has been run under hot water. This ensures that nothing of the cheesecake sticks to the knife and you get cleanly cut slices.
You can also use a standard kitchen blowtorch to heat up the blade. This has the same effect, although this may also affect the blade of the knife after a few uses.
A delicious cheesecake doesn't have to be difficult. In fact, no bake cheesecakes are super easy to make and they are much quicker than their baked variety.
Just whisk all the ingredients for the base and the filling together, layer them in a baking tray and let everything sit in the fridge for a while.
You can store cheesecake in the fridge for up to 5 days. Just make sure to cover it with some aluminum foil and plastic wrap.
Alternatively, you can also put it into a large airtight container or cut it into pieces and freeze it. Cheesecake can last a few months in the freezer.
Could you imagine to ever add black pepper to your cheesecake crust? That's right. Most cheesecakes don't have a crust, except for this super tasty cheesecake pie.
Cheesecake as a pie is just the perfect way to celebrate a sweet Valentine's Day. You can serve this delicious cheesecake right out of the oven, or let it cool for a stronger strawberry flavor.
If you love your cheesecake and you don't know what size slice is enough, then these nicely sized cheesecake bars might be a great option for smaller portions.
While these bars may not look like a standard round cheesecake, they taste just like the real thing.
Plus, they are made exactly like a standard cheesecake recipe. Just that you are using a tray instead of the normal round tin.
Final Thoughts
Cheesecake is a truly irresistible dessert on its own but when you also add the fruitiness of strawberries, then it becomes a mouth-watering treat.
From the classic strawberry swirl cheesecake to neatly cut cheesecake tray bakes, cheesecake with strawberries is always a great cake for summer.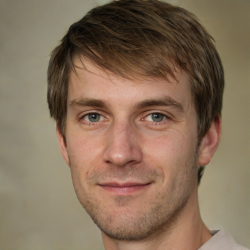 Latest posts by Mark Williams
(see all)