It's impossible not to be jealous of KFC's chicken pot pies, and you can't always get them. After all, you may have wanted a delicious chicken pot pie, but sometimes, you just can't afford to go out for a meal.
So, why not try and make one of KFC's delicious chicken pot pies at home? Instead of heading to the drive-thru, we've found more affordable methods to work for you.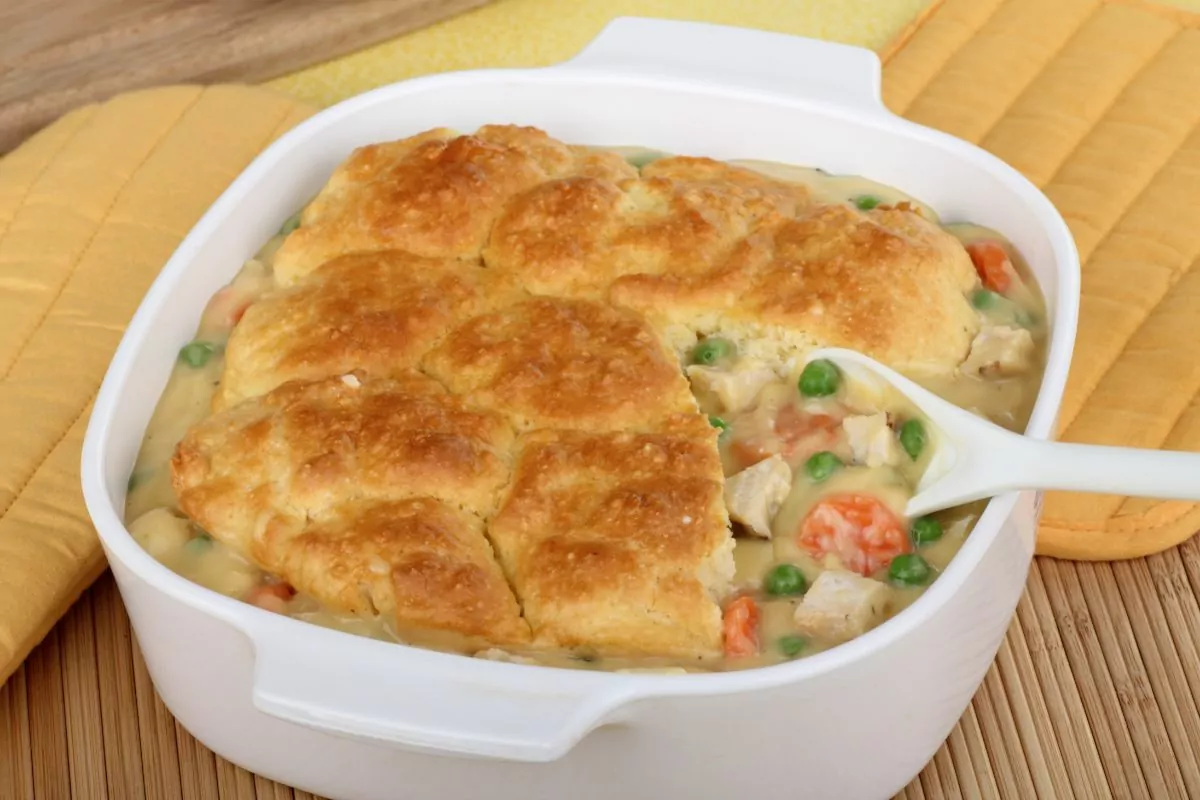 We've compiled a list of 15 different KFC chicken pot pie recipes, with all of these authors providing their own twist on this classic dish. You don't have to wait; you can find out the best recipe for you and go on from there.
So what are you waiting for? It's time to get cooking!
This KFC chicken pot pie copycat comes from Sweet and Simple Living. They went out of their way to make their own interpretation of the dish after they realized that they don't have that many fast food places where they live.
Using simple ingredients they can easily find in their local store, they've made their own version of KFC's chicken pot pie using either a rotisserie chicken or their own fried chicken. After one hour and fifteen minutes, you'll have enough chicken pot pie to feed a family of six!
You don't have to go through the drive-thru to enjoy the Slow Roasted Italian's KFC chicken pot pie. You can adjust this recipe to make six individual pies, two large ones, or one gigantic 9-inch pie!
It's incredibly versatile, and they've even made their own heart pot pie soup inspired by this recipe!
While the KFC version doesn't have a bottom crust, you can easily adjust this recipe to include a bottom crust, and they even suggest adding your favorite veg to make this recipe your own!
CopyKat has declared their chicken pot pie the Best Ever, having carefully emulated the original recipe in such a way that you feel like you're enjoying it at home. To save time, you can fetch yourself some refrigerated pie crusts and make your chicken ahead of time!
To enjoy the best of the chicken, they use half a pound of cooked chicken breast and combine it with some carrots, peas, potatoes, and three cans of cream of chicken soup. Within an hour, you'll be able to enjoy the taste of your hard work!
This KFC chicken pot pie recipe stands out because it's even got some additional cheese in the recipe to give it a distinct, cheesy flavor!
They suggest baking them in ramekins instead of tin foil, and they even recommend serving them with some sauteed asparagus to have a distinct meal.
Compared to the other recipes, they also use red potatoes instead, and so it stands out among the crowd of KFC copycats out in the wild.
Not everyone can afford takeout, so Eating On A Dime has worked on a super easy recipe for everyone! Most of the items needed for it are on sale during the fall and winter months, so you'll be able to enjoy this meal especially as the weather gets colder.
Much like the original recipe, you need to remove the meat from the bones and put the shredded chicken in your pie. You can even freeze them for later, especially if you don't want to bake them straight away.
I'll admit that KFC's chicken pot pie isn't as healthy as most people would like, which is why Gonna Want Seconds has made its own more nutritious recipe. But how do they make it healthier?
Well, for one thing, they use more vegetables than the other recipes. Along with potatoes, carrots, and peas, they also throw in some onions too! While the recipe is easy to make, you can always prepare ahead by boiling your potatoes and carrots before you get started.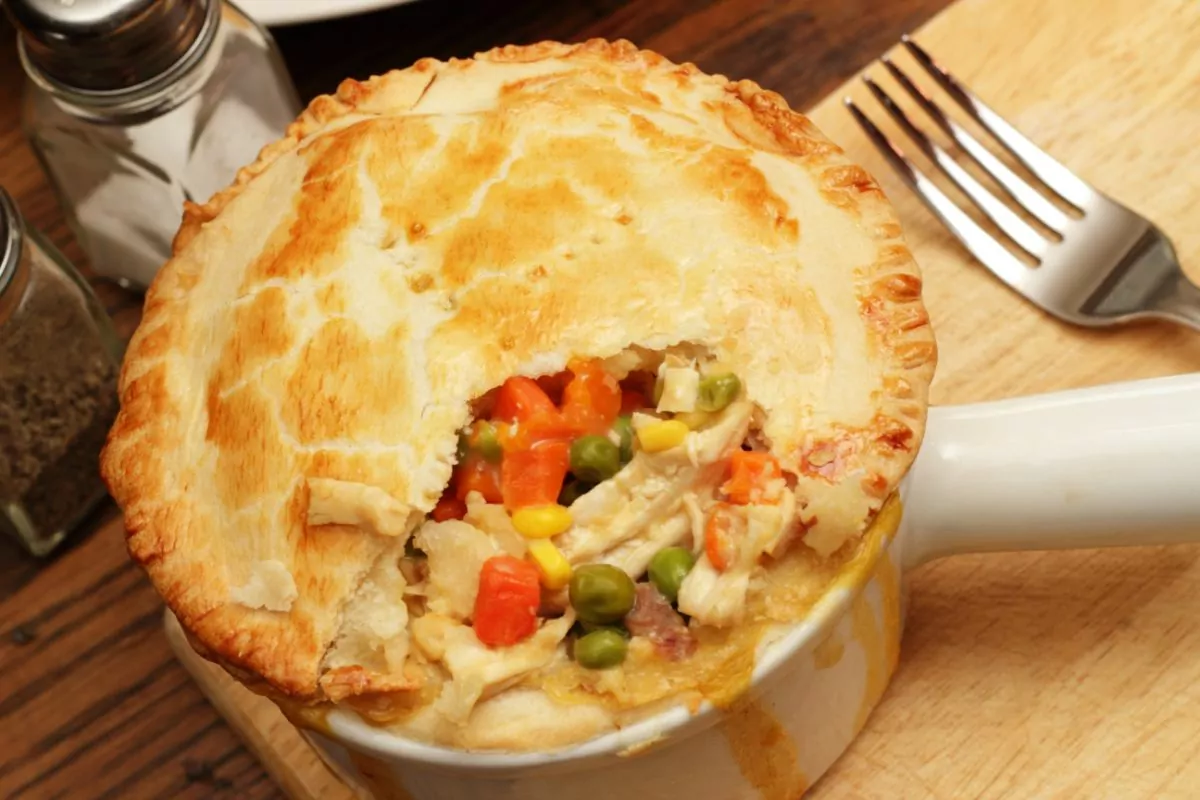 Recipe Fairy sets itself apart by focusing on making the dough so it can have more control over the recipe. Using white flour, butter, icy water, salt, and an egg, you can easily make your pie to feed a family of four with ease.
They recommend that you use your favorite chicken soup, regardless of the type. After all, you don't want to make something you'll hate, right?
Cincy Shopper went out of her way to make her own KFC chicken pot pies to save some cash because her family loves them so much. You can buy all of the ingredients on a budget, so it doesn't matter whether you pick the cheapest brands or not.
To add some sweetness, she also includes some sugar in the recipe so that your pies aren't too overpowered with savory flavors.
Secret Copycat has pointed out that KFC first made their chicken pot pies to prevent waste in their restaurants. So, they've gone out of their way to make the closest recipe they have to the original thing.
They even include MSG seasoning along with the usual dash of salt and pepper.
However, one way that they truly stand apart is by using biscuit dough to make the crust instead of puff pastry. However, you'll be glad to know that the rest of the recipe stays similar to the rest, and so long as the mixture isn't too thick, it'll be easy to enjoy!
Todd Wilbur has pointed out that there needs to be a perfect mixture of light and dark meat from the chicken in this recipe. Typically, he'll start working on his mix before he even starts baking, and you can use any dish you like.
He also recommends wiping the crust with some egg whites to give these KFC chicken pot pies their signature shiny crust.
Along with his copycat recipe, Todd Wilbur has also gone out of his way to make an improved KFC chicken pot pie. He's included more of a buttery flavor in his flaky crust, and the gravy has even more spices included!
There's no doubt that you'll see the improvement, with the sauce even closer to the original than it was before.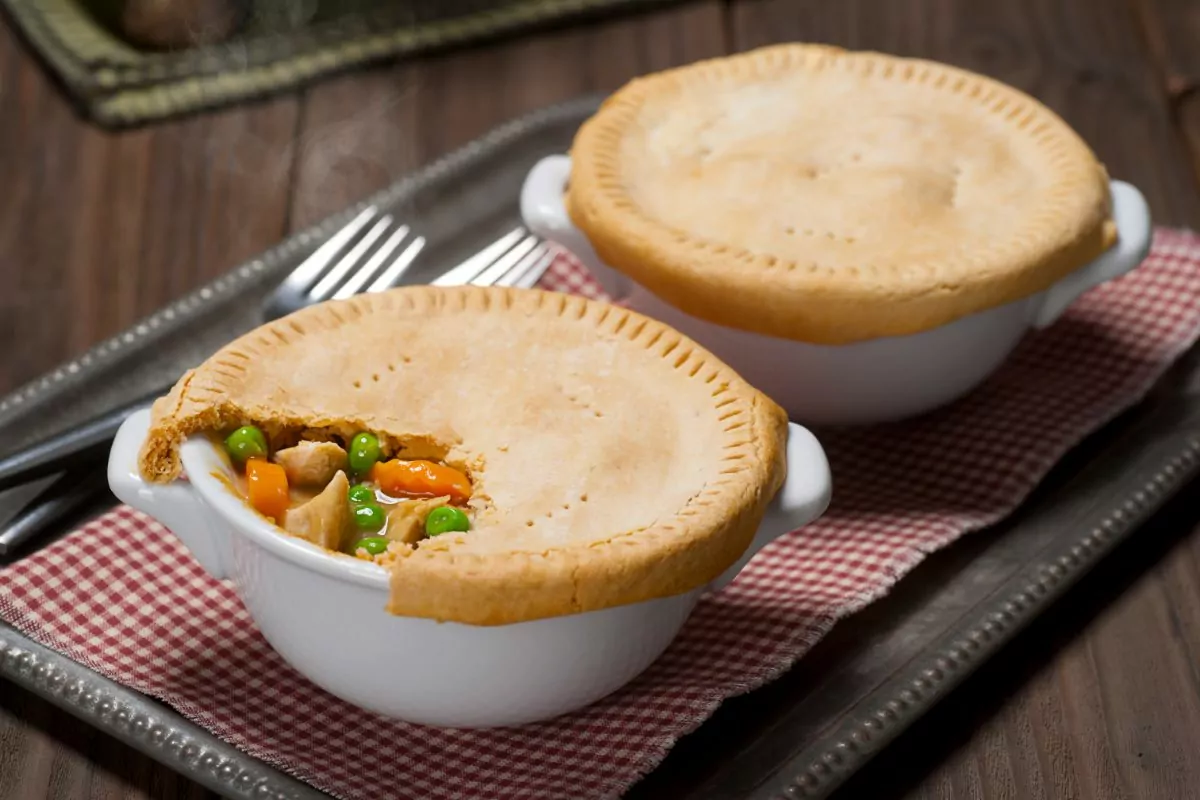 Also incorporating red potatoes into their recipe, Mashed has focused on making a KFC chicken pot pie copycat that has more of a focus on shredding their rotisserie chicken and combining it with peas and carrots.
While a lot of these recipes call for cubing, you only need to cube the potatoes, and the rest are in slices.
Key Ingredient's KFC chicken pot pie is exactly as you would expect from a chicken pot pie. You can add some soup, milk, and sugar to a pot to be added to the sauce of your recipe. The sauce is guaranteed to give you a delicious and sweet flavor.
Then, once you've put in the filling and before you bake them, you just need to moisten the edges of the pastry to cover the rim. It's an easy pie to bake, and it will take you 18 minutes at 400 degrees.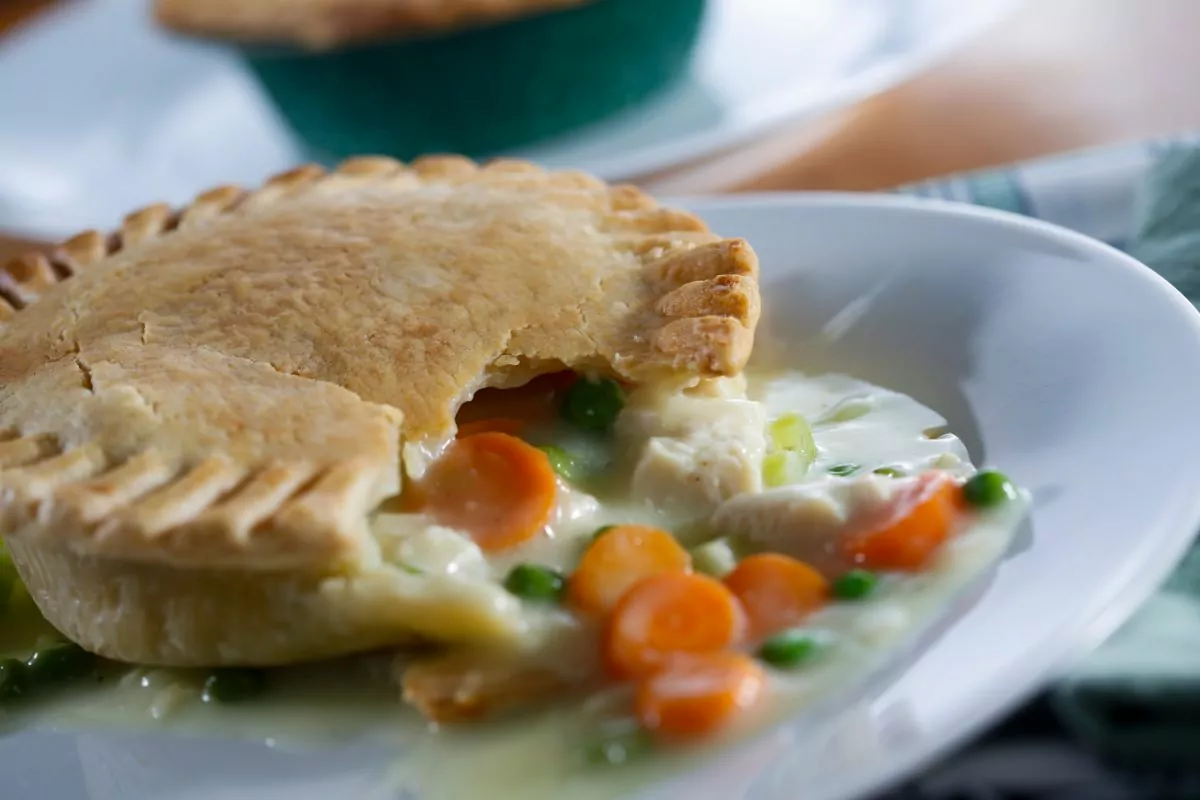 With only a 25-minute cooking time, you only need eight ingredients to make Food.Com's KFC chicken pot pie. You need two potatoes, peeled and cooked carrots, frozen peas, chicken soup, salt and pepper, and msg with your cooked chicken.
They even have the KFC biscuit recipe used to make the crust, and you only need to add more milk to soften the mixture if it feels too thick. They're easy to make and taste just like the real thing.
I've found a kosher KFC chicken pot pie recipe to complete this list! You can easily adjust the KFC chicken pot pie to be made with either chicken, turkey, or tuna.
While it's not officially classed as a KFC recipe, it does have a lot of the critical ingredients that are already utilized. So you'll find that instead of cream of chicken soup, there is a low-sodium chicken or vegetarian broth instead.
They also include diced celery as one of their vegetables in this recipe.
Final Thoughts
There you have 15 of our favorite chicken pot pie recipes available online! Each has its own strengths and weaknesses, so try them out depending on how you like your pot pie!
All these recipes allow you to make a delicious KFC chicken pot pie in the comfort of your own home.  If you want to see some of our other recipes, then check out the other lists on our site.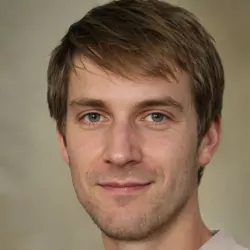 Latest posts by Mark Williams
(see all)