Are you looking for a new cheesecake recipe but aren't sure where to start? Maybe you want to try a new lemon blueberry cheesecake, but can't find the right recipe for you?
Or are you curious and want to know more? No matter what your question is, we are sure to have the answer for you!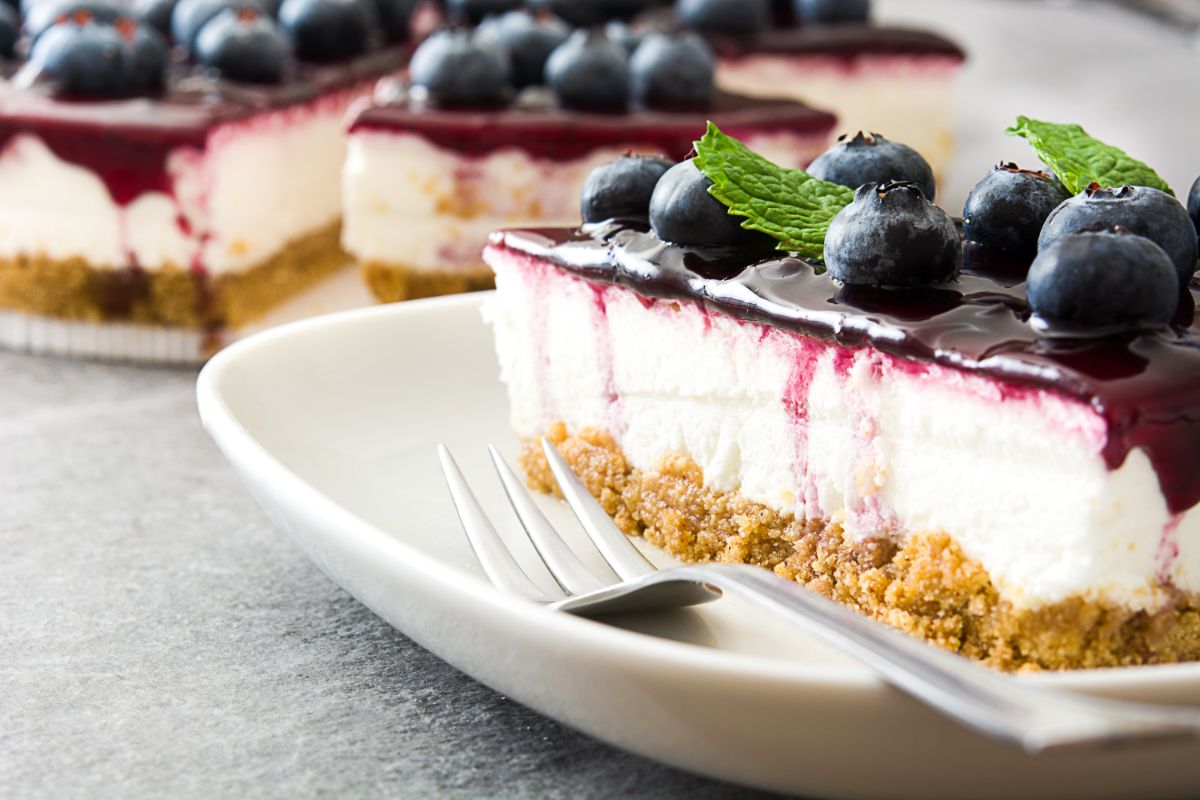 Finding the right cheesecake recipe can be challenging, especially one that includes lemon and blueberry! You can find yourself spending hours searching and searching but never finding the right recipe for you.
The ones you find are either ridiculously complicated, featuring expensive ingredients, or just don't sound nice. You start to wonder if you will ever find the right cheesecake recipe for you. 
Well, no more! Today we are here with the answers that you need. Keep reading to see 14 amazing lemon blueberry cheesecake recipes you are sure to love and can make at home!
No longer will you search and not find answers, today meet your new cheesecake recipe! Let's dive in and kick off our list today. 
First up, we have this thick and creamy baked cheesecake! The graham cracker base and tart fruit taste are sure to impress everyone you serve it to!
It does take a few hours to make, so ensure that you allow plenty of time for the cheesecake to cool and set before you serve it. 
Make sure you use fresh lemons for this recipe to get the best taste. You will need the juice and the zest, and fresh lemons will give you the most zest and the sharpest taste!
In a pinch, you can use just the lemon zest though, we just think it tastes better and super fresh when the zest is used too. 
If you don't want to turn your oven on, then this is the recipe for you! This no-bake lemon blueberry cheesecake is the ideal summer dessert, you won't even get sweaty from the hot oven baking it!
It's super light and refreshing too, so you can always find room for a slice after a big dinner. We love how easy the cheesecake is to make too.
Anyone can make it, you can even have your children help you out if you want! Just be mindful that you might need to help with any heavy bowls. 
For the dairy-free people in the room, we have a wonderful cheesecake for you! This vegan lemon blueberry baked cheesecake is delicious, and tastes just like a normal cheesecake does!
It is still super light, creamy, and refreshing, you would never know there is no dairy or egg used in this recipe. 
You would never believe that this cheesecake is made with tofu! We know that can sound a little off-putting, but you can't taste the tofu at all.
Just make sure you purchase firm silken tofu for the best results. You don't want a chunky or lumpy cheesecake, do you?
Not only is this cheesecake super easy to make, but it comes with a delicious and tart blueberry sauce that makes this cheesecake seem like you spent hours making it!
The sauce works well with smooth or chunky berries, so you don't need to worry about spending ages mashing your blueberries!
The filling of the cheesecake has a beautiful sharpness from the lemon that contrasts with the sauce beautifully. You can omit the sauce if you want to save yourself some time too, but we wouldn't recommend it.
The sauce gives this cheesecake the wow factor! 
This might be a bit of a cheat, but these cheesecake bars are amazing! We couldn't leave them off our list today. The graham cracker crust gives these bars a wonderful crunch, which contrasts beautifully with the smooth and fruity cheesecake filling!
We love how well this recipe freezes too! You can make these bars ahead of time, and simply defrost them when you fancy a delicious dessert!
And as they are in bar form, they are perfectly portioned, so you don't need to fight over the biggest slice of cheesecake anymore! 
Have you ever wondered how bakers achieve the perfect swirl in their cheesecakes? Well, follow this recipe and you will learn the tricks of the trade! You can easily replicate the swirl and have a delicious cheesecake that is full of fruity goodness!
For the most success with this recipe, you will want your ingredients to be at room temperature before you start baking.
This allows everything to mix together perfectly, giving you a smooth and creamy filling without you needing to exert yourself or your whisk! 
Cheesecake in the shape of cookies? How incredible does that sound? Thanks to this recipe, you can enjoy little cheesecakes in the shape of a cookie! It's a unique way to make cookies, and one we are sure you will love.
You don't need too many ingredients either for this recipe, and the use of cream cheese makes them super easy to make! You will spend less time whisking with this recipe than if you were to make a whole cheesecake, making it perfect for those in a rush!
If you have some Philadelphia cream cheese sitting in your refrigerator about to go out of date, you can transform it into a tasty cheesecake!
The tart and sharpness of the lemon and blueberries will compliment the cream cheese beautifully, giving you a light and tasty dessert!
The recipe calls for frozen blueberries instead of fresh, which are often cheaper! These are also available all year round, so no matter when you fancy a fruity cheesecake, you can satisfy your craving.
We love an easy recipe, and this lemon blueberry cheesecake is super easy to make! The key to success with this recipe is to ensure that your ingredients have warmed to room temperature first.
Leave your butter and eggs on the side for around two hours before baking. 
This helps the butter to soften and it should be far easier for all your ingredients to melt together. You will also want to avoid over-mixing your batter, to ensure that it has a thick consistency that you can dollop onto the biscuit base.
Don't worry, it's easy to avoid over-mixing if your ingredients are at room temperature when you start. 
This gluten-free cheesecake recipe means no one needs to go without a delicious lemon blueberry cheesecake! Not only is the cheesecake gluten-free, but it is one of the quickest to make cheesecakes on our list today!
In under an hour you can enjoy a delicious cheesecake with a gluten-free crust and filling! Plus, the fruit will keep the cheesecake tasting fresh and fruity. What more could you want?
If you can't decide between a cheesecake and a cake, why not make this delicious lemon blueberry cheesecake cake? You get all the creaminess and freshness of a cheesecake, but with the light and fluffy texture of a cake!
It's a good option if you are making dessert for people that don't like cheesecake too! It might even convert them to cheesecake. 
It's an easy dessert to make and the layers look beautiful when you cut the cake open, it's certainly one for Instagram!
We all love a cheesecake that has a tang, and this recipe comes packed with a wonderful tangy taste that works wonderfully with the lemon! Although the cheesecake is delicious, it takes a while to make! You are looking at over seven hours!
While that is a long time, it is worth the time it takes! We recommend making the cheesecake the day before you intend to serve it. That way, you have no time pressure and can enjoy the baking process!
That's right, we have another delicious no-bake cheesecake for you! This cheesecake has the delicious and fruity lemon and blueberry, but with the addition of white chocolate!
The white chocolate makes this cheesecake taste super creamy, it's the perfect choice for chocolate lovers everywhere! 
We recommend using fresh fruit rather than frozen where possible, as these are less likely to release moisture into your cheesecake mixture.
As this is a no-bake cheesecake, you don't need to worry about any baking times, simply leave the mixture in the refrigerator and you are good to go!
Finally, we have this delicious cheesecake made with lemon Oreos! Not only do these cookies add to the zesty taste of the cheesecake, but they will add a fantastic creaminess and crunch that you don't get from other biscuit bases!
This cheesecake is another no-bake recipe too, so you don't need to turn your oven on! It also means that the recipe is easy to follow and you can enlist your children to help you!
Final Thoughts
And there you have it, 14 amazing lemon blueberry cheesecake recipes you will love! No matter your preferences, we are sure you will fall in love with these cheesecakes.
Gone will be the days of a boring, plain cheesecake, now you can enjoy a fruity and tasty cheesecake, whenever you fancy one!
Happy baking!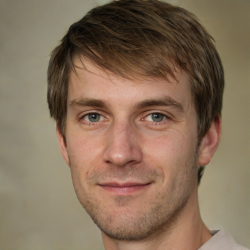 Latest posts by Mark Williams
(see all)