A peach cobbler is one of the most delicious desserts that you can have, with its doughy topping and succulent, gooey peach.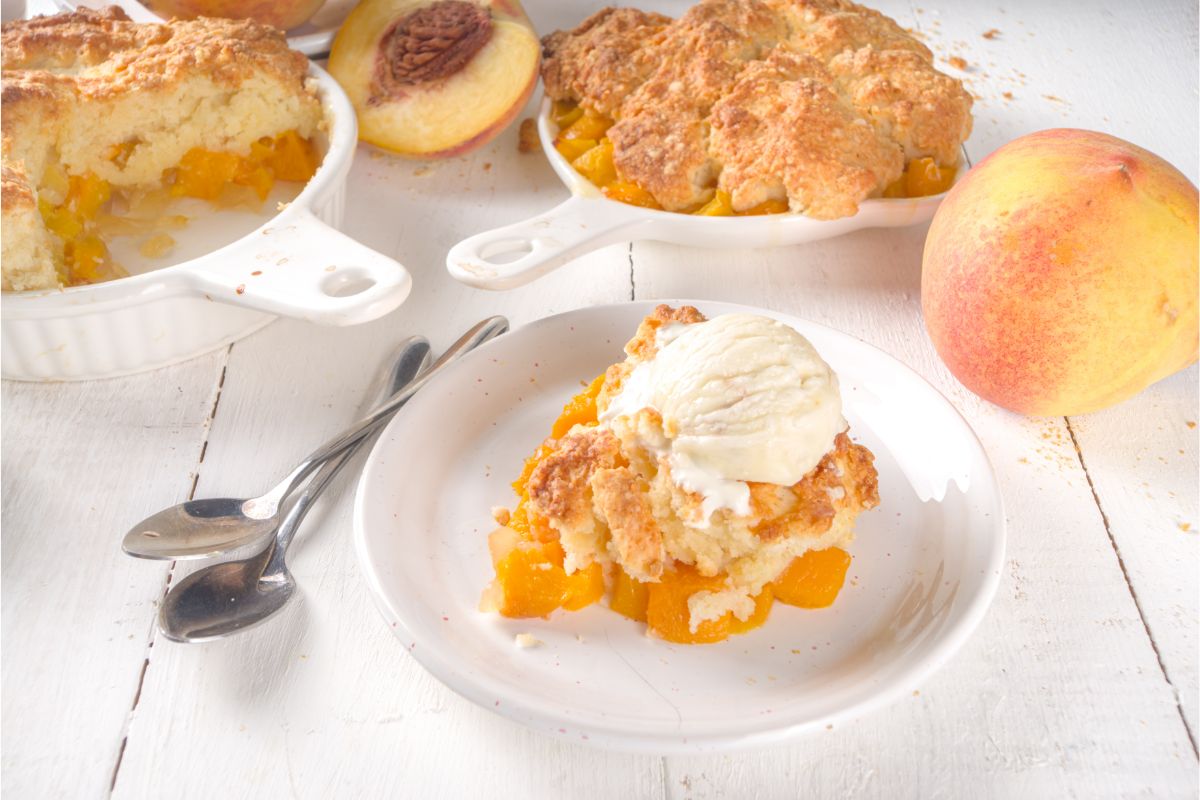 However, if you're a follower of the keto diet, then you might be worrying that such a delicious dessert isn't going to have the right balance of nutrients specific to the diet.
Well, thankfully there are plenty of keto peach cobbler recipes for you to try!
These will all perfectly slot into your keto diet, because they are low in carbohydrates.
We've rounded up the 15 best peach cobbler recipes for you to try today, with mouth-watering descriptions and handy links.
Simply read our guide below and get inspired towards your next keto dessert!
15 Best Keto Peach Cobbler Recipes To Try Today
This delicious recipe is very simple to follow and only has a few ingredients.
By the end, you'll have a juicy and sweet dessert that will keep you coming back for more, with its crunchy dough topping and succulent peaches.
Better yet, it's all gluten-free!
As for the ingredients, there are only seven. You've got the key baking things like butter, baking soda, almond flour, powdered sweetened, and vanilla extract.
So far, so perfect for a tasty dessert! On top of those, you'll need some cinnamon and (of course!) the peaches.
Try to get some peaches that are really plump and juicy, because they'll make your keto peach cobbler even better.
Another delicious and simple recipe for a keto friendly peach cobbler dessert.
This one is sugar free, but you'll hardly notice! It loses none of the flavor. On top of that, it's low in net carbs, free of grain, and gluten-free too.
By the time you've made it, your mouth will be watering at the sigh of the buttery dough on top and the plump, juicy peaches. It's a perfectly fruity and sweet dessert.
For the topping, you'll need a few ingredients: baking powder, butter, an egg, vanilla extract, heavy whipping cream, and more.
Alongside that, you'll need some other ingredients for the delicious filling, such as the sliced peaches, cinnamon, and xanthan gum to thicken it.
Even easier, you can use either fresh or canned peaches! The choice is yours.
Another totally tasty keto peach cobbler, this recipe is also very easy to make. Better yet, it's grain-free and gluten-free!
As for the ingredients, you'll want two eggs, half of a cup of a sweetener, four ounces of softened salted butter, eight ounces of softened cream cheese, and a few more bits and pieces.
Then comes the topping! This will need some frozen peaches, powdered erythritol, and some more salted butter.
It all comes together to make a keto peach cobbler that will keep your stomach – and your diet – happy.
This is another completely keto-friendly recipe for a delicious peach cobbler dessert. It's low in carbs and easy to make!
The filling is just peaches and a sweetener, while the topping is made of a few other ingredients: butter, almond flour, vanilla extract, and a few more.
You'll be coming back for second helpings with this fantastic and easy peach cobbler recipe.
The final dessert will be buttery and crunchy on top and soft and juicy with its peach filling – perfect! Even better, it's low in carbs and gluten-free.
If you want to make this great summer dessert, it will take only 50 minutes total – with just 10 minutes of that being the actual preparation!
The filling and topping both have a variety of tasty ingredients. The filling uses peaches, lemon juice, and more.
It even uses zucchini! Very fancy. Alongside that, the topping uses vanilla extract, coconut flour, almond flour, and other tasty bits. You can even add cinnamon if you want – it's up to you!
If you want a keto peach cobbler that will make your taste buds tingle, as well as keep you on your ketogenic diet, then this is another great pick.
It will give you a delicious fluffy biscuit topping with a gooey and succulent fruit center filling.
Better yet, it's gluten-free and low in carbs, with only just over 5 grams of net carbs each serving.
On top of that, there is also an option to make it without dairy if you want.
There are a handful of ingredients, but they're all easy to use and the dessert only takes 10 minutes to prepare before putting it in the oven for a further 40 minutes.
This recipe for a mouthwatering peach cobbler dessert is perfect for anyone following a keto diet, because it's sugar and grain free, as well as being free of gluten too! It's both healthy and delicious – who could ask for more?
You might be wondering how you can get a keto-friendly peach cobbler, given that peaches themselves have thirteen net carbs to each medium peach.
Well, the recipe only uses half a peach per serving! This keeps the carbs low, just as a keto diet does.
On top of that, the filling also uses a sweetener, some cinnamon, a bit of sea salt, and half a tablespoon each of vanilla extract and lemon juice.
Then, for the topping, there are a handful more ingredients: baking powder, almond flour, butter, and more.
This keto peach cobbler recipe is perfectly easy to follow, with only a handful of easy ingredients.
It's a great dessert for the summer months, but you can enjoy it all year round too.
It has a fluffy and light topping that feels more like a cake, and is just as delicious!
On top of that, it doesn't use any flour, instead using a nut butter. This way, the recipe is a lot more keto-friendly, allowing you to keep to the diet's ways.
By following this simple recipe for a low carb keto peach cobbler, you're going to end up with a dessert that has all the juicy flavor of the peaches and all the doughty, crispy texture of the cobbler topping.
It takes very few ingredients, making it deliciously simple.
All you'll need are two large peaches, some vanilla extract, a bit of butter, some almond flour, a sweetener, and half a tablespoon each of both baking soda and baking powder.
This recipe will give you a keto-friendly peach cobbler dessert in no time.
The food will be filled with juicy peaches, mouthwatering cobbler, and some tasty sweetener.
The cobbler itself is low carb and free of sugar, making it very keto appropriate.
You will have a beautiful baked dessert by the end of this easy to follow recipe, giving you delicious and plump peaches and some crispy cobbler topping, all while staying friendly to your keto diet. Brilliant!
The crust and the filling both need a few ingredients each, and you can also top the finished dessert with some low carb whipped cream if you want.
If you want to try a keto peach cobbler but change the form of it a little, then these cobbler roll-ups are the perfect choice! With these, you can eat them by hand, and you don't even need to make crusts!
Even better, it only takes 25 minutes total – half the usual time it takes to make a regular keto peach cobbler.
To make the roll-up itself you'll need three eggs, some heavy cream, a bit of water, vanilla extract, and a little coconut flour.
Easy! After that, the filling requires canned peaches, cinnamon, and a couple other ingredients.
This recipe is a brilliant and easy path to follow if you want to end up with a keto peach cobbler that is both mouthwatering and healthy.
It only needs a handful of ingredients, making it extra easy to throw together.
On top of that, it's free of gluten!
The recipe uses frozen peaches, because it can be difficult to find the right fresh peaches in season. However, you can use fresh if you want!
Another peach cobbler recipe that is perfect for ketogenic dieters, this is low in carbs and high in tastiness!
The topping only contains three ingredients, while the peach base needs six – including two medium peaches, some cinnamon, nutmeg, and a bit of lemon or lime juice. Delicious!
Finally, this is another great recipe for a keto-friendly peach cobbler.
It has a gooey and juicy peach base alongside a buttery and sweet biscuit. Tasty!
On top of that, it needs only simple ingredients, and it's just 3 grams of net carbs for each serving.
Final Thoughts
If you're on the keto diet, then these keto peach cobbler recipes are brilliant! Gooey, juicy, and easy to make.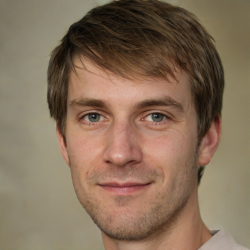 Latest posts by Mark Williams
(see all)