Mini fruit tarts are a finger food style of dessert that are perfect for parties whilst also being well suited for snacking and eating in general.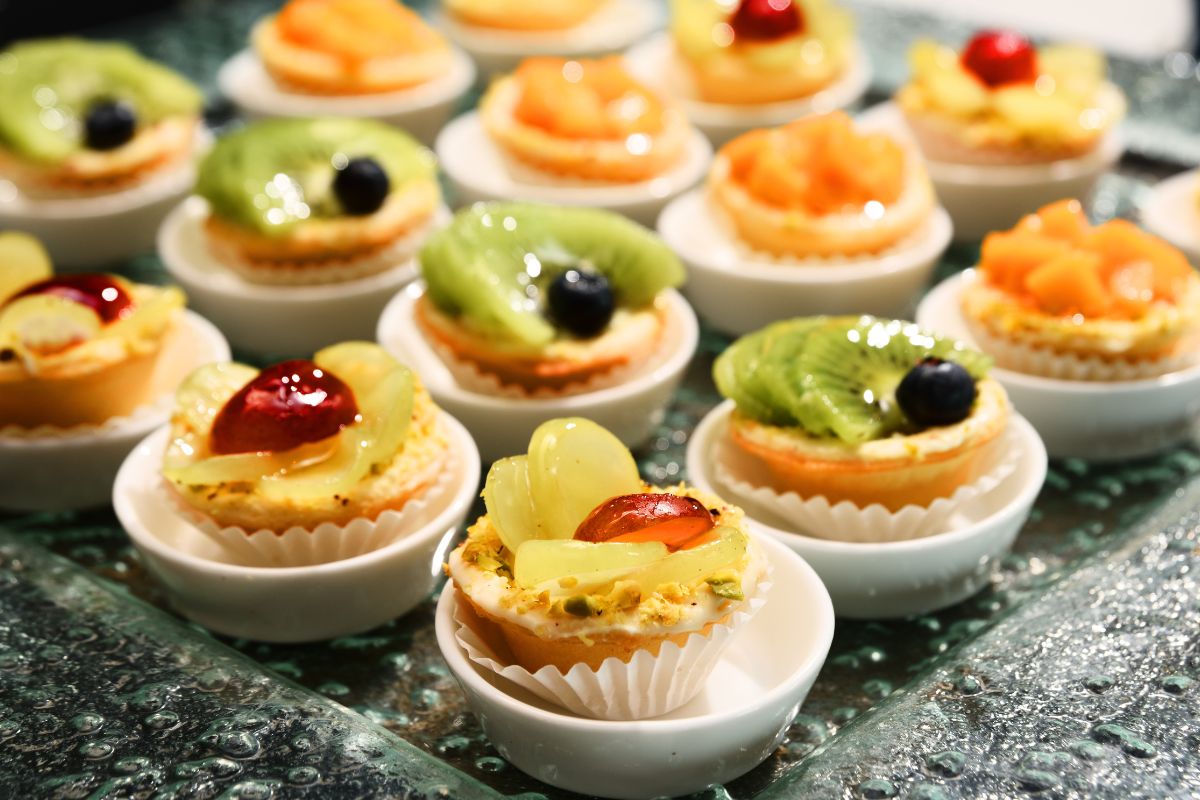 There are all sorts of different fruits that you can incorporate into your mini fruit tarts if you are making them yourself, from the popular tart fruits- such as strawberries and blueberries- to the slightly more exotic fruit choices such as passion fruit and pineapple.
With this in mind, we are going to be looking at fifteen different min fruit tart recipes that you easily make at home. Let's get started.
Blueberries are a popular fruit to use in tarts and these mini blueberry tarts are not only a delicious choice, but they are also super easy to make!
These tarts are also incredibly inclusive thanks to being dairy-free, gluten-free, and vegan friendly, making them a great dessert choice for a party with a lot of people, some of whom might have dietary restrictions.
Made with a sugar cookie crust, these tarts are bursting with crispiness and juicy blueberries.
To make the cookie crust of the mini tarts, you will need granulated sugar, vanilla extract, salt, unsweetened almond milk or soy milk, dairy-free butter, and a gluten-free flour blend.
When it comes to the blueberry filling, you'll need both lemon juice and lemon zest as well as cinnamon, blueberries, cornstarch, salt, and granulated sugar.
If you are looking for a unique combination of flavors with your mini fruit tarts, then this berry and coconut recipe is sure to be of interest.
The blending of summer berries with rich coconut not only creates a summery taste that is juicy and tropical but also adds some texture to the dessert thanks to the crunch of the coconut.
You will need a few ingredients to make these fruit tarts, including desiccated coconut, salt, eggs, cornstarch, vanilla extract, unsalted butter, powdered sugar, plain flour, water, and your choice of summer fruits, such as strawberries, blackberries, raspberries or a combination of all of them.
This recipe is centered on mini fruit tarts with a crumbly shortbread crust and a creamy and light custard. The tarts are then topped off with your fruit of choice.
Homemade shortbread crusts are a delicious way to enjoy mini fruit tarts, and this recipe will show you how to make them. It might be a little tricky to get right if you haven't made them before, but it's definitely worth it!
The pastry cream included here is also a simple recipe that is able to be put together with ease in the microwave. In fact, it can be easier to make the cream in the microwave as you don't have to worry about tempering your eggs, or accidentally scorching the milk!
For the crust of the tarts, the ingredients that you will need are salt, powdered sugar, butter, unbleached flour, a large egg yolk, and heavy cream.
The creamy filling will need milk, egg yolks, vanilla extract, butter, sugar, cornstarch, and salt. You can also use some currant jelly to create a tasty glaze. 
This recipe is another that uses a sugar cookie base to create a deliciously crispy tart case that blends perfectly with the creamy filling and the juicy fruits on the top.
This is another choice of mini fruit tart recipe that is relatively easy to make and that only needs a handful of ingredients, which is always a bonus!
For the sugar cookie crust, you will need baking powder and baking soda along with egg yolk, vanilla extract, all-purpose flour, white sugar, and softened butter. The filling will only need softened cream cheese and powdered sugar with some vanilla extract.
All that is left to do once you have made the crust and the filling is to top the tarts off with your chosen fruit!
This next recipe is another that features blueberries as the main star of the show, although this time the fruit features alongside cream cheese.
For a rich and creamy cheesecake-like tart that takes less than half an hour to make, these are a must-have for blueberry fans.
There are only a few ingredients that you will need for this recipe, including whipped cream, cream cheese, blueberry filling, lemon juice, vanilla extract, and mini tart shells (if you don't have the time to make the dough yourself).
For a slightly different take on the traditional mini fruit tart, then these pineapple mini tarts are a perfect choice.
Not only are these tarts different in that they feature pineapple- which isn't a common fruit to be used in mini fruit tarts- but they are also built differently, encased in a small pastry ball.
To make this pastry, you'll need cornstarch, unsalted butter, all-purpose flour, salt, eggs, condensed milk, and either powdered sugar, confectioners sugar, or icing sugar. The pineapple filling requires sliced pineapples along with cloves and sugar.
These mini fruit tarts are another that is suitable for vegans, featuring a simple yet tasty almond oat crust along with a gooey, custard filling.
To make these no-bake vegan mini fruit tarts, you will need dates, almonds, oats, frozen bananas, vanilla extract, lemon zest and juice, and plant-based milk along with your chosen fruit topping. Add some mint leaves with your fruit for an extra burst of refreshing flavor!
If you are planning on serving up some mini fruit tarts at a party, this next recipe is a perfect choice!
These patriotic-themed tarts are a little different from some of the other recipes we have talked about here as they feature Jell-O instant pudding in the recipe, offering an extra burst of creaminess to the filling.
As well as that Jell-O instant pudding- vanilla flavor- you will also need blueberries and raspberries (to create that patriotic red and blue color palette!) along with pie crusts, a whipped topping, and cold milk.
Chock full of fresh and glazed strawberries and featuring homemade, crunchy shortbread cookie crusts, these tarts are a delicious treat for all occasions.
To create the cookie crust, you'll need salt, butter, sugar, all-purpose flour, vanilla extract, and heavy cream. The strawberry filling will need fresh strawberries, strawberry jello, corn syrup, cornstarch, and cold water. You can also add in some optional almond extract.
Another tropical choice of a mini fruit tart, this recipe features smooth and tangy passionfruit curd alongside a buttery and rich shortbread crust which combine together to create a decadent and flavorsome tartlet.
To make these tarts, you will need some passion fruit curd along with powdered sugar, butter, vanilla powder or vanilla extract, kosher salt, and all-purpose flour. You can also use other fruits to go on the top of the tarts, such as kiwis.
This recipe features a soft and fluffy puff pastry tart shell along with fresh fruit and a creamy, lemon cream cheese filling (which is a no-bake filling).
Top off the tarts with some velvety whipped cream along with your favorite fresh fruit to create a delectable, personalized dessert.
The combination of grapefruit curd along with the lemony, poppy seed crust makes this recipe a unique take on the traditional mini fruit tart.
Adding a dollop of whipped cream to the top provides some extra sweetness that blends perfectly with the tanginess of the grapefruit and the citrus-like taste of the lemon poppy seed crusts.
Lemon and blueberries are a match made in heaven, so what better way to create a mini fruit tart than by pairing these two ingredients?
Filled with a ricotta and lemon filling and topped off with juicy blueberries, these tarts will only need around ten minutes to make.
With buttery and tender pastry crust, these mini fruit tarts feature brown sugar and cinnamon-soaked apples that are baked into the pastry to create a bite-sized apple tart with a sweet, delicious taste.
Last but not least, these mini peach tarts are a fresh and juicy mini fruit tart option that features a flaky crust along with a creamy combination of Greek yogurt and creme fraise.
You will also need some apricot jam, granulated sugar, pie pastry, eggs, and coarsely chopped pistachios for this recipe.
Final Thoughts
So there you have fifteen mini fruit tart recipes that are sure to delight your friends and family whenever you decide to serve them up.
No matter what kind of fruit you prefer to enjoy in your mini fruit tart, you are sure to find something to suit your particular tastes!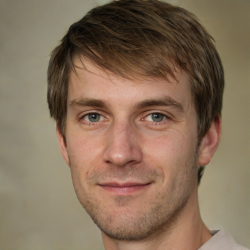 Latest posts by Mark Williams
(see all)